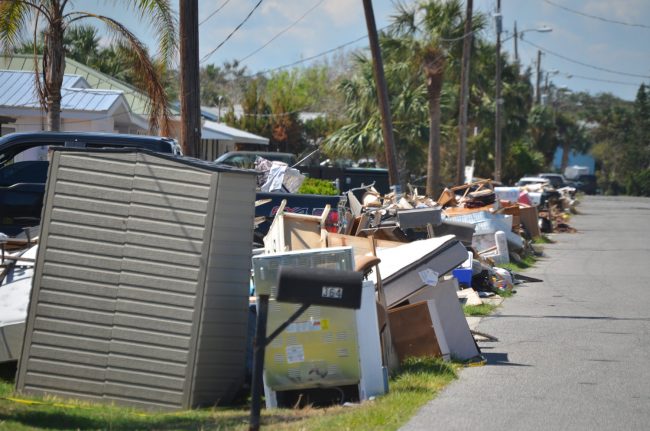 If you read nothing else: The Wickline Senior Center on South Daytona Avenue in Flagler Beach will be open all day Thursday, Friday and Saturday, Sept. 28-30, for city and other residents who need help registering with FEMA, amending their FEMA registration, or requesting help from volunteers to clean up their homes and seeking out relief, including basic foods and necessities. Details below.

"How does anyone not understand that a major disaster has taken place here?" Colleen Conklin says as she drives street after street in Flagler Beach. House fronts are blocked by mound after mound of belongings, lifetimes of them, house after house: demolished furniture, appliances, carpeting, bedding, sheet rock, flooring, books, shelving, intimate belongings.
The mounds rise six, seven, sometimes eight feet high. Sometimes they spill over from dumpsters. Most of the time they're just by roadside, filling front yards and from time to time warning, in makeshift signs, against trespassers, or even against removing the wreckage before federal disaster officials have seen it, to document claims.
In Palm Coast, the debris mounds in front of houses, such as they are, are all yard waste, brush, tree limbs, replaceable crackle that could have probably used a good thinning anyway. Beyond that, the damage to homes was light, and the damage to homes' interiors was, with a couple of notable exceptions, non-existent. Not so in Flagler Beach, where the debris piles are all accumulations of lifetimes, and the losses only the visible damage of a disaster that continues to ripple, even as the waters have dried.
Some of the houses are no longer livable. Some of the houses are not livable but are occupied by people who have no other choice, or who don't know how toxic mold can be.
That's the phase the disaster has now entered: relief not just from the storm, but from homes severely damaged from storm flooding, and recovery enough to ensure that people will have safe places to live. The number of homes affected ranges between 300 and 400, though the number of unlivable homes has not been determined.
"We're still in that place where we're assessing houses and trying to be sure we're mitigating against the water," Conklin said this morning, calling the phase "recovery and assessment."
Conklin is usually known as a Flagler County School Board member. Since Hurricane Irma struck and flooded out her neighborhood in South Flagler Beach, she's been more of a volunteer battalion chief, one of several in town, who organized the response to help residents in hundreds of homes clean up, find assistance or get out of homes that have become toxic from mold, which is now the principal enemy in Flagler Beach. (Her house survived. Her two cars did not.)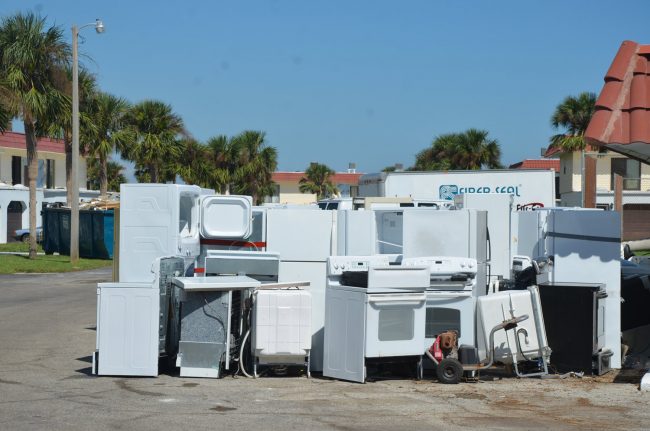 The effort went from an overwhelming catch as catch can response Conklin and others coordinated through Facebook—by literally posting house addresses and spelling out the needs there, and the sort of manpower required, which would draw volunteers by the dozens—to a more systematic approach now organized by Flagler Volunteer Services, by Convoy of Hope, which arrived in town Friday and started helping Saturday, by Flagler Beach mayor Linda Provencher and City Commissioner Kim Carney, and now with Flagler County government and the arrival in town today of a seven-member Federal Emergency Management Administration Disaster Survivor Assistance Team. Some of the members of that team were in the parking lot of Santa Maria del Mar Catholic Church this afternoon, coordinating with Convoy of Hope, whose volunteers are staging their operation in that parking lot.
Conklin is continuing to work the relief operation as well, meeting with three others who've taken leads in the effort—Melissa Vaculik, Tracy Callahan and Nikki Osmun, who have developed an extensive database of the 300 to 400 homes affected, coding each to determine the severity of the damage and other factors. Houses that have been cleaned out of water are coded one way, vacant houses coded another, and so on. They're hoping to have the database reflect the canvassing of every street.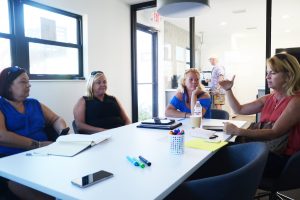 Separately, Dennis Bayer, the Flagler Beach lawyer, along with Property Appraiser Jay Gardner and others, organized an informational forum at Flagler Beach City Hall Monday evening to disseminate information about insurance and how to deal with contractors
The most immediate development for Flagler Beach residents (or any county resident) is Flagler County government's agreement to open the Wickline Center, the community center for seniors at 800 South Daytona Avenue in Flagler Beach, Thursday, Friday and Saturday (Sept. 28-30) to enable flooded out residents to fill out request forms for help cleaning out their homes, including tearing out sheet rock and flooring, and either to register with FEMA for the first time, or to amend their earlier registration should they want to report more severe damage than they originally reported.
One of the goals is to help residents find alternative places to live while their homes are being repaired, or deemed unlivable for now. The problem Provencher said, is that repairing the homes could take up to a year if contractors are as backed up as they seem to be right now, and rentals are few, or too expensive. Many questions remain unanswered, many problems are still without solutions.
---
Many questions remain unanswered, many problems are still without solutions.
---
The opening of the Wickline Center to the relief effort is an indication of the severity and extent of the problem yet to be addressed. "I don't think people realize how bad it is here, it's really, really bad," Provencher, the mayor, said. She and Conklin were at a meeting with county and FEMA officials Monday to line up the relief operation at the Wickline Center.
One of the many problems volunteers have encountered is the number of senior residents who are without insurance and living in homes that were flooded out and not been officially vetted to determine if the homes are safe to live in. Volunteers who have carried pout some of the clean up duties have heard residents' coughs and thought of those coughs as the canaries in coal mines: warnings that mold is beginning to take its toll.
Conklin's team made contact with John Subers at Florida Hospital Flagler, which may be sending out health care professionals "literally to make house calls" in affected areas, Conklin said, and assess residents for respiratory conditions. "We really need mold experts to volunteer their hours and share their expertise," Conklin said. "The concern is there's a need for a major mold education." (The Centers for Disease Control lays out the potential dangers of mold in a briefing here.)
In the past two weeks Conklin and her teams would find that it took time to gain the trust of certain homeowners who were too proud to accept help, then fearful of losing belongings that had to be thrown out. "There was an emotional aspect," Callahan said. "We couldn't go in and just remove their stuff." Over time, that trust would be won, and residents would concede to seeing their belongings taken out. The heartbreaks have not ceased.
"You'll notice the entire content of homes out on the street," Conklin says, driving around her town. "This is street after street after street. All of these streets down here are like this." South Flagler Avenue. North Flagler Avenue. Every side street branching off of Flagler and down toward the Intracoastal, whose waters washed over properties and rose inside homes up to 36 inches in places, 12 or 24 in most, demolishing everything in the way. Same thing at the south end of town along Palm Avenue, Ocean Palm Drive, Ocean Palm Villa, where the mounds are more like continuous walls of debris with brief passageways for cars. Same thing along Lantana, Lehigh, Avalon, and especially around Palm Circle, where not a single home seems to have been spared. Same thing along Lambert Avenue and Palm Drive on the other side of the Intracoastal. Same thing at Surfside Estates, the mobile home community in Beverly Beach, where the majority of homes were damaged either by wind or water, or both.
Two weeks ago the mounds had just begun forming outside of homes, front and back yards still knee deep in stagnating flood waters, oversize fans whirring to dry out the interior of homes. The youngest, strongest homeowners or even renters immediately got to work emptying out demolished properties, but many houses were mound-less, too, as if they'd been spared. That was deceptive. It was usually because residents thought they were fine, that it had been enough to air out the house and mop out the floors, only to discover in subsequent days the reek of mold behind walls or beneath buckled floors. They would then call back volunteers and watch as their belongings were taken out. If there are still houses without mounds, it's either luck or, more likely, because the residents have not returned.
For the bigger jobs—removing flooring and sheet rock–the volunteers organized through Convoy of Hope have helped. 'They've come and saved our butts in Flagler," Conklin says.
Convoy of Hope is a faith-based non-governmental organization-like FEMA from Missouri that almost immediately responds to disaster areas by providing basic needs, food and muscle. It currently has a presence in south Texas, in the Caribbean, including Puerto Rico, and in Florida. In Flagler Beach, five tractor trailers of food and necessities donated by corporations have been delivered and stocked under a big tent as the supplies get distributed where the needs are, including in West Flagler. Residents can walk in and request packages of food or necessities, or they can have it delivered by volunteers who have been going door to door.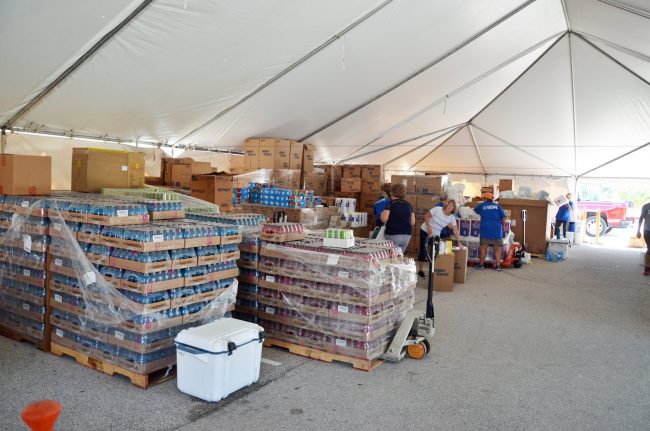 Convoy of Hope is coordinating its efforts through Flagler Volunteer Services, and adding another dimension to the help by organizing work teams that go to houses where more heavy duty work is needed, such as tearing out walls and flooring. By noon today, volunteers had taken care of 27 houses, says Nick Wiersma, Convoy of Hope's leader locally, who looks and sounds like Gary Sinise, the actor. "We just want to be a support, we don't come in and take over," Wiersma says. "There's a lot of people in front of us that need help. We're trying to get to them as fast as we can." He credits churches like Parkview Baptist, Salty Church, Epic Church and Santa Maria del Mar for providing platoons of volunteers. "I just want to brag on them," he says of the 275 local volunteers who have so far put in hours with Convoy of Hope.
So the work continues, as do the lessons.
"Flagler does a great job preparing for a storm," Conklin said. "But being impacted by the flooding, I know first-hand—and having seen what I did in the last two weeks—we have work to do in how we respond to a disaster, at least in relation to agencies working together, because the community and the people coming together have really impacted lives in a very positive way."