Check out the previous edition of Josh Garrick's Culture Worth the Miles here.

Mahler's "Resurrection" Symphony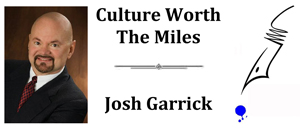 The Orlando Philharmonic is set to begin its fall season with a monumental work. This work requires large 'forces,' and Gustav Mahler's 2nd Symphony will be performed by the Orlando Philharmonic Concert Opera Choir, the University of Central Florida Choir, and the largest orchestra the Philharmonic has ever assembled.  Called the Resurrection Symphony, the 90-minute work will be performed at the Bob Carr on Saturday, September 25 at 8:30 pm with Christopher Wilkins conducting. Bassoonist Diane Bishop says, "I can't wait to play Mahler's 2nd again; to find myself in the middle of the orchestra overwhelmed by sound and emotion." In Mahler's own thoughts, his first movement represents a funeral and asks the question, "Is there life after death?"  Then, moving through the happiness and sadness of living, the final movement ends with the vocal forces' fervent prayer for resurrection and hope for eternal life. For tickets call 407.770.0071 or visit orlandophil.org.
Just in case you'd like a taste of what's ahead, here's the University of California-Davis Symphony Orchestra interpreting the Resurrection Symphony:

Sculpture on the Streets of DeLand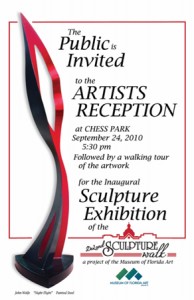 DeLand is a scenic, peaceful town with a very large number of very fine artists. Beginning on September 24, the fine art sculptors of Florida (and especially DeLand) will be celebrated on the street with a public art exhibit called Sculpture-Scape. A stroll through downtown DeLand will offer art that includes the hot pink and lime green "Cosmic Walker" by John Wilton, the towering figure of "Flamp" by Harry Messersmith, and the elegant work of John Wolfe. One dozen works – each 8 feet tall – will breathe creativity (and tourism dollars) into DeLand. September 24 is the date for the public unveiling and tour. "I'm looking for diversity that will elicit different kinds of emotions for different people," says Ray Johnson, who is spearheading the project. Jennifer Coolidge, Executive Director of the Museum of Florida Art (in DeLand) says, "As interest builds and donations come in, we'll be able to build this program year to year. That's our goal." Visit museumoffloridaart.org or call 386-734-4371.
"Museum Day" is Free
The idea began with the Smithsonian Institution finding a way to thank magazine subscribers, and the idea has – fortunately for all of us – been picked up by museums throughout the United States.  This year FREE MUSEUM DAY is Saturday, September 25 from 10 am to 4 pm – "a day to celebrate culture, learning, and the dissemination of knowledge."  More than 300,000 museum-goers and 1,300 venues in all 50 states participated last year.  In order to gain free admission to our local museums, visit www.smithsonianmag.com and print as many tickets as you wish. Here in Orlando, the Orlando Museum of Art, the Mennello Museum, the Polasek, the Maitland art Center, Maitland Historical Museum , Waterhouse Museum and the History Center (downtown) will all join the nationwide Museum Day by opening their doors free of charge to Smithsonian.com visitors. Call (407) 836-8500 for information. In the previously mentioned DeLand, the Museum of Florida Art, Stetson University's three galleries, the African American Museum of the Arts, Florida Museum for Women Artists, the DeLand House Museum, and the DeLand Memorial Hospital Museum will also welcome their visitors free of charge.  And thanks to their public sculpture project, DeLand's streets will be lined with art as well!

"Portraits of Hunger" Showcase
With all eyes on the world's economy, now more than ever art is being called upon to enlighten and educate.  On the evening of September 30th, the Second Harvest Food Bank of Central Florida will present a Photography Contest and exhibit created to make us aware of the problem of hunger in our community. The showcase – free and open to the public – will take place at the Enzian Theater in Maitland.  "Portraits of Hunger" began in 2006, and through this annual event, photographers go into the community to capture images that tell the story of hunger in Central Florida. On September 30 at 7:30 pm, the winner will be announced along with a display of all photo entries.  I will be one of a trio of Competition Judges that includes Dave Krepcho, President of SHFBCF; and Henry Maldonado, President of Enzian Theater.  Last year SHFBCF distributed more than 26 million pounds of food throughout Central Florida, and with the recession continuing that number will go up this year. To learn how you can help, visit www.FeedHopeNow.org. The exhibit takes place the Enzian at 1300 South Orlando Avenue in Maitland.
Photo credit: 2009 Portraits of Hunger winner G.K. Sharman with her photograph titled "Courage."
Toxic Audio Brings Off-Broadway to Winter Garden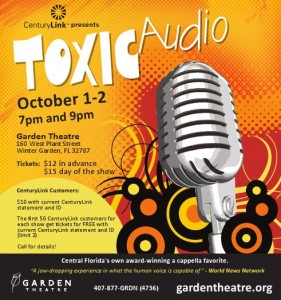 One of Central Florida's most joyful entertainment success stories is the group Toxic Audio, who will perform four shows at the Garden Theatre in Winter Garden on October 1 and 2 at 7 pm and 9 pm.  A 'wild-and-crazy' theatrical vocal group, Toxic Audio combines pop songs with original songs, musical improvisations and comedic sound effects in high energy performances.  And they do it all without musical instruments. The "Toxins" create their unique sound by combining vocal harmonies with vocal percussion and voice effects. They've traveled the country from New York to Las Vegas and back home to Disney World. In 2003, Toxic Audio's album, Chemistry was named "Album of the Year" by the Acappella Society of America, and they won the 2004 Drama Desk Award for "Unique Theatrical Experience" for their Off-Broadway Show. For tickets call 407-877-GRDN (4736) or visit gardentheatre.org
And Not to be Missed …
Florida Highwaymen at the History Center
"Against All Odds: The ART of the Highwaymen" brings together a group of 26 African-American artists who sold their paintings by the side of the road in the segregated South of the 1950s and '60s, collectively producing more than 200,000 paintings.  On exhibit through January 2. Call 407.836.8500 or visit www.thehistorycenter.org.
Shakespeare's 39 Steps
Alfred Hitchcock's The 39 Steps became Broadway's longest running comedy. Now, the Shakespeare Theater presents a cast of four (playing over 150 eccentric characters) through October 10 in an evening of nonstop laughs. The Orlando Shakespeare Theater is at Loch Haven Park. Call 407.447.1700 or visit www.orlandoshakes.org
The GLBT History Museum
An installation by the GLBT History Museum presents "Pride and Protest," a Free exhibit at the City Arts Factory through October 23. Visit the virtual museum at gayorlandohistory.com or contact [email protected].
Sondheim at Mad Cow
Stephen Sondheim's masterpiece of 20th Century Musical Theater – Company – runs through October 17. The Mad Cow Theatre is at 105 S. Magnolia Ave in Downtown Orlando. Phone 407.297.8788 x1 or visit madcowtheatre.com
The Art of Edward Gorey
"Elegant Enigmas: The Art of Edward Gorey" shows off the sophisticated illustrator whose atmosphere of potential danger made 'creepiness' into fun – running through Halloween at the Orlando Museum of Art. Call 407 896 4231 or visit www.omart.org
Charles Turzak, Master of Modernism
American Modernist Charles Turzak epitomized the American Modern Art movement in the 1930s. His Art Deco woodcuts are on display at the Albin Polasek Museum running through November 14th.  Call 407-647-6294 or visit www.polasek.org