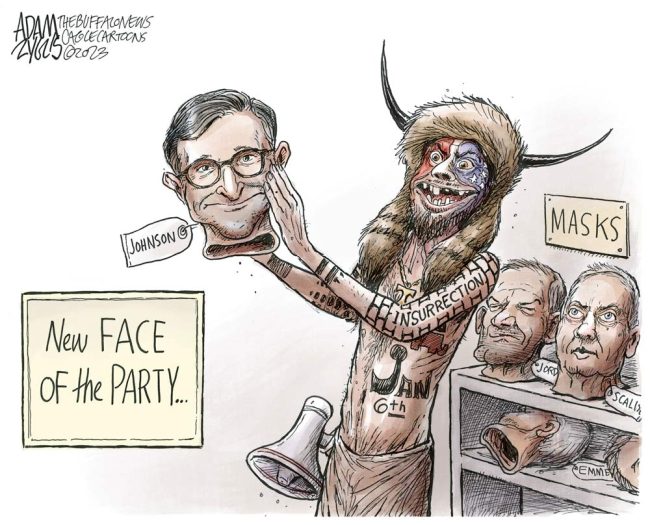 To include your event in the Briefing and Live Calendar, please fill out this form.
Weather: Partly cloudy. A slight chance of showers in the afternoon. Highs in the lower 80s. East winds 10 to 15 mph. Chance of rain 20 percent. Thursday Night: Mostly clear. Lows in the mid 60s. East winds 5 to 10 mph. Check tropical cyclone activity here, and even more details here. See the daily weather briefing from the National Weather Service in Jacksonville here.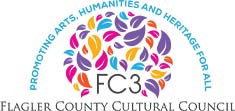 Make Your Voice Heard: The Flagler County Cultural Council known as FC3 is conducting a survey of Flagler County residents to find out what you want to see the council do to foster culture, history and the arts locally. Access the survey here. The survey is confidential–your name will not be revealed, though it is conducted through Google. The survey is open until Nov. 2. It takes about 10 minutes. FC# is a non-profit organization established about three years ago and designated by the County Commission as the county's Local Arts Agency. See: "Flagler County Cultural Council Wants You To Know: 'We're Here To Stay.' But It's Going to Need Help."
Today at a Glance:
Drug Court convenes before Circuit Judge Terence Perkins at 10 a.m. in Courtroom 401 at the Flagler County courthouse, Kim C. Hammond Justice Center 1769 E Moody Blvd, Bldg 1, Bunnell. Drug Court is open to the public. See the Drug Court handbook here and the participation agreement here.
The Palm Coast Beautification and Environmental Advisory Committee meets at 5 p.m. at City Hall, 160 Lake Avenue, Palm Coast.
The Flagler County School Board meets in special session at 7 p.m. at the Government Services Building, 1769 East Moody Boulevard, Bunnell, to decide the fate of Board Attorney Kristy Gavin. Three board members–Will Furry, Christy Chong, Sally Hunt–want her fired, though none has provided a cause, even though Gavin's contract allows for a firing only "for cause." Chong has made false accusations about Gavin speaking to the press about Hunt selling her home, and Hunt was upset that Gavin released, as part of a public record request, a text of Hunt asking former Wadsworth Principal Paul Peacock whether he had butt-dialed her. Gavin would have been breaking the law had she not released the text. See: "School Board and Attorney Kristy Gavin Explore 'Mutual Agreement' Breakup Ahead of Oct. 26 Decision."




The Flagler Beach City Commission meets at 5:30 p.m. at City Hall, 105 South 2nd Street in Flagler Beach. Watch the meeting at the city's YouTube channel here. Access meeting agenda and materials here. See a list of commission members and their email addresses here.
Annual Pumpkin Patch at Trinity Presbyterian Church, from now until Halloween, from 1 to 7 p.m. at the church, 156 Florida Park Drive. Pumpkins of all sizes and colors. A maze for the kids, with photo opps. Revenue benefits youth programs.




In Coming Days: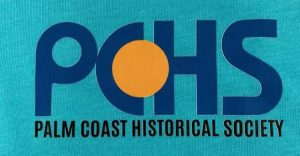 October 28: Palm Coast Founders' Day Food Truck Festival, 11 a.m. to 2 p.m. at Holland Park, 18 Florida Park Drive, Palm Coast. The Palm Coast Historical Society will celebrate the 10 year anniversary of the opening of its museum in Holland Park. To better acquaint both new and long-time residents with our history we thought it best to attract them to our location in Holland Park with a Founder's Day reminiscent of a festival. Our family-friendly atmosphere will include music by DJ Vern of Surf 97.3. Five food trucks will be on site which will hopefully encourage folks to relax, browse and linger. Over 24 non-profit community groups, including clubs, historical societies, heritage organizations and more will be displaying their own contributions to Palm Coast history under pop-up tents in the outfield adjacent to our building. Special interest talks will be held under the pavilion across from the museum. More details here.
October 28: Witches of Flagler Beach Bike Ride: Flagler Beach Creates, the non-profit focused on strengthening and polishing Flagler Beach's uniqueness through a series of artistic events and improvements, is sponsoring its annual Halloween bike-ride fund-raiser starting with bike inspections at 7:30 a.m. at Wickline Park Tennis Courts, 315 South 7th Street, Flagler Beach. The entry fee is $32.80 or more: higher donations are encouraged. Riders must be 18 or older, and a participation waiver is required the day of the event. Bicycles only. Electric bike motors may not be used. No scooters, golf carts, skate boards or roller blades. Sign up here. See the rules of the road here. Contact us at email: [email protected] See: "Witches in Bunches Ride the Streets as Flagler Beach Creates New Brew For Art's Charms."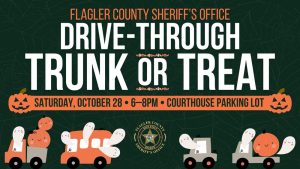 Oct. 28: The Flagler County Sheriff's Office is hosting a trunk-or-treat event at 6 p.m. the Kim C. Hammond Justice Center–the Flagler County courthouse–at 1769 East Moody Boulevard, Bunnell. If you plan to attend, please remain inside your vehicle while following the candy station route in the Kim C. Hammond Justice Center parking lot. FCSO personnel will distribute the sweets and provide you with a candy bag with safety tips. Sheriff Woody and Jessie (A.K.A. Sheriff Rick Staly and his wife Debbie) plan to attend and greet you at the start. "Our Trunk-or-Treat event is a fun and safe place for children and adults to join in on the Halloween fun," Sheriff Staly noted. "FCSO's Community Engagement team has worked hard to put this event together and we hope you join us for a 'spooktacular' evening!"
October 29: Nat Adderley Jr Performs for NEFJA: The North East Florida Jazz Association (NEFJA) is proud to announce that the Nat Adderley Jr. Quartet featuring internationally acclaimed Jazz pianist, bandleader, producer and arranger Nat Adderley, Jr. will be performing a concert at NEFJA's 20th annual Jeep McCoy Memorial Scholarship Concert Supper, Sunday, October 29 at the Museum of Arts and Sciences in Daytona Beach. Adderley is best known for his more than 20-year tenure as music director, arranger, producer, and frequent co-writer for Rhythm and Blues legend Luther Vandross. His work as a pianist can be heard on countless other studio recordings, as well as all the music used in the Broadway production of August Wilson's "The Piano Lesson." The "Jeep" McCoy Memorial Scholarship Concert/Supper will be held from 4 to 7 Pp.m. at the Museum of Arts & Sciences, 352 S. Nova Rd, Daytona Beach. The cost for the Concert AND Supper is $80. Tickets are also available for the concert only at $40. They can be purchased online (with no service charge) at www.nefja.org, at Chez Jacqueline (386-447-1650) in Palm Coast, or by calling Carolyn Hawkins at 386-793-0182 or Muriel McCoy at 386-445-1329. See details here.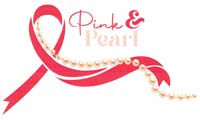 October 31: The Flagler Woman's Club invites you to its Pink & Pearl Workshop spotlighting Breast and Lung Cancer Awareness at 9:30 am at the clubhouse located at 1524 S Central Ave, Flagler Beach. Free to the public, men and women welcome. This will be an interactive program presented by Halifax Health Grant Cancer Center for Hope Patient Navigators who will discuss the need for Breast and Lung Cancer Screening and the journey into survivorship. Please call Mary at 386-569-7813 or Kathi at 908-839-8862 to reserve your spot.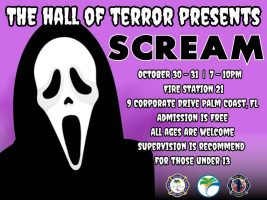 Oct. 30-31: The Halloween Hall of Terror is back at Palm Coast Fire Station 21, 9 Corporate Drive in Palm Coast. Monday, Oct. 30 and Tuesday, Oct.31 from 7 to 10 p.m. This year's event will see attendees coming face to face with Ghostface from the popular 'Scream' movie franchise inside a maze replica of set locations from the films, providing all the fun and scares that the series is known for. Parking is available in the lot adjacent to the firehouse on corporate drive, with overflow parking available in the Kohl's parking lot. A limited amount of 'RIP' fast pass tickets will be available to the public via the City of Palm Coast Facebook page during the week of October 23-27. Each day, the page will list a trivia question based on the 'Scream' franchise. Those that answer correctly will be automatically entered to win the fast pass tickets for themselves and their party, allowing them entry to the front of the line upon arrival to the event night of their choosing. Winners will be selected and informed daily. View the full video trailer to Hall of Terror 2023 here: https://youtu.be/RzzpXudBUrQ
Notably: Trust in Media Reaches New Low in U.S. From Statista: "A free press is essential to holding governments accountable and informing the public, thus enabling voters to partake in political debate and make qualified decisions. However, an increasing number of Americans does not trust mass media organizations. According to an annual survey by Gallup carried out in September, the number of Americans saying that they trusted the media a great deal or a fair amount reached a low of 32 percent, comparable only to the result from 2016, the year of President Donald Trump's election. While sentiment against the media was running high that year as Trump during his campaign routinely accused the press of bias and lies, the share of Americans saying they had no trust at all in the media still stood at a comparatively low 27 percent. Since then, this share has been climbing, reaching a new high of 39 percent. Therefore, 2023 is arguably the year with the lowest recorded trust in U.S. media. Gallup started its regular annual survey on media trust in 1997. It had asked the U.S. public the same question before in 1972, 1973 and 1974, receiving answers much more favorable of the media. Back then, around 70 percent of surveyed Americans said they trusted the media, while only between 4 percent and 8 percent said they had no trust in it at all."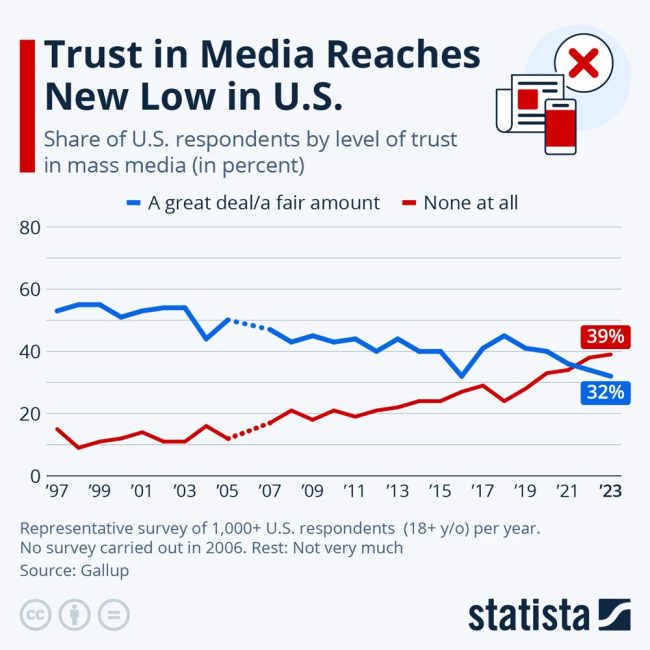 Now this:
View this profile on Instagram

The Live Calendar is a compendium of local and regional political, civic and cultural events. You can input your own calendar events directly onto the site as you wish them to appear (pending approval of course). To include your event in the Live Calendar, please fill out this form.
For the full calendar, go here.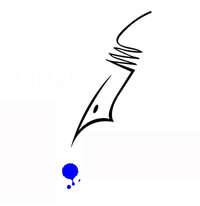 He fell to thinking … slowly, listlessly, wrathfully. He thought of the vanity, the uselessness, the vulgar falsity of all things human. All the stages of man's life passed in order before his mental gaze (he had himself lately reached his fifty-second year), and not one found grace in his eyes. Everywhere the same ever-lasting pouring of water into a sieve, the ever-lasting beating of the air, everywhere the same self-deception—half in good faith, half conscious—any toy to amuse the child, so long as it keeps him from crying. And then, all of a sudden, old age drops down like snow on the head, and with it the ever-growing, ever-gnawing, and devouring dread of death … and the plunge into the abyss! Lucky indeed if life works out so to the end! May be, before the end, like rust on iron, sufferings, infirmities come.
–Turgenev, Torrents of Spring (1872).