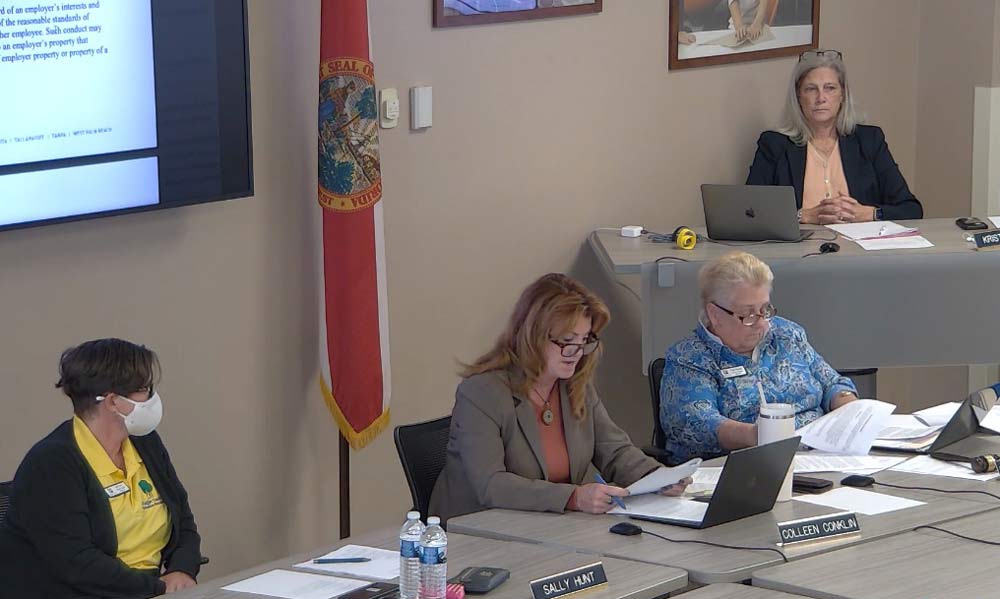 Stepping back from a brink that had School Board member Sally Hunt ready to make a motion to fire attorney Kristy Gavin this evening, the board and Gavin agreed at a workshop today to what amounts to a pair of mediation sessions, one behind closed doors and one in a public meeting, to explore a severance on mutually agreed terms. The terms are not known, nor is Gavin's willingness to agree to them.
"I am willing to consider mutual agreement of how we can resolve this matter," Gavin told the board after being summoned to their table, after spending the previous 75 minutes watching from her corner desk a board debate her fate and repeatedly teeter on the verge of acrimony but for the calming interventions of Colleen Conklin, who has been on the board the entirety of Gavin's 17 years' service.




Gavin will first meet with School Board member Will Furry out of the public eye, with Furry today fielding questions his colleagues want him to ask her. The board will then meet in a special, open session at 7 p.m. on Oct. 26 at the Government Services Building to take action.
The board members had in their hands the memo they'd paid $5,000 for from the Schutts and Bowen law firm when the three board members interested in firing Gavin–Hunt, Christy Chong and Will Furry–wanted independent legal guidance on how to fire Gavin without risking a lawsuit.
The memo did not tell the board anything it didn't already know, Board Chair Cheryl Massaro said. "Quite frankly, I thought we threw $5,000 away," Massaro said. "Anybody with any common sense, you don't need to be a litigation expert, can read the contract and know what it says because they just regurgitated everything that was there. In my mind. There was nothing special and they didn't answer the questions that were provided."




The memo told them what the contract stated: that the board must have "just cause" to fire Gavin. But "as long as she has been satisfying the basic duties of her position, it will be difficult to challenge the methods by which she accomplished the designated goals," the six-page memo by Daniel Nordby and Paul Scheck states. (The memo had not been made available to the public or uploaded to the district's website, where all documents backing up meeting discussion items are supposed to be uploaded, before the meeting, even though it was addressed to the full board and was four days old.)
The memo provided examples of misconduct, none of which objectively apply to Gavin, explained Gavin's right to challenge a firing and outlined, with some qualifications (such as using the word "seems" to explain a clause in the contract) and some lack of clarity in what the board's "summary of options" would be. If the board wants to fire Gavin with just cause, it must state the reasons on the record. It can also reach a separation by mutual agreement–the option the memo's authors consider most favorable, least embarrassing and least expensive to the board.
The memo leaves silent the consequences of Gavin's dismissal less than two years from the end of her contract and the time when she could retire with full state benefits. It also leaves unclear the board's exposure if Gavin challenges her dismissal in court.
The possibility of Gavin becoming a staff attorney who answers to the superintendent rather than to the board was again discussed. That would save her job. But while Furry favors exactly that sort of structure, with a staff attorney and a board attorney, he appeared to dismiss that possibility as far as Gavin is concerned because " it involves moving into a position that doesn't exist at the moment," he said. The board would not hire the staffa attorney. It would be part of the superintendent's budget, and the superintendent's call.




Hunt was ready to make the motion this evening to fire her until Conklin explained, with a calm and deliberateness that repeatedly escaped Hunt, why the board might want to give that a lot of thought before risking litigation that could cost a lot more than 12 weeks' severance pay, as the best-case scenario would have it.
When Hunt said she had just cause, the first thing she mentioned was her displeasure that when Gavin released her texts to comply with public record requests–back when Hunt and then-Wadsworth Principal Paul Peacock were orchestrating the firing of then-Superintendent Cathy Mittelstadt–one of the texts, to Hunt's chagrin, was her asking Peacock if he had just "butt-dialed" her.
"I then have someone yelling at me that I am having extramarital affairs with Paul Peacock because it has been suggested that I am overly friendly," Hunt complained, claiming Gavin should not have released that text. But Hunt, who has shown a continuing contempt, disregard and misunderstanding of the public record law, was incorrect, as Conklin pointed out, since the law had to be interpreted liberally, not narrowly: the frequency of calls between officials or employees, precisely because they are not personal, as Hunt claimed, is part of the record that establishes when, and to what extent, the officials or employees had been in contact, and on what terms: all questions that had surrounded Hunt's and Peacock's machinations about Mittelstadt. Hunt herself would have risked liability for suppressing the text, as would Gavin had she aided her in the suppression.




Hunt also claimed that she had "just cause" to fire Gavin for the way Gavin–or so Hunt claimed–had said by way of legal guidance "that we really shouldn't want older teachers because they're out of touch with technology." But of Hunt's own admission, the alleged statement–itself out of character for Gavin–dates back to "within a few months" of her election. It appears neither to have been documented nor mentioned before, and Massaro and Conklin were quick to say that it did not amount to just cause.
Chong, for her part, was upset that a continuing rumor about Hunt looking to sell her home had been reported here. "I work for a large company, a healthcare system that is nationwide," Chong said. "And you are told you are not to be speaking to the media. And everybody in Flagler schools who works for our schools should know that you should not be making comments to the media. I just feel like that's a given." (At the same meeting, Chong sought to cut down the amount of time afforded the public during public comment periods at board meetings.)
Chong appears not to see the difference between a private company and public schools accountable to taxpayers–nor to understand the public relevance of Hunt considering to sell and move out. That would trigger a series of consequences, not least of them the opening of a seat midstream and the reduction of a board to a 2-2 split until an eventual appointment by the governor to fill the seat, based on a scramble of applicants. (Hunt has already resigned once before un-resigning.)
"Nobody has said anything about just cause. Everything you just described does not quantify as just cause," Conklin said.
But there's no question that three board members don't trust Gavin and want her gone–a majority and a reason Massaro and Conklin cannot overcome. The majority may even be willing to risk a lawsuit. "People can sue for any reason, right?" Furry said. "It doesn't matter what the contract says, you can still file a lawsuit, right? And so that's always a possibility. Right? I would I would prefer that we come to mutual terms here. So that's why I'm putting this out there to say hey, let's try and work something out so that everybody can be happy here in the end, or as happy as we can be with it."
The item on tonight's agenda was tabled to the Oct. 26 meeting.