To include your event in the Briefing and Live Calendar, please fill out this form.
Weather: Mostly cloudy. A chance of showers and thunderstorms in the morning, then showers and thunderstorms likely in the afternoon. Highs in the lower 90s. West winds around 5 mph, becoming northeast in the afternoon. Chance of rain 70 percent. Heat index values up to 106. Tuesday Night: Partly cloudy. Showers and thunderstorms likely, mainly in the evening. Lows in the mid 70s. Chance of rain 70 percent.




Today at a Glance:
The Flagler County School Board meets at 3 p.m. in workshop to go over the items on its upcoming school board meeting two weeks hence. The board meets in the training room on the third floor of the Government Services Building, 1769 East Moody Boulevard, Bunnell. Board meeting documents are available here.
Flagler Beach's Planning and Architectural Review Board meets at 5:30 p.m. at City Hall, 105 S 2nd Street. For agendas and minutes, go here.
The Palm Coast City Council meets at 6 p.m. at City Hall. A new cell tower at Ralph Carter Park is to be discussed. For agendas, minutes, and audio access to the meetings, go here. For meeting agendas, audio and video, go here. The full agenda is here.
The Bunnell Planning, Zoning and Appeals Board meets at 6 p.m. at the Government Services Building, 1769 East Moody Boulevard, Bunnell. The board consists of Carl Lilavois, Chair; Manuel Madaleno, Nealon Joseph, Gary Masten and Lyn Lafferty.




In Coming Days:
Aug. 2: Flagler Beach's Margaritaville Hotel Public Meeting: The developer of the coming 100-room hotel in downtown Flagler Beach will update the public regarding the hotel project and logistics surrounding construction. The meeting is at 5:30 p.m. at City Hall's commission chambers, 105 South 2nd Street.
September 16: Flagler OARS' 3rd Annual Recovery Festival at Veterans Park in Flagler Beach, from 3 to 9 p.m., with live bands, food trucks, exhibitors, hosted by Open Arms Recovery Services. Vendor booth space and sponsorships available. Click here or contact [email protected].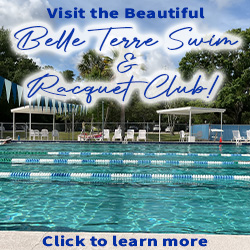 Keep in Mind: The Belle Terre Swim & Racquet Club is open, welcoming and taking new memberships, and if you enroll before Sept. 1, you'll beat the price increase kicking in then. Experience the many amenities including a lap pool, wading pool, tennis/pickleball courts, sauna, and a modern wellness center–all for less than what you'd pay just for a fitness center at your typical commercial gym. Friendly staff is available to answer any questions you may have about becoming a member. Belle Terre Swim and Racquet Club is the sort of place where you can connect with fellow community members and experience the welcoming atmosphere that sets BTSRC apart. If you have any questions, feel free to call at 386-446-6717. If you would like to learn more about our club and membership options please visit online.
Notebook: I will miss my friend, one of the very few I made on the beat–before he went into politics, and after. He was my son's grandpa emeritus. He was among the champions of Cheryl's youth orchestra, showing up to more concert than most. He was an unlikely friend, his conservatism often more than I could take, but with redeeming pragmatism, and a kindness with no bounds. Knowing that they brought me memories of Lebanon, he brought me loquats from his loquat tree when I was ill with cancer, and brought him nothing when he was ill with his, among other ailments. We had our occasional fallings in and fallings out. He was in the public eye, after all, and as such I never treated him any differently than any other character on our Pirandello of a political stage. He was almost always gracious, only occasionally, though in his latter years a bit more increasingly, taking the low road of Fox-type fallacies. But he stayed true to the family. His departure for Celebration a couple of years ago might as well have been the end, and as it turned out, it was. His memory was failing him, and in the end so did I. Here's the very first picture I took of him, after our very first lengthy conversation. It was in the first-floor conference room of the GSB. It was July 15, 2010. FlaglerLive was about two months old. Our friendship was born that day, though it took me many years to acknowledge it, even between us.
—P.T.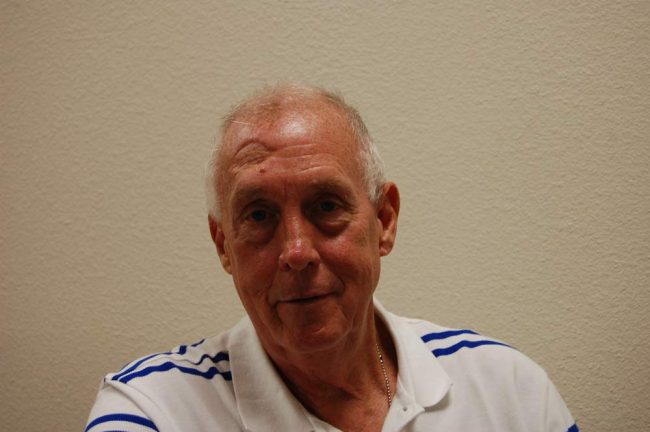 Now this:

The Live Calendar is a compendium of local and regional political, civic and cultural events. You can input your own calendar events directly onto the site as you wish them to appear (pending approval of course). To include your event in the Live Calendar, please fill out this form.
For the full calendar, go here.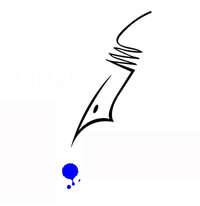 The diner at the truck stop was open but empty. The motel office was empty. I walked down the row to the last-but-one room. Kramer's room. The door was locked. I stood with my back to it and pretended I was a hooker whose client had just died. I had pushed his weight off me and dressed fast and grabbed his briefcase and I was running away with it. What would I do? I wasn't interested in the briefcase itself. I wanted the cash in the wallet, and maybe the American Express card. So I would rifle through and grab the cash and the card and ditch the bag itself. But where would I do that? Inside the room would have been best. But I hadn't done it there, for some reason. Maybe I was panicking. Maybe I was shocked and spooked and just wanted to get the hell out, fast. So where else? I looked straight ahead at the lounge bar. That was probably where I was going. That was probably where I was based. But I wouldn't carry the briefcase in there. My co-workers would notice, because I was already carrying a big purse. Hookers always carry big purses. They've got a lot of stuff to haul around. Condoms, massage oils, maybe a gun or a knife, maybe a credit card machine. That's the easiest way to spot a hooker. Look for someone dressed like she's going to a ball, carrying a bag like she's going on vacation."
–From Lee Child's The Enemy: A Jack Reacher Novel (2004).