To include your event in the Briefing and Live Calendar, please fill out this form.
Weather: Mostly sunny. Highs in the mid 80s. Northwest winds 5 to 10 mph. Sunday Night: Partly cloudy. Lows in the lower 60s. East winds 5 to 10 mph, becoming southwest after midnight.




Today at a Glance:
Palm Coast Farmers' Market at European Village: The city's only farmers' market is open every Sunday from noon to 4 p.m. at European Village, 101 Palm Harbor Pkwy, Palm Coast. With fruit, veggies, other goodies and live music. For Vendor Information email [email protected]
Grace Community Food Pantry, 245 Education Way, Bunnell, drive-thru open today from 1 to 4 p.m. The food pantry is organized by Pastor Charles Silano and Grace Community Food Pantry, a Disaster Relief Agency in Flagler County. Feeding Northeast Florida helps local children and families, seniors and active and retired military members who struggle to put food on the table. Working with local grocery stores, manufacturers, and farms we rescue high-quality food that would normally be wasted and transform it into meals for those in need. The Flagler County School District provides space for much of the food pantry storage and operations. Call 386-586-2653 to help, volunteer or donate.
Al-Anon Family Groups: Help and hope for families and friends of alcoholics. Meetings are every Sunday at Silver Dollar II Club, Suite 707, 2729 E Moody Blvd., Bunnell, and on zoom. More local meetings available and online too. Call 904-315-0233 or see the list of Flagler, Volusia, Putnam and St. Johns County meetings here.




In Coming Days:
Flagler Pride Weekend is on June 10-11 in Palm Coast's Central Park: All applications (Vendor, Sponsor, Volunteer, Speaker, Entertainment) for Flagler Pride Weekend are now open until midnight on May 20th, 2023. No late applications will be accepted or considered. Vendors, apply here. Flagler Pride weekend is scheduled for June 10-12, at Palm Coast's Central Park.
From Statista: The DeSantis Agenda in Florida: DeSantis "has finalized a number of sweeping laws changes from the 2023 Florida legislative session that underline his status as a conservative hardliner who is tough on crime and just as unforgiving when it comes LGBTQ, abortion and diversity rights. Considering only laws from the 2023 Florida legislative session that started on March 7 and ended on May 5, 2023, DeSantis and his Republican supermajority have ended permits for concealed gun carry, limited abortions to six weeks of gestation, ended the unanimous jury requirement for the death penalty, prohibited college and university diversity programs and – in a sweeping bill package aimed at trans Floridians – outlawed gender-affirming care and drag shows for minors, banned bathroom choice and expanded Florida's so-called "Don't Say Gay" sex ed law through the 8th grade. Furthermore, the legislature expanded the voucher program for private schools, prohibited Environmental, Social, and Corporate Governance criteria to be used in the financial industry and passed a slew of pandemic-related laws that outlaw vaccine, masking and testing requirements, among others – all in the spirit of attacking "woke" rules, as DeSantis' press releases often put it. Another law more in DeSantis' direct favor is the new ban on the release of Florida state leaders' travel records, signed on May 11. More anti-crime bills are minimum sentences for the sale of fentanyl, a uniform bail bonds schedule (both May 1), higher penalties on breaking immigration law (May 10) and stricter human trafficking penalties (May 16), the latter also framed as a bill against illegal immigrants. A number of bills out of the 2023 legislative sessions could disgruntle consumers, workers and small-business owners. They are limits on torts against insurers (March 24), the restriction of the statute of limitations in construction (April 13) and restrictions on unions (May 9). However, the sessions also included a sweeping funding bill for housing (March 29) and an expansion to the state's trail network and wildlife corridor (April 11) as well as a bill aiming to reign in drug prices (May 3) and new rules prohibiting harassment on the basis of religious or ethnic displays, a bill DeSantis signed on a trip to Israel."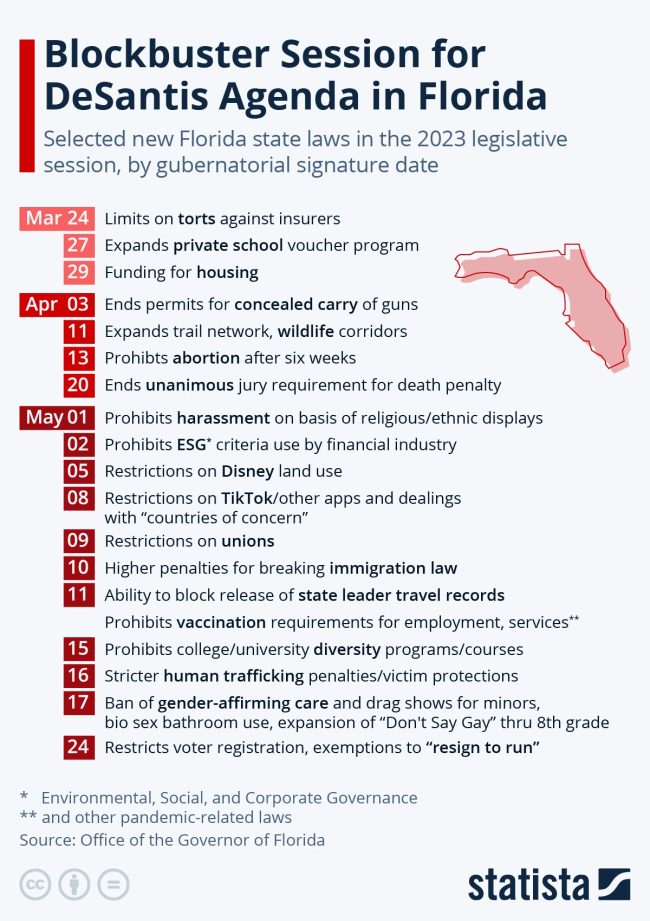 Now this: Wikipedia, that intarissable wonder, tells us that "Shenandoah," the anonymous traditional, "appears to have originated with American and Canadian voyageurs or fur traders traveling down the Missouri River in canoes and has developed several different sets of lyrics. Some lyrics refer to the Oneida chief Shenandoah and a canoe-going trader who wants to marry his daughter. By the mid 1800s versions of the song had become a sea shanty heard or sung by sailors in various parts of the world." It has been arranged, rearranged and reinvented innumerable times. Here, for this weekend of memorials, is a version for trumpet and brass, and if we're lucky, we may see an arrangement for strings played by the Flagler Youth Orchestra next year:

The Live Calendar is a compendium of local and regional political, civic and cultural events. You can input your own calendar events directly onto the site as you wish them to appear (pending approval of course). To include your event in the Live Calendar, please fill out this form.
For the full calendar, go here.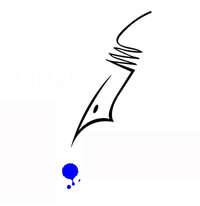 Even in American cities, which seem so much alike, where people seem all to be living the same lives, striving for the same things, thinking the same thoughts, there are still individuals a little out of tune with the times -there are still survivals of a past more loosely woven, there are disconcerting beginnings of a future yet unforeseen.
–From Willa Cather's "Double Birthday," a 1929 short story originally published in Forum.