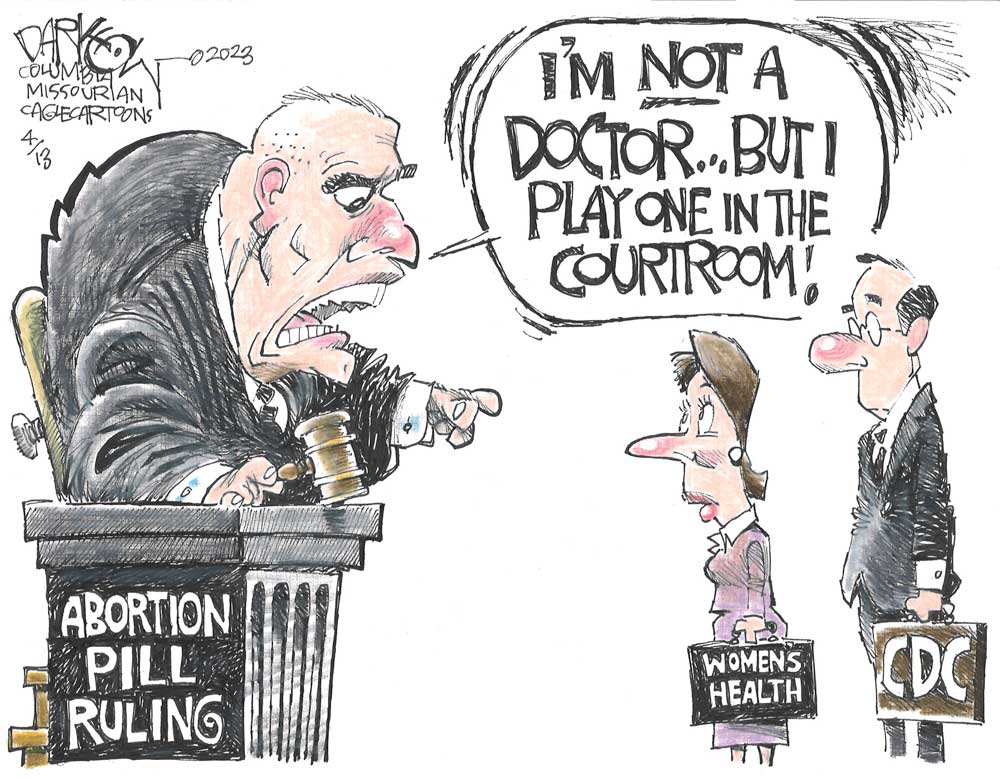 To include your event in the Briefing and Live Calendar, please fill out this form.
Weather: Patchy fog in the morning. Partly cloudy. Highs in the upper 80s. West winds around 5 mph, becoming southwest in the afternoon. Saturday Night: Partly cloudy in the evening, then becoming mostly cloudy. Lows in the mid 60s. Southeast winds 5 to 10 mph, becoming south after midnight.




Today at a Glance:
Meet Your District 4 County CommissionerLeann Pennington at 9 a.m. at Haw Creek Community Center, 9257 County Road 304, Bunnell.
The Saturday Flagler Beach Farmers Market is scheduled for 9 a.m. to 1 p.m. today at Wickline Park, 315 South 7th Street, featuring prepared food, fruit, vegetables , handmade products and local arts from more than 30 local merchants. The market is hosted by Flagler Strong, a non-profit.
Pellicer Creek Raid Re-Enactment at the Florida Agricultural Museum, 7900 N Old Kings Rd, Palm Coast, 9 a.m. to 4 p.m. Saturday and Sunday. magine it is March 9, 1863. You are a Union soldier guarding the pickets outside of St. Augustine. All of a sudden you are overwhelmed by the sound of Confederate soldiers attacking! You prepare for the oncoming engagement when you hear another sound… reinforcements from the 7th New Hampshire infantry from the garrison in St. Augustine arrive. You feel relieved as you note the Confederates begin to withdraw in the face of superior numbers… you live to fight another day. You are grateful for this Union victory.
The University Women of Flagler's general membership meets at 9:30 a.m. at the Hilton Garden Inn, 55 Town Center Blvd., Palm Coast. Guests are welcome. Cost is $17 if paying by check; $18 if paying through this link. The April 15 speaker is Lt. General Mark Hertling, a retired three star general living in Flagler Beach having had global military and other responsibilities on behalf of the United States, positions on Presidential councils and Boards of Directors, a true winner in the sports arena, and an ace commentator on national television news outlets.
Andrew Spar, president of the Florida Education Association, the teachers union, speaks at the Democratic Women's Club of Flagler County at 9:30 a.m. at the Palm Coast Community Center, 305 Palm Coast Parkway NE.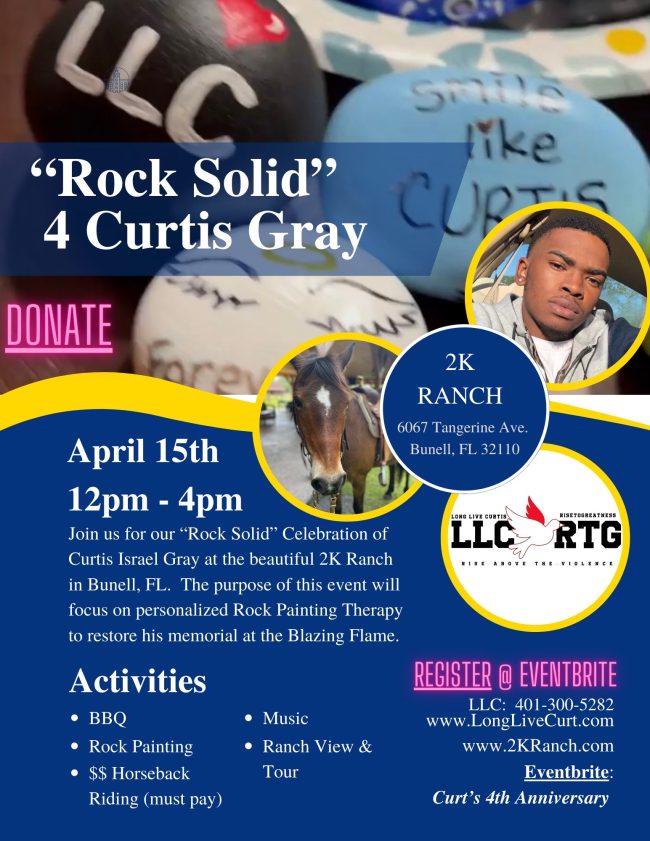 Curtis Gray memorial event marking the anniversary of the day Flagler Palm Coast High School was shot and killed, on April 13, 2019: noon to 4 p.m. at 6067 Tangerine Avenue in Bunnell, at 2K Ranch, with rock painting therapy and equestrian therapy designed to enhance positive mental health. It is a free event. "We are encouraging parents to come out and participate with their youth as well," Carmen Gray, Curtis's mother and the leader of the Long Live Curt foundation, says.




Matanzas High's Pirate Players Present 'Grease,' the musical, at Pirates Theatre on the school's campus at 2 and 7 p.m.  Tickets are $10 online or at the door. Book here.
Rocky & the Rollers, 7 p.m. at Flagler Auditorium, 5500 State Road 100, Palm Coast. Rocky and the Rollers Doo Wop N' Rock show is one of the most exciting shows that take you back in time to the great sound of Doo Wop and Rock and Roll from the 1950's thru the 1970's. So whether for dancing or sitting at a concert, all ages will enjoy Rocky and the Rollers and have you dancing in the aisles. Rocky and The Rollers show is one you will not want to miss.
Grace Community Food Pantry, 245 Education Way, Bunnell, drive-thru open today from 10 a.m. to 1 p.m. The food pantry is organized by Pastor Charles Silano and Grace Community Food Pantry, a Disaster Relief Agency in Flagler County. Feeding Northeast Florida helps local children and families, seniors and active and retired military members who struggle to put food on the table. Working with local grocery stores, manufacturers, and farms we rescue high-quality food that would normally be wasted and transform it into meals for those in need. The Flagler County School District provides space for much of the food pantry storage and operations. Call 386-586-2653 to help, volunteer or donate.
Daytona State College Theatre's 'The Prom,' at the News-Journal Center, 221 N Beach St, Daytona Beach, 7:30 p.m. April 7, 8, 14, 15, 16, tickets $10. Book here. In "The Prom," Emma, a lesbian, becomes an instant outcast–and a national headline–when her high school cancels the prom rather than let her attend with her girlfriend. Sensing a chance to correct an injustice, and maybe get some good publicity along the way, a group of fading celebrities takes up the cause, and invades Emma's small Indiana town. But their bumbling attempts at social activism make the situation far worse than they or Emma could have imagined. Cultures clash and the town erupts in chaos. The community's reputation, Emma's future and the actors' careers, all hang in the balance, until a true hero emerges to save the day. Uproarious and ultimately uplifting, this new musical proves that standing up for yourself and inspiring others to accept their differences can make you the star you were always meant to be.
In Coming Days:
Flagler Pride Weekend: All applications (Vendor, Sponsor, Volunteer, Speaker, Entertainment) for Flagler Pride Weekend are now open until midnight on May 20th, 2023. No late applications will be accepted or considered. Vendors, apply here. Flagler Pride weekend is scheduled for June 10-12, at Palm Coast's Central Park.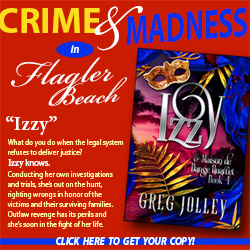 April 26: Flagler Tiger Bay After Dark: Dr. Maya Angelou, a Conversation with Colin Johnson, grandson of Dr. Maya Angelou, who will share his story of growing up with a national treasure, and her perspective on life and politics. 5:30 p.m., Crave's Coastal Kitchen & Cocktails, 2000 S Ocean Shore Blvd, Flagler Beach. Your $25 ticket includes event entry and heavy hors d'oeuvres. Cash bar. Colin Johnson, A civil rights activist and National Women's Hall of Fame Inductee, Dr. Maya Angelou's Awards and Honors include the Presidential Medal of Freedom, National Medal of Arts, and numerous Grammy Awards. Angelou was commemorated with a Forever Stamp by the U.S. Postal Service in 2015 for her contributions to arts, culture and equality. Join us for a fascinating look at the life and legacy of Dr. Maya Angelou.




Notably: Ray Kroc opened the first McDonald's in Des Plaines, Illinois, on this day in 1955. Which reminds me of a Bill Bryson line from A Walk in the Woods: "… people who go into hamburger management always look as if their mother slept with Goofy." So do people who make up geopolitical pronouncements about McDonald. Viz., Thomas Friedman, who once claimed that "No two countries that both have a McDonald's have ever fought a war against each other," even as Nato was pounding the Balkans and a few years before joining the bellowing for war on Iraq. Incidentally, as Nicholas Kristof noted in a 2020 column, "Starting pay for the humblest burger-flipper at McDonald's in Denmark is about $22 an hour once various pay supplements are included. The McDonald's workers in Denmark get six weeks of paid vacation a year, life insurance, a year's paid maternity leave and a pension plan. And like all Danes, they enjoy universal medical insurance and paid sick leave."
—P.T.
Now this:  Interviewing – Richard Linklater & Eric Schlosser, writers of "Fast Food Nation."

The Live Calendar is a compendium of local and regional political, civic and cultural events. You can input your own calendar events directly onto the site as you wish them to appear (pending approval of course). To include your event in the Live Calendar, please fill out this form.
For the full calendar, go here.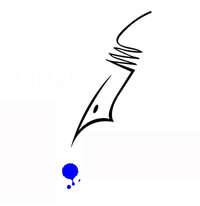 There is nothing inevitable  about the fast food nation that surrounds us – about its marketing strategies, labor policies, and agricultural techniques, about its relentless drive for conformity and cheapness. The triumph of McDonald's and its imitators was by no means preordained. During the past two decades, rhetoric about the "free market" has cloaked changes in the nation's economy that bear little relation to real competition or freedom of choice. From the airline industry to the publishing business, from the railroads to tele-communications, American corporations have worked hard to avoid the rigors of the market by eliminating and absorbing their rivals. The strongest engines of American economic growth in the 1990s – the computer, software, aerospace, and satellite industries – have been heavily subsidized by the Pentagon for decades. Indeed, the U.S. defense budget has long served as a form of industrial policy, a quasi-socialist system of planning that frequently yields unplanned results. The Internet at the heart of today's "New Economy" began as the ARPANET, a military communications network created in the late 1970s. For better or worse, legislation passed by Congress has played a far more important role in shaping the economic history of the postwar era than any free market forces.
–From Eric Schlosser's Fast Food Nation (2001).