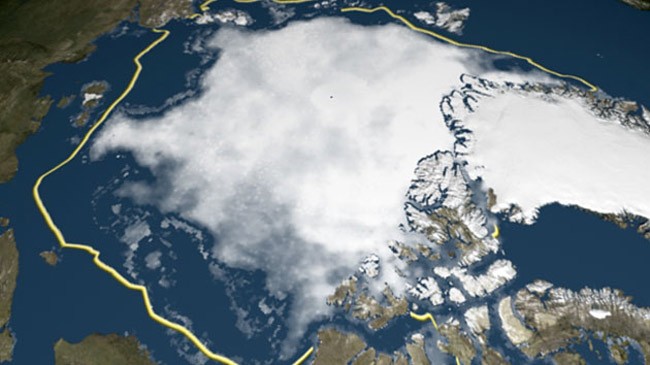 Today: high in the low 80s, low in mid-70s. Details here.
Today's fire danger is low. Flagler County's Drought Index is at 189.
Today's document from the National Archives.
The OED's Word of the Day: quercine, adj..
The Live Community Calendar
Today's jail bookings.
Today's Briefing: Quick Links

Note: all government meetings noticed below are free and open to the public unless otherwise indicated. Many can be heard or seen live through each agency's website.
Arts In Education Week continues in Flagler County. Click here for details.
The Flagler Economic Opportunity Advisory Council meets at 9 a.m. in board chambers, Government Services Building, Bunnell. The council will hear a report from Jason DeLorenzo as the government affairs director of the Flagler Home Builders Association and Randy Berridge of the Florida High Tech Corridor.
Cpl. Pete Young Honored: Florida Highway Patrol Cpl. Pete Young, who's been patrolling local roads for four decades, is honored for his service with a medal by the Flagler Chapter of the Sons of the American Revolution, 1 p.m. at Heroes Park in Palm Coast.
The Flagler County Commission holds its second and final public hearing to adopt the budget and property tax rate for the coming year, at 5:30 p.m. in board chambers, Government Services Building, Bunnell.
The Flagler Beach Alternative Use Committee hears three proposals from companies hoping to take over the city-owned 34-acre disused golf course at the south end of town and run it as a 9-hole course again, which it hasn't been since 2008. 5:30 p.m. at City Hall meeting chambers. See the story for background.
The African American Mentoring Program for Girls holds its back to school celebration at the Flagler Palm Coast High School Bistro, 6 p.m.
Indian Trails Middle School holds its open house tonight at 6 p.m.
Maya at the Playa, the most important international conference on Maya studies anywhere, begins today at the Government Services Building and runs through Sept. 20. See a previous story here, and the Maya at the Playa website here.
The Flagler Public Leadership Institute, a program sponsored by the Flagler Chamber of Commerce to educate potential political candidates with a business focus about the process, holds the first of its two days of seminars at the chamber. The seminars are closed to public and press. See the background story here.

Palm Coast Manager Apologizes for Ordering Work Without School Board Approval First: In sharp contrast to a similar issue with the county, when Landon ran into legal obstacle in the city's Palm Harbor extension project this summer with the school board, Landon ordered construction to continue unabated, without school board approval. The issue was a utility easement. The city legally had to secure it before going ahead with the work. It did not. Tuesday evening, Landon appeared before the school board to secure the easement and apologize.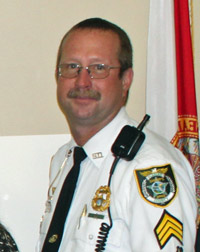 Suicide By Cop Averted as Deputy's Taser Ends Stand-Off on Pine Brook Drive in Palm Coast: It was the latest in a series of incidents in which deputies were able to diffuse dangerous situations involving individuals threatening to harm themselves or others with weapons. In each case, deputies used so-called "less-lethal" weapons, such as bean bags, sponge grenades or a Taser, to end the situation. Sgt. Michael van Buren, who two months ago helped with CPR save an unresponsive 4-year-old boy from a car in the Woodlands, took out his Taser and fired to incapacitate a woman who was pointing what looked like a firearm at deputies. It turned out to be a BB gun.
Palm Coast will spend $98,000 to get rid of spoil island: "What started as a floating glob of construction debris in the Lehigh Canal has turned into a forested, 2,500-3,000-square-foot island that the city will have to spend more than $90,000 to remove," the Observer's Jonathan Simmons reports. "But the little island began forming after the nearby L-4 weir broke in a 2002 storm, and the debris massed in the canal."
Flagler Airport Lands 1st Cuba-Bound General Aviation Flight From the United States: Local pilot Galin Hernandez made a historic flight when he along with his wife and two others flew from the United States into Cuba over Labor Day weekend. It was the first time a general aviation flight from the U.S. was allowed to land in Cuba, something that would have been impossible before this year. (General aviation refers to all civil aviation operations that don't include scheduled air services by commercial carriers and non-scheduled but commercial cargo operations.)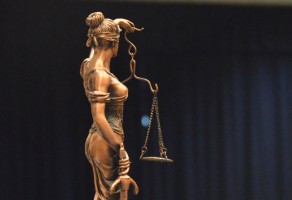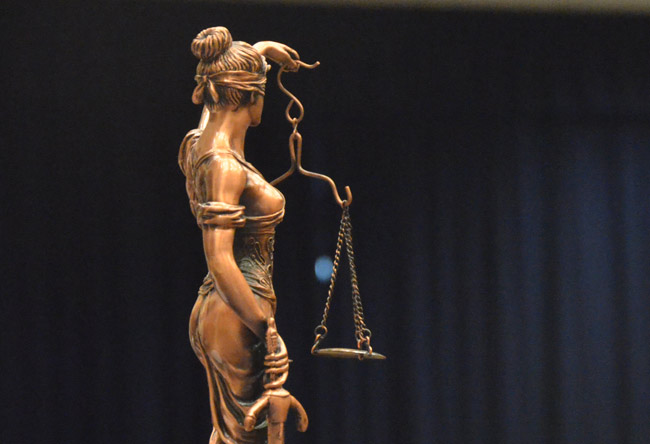 Circuit Judge Michael Orfinger hears injunctions at 8:30 a.m. and 1 p.m. in Courtroom 101. Circuit Judge J. David Walsh is in drug court at 9:30 a.m. in Courtroom 401. County Judge Melissa Moore-Stens is in a jury trial in the case of Annette Maria Walters Whitney, accused of violating the terms of pre-trial release. The defendant is represented by Matthew Maguire. (Courtroom 404, 10 a.m.)
The Florida Supreme Court issues opinions at 11 a.m.

Note: Most proceedings below can be followed live on the Florida Channel.

Department of Corrections: The House Judiciary Committee will receive a presentation from the Department of Corrections, which has faced a series of controversies during the past year that have included allegations of inmate abuse and cover-ups. (9 a.m.)
The Senate Appropriations Committee will receive a presentation from economist Amy Baker about a long-range financial outlook that shows the state with more than a $600 million surplus for the upcoming 2016-17 fiscal year. (11 a.m.)
House members examine budget requests: The House Agriculture & Natural Resources Appropriations Subcommittee, the House Government Operations Appropriations Subcommittee and the House Health Care Appropriations Subcommittee will consider budget requests from state agencies. (Agriculture & Natural Resources Appropriations, 12:30 p.m., Government Operations Appropriations, 3 p.m., Health Care Appropriations, 3 p.m.)
Human trafficking: The House Children, Families & Seniors Subcommittee will receive updates from Department of Juvenile Justice Secretary Christy Daly and the Department of Children and Families about efforts to curb human trafficking in Florida. (12:30 p.m.)
OTHER LEGISLATIVE MEETINGS:
— House K-12 Subcommittee (Thursday, 12:30 p.m., Morris Hall, House Office Building, the Capitol.)
— House Agriculture & Natural Resources Subcommittee (Thursday, 3 p.m., Reed Hall, House Office Building, the Capitol.)
— House Business & Professions Subcommittee (Thursday, 3 p.m., 12 House Office Building, the Capitol.)
— House Choice & Innovation Subcommittee (Thursday, 3 p.m., 306 House Office Building, the Capitol.)
— House Transportation & Ports Subcommittee (Thursday, 3 p.m., 404 House Office Building, the Capitol.)
Senate Transportation Chairman Jeff Brandes, R-St. Petersburg, will test drive a Tesla during a press availability that is part of Drive Electric Florida Day at the Capitol. (12:30 p.m.)
–Compiled by the News Service of Florida and FlaglerLive

In Coming Days in Palm Coast and Flagler:
Click on the links for more details:
Sept. 18: County Judge Melissa Moore-Stens on the 8th Amendment and Flagler's Pre-Trail Release Program: Mark the 228th anniversary of the birthday of the U.S. Constitution with the Flagler County Friends of the Library at 1:30 p.m. as the Friends sponsor "A Look at the 8th Amendment," presented by Judge Melissa Moore Stens. The program will be in the meeting room of the Library, 2500 Palm Coast Pkwy NW. The topic for discussion will be the pre-trial release program, funded by the County Commissioners in 2014.

Elbert Tucker (© FlaglerLive)

Sept. 18: Bunnell City Commissioner Elbert Tucker is the keynote speaker at the 23rd Drug Court Graduation at 3 p.m. at the Flagler County Courthouse, before Circuit Judge J. David Walsh, in Courtroom 101.
Sept. 19: Volusia and Flagler Parent Magazines Host 6th Annual Ultimate Baby Shower and Toddler's Expo from 10 a.m. to 5 p.m. at Mainland High School in Daytona Beach.
Sept. 21: Flagler Beach Police Captain Matthew Doughney and 7-Eleven host "Doughnuts with Doughney": The Flagler Beach Police Department and the city's 7-Eleven have partnered to host "Doughnuts with Doughney" on Monday, September 21, from 8 a.m. to 10 a.m. at 408 South Oceanshore Boulevard.
Sept. 22: Flagler County NAACP Meeting: Cassandra Stephenson of Chi Delta Omega Chapter of Alpha Kappa Alpha Sorority, Inc. addressing voter registration; Renny Roker, actor/producer/promoter, will unveil his book, "Positivity, Your Key to Success," speaking truth to power for today's youth; and Student and Community Engagement Director Lynette Shott will bring plans from the Flagler school district for the year 2015-16. A question and answer session will follow each presentation. (6 p.m., African American Cultural Society, 4422  U.S. 1 North, Palm Coast.)
Sept. 26: Free Admission at Florida Agriculture Museum, Smithsonian Magazine Museum Day: It's part of Smithsonian Magazine's eleventh annual Museum Day Live! On this day only, participating museums across the United States emulate the spirit of the Smithsonian Institution's Washington DC-based facilities, which offer free admission everyday, and open their doors for free to those who download a Museum Day Live! ticket.

Sept. 28: Bunnell's State of the Art Water Treatment Facility Grand Opening and Ribbon Cutting at 100 Utility Drive (directly across the street from the Flagler County Government Services Building), from 4 to 6 p.m.
October 1: The Humidor celebrates 10 years of doing business in Palm Coast with a big party, 6 p.m. to 9 p.m. Featuring live music, light eats, storewide sale, raffle items and tons of people to meet and chat with. At European Village.
Oct. 6: The Flagler County School Board holds a town hall meeting at the Government Services Building.
Flagler County is now accepting applications for the Fall 2015 Citizens Academy. Classes will be held on Thursday evenings from 5 to 8 p.m. beginning September 10 for nine weeks. For more information, click this link or go to flaglercounty.org/academy.

Police, Fire and Emergency Notes: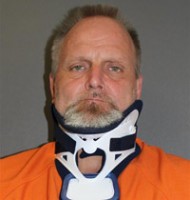 Daytona Beach Man gets Total of 22 Years in Wreck that Killed Passenger while Fleeing Police: A Daytona man who crashed his car while fleeing from police in April of this year was convicted of 3 felony charges and sentenced to 15 years in a state prison facility. Owen William Darr, Jr., 54, plead no contest to the charges of Grand Theft Auto, Fleeing and Eluding Resulting in Death, and Driving With License Suspended Habitual today, September 15, 2015. On April 6, 2015, Darr was driving a stolen 2003 Ford Windstar van in South Daytona. A South Daytona Beach Police Officer recognized the van as a stolen vehicle and attempted a traffic stop. Darr accelerated rapidly, running a stop sign. Officers did not attempt to chase Darr and disengaged lights and sirens. Darr lost control of the van, leaving the roadway and striking a tree. Darr's passenger, 23-year-old Jamie Cain died from her injuries resulting from the crash. Darr was already on probation for multiple theft charges and was enrolled in Drug Court, a treatment-based program designed for drug-related offenses. Darr was sentenced to 7 years in prison on those cases for violating the conditions of the Drug Court program. The 15-year sentence handed down today is consecutive to the 7-year sentence on the drug court cases. Assistant State Attorney Tammy Jaques, of the State Attorney's Career Criminal Unit, prosecuted the case. Seventh Circuit Judge Terence Perkins presided over the case and pronounced sentence.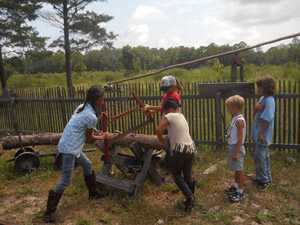 Free Admission at Florida Agriculture Museum on Sept. 26, Smithsonian Magazine Museum Day: It's part of Smithsonian Magazine's eleventh annual Museum Day Live! On this day only, participating museums across the United States emulate the spirit of the Smithsonian Institution's Washington DC-based facilities, which offer free admission everyday, and open their doors for free to those who download a Museum Day Live! ticket. Inclusive by design, the event represents Smithsonian's commitment to make learning and the spread of knowledge accessible to everyone. Last year's event drew of 400,000 participants, and this year's event is expected to attract more museum goers than ever before. The Museum Day Live! ticket is available for download at the Smithsonian Magazine's website. Visitors who present the Museum Day Live! ticket will gain free entrance for two at participating venues for one day only. One ticket, per household, per email address is permitted. For more information about Museum Day Live! 2015 and a full list of participating museums and cultural institutions, please visit the Smithsonian's web-site. Your ticket will gain entry only at the museum listed on your ticket. The Florida Agricultural Museum will also accept the ticket from your smart phone screen. For more information about Museum Day at the Florida Agricultural Museum, please contact 386-446-7630 or [email protected]

Ahmed Mohamed, 14, Builds Clock, Is Cuffed for Bomb Hoax, and Ends Up Invited to White House: A high school student in Texas whose hobby is inventing thought he had a great idea for a project: to build his own clock. The effort landed him in handcuffs and juvenile detention on Monday, accused of making a hoax bomb. The detention of Ahmed Mohamed, 14, a student at MacArthur High School in Irving, Tex., near Dallas, generated a national furor even after the police said on Wednesday that he would not be charged as questions arose about whether he was targeted because of his religion. The episode even came to the attention of the nation's top leaders, who deplored the treatment of the young man. "Cool clock, Ahmed," President Obama said on Twitter. "Want to bring it to the White House? We should inspire more kids like you to like science. It's what makes America great." Mr. Obama's staff went on to invite Ahmed to come to the White House for Astronomy Night, to be held Oct. 19, an event bringing together scientists, engineers, astronauts, teachers and students to spend an evening stargazing from the South Lawn. The president's spokesman held out the encounter as a case study in unreasoned prejudice in an era when the country is fighting Islamic terrorism at home and in the Middle East." From The Times. Watch:
A Stunning Amount of Sea Ice Melted This Summer: Ice coverage in the Arctic this year shrunk to its fourth lowest extent on record, US scientists have announced. The National Snow and Ice Data Centre (NSIDC) in Boulder, Colorado, said the ice reached a low of 1.7 million square miles on September 11 in what experts said was a clear indicator of climate change. Sea ice melt is closely tied to warmer weather over the region, which can be affected by climate change and short-term weather variability. The weather patterns recorded over the summer were favorable to a low ice extent, the NSIDC said. The lowest sea ice extent ever recorded was in 2012, followed by 2007 and 2011 respectively. This year's date comes four days earlier than the average minimum from 1981 to 2010. In March it was reported that last winter's sea ice maximum hit a record low. In 2013, the Arctic sea ice experienced an unexpected revival, with the ice volume recorded increasing by 41 percent. Researchers said it did not indicate a wider recovery of the ice cap, but suggested that if global warming was tackled the potential for long-term recovery was more likely than previously thought. On Monday the Met Office predicted that 2015 and 2016 will be the hottest yet reported, with 2014 having previously broken the global record. The news comes with less than two weeks left in the window of time for drilling oil in the region. After a summer of setbacks, oil giant Shell was given final permission a month ago by Barack Obama, who has faced sharp criticism for the decision." From Mother Jones.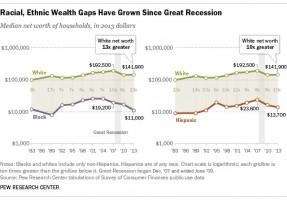 Wealth inequality has widened along racial, ethnic lines since end of Great Recession: "The Great Recession, fueled by the crises in the housing and financial markets, was universally hard on the net worth of American families. But even as the economic recovery has begun to mend asset prices, not all households have benefited alike, and wealth inequality has widened along racial and ethnic lines. The wealth of white households was 13 times the median wealth of black households in 2013, compared with eight times the wealth in 2010, according to a new Pew Research Center analysis of data from the Federal Reserve's Survey of Consumer Finances. Likewise, the wealth of white households is now more than 10 times the wealth of Hispanic households, compared with nine times the wealth in 2010. The current gap between blacks and whites has reached its highest point since 1989, when whites had 17 times the wealth of black households. The current white-to-Hispanic wealth ratio has reached a level not seen since 2001. (Asians and other racial groups are not separately identified in the public-use versions of the Fed's survey.) Leaving aside race and ethnicity, the net worth of American families overall — the difference between the values of their assets and liabilities — held steady during the economic recovery. The typical household had a net worth of $81,400 in 2013, according to the Fed's survey — almost the same as what it was in 2010, when the median net worth of U.S. households was $82,300 (values expressed in 2013 dollars). […] Our analysis of Federal Reserve data does reveal a stark divide in the experiences of white, black and Hispanic households during the economic recovery. From 2010 to 2013, the median wealth of non-Hispanic white households increased from $138,600 to $141,900, or by 2.4%." From Pew Research.
The black intelligentsia's embrace of the web: "[T]oday's black digital intelligentsia, both academic and otherwise, has found greater communion with its own members than earlier generations did, in large part, I believe, due to the impact of technology, especially the internet. Popular publications like Emerge may have brought scholars and thinkers together in the past, but the internet has provided far more outlets, and far greater likelihood of interaction. In the battle against police brutality, for example, activists from the Black Lives Matter movement have been able to forge direct links with black academics engaged in the intellectual resistance to the unjust use of authority by law enforcement. And a prominent black thinker with 250,000 Twitter followers has a better chance of opening a dialogue with her favorite academic than someone who, in the past, had just sent along a letter. Despite all the talk of the digital divide—the very real gulf that separates those with access to technology from the black and brown folk who lack it—the black digital intelligentsia has ingeniously used technology to extend and explore thought and fight injustice. Black folk, and particularly well-educated, elite black folk, have taken more quickly and creatively to technology than their white peers, and turned its myriad functions to our social and professional use. "Black Twitter" may be infamous for scorning white women like Rachel Dolezal who think they are black, but it has also pioneered the idea of hashtag activism, such as #SayHerName, which highlighted the invisibility of black women in discussions of police violence in black communities, or #SolidarityIsForWhiteWomen, with its allusion to tensions between black and white feminists, to offer but two examples." From the New Republic.

Palm Coast Construction and Development Progress Reports:
The following is an update of ongoing construction and development projects in Palm Coast, through Sept. 11: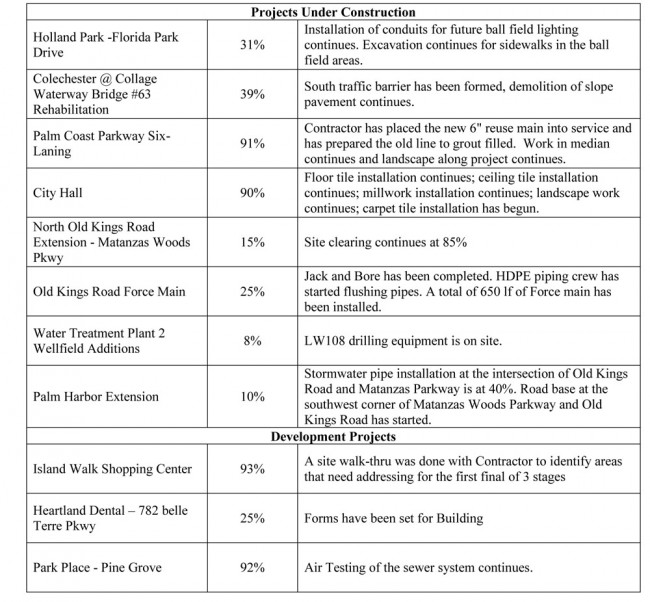 Palm Coast Residential and Commercial Permits Issued Last Week (Click on the chart for larger view):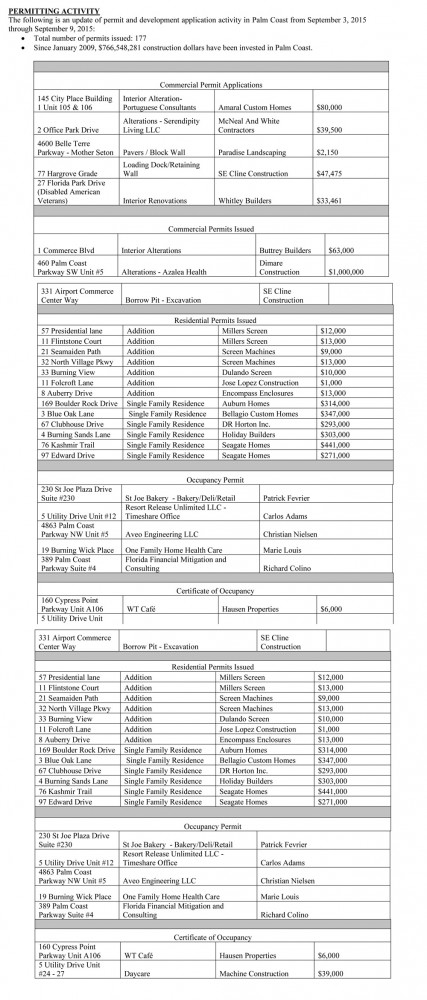 Road and Interstate Construction: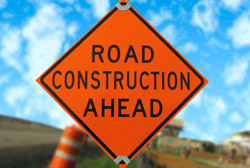 Palm Coast:
Flagler County Road 302 is Closed to all but local traffic as repaving began on June 7 and the roadway will be closed to all but local traffic. Others will be required to detour around County Road 302 using State Road 100. The roadway will be closed for 90 days, or until early September.
Palm Coast's Colechester Lane bridge to be closed July 7 through Sept. 4:  A detour will be established taking travelers over the Colorado Drive bridge instead. Signs will be posted directing motorists to the Colorado Drive bridge. The City of Palm Coast strives for safe construction zones. The City asks for the cooperation and patience of residents as this important bridge improvement project is completed. For more information, contact Palm Coast Customer Service at 386-986-2360.
Volusia: I-4 Widening from SR 44 to east of I-95, Monday and Friday, 7:00 a.m. – 5:00 p.m., Eastbound/Westbound shoulder closing. Sunday through Thursday, Eastbound and Westbound lane closures as needed from 8 p.m. to 6 a.m. Thursday, 9:00 p.m. – 5:30 a.m. EB road closure between Canal St./SR 44 and I-95 with detour at US 92 exit ramp.Motorists should be aware of traffic shifts near Canal St./SR 44.
County Road 304 Project Map and Description

Comment of the Day (From the Comment Section):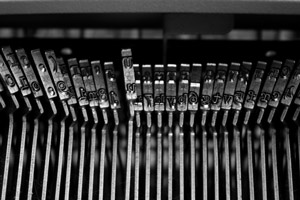 Rob in "Palm Coast Council Rebuffs Steven Nobile's Latest Call for Charter Review Process": Are all of the people who commenting here afraid of something? They sound like the old let's keep things as they are crowd. What is the underlying reason? What are they afraid of? On the other hand the town council is all in on a review of the city building codes. Why not keep things as they are in this case? The reality is that the charter, building codes and other codes need review and updating. A charter review may lead to, and hopefully so, a change in form of government. A strong mayor form of government would work best; one thing it would do is remove the town manager. A position that provides grossly overpaid compensation. So no wonder Jim Landon is against it. While reviewing the charter change the terms of the town councilors to two years and install an elected mayor for three years. And no to Mr McGuire and his notion of paying what other cities this size pay town councilors. Stop paying based on size and begin paying based on prosperity or median income for this locale. The median income for this area is equal to or less than $23,000 per year. How can a town manager be compensated close to ten times the median income? And there are others in the town government who are making well into the six figures. Too many people in this city have their heads stuck down in the sand." Reply to Rob here.

Dexter Gordon, 1964: A Night in Tunisia