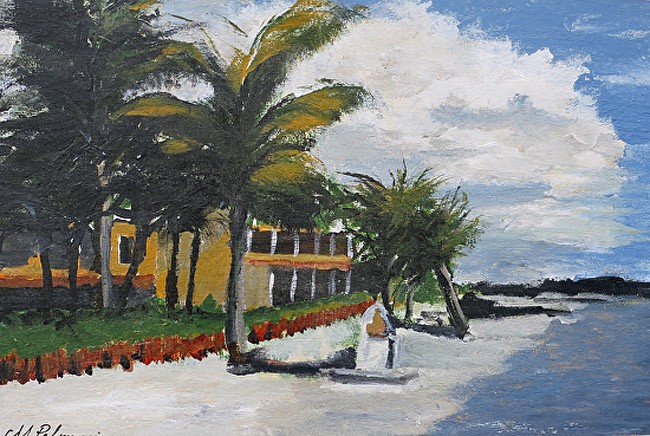 Today: high in mid-90s, low in mid 70s, heat index from 102 to 106. Details here.
Today's fire danger is low. Flagler County's Drought Index is at 253 (-13).
The weather in Bobo-Dioulasso, Burkina-Faso: high 88, low 74. Details.
Today's document from the National Archives.
The OED's Word of the Day: Realpolitik, n..
The Live Community Calendar
Today's jail bookings.
Today's Briefing: Quick Links

Note: all government meetings noticed below are free and open to the public unless otherwise indicated. Many can be heard or seen live through each agency's website.

The Palm Coast City Council meets in workshop at 9 a.m. at city offices' main conference room, City Market Place. At the end of the meeting the council will discuss the final, proposed property tax rate for next year. The council will again discuss Florida Park Drive traffic, this time hearing a presentation on the air quality around the two-lane road. The council will consider increasing the city's transportation impact fees–the one-time tax levied on new development–by 2.44 percent. The council will discuss the annexation of 11 parcels between Colbert Lane and Roberts Road, opposite Sea Ray Drive, most of them owned by Florida Landmark Communities. See the annexation documents here. The council will also discuss a 20-year, $30 million loan application to build the city's second wastewater treatment plant.
Today is Freshman Success Day at Flagler Palm Coast High School.

Sea Ray Continues Counteroffensive against City of Flagler Beach with Six More Filings: The company filed another slew of public record requests, Toby Tobin reports, for "possible targets of anticipated litigation."
2 Men Stab Each Other in Confrontations That End Near Pizza Hut Off Palm Coast Parkway: Based on preliminary findings, the first stabbing took place at or near 17A Braddock Lane before the two men separated, one of them going to the parking lot near Pizza Hut. The two then confronted each other again, in the rear of the lot, where the second stabbing took place. Both men stabbed each other in the abdomen. Charges are pending.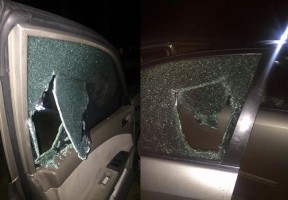 Brazen Car Break-Ins at Belle Terre Swim and Racquet, Frieda Zamba Pool and County Park: Thieves smashed in at least five vehicles' windows at three county and city parks or clubs and in one private driveway in the B-Section, stealing purses, money and credit cards.
Permitted Hunters Outnumber Florida Black Bears 6-to-1 as Killing Season Nears: The hunt, the first in the state in more than 20 years, has already attracted 1,795 hunters who have purchased permits, according to the fish and wildlife conservation commission.
Writing is child's play for Belle Terre Elementary student: Sage Sackett, a Belle Terre Elementary fifth grader, has one book on meditation written already ("Uncle Namaste and the Meditating Monkeys") and is working on her second, under the pen name Sage Kimberly James, the Observer reports.

Circuit Judge J. David Walsh holds two hearings, at 9 a.m. and 1:30 a.m., in cases previously disposed. Circuit Judge Michael Orfinger holds docket soundings in three dozen cases starting at 8:30 a.m. in Courtroom 301. County Judge Melissa Moore-Stens is in arraignments starting at 8:45 a.m. in Courtroom 101, with most cases relating to traffic infractions.

Note: Most proceedings below can be followed live on the Florida Channel.

Citizens Insurance Rates:: The Florida Office of Insurance Regulation holds a public hearing about a rate proposal from the state-backed Citizens Property Insurance Corp. The proposal includes higher rates for many of Citizens' coastal customers. (9 a.m.)
The Florida Forestry Council takes up a series of topics, including issues for the 2016 legislative session and a summary of the 2014-2015 wildfire season. (3 p.m., Edgewater Beach & Golf Resort, 11212 Front Beach Road, Panama City Beach.)
State Rep. Dwayne Taylor, D-Daytona Beach, is expected to speak to the Democratic Hispanic Caucus of Florida, Volusia County chapter. (7 p.m., Gateway Center for the Arts, 880 North U.S. 17-92, DeBary.)

Police, Fire and Emergency Notes:
The busiest part of hurricane season: Hurricanes and strong tropical storms have the potential to create hazards in Flagler County, Flagler County Emergency Management cautions. Each storm is different based on the approach and the impacts vary from excessive wind speeds, to elevated tides and surge for coastal areas, as well as inland flooding. Storm surge and flooding can be particularly dangerous and are the cause for most storm-related accidents and injuries. However, having a plan ahead of the storm greatly reduces your risk and consequences to your home or business. Know your evacuation zone; communities east of I-95 are more likely to experience evacuations from incoming Atlantic based storms. When evacuating leave early to avoid higher traffic volumes and consider traveling further inland or in the opposite direction of the storm. Flagler County offers evacuation assistance for those with special needs; be sure to register through the Emergency Management office. If sheltering in place be prepared for power outages by creating a storm supply kit, including extra medication for all family members and pets, food items not requiring refrigeration or cooking, and comfort items such as books, games, and toys. Remember certain non-perishable food items contain higher concentrations of sodium and should be considered for those with specific dietary concerns. Review or obtain an inspection of your home or business construction type. This will assist you by targeting structural and non-structural aspects proven to lessen and prevent damage caused by storms. Click the links below for more tips on preparedness and get your plan today. See helpful links here.

Medicare competition: the Commonwealth Fund, a research group, today releases a study on the private Medicare market that finds "there is little competition anywhere in the nation."
Oil prices and stock markets are tanking. Here's the latest on oil:

In Coming Days in Palm Coast and Flagler:
Click on the links for more details:
August 29: Flagler Chapter of the NAACP Hosts Annual Freedom Fund Banquet, 6 p.m. at the Ocean Ballroom of the Hammock Beach Resort, 200 Ocean Crest Drive, Palm Coast. The branch boasts of fine dining, dancing, and music provided by Darnel Butler & Xpression.
Sept. 4: Michell Palmmucci is the featured artist at Ocean Art Gallery for September. Her show, "Paradise – Lost and Found," opens Friday, September 4 with a 6 p.m. reception at 200 S. Oceanshore Blvd., Flagler Beach. The artist will be on hand to meet guests and demonstrate her painting style.
Friday, Sept. 11: The Palm Coast Arts Foundation Presents Big Band Night (and more) with The Chris Thomas Band of Jacksonville, in the Ballroom of Halifax Plantation, 4000 Old Dixie Highway, Ormond Beach. Dinner and dancing is all part of the ticket price ($50 PCAF members; $60 general public).  Click here for details.
Sept. 21: Flagler Beach Police Captain Matthew Doughney and 7-Eleven host "Doughnuts with Doughney": The Flagler Beach Police Department and the city's 7-Eleven have partnered to host "Doughnuts with Doughney" on Monday, September 21, from 8 a.m. to 10 a.m. at 408 South Oceanshore Boulevard.
Sept. 28: Bunnell's State of the Art Water Treatment Facility Grand Opening and Ribbon Cutting at 100 Utility Drive (directly across the street from the Flagler County Government Services Building), from 4 to 6 p.m.
Oct. 6: The Flagler County School Board holds a town hall meeting at the Government Services Building.
Flagler County is now accepting applications for the Fall 2015 Citizens Academy. Classes will be held on Thursday evenings from 5 to 8 p.m. beginning September 10 for nine weeks. For more information, click this link or go to flaglercounty.org/academy.

City of Palm Coast thanks Waterway Cleanup Sponsors, Asks for Volunteers: Palm Coast – The City of Palm Coast's 8th Annual Intracoastal Waterway Cleanup, to be held Saturday, Sept. 5, is being sponsored this year by 10 generous sponsors who provide support that's needed to make the annual event a success.
This year's sponsors include:
Florida Inland Navigation District (F.I.N.D.), which awarded the City a $5,000 grant to purchase cleaning supplies for volunteers. This is the seventh year F.I.N.D. has provided a grant, with the district's contribution totaling $40,000 over the years.
Marineland Dolphin Adventure, which has donated $200 in gift certificates for volunteer prizes.
Tropical Kayaks, which is providing free kayak and bicycle rentals to assist volunteers with the cleanup.
Ripple Effect, which donated a $110 kayaking eco-tour as a volunteer prize.
S.E. Cline Construction Inc., which donated $250 toward the cleanup.
Funky Pelican, which provided $200 in gift cards for volunteer prizes.
Pelican Pete, which is providing six audio CDs with all four Pelican Pete books, Pelican Pete posters and a copy of the "Preening for Flight" book. Sagaponack Books and Design, an award-winning books and art publishing company located in St. Augustine, partnered with the City of Palm Coast to publish the special-edition Pelican Pete "Preening for Flight" book.
Waste Pro, which has supported the Cleanup every year since it started in 2008, provides the temporary dumpsters for event-day collection.
Stone Engineering Group Inc., which made a $100 donation.
Publix, which provided a $100 gift card.
"The City of Palm Coast truly appreciates our sponsors for supporting the annual Intracoastal Waterway Cleanup, which is so important for keeping our trails and waterways clean and open for everyone including our wildlife to enjoy," said City Administration Coordinator Denise Bevan, Coordinator of the Intracoastal Waterway Cleanup. "We could not be successful with this event without our dedicated community partners." There's still time to sign up to volunteer for the 8th Annual Intracoastal Waterway Cleanup, so join mascot Scoop the Pelican and sign up today! Community volunteers will remove trash in and along the Intracoastal Waterway, its walkways and canals. Walkers can clean Palm Coast's paths and trails, and boaters can work in saltwater canals and Intracoastal waters. The clean-up adventure will begin at 8 a.m. Sept. 5 at Palm Coast Community Center, 305 Palm Coast Parkway NE, Palm Coast, where supplies will be distributed to commence the morning activities. Following the cleanup and trash drop-off, volunteers are invited back to the Community Center for refreshments and a special awards ceremony to recognize those who found the most unique "trash." There will be lots of prizes this year, including gift certificates from our sponsors. Pre-registration is available until Wednesday, Aug. 26, on the Intracoastal Waterway Cleanup website, www.palmcoastgov.com/icwc, and from 8 a.m. to 5 p.m. weekdays at the Community Center. Registration is also welcome on event day, but supplies will be limited; volunteer packages are guaranteed only for those who pre-register by Aug. 26. Pre-registered volunteers may pick up their packages early at the Palm Coast Community Center on Saturday, Aug. 29, 9 to 11 a.m., as part of orientation beginning at 9 a.m. Pre-registered participants will receive supplies needed to tackle trash; T-shirts are no longer available. Large volunteer groups are encouraged to participate in event orientation at the Community Center on Aug. 29 at 9 a.m. Groups may also learn more about the Waterway Cleanup on the event website shown above. For more information, please call the Intracoastal Waterway Coordinator Denise Bevan at 386-986-2458.
Michell Palmmucci Introduces Lush Paintings at Ocean Art Gallery: Ocean Art Gallery's featured artist for September is Michelle Palmucci, a gifted artist whose acrylic paintings capture local Flagler beauty and breathtaking scenes from her travels. Her show, "Paradise – Lost and Found," opens Friday, September 4th from 6:00 – 9:00 pm at 200 S. Oceanshore Blvd., Flagler Beach. The artist will be on hand to meet guests and demonstrate her painting style. Light refreshments will be served at this free event. Palmucci, with homes in Atlanta and Palm Coast, shares the best of two worlds, with her paintings capturing local Flagler County beauty and breathtaking scenery from her frequent travels. Strong brush strokes and vivid colors blend smoothly to produce images that pull the viewer in deeper and deeper until one feels the natural surroundings. When asked about her art, the artist said, "My seascapes become 'sea escapes' for the viewers as they are transported to nature's oceanfront mysteries." Her work is visually engaging and stirs a peaceful emotion with a hint of mystery. She searches for elements of everyday life in exotic and unexpected places. During this event, the winner of the month-long raffle of photographic artist Kenny Fasnacht's "Walk with Me" photograph on metal will be drawn at 8:00 pm. Tickets are $10 each or three for $25 and may be purchased until 7:30 pm. All proceeds from the raffle will benefit the Flagler Beach Photography Club's scholarship program. Flagler Beach's First Friday "Music in the Park" will be happening within 200 feet of the gallery and there are 12 restaurants nearby.
Daytona BeachCultural Services Division Announces Opening of Bandshell Box Office: The Daytona Beach Oceanfront Bandshell will now have a box office located on the premises to sell tickets to paid events at this popular venue. It's located right in the West Bandshell Annex section and is part of the Bandshell facility itself. Thanks to City staff who worked diligently on constructing the new box office at the Bandshell. It will be open from 6-9 p.m. Saturday, 8/22 and from 5-9 p.m. Sunday, 8/23 to sell tickets to The Little River Band's concert that day at 8 p.m. Presented by Paytas Homes and the City of Daytona Beach, The Little River Band will be performing hits such as "It's a Long Way There," "Help Is On Its Way," "Happy Anniversary," "Reminiscing," "Lady," "Lonesome Loser" and "Cool Change." Tickets for The Little River Band are only $15 for general admission and $20 for a VIP seat plus surcharges and may be purchased now at The Peabody box office, TicketMaster.com, 800-982-ARTS or any Walmart Supercenter. The Daytona Beach Oceanfront Bandshell box office plans to be open 2 hours prior to all paid events after this weekend.livia.

Jeb Bush Takes a Cue From Donald Trump's Playbook: Punch Back: "Mr. Bush, the former Florida governor, and his aides have decided to venture outside their comfort zone and borrow a page from Mr. Trump's playbook: Hit back, with force and creativity, over and over again in the coming weeks. It is a turning point in Mr. Bush's campaign that was on display Monday in McAllen, Tex., along the border with Mexico. There, Mr. Bush called Mr. Trump's immigration plan "unrealistic," described his policies as un-Republican and acidly recommended that the businessman read Mr. Bush's book "Immigration Wars" to acquaint himself with a practical solution. The change in Mr. Bush's tone is a calculated strategy, interviews show, with two different but crucial aims now that Mr. Trump is proving to be a long-term obstacle, not a passing nuisance: to dilute Mr. Trump's right-wing support by proving that he is not a genuine conservative and to show a wary Republican Party that Mr. Bush is enough of a street fighter to survive a nasty nomination contest. In a frank if grudging acknowledgment of the altered political landscape, Mr. Bush on Monday proclaimed Mr. Trump "a serious candidate." From The Times.
The Chastity Belt Was a Myth: "What was the chastity belt? You can picture it; you've seen it in many movies and heard references to it across countless cultural forms. There's even a Seattle band called Chastity Belt. In his 1969 book Everything You Always Wanted to Know About Sex (But Were Afraid to Ask), David R. Reuben described it as an "armored bikini" with a "screen in front to allow urination and an inch of iron between the vagina and temptation." "The whole business was fastened with a large padlock," he wrote. With this device, medieval men going off to medieval wars could be assured that their wives would not have sex with anyone else where they were far, far away, for years at a time. Yes, it sounds simultaneously ridiculous, barbarous and extremely unhygienic, but…medieval men, you know? It was a different time. This, at least, has been the story that's been told for hundreds of years. It's simple, shocking, and, on some level, fun, in that it portrays past people as exceeding backwards and us, by extension, as enlightened and just better. It's also, mostly likely, very wrong. […] Here is the truth: Chastity belts, made of metal and used to ensure female fidelity, never really existed." From Atlas Obscura.
Conservative U.S. Senate candidate tells Broward activists 'We need to save the country.'" "We don't have a lot of time. We need to get this right. We need to save the country," DeSantis told about 200 Republicans in Plantation as he wrapped up three days of campaigning in the most Democratic region of Florida. […] He also chastised Obama for what he said was better treatment of Cuba's Raul Castro and Iran's Ayatollah Seyyed Ali Khamenei than it treats Israel's Benjamin Netanyahu. "I am sick and tired of an administration that treats Raul Castro and Ayatollah Khamenei better than it treats the prime minister of Israel." Domestically, he said big government is responsible for many of the nation's ills. "We have to stand for limit government that puts an emphasis on allowing free people to make decisions and stand for themselves." From the Sun-Sentinel.

Palm Coast Construction and Development Progress Reports:
The following is an update of ongoing construction and development projects in Palm Coast, through Aug. 6: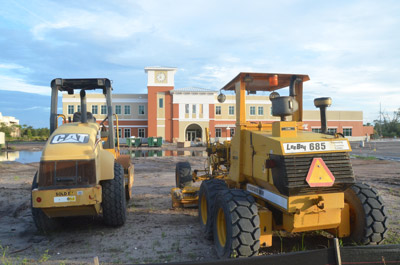 Palm Coast Parkway Six-Laning is 87 percent done: Widening on the north side of the parkway almost complete. Landscape irrigation work continues. Milling and Resurfacing of Roadway continues. FPL began installation of light poles and fixtures along the north side of the roadway.
Holland Park, 27 percent done: Continuation of installation of new water main. Began installation of FP&L primary conduit to new transformer.
Palm Coast City Hall at Town Center, 84 percent done: Installation of drywall on interior walls, mechanical duct work & VAV damper installation, electrical conduit rough-in and fire sprinkler piping are all 98% complete. Painting of interior and exterior walls continues. Floor tile in bathrooms continues. Mechanical system startup occurred. Parking lot curbing completed. Irrigation installation began See ongoing images of construction here.
Colechester Drive Bridge, 32 percent done: Bridge deck being removed, curbing on all sides has been removed.
County's I-95 Interchange Matanzas Woods Reclaim Water, 25 percent done: Contractor has installed approximately 1,000 ft. of reclaim water main total installed 5,000 ft. to date.
Palm Harbor Parkway Roadway Extension, 6 percent done: Contractor working on submittals and coordinating utility work with FPL & ATT.
Island Walk Shopping Center Phase 1, 91 percent done: The second run of gravity main was installed near Starbucks entrance.
Shops at Pine Lakes Convenience Store, 96 percent done: Pump station start-up and testing completed.
Old Kings Road Force Main – Master Pump Station, 10 percent done: Clearing crew on site removing trees.

Road and Interstate Construction: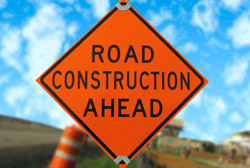 Palm Coast:
Palm Coast Parkway: Expect heavy delays on Palm Coast Parkway From 7 p.m. Tuesday, Aug. 18, to 5 a.m. Wednesday, Aug. 19: Westbound traffic will be reduced to one lane on the I-95 bridge. These lane closures are required for street light pole installations. In addition, motorists and other travelers should expect intermittent eastbound and westbound nighttime lane closures on Palm Coast Parkway between Florida Park Drive and Cypress Point Parkway / Boulder Rock Drive from 7 p.m. until 7 a.m., Sunday through Friday until the completion of the project in December 2015. One lane eastbound and one lane westbound will remain open at all times. These lane closures are required for paving and traffic signal operations.
Old Kings Road Lane Closures: On Monday and Tuesday, Aug. 17 and 18, motorists and other travelers should expect lane closures on Old Kings Road in the vicinity of the Matanzas Woods Parkway intersection. A single lane will remain open at all times. From Friday, August 21, through Sunday, August 23, motorists and other travelers should expect lane closures on Old Kings Road and Matanzas Woods Parkway in the vicinity of the Matanzas Woods/Old Kings Road intersection. A single lane will remain open at all times.
Complete Road Closure on Old Kings Road: On Wednesday and Thursday, Aug. 19 and 20, motorists and other travelers should expect a complete road closure on Old Kings Road and Matanzas Woods Parkway in the vicinity of the Matanzas Woods intersection. Matanzas Woods Parkway will be closed at Bird of Paradise allowing eastbound traffic to Matanzas High School only. Travelers heading south on Old Kings Road at the U.S. 1 intersection will be notified that Old Kings Road is open to local traffic only. Old Kings Road will be closed at the Forest Grove Drive intersection allowing northbound traffic to Matanzas High School only.
Road Closure Note: The northbound lane of S. Old Kings Road from Town Center Boulevard going north approximately 2.5 miles will have a moving lane closure starting Monday, July 27. The lane closure will be from 7 a.m. to 5 p.m. weekdays and will continue for approximately three weeks. A flagman will direct traffic.
Lane closures to begin July 27 on South Old Kings Road in Palm Coast: The northbound lane of S. Old Kings Road from Town Center Boulevard going north approximately 2.5 miles will have a moving lane closure starting Monday, July 27. The lane closure will be from 7 a.m. to 5 p.m. weekdays and will continue for approximately three weeks. A flagman will direct traffic. This lane closure is needed to allow a City contractor to clear the right-of-way along the roadway in preparation for an upcoming wastewater system project.
Flagler County Road 302 is Closed to all but local traffic as repaving began on June 7 and the roadway will be closed to all but local traffic. Others will be required to detour around County Road 302 using State Road 100. The roadway will be closed for 90 days, or until early September.
Palm Coast's Colechester Lane bridge to be closed July 7 through Sept. 4:  A detour will be established taking travelers over the Colorado Drive bridge instead. Signs will be posted directing motorists to the Colorado Drive bridge. The City of Palm Coast strives for safe construction zones. The City asks for the cooperation and patience of residents as this important bridge improvement project is completed. For more information, contact Palm Coast Customer Service at 386-986-2360.
US 92 to close overnight Tuesday for pedestrian bridge installation: The new pedestrian bridge installation is scheduled overnight Tuesday Aug. 18. Construction will run from 10 p.m. Tuesday night  to 5 a.m. Wednesday morning. During the installation, US 92 (International Speedway Boulevard) will be closed – eastbound and westbound – between Daytona Boulevard and Bill France Boulevard. Well-marked detours will be in place.
Detours:
Traffic going eastbound on US 92 will turn left on to Daytona Boulevard, right on to Avenue B, and then right on to Bill France Boulevard, where US 92 eastbound can be accessed.
Traffic going westbound on US 92 will turn right on to Bill France Boulevard, left on to Avenue B, left on to Industrial Parkway, right on to Avenue A, and left on to West Road, where US 92westbound can be accessed
This pedestrian bridge will be 750 feet west of Bill France Boulevard, and will include landscaping, lighting, fencing and bridge treatments. The bridge is part of the ongoing pedestrian improvements on US 92, which include upgrading the Williamson Boulevard intersection with new mast arms and other improvements, and replacing existing sidewalk and ditches with 12-foot sidewalks and closed drainage system. All businesses within the construction zone will be accessible during the instillation of the pedestrian bridge. For more information about this, and all Central Florida state roadway projects, visit www.cflroads.com.
Volusia: I-4 Widening from SR 44 to east of I-95, Monday and Friday, 7:00 a.m. – 5:00 p.m., Eastbound/Westbound shoulder closing. Sunday through Thursday, Eastbound and Westbound lane closures as needed from 8 p.m. to 6 a.m. Thursday, 9:00 p.m. – 5:30 a.m. EB road closure between Canal St./SR 44 and I-95 with detour at US 92 exit ramp.Motorists should be aware of traffic shifts near Canal St./SR 44.
County Road 304 Project Map and Description

Comment of the Day (From the Comment Section):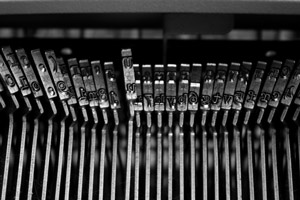 From Patriot 76, in "Bill Would Ban All Confederate Flags on Public Grounds as Question of "Security" Is Raised Over Ag Museum Civil War Reenactment": People are missing the point – this Confederate Flag campaign was about the public display of the flag on public property. Nobody can deny your right to wave and display the flag as you choose on your person or private property. What we should not support, is the government and public support of a flag that represents oppression and treason. The only flag of treason we should represent is the Stars and Stripes – our independence from Britain. As for political correctness – we should care more about debate based on reason and not emotion. But all I see from those frustrated with the political correctness are people who typically have a difficult time formulating a logical and sound argument. While I don't agree with all of the babying and eggshell walking that comes with political correctness – trust me that if you are savvy enough, you can talk circles around those folks." Reply to Patriot 76 here.

Cultural Coda:
The Risks of Everyday Life: Jared Diamond
Jared Diamond shares what he learnt about risk and everyday life from the tribes of Papua New Guinea. This was taken from a 2013 conversation, 'The world until yesterday'. Watch the full discussion here. Pulitzer Prize-winner Diamond discusses how insights from the lifestyles of far-removed cultures can impact the way we think about our own lives. Is it worth worrying about the risk of everyday actions like falling in the shower or tripping on the street? Each time you do these things, the risk of mishap is low, but we do them every single day. Over time, does that mean these tiny risks accumulate to become almost inevitable? This animation was produced by Andrew Khosravani, thanks to generous support from the Sfumato Foundation.
The Risks of The Everyday – with Jared Diamond from The Royal Institution on Vimeo.