Today: high around 90, low in mid 70s. Details here.
Today's fire danger is moderate. Flagler County's Drought Index is at 381 (-46).
The weather in Naspe, Bhutan: high 60, low 49. Details.
Today's document from the National Archives.
The OED's Word of the Day: adiaphoron, n. and adj..
The Live Community Calendar
Today's jail bookings.
Today's Briefing: Quick Links

Note: all government meetings noticed below are free and open to the public unless otherwise indicated. Many can be heard or seen live through each agency's website.
The Palm Coast City Council meets at 9 a.m. at the Palm Coast Community Center. The council is expected to approve several water-utility contracts, but judging from the agenda, not much else.
The Flagler County School Board meets for a 5 p.m. workshop and a 6 p.m. business meeting at board chambers, Government Services Building, Bunnell. The workshop focuses on bureaucratic matters–standards assessments and the district's equity report, which will be approved at the 6 o'clock meeting–with limited appeal or relevance to the public or taxpayers' bottom line. The meeting will include a discussion of the request for proposals the district is issuing for the Belle Terre Swim and Racquet Club, which closes in September. Read the RFP here.
The Bunnell Planning, Zoning and Appeals Board meets at 7 p.m. at Bunnel City Hall, 201 West Moody Boulevard. The board reviews the site plan for the Am-Vets Post 113 at 3400 Steel Rail Drive, among five items.
The Flagler County Tea Party meets at 6:30 p.m. at the Palm Coast Community Center. Ronald Reagan Republican Assemblies President Mike McElroy will talk about a new podcast program. Dennis McDonald is discussing the finances of the new sheriff's headquarters in Bunnell. (The meetings used to be held at Flagler Palm Coast High School, but the much smaller membership of the group led to the community center's smaller room.)
Back to School Immunization, required by schools, available at the Flagler County Health Department through August 21, Monday through Friday from 8 a.m. to 11 a.m. and 1 p.m. to 3 p.m. on a walk-in basis. For further information, please call: 386-437-7350 ext. 2224.

Boat-Dock Permits Revoked, Flagler Re-Ignites Urgency to Finish Manatee Protection Plan: Almost a decade after first hearing from state and federal officials that Flagler County needs to develop a manatee protection plan, the county has still not approved one: on Monday, the county administration submitted a draft plan to commissioners for the first time, even though the plan has already been forwarded to federal officials. Commissioners expressed a bit of frustration with the delays and the manner in which the issue is again arising. Read the proposed plan here.
Getting Past Cheap Praise: Superintendent Challenges Teachers to Adopt More Perceptive Mindsets: Jacob Oliva's focus has been on reconstructing the way parents and teachers understand what it means for students to go to school every day, getting long distances away from the old habit of days in school listening to a teacher and following directions, and embracing a new mode of learning that shifts much of the work onto students themselves, making them, in part, their own teachers. But for that to work, they must have direction and some idea of where they themselves want to go.
County Government Will Take Over Flagler Tourism Office From Chamber in Latest Expansion: That expansion won't necessarily add costs to county government. Tourism costs are underwritten by the county's 4 percent surtax on short-term rentals, including hotel and motel stays. That revenue pays for the tourism bureau, which has proposed an overall $1.43 million budget the county is set to approve. But the absorption is a reflection of the bureau's greater profile, and the increasing responsibilities being added to county government, which Coffey described when justifying the take-over to county commissioners at a meeting this afternoon.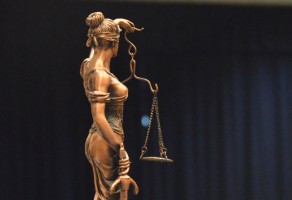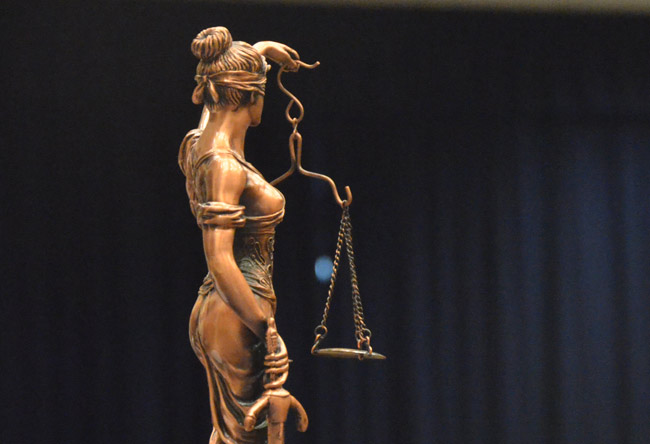 Circuit Judge J. David Walsh presides over jury trials this morning, starting at 8:30 a.m. Scheduled are the trials of Michael Lee King, accused of luring a minor for sex through a computer; Michael Perotta (DUI) and Ruthie Smith (sale of cocaine). Courtroom 401. Circuit Judge Michael Orfinger and County Judge Melissa Moore Stens are in various hearings throughout the day in Courtroom 301 and 404 respectively.

Note: Most proceedings below can be followed live on the Florida Channel.

The Florida House likely will vote on a congressional redistricting plan (HB 1B) filed by Redistricting Chairman Jose Oliva, R-Miami Lakes. (10 a.m.)
Nukes costs: The Florida Public Service Commission holds a hearing about proposals by Florida Power & Light and Duke Energy Florida to pass along costs to customers for nuclear-power projects. The hearing also could stretch into Wednesday and Thursday. (1:30 p.m., Betty Easley Conference Center, 4075 Esplanade Way, Tallahassee.)

The Iowa State Fair is ongoing all week, offering a big stage for all presidential candidates with their eyes on the Iowa caucuses.
Wednesday: Inflation figures for July are released.
Thursday: the National Association of Realtors releases existing home sales for July. June numbers hit the highest level since February 2007.

Facebook fans select name for 2015 Intracoastal Waterway Cleanup mascot: The playful pelican mascot for the City of Palm Coast's 8th Annual Intracoastal Waterway Cleanup has a name – Scoop! The City asked for name nominations through its Facebook account, and then invited its Facebook followers to vote for their favorite. Scoop was selected from more than 130 choices to win the contest! The winning name was suggested by three people: Sharon Pidcock Winfrey, Jennifer Niland Wright and Cathy Clayton. "Thank you to everyone who offered a name for the mascot. We had many creative options," said Denise Bevan, Coordinator of the Intracoastal Waterway Cleanup. "Now, join Scoop to help clean and protect our community's treasured waterways and trails!" The 8th Annual Intracoastal Waterway Cleanup will be held Saturday, Sept. 5, and it's now time to register to participate. Community volunteers will remove trash in and along the Intracoastal Waterway, its walkways and canals. Walkers can clean Palm Coast's paths and trails, and boaters can work in saltwater canals and Intracoastal waters. The clean-up adventure will begin at 8 a.m. Sept. 5 at Palm Coast Community Center, 305 Palm Coast Parkway NE, Palm Coast, where supplies will be distributed to commence the morning activities. Following the cleanup and trash drop-off, volunteers are invited back to the Community Center for refreshments and a special awards ceremony to recognize those who found the most unique "trash." There will be lots of prizes this year, including gift certificates from local businesses. Pre-registration is available until Aug. 26 on the Intracoastal Waterway Cleanup website, www.palmcoastgov.com/icwc, and from 8 a.m. to 5 p.m.weekdays at the Community Center. Registration is also welcome on event day, but supplies will be limited; volunteer packages are guaranteed only for those who pre-register by Aug. 26. Pre-registered volunteers may pick up their packages early at the Palm Coast Community Center on Saturday, Aug. 29, 9 to 11 a.m., as part of orientation beginning at 9 a.m. Pre-registered participants will receive a T-shirt, water bottle, trash bags, gloves, safety sheet and cleanup results form.Large volunteer groups are encouraged to participate in event orientation at the Community Center on Aug. 29 at 9 a.m. Groups may also learn more about the Waterway Cleanup on the event website shown above. Palm Coast's Intracoastal Waterway Cleanup Event is co-sponsored by the Florida Inland Navigation District (FIND). Won't you please help to FIND and dispose of our waterway refuse? For more information, please call the Intracoastal Waterway Coordinator Denise Bevan at 386-986-2458.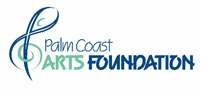 The Palm Coast Arts Foundation Presents Big Band Night (and more) with The Chris Thomas Band of Jacksonville: The Palm Coast Arts Foundation is excited to bring The Chris Thomas Band to the community for a night of Big Band music with his eight piece orchestra.  The one-time performance will be Friday, September 11 in the Ballroom of Halifax Plantation, 4000 Old Dixie Highway, Ormond Beach.The Chris Thomas Band is the most dynamic and versatile band in the entire southeast!  Chris Thomas has been described as the best undiscovered talent in the area.  He is not only known for his professional vocal talent but also as an exciting entertainer fashioned in the way of the great performers of years gone by such as Frank Sinatra, Dean Martin, and Sammy Davis, Jr.  Full of soul and power, Chris also performs Motown favorites from artists like Stevie Wonder, Otis Redding, Marvin Gaye, Earth, Wind & Fire, and so many more.  He performs current hits from artists like Bruno Mars, Ed Sheeran and Justin Timberlake.  To learn more about his band, visit their website:  www.thechristhomasband.com. Dinner and dancing is all part of the ticket price ($50 PCAF members; $60 general public).  The band will perform from 7:00-10:00 pm.  Doors open at 6:00 pm for the buffet dinner and cash bar.  The Palm Coast Arts Foundation is proud to receive sponsorship from Craig Flagler Palms Funeral Home, Memorial Gardens and Crematory for this event. Tickets can be purchased by contacting PCAF at 386.263.2991 or online at www.thepcaf.org

The perils of "Growth Mindset" education: Why we're trying to fix our kids when we should be fixing the system: "One of the most popular ideas in education these days can be summarized in a single sentence (a fact that may help to account for its popularity). Here's the sentence: Kids tend to fare better when they regard intelligence and other abilities not as fixed traits that they either have or lack, but as attributes that can be improved through effort. In a series of monographs over many years and in a book published in 2000, psychologist Carol Dweck used the label "incremental theory" to describe the self-fulfilling belief that one can become smarter. Rebranding it more catchily as the "growth mindset" allowed her to recycle the idea a few years later in a best-selling book for general readers. By now, the growth mindset has approached the status of a cultural meme. The premise is repeated with uncritical enthusiasm by educators and a growing number of parents, managers, and journalists — to the point that one half expects supporters to start referring to their smartphones as "effortphones." But, like the buzz over the related concept known as "grit" (a form of self-discipline involving long-term persistence), there's something disconcerting about how the idea has been used — and about the broader assumption that what students most need is a "mindset" adjustment. […] The most common bit of concrete advice offered by Dweck and others enamored of the growth mindset is to praise kids for their effort ("You tried really hard") rather than for their ability ("You're really smart") in order to get them to persevere. (Google the words "praise" and "effort" together: more than 70 million hits.) But the first problem with this seductively simple script change is that praising children for their effort carries problems of its own, as several studies have confirmed: It can communicate that they're really not very capable and therefore unlikely to succeed at future tasks. ("If you're complimenting me just for trying hard, I must really be a loser.") The more serious concern, however, is that what's really problematic is praise itself. It's a verbal reward, an extrinsic inducement, and, like other rewards, is often construed by the recipient as manipulation. A substantial research literature has shown that the kids typically end up less interested in whatever they were rewarded or praised for doing, because now their goal is just to get the reward or praise. As I've explained in books and articles, the most salient feature of a positive judgment is not that it's positive but that it's a judgment; it's more about controlling than encouraging. Moreover, praise communicates that our acceptance of a child comes with strings attached: Our approval is conditional on the child's continuing to impress us or do what we say. What kids actually need from us, along with nonjudgmental feedback and guidance, is unconditional support — the antithesis of a patronizing pat on the head for having jumped through our hoops." From Salon.
Supreme Court's Free-Speech Expansion, Starting With City Signs, Has Far-Reaching Consequences: "Whether viewed with disbelief, alarm or triumph, there is little question that the decision, Reed v. Town of Gilbert, marks an important shift toward treating countless laws that regulate speech with exceptional skepticism. Though just two months old, the decision has already required lower courts to strike down laws barring panhandling, automated phone calls and "ballot selfies." The ordinance in the Reed case discriminated against signs announcing church services in favor of ones promoting political candidates. That distinction was so offensive and so silly that all nine justices agreed that it violated the First Amendment. […] The key move in Justice Thomas's opinion was the vast expansion of what counts as content-based. The court used to say laws were content-based if they were adopted to suppress speech with which the government disagreed. Justice Thomas took a different approach. Any law that singles out a topic for regulation, he said, discriminates based on content and is therefore presumptively unconstitutional. Securities regulation is a topic. Drug labeling is a topic. Consumer protection is a topic. […] Last week, a federal judge in New Hampshire relied on Reed to strike down a law that made it illegal to take a picture of a completed election ballot and show it to others, including on social media. The law was meant to combat vote buying and coercion, which were common before the adoption of the secret ballot. "As in Reed," Judge Paul Barbadoro wrote, "the law under review is content-based on its face because it restricts speech on the basis of its subject matter." In a concurrence in the Reed decision, Justice Stephen G. Breyer suggested that many other laws could be at risk under the majority's reasoning, including ones concerning exceptions to the confidentiality of medical forms, disclosures on tax returns and signs at petting zoos." From The Times.
Huffington Post doubles down on decision to put Trump in entertainment section: "Arianna Huffington's online news outlet made news of its own last month when it declared that Trump stories were not worthy of a spot in its politics vertical, and will instead be henceforth residing in the entertainment section next to the latest exploits of Kim Kardashian and Kanye West." Here's the statement Huffington released: "We're more committed to the decision than ever. Over the last month, we've seen our central argument proven right: that Trump is nothing more than a sideshow and not a legitimate presidential contender with serious policy ideas for moving the country forward. The GOP debate was fantastic reality TV, but it came across more like a twisted political version of "American Idol" than a presidential debate. And subsequent coverage reveals a collective media frenzy that's embarrassing to credible media outlets – witness this weekend's pandemonium around Trump's helicopter at the Iowa State Fair. Otherwise serious journalists are being seduced by Trump because of his willingness to say and do outrageous things for headlines and ratings. We're still not taking the bait." From The Hill.

Palm Coast Construction and Development Progress Reports:
The following is an update of ongoing construction and development projects in Palm Coast, through Aug. 6: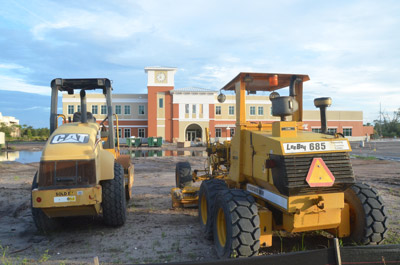 Palm Coast Parkway Six-Laning is 87 percent done: Widening on the north side of the parkway almost complete. Landscape irrigation work continues. Milling and Resurfacing of Roadway continues. FPL began installation of light poles and fixtures along the north side of the roadway.
Holland Park, 27 percent done: Continuation of installation of new water main. Began installation of FP&L primary conduit to new transformer.
Palm Coast City Hall at Town Center, 84 percent done: Installation of drywall on interior walls, mechanical duct work & VAV damper installation, electrical conduit rough-in and fire sprinkler piping are all 98% complete. Painting of interior and exterior walls continues. Floor tile in bathrooms continues. Mechanical system startup occurred. Parking lot curbing completed. Irrigation installation began See ongoing images of construction here.
Colechester Drive Bridge, 32 percent done: Bridge deck being removed, curbing on all sides has been removed.
County's I-95 Interchange Matanzas Woods Reclaim Water, 25 percent done: Contractor has installed approximately 1,000 ft. of reclaim water main total installed 5,000 ft. to date.
Palm Harbor Parkway Roadway Extension, 6 percent done: Contractor working on submittals and coordinating utility work with FPL & ATT.
Island Walk Shopping Center Phase 1, 91 percent done: The second run of gravity main was installed near Starbucks entrance.
Shops at Pine Lakes Convenience Store, 96 percent done: Pump station start-up and testing completed.
Old Kings Road Force Main – Master Pump Station, 10 percent done: Clearing crew on site removing trees.

Road and Interstate Construction: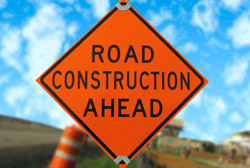 Palm Coast:
Palm Coast Parkway: Expect heavy delays on Palm Coast Parkway From 7 p.m. Tuesday, Aug. 18, to 5 a.m. Wednesday, Aug. 19: Westbound traffic will be reduced to one lane on the I-95 bridge. These lane closures are required for street light pole installations. In addition, motorists and other travelers should expect intermittent eastbound and westbound nighttime lane closures on Palm Coast Parkway between Florida Park Drive and Cypress Point Parkway / Boulder Rock Drive from 7 p.m. until 7 a.m., Sunday through Friday until the completion of the project in December 2015. One lane eastbound and one lane westbound will remain open at all times. These lane closures are required for paving and traffic signal operations.
Old Kings Road Lane Closures: On Monday and Tuesday, Aug. 17 and 18, motorists and other travelers should expect lane closures on Old Kings Road in the vicinity of the Matanzas Woods Parkway intersection. A single lane will remain open at all times. From Friday, August 21, through Sunday, August 23, motorists and other travelers should expect lane closures on Old Kings Road and Matanzas Woods Parkway in the vicinity of the Matanzas Woods/Old Kings Road intersection. A single lane will remain open at all times.
Complete Road Closure on Old Kings Road: On Wednesday and Thursday, Aug. 19 and 20, motorists and other travelers should expect a complete road closure on Old Kings Road and Matanzas Woods Parkway in the vicinity of the Matanzas Woods intersection. Matanzas Woods Parkway will be closed at Bird of Paradise allowing eastbound traffic to Matanzas High School only. Travelers heading south on Old Kings Road at the U.S. 1 intersection will be notified that Old Kings Road is open to local traffic only. Old Kings Road will be closed at the Forest Grove Drive intersection allowing northbound traffic to Matanzas High School only.
Road Closure Note: The northbound lane of S. Old Kings Road from Town Center Boulevard going north approximately 2.5 miles will have a moving lane closure starting Monday, July 27. The lane closure will be from 7 a.m. to 5 p.m. weekdays and will continue for approximately three weeks. A flagman will direct traffic.
Lane closures to begin July 27 on South Old Kings Road in Palm Coast: The northbound lane of S. Old Kings Road from Town Center Boulevard going north approximately 2.5 miles will have a moving lane closure starting Monday, July 27. The lane closure will be from 7 a.m. to 5 p.m. weekdays and will continue for approximately three weeks. A flagman will direct traffic. This lane closure is needed to allow a City contractor to clear the right-of-way along the roadway in preparation for an upcoming wastewater system project.
Flagler County Road 302 is Closed to all but local traffic as repaving began on June 7 and the roadway will be closed to all but local traffic. Others will be required to detour around County Road 302 using State Road 100. The roadway will be closed for 90 days, or until early September.
Palm Coast's Colechester Lane bridge to be closed July 7 through Sept. 4:  A detour will be established taking travelers over the Colorado Drive bridge instead. Signs will be posted directing motorists to the Colorado Drive bridge. The City of Palm Coast strives for safe construction zones. The City asks for the cooperation and patience of residents as this important bridge improvement project is completed. For more information, contact Palm Coast Customer Service at 386-986-2360.
US 92 to close overnight Tuesday for pedestrian bridge installation: The new pedestrian bridge installation is scheduled overnight Tuesday Aug. 18. Construction will run from 10 p.m. Tuesday night  to 5 a.m. Wednesday morning. During the installation, US 92 (International Speedway Boulevard) will be closed – eastbound and westbound – between Daytona Boulevard and Bill France Boulevard. Well-marked detours will be in place.
Detours:
Traffic going eastbound on US 92 will turn left on to Daytona Boulevard, right on to Avenue B, and then right on to Bill France Boulevard, where US 92 eastbound can be accessed.
Traffic going westbound on US 92 will turn right on to Bill France Boulevard, left on to Avenue B, left on to Industrial Parkway, right on to Avenue A, and left on to West Road, where US 92westbound can be accessed
This pedestrian bridge will be 750 feet west of Bill France Boulevard, and will include landscaping, lighting, fencing and bridge treatments. The bridge is part of the ongoing pedestrian improvements on US 92, which include upgrading the Williamson Boulevard intersection with new mast arms and other improvements, and replacing existing sidewalk and ditches with 12-foot sidewalks and closed drainage system. All businesses within the construction zone will be accessible during the instillation of the pedestrian bridge. For more information about this, and all Central Florida state roadway projects, visit www.cflroads.com.
Volusia: I-4 Widening from SR 44 to east of I-95, Monday and Friday, 7:00 a.m. – 5:00 p.m., Eastbound/Westbound shoulder closing. Sunday through Thursday, Eastbound and Westbound lane closures as needed from 8 p.m. to 6 a.m. Thursday, 9:00 p.m. – 5:30 a.m. EB road closure between Canal St./SR 44 and I-95 with detour at US 92 exit ramp.Motorists should be aware of traffic shifts near Canal St./SR 44.
County Road 304 Project Map and Description

Click on the links for more details:
August 29: Flagler Chapter of the NAACP Hosts Annual Freedom Fund Banquet, 6 p.m. at the Ocean Ballroom of the Hammock Beach Resort, 200 Ocean Crest Drive, Palm Coast. The branch boasts of fine dining, dancing, and music provided by Darnel Butler & Xpression.
Friday, Sept. 11: The Palm Coast Arts Foundation Presents Big Band Night (and more) with The Chris Thomas Band of Jacksonville, in the Ballroom of Halifax Plantation, 4000 Old Dixie Highway, Ormond Beach. Dinner and dancing is all part of the ticket price ($50 PCAF members; $60 general public).  Click here for details.
Sept. 28: Bunnell's State of the Art Water Treatment Facility Grand Opening and Ribbon Cutting at 100 Utility Drive (directly across the street from the Flagler County Government Services Building), from 4 to 6 p.m.
Oct. 6: The Flagler County School Board holds a town hall meeting at the Government Services Building.
Flagler County is now accepting applications for the Fall 2015 Citizens Academy. Classes will be held on Thursday evenings from 5 to 8 p.m. beginning September 10 for nine weeks. For more information, click this link or go to flaglercounty.org/academy.

Comment of the Day (From the Comment Section):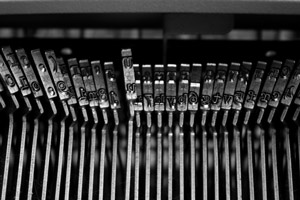 Lin, in ""Defunding" Planned Parenthood: Beyond GOP Posturing, It Wouldn't Be Easy To Do": I believe abortion should be safe, legal and rare but Elizabeth Warren's video re Planned Parenthood: "Do you have any idea what year it is? … Did you fall down, hit your head and think you woke up in the 1950s or 1890s? Should we call for a doctor?" After watching her performance, I would ask the same of her.
1960 – first birth control pill FDA approved
1973 – Roe V Wade decision
But also, scientific discoveries maybe she doesn't know about: Fetal viability is possible at 21-22 weeks, Fetal heartbeat is there at 6 weeks and it is possible to hear it through ultrasound at 8 weeks. The Planned Parenthood videos showing the negotiation for sale of fetal body parts and tissue and description of how abortion "sounds" disgusted me, For the democrats/liberals to dismiss the discussion of defunding this organization as part of a war on women is inhumane. There should be no "sale" of tissues. Use of fetal tissue in research in my opinion is not in question. The callousness of the doctors and personnel in the video and the ethics of their practices is definitely in question. Women should not be portrayed as victims in general (and the ones that are truly victims should be helped as much as humanly possible). Women are capable of getting affordable and FREE birth control and abortion is legal. Enough with this dark ages — it is demeaning to women especially those of us who have fought for our rights and burned our bras decades ago. And I don't mean to minimize the struggles of women across the globe who don't have the basic of HUMAN rights — that is a fight worth having. As to the Republicans who are on the wrong side of the issues — in the case of rape and incest where the woman did not have the choice, they should be able to make decisions with their doctors without ANY participation of the government. Those who advocated for pre-abortion sonograms are also in the wrong for the same reason – keep the government out of my bedroom, and doctor's office. But we don't need Planned Parenthood." Reply to Lin here.

Cultural Coda:
Berlin 1936, in Color: Germany before the Second World War
From Open Culture: "Beautiful city, shame about all those Nazis. Yes, this color newsreel above shows Berlin in 1936 as it gets ready to welcome the world for the Olympic Games. It's a PR film meant to show the upside of the Reich, as Germans looked forward to a "better future", and indeed the city looks just as gorgeous and exciting as other bustling European metropolises. There's new construction alongside the classical architecture. There's couples dancing to the latest hit tunes—Malneck and Mercer's "Goody Goody" (which Benny Goodman had just released in February). There's young men frolicking in the Wannsee while ladies sunbathe."