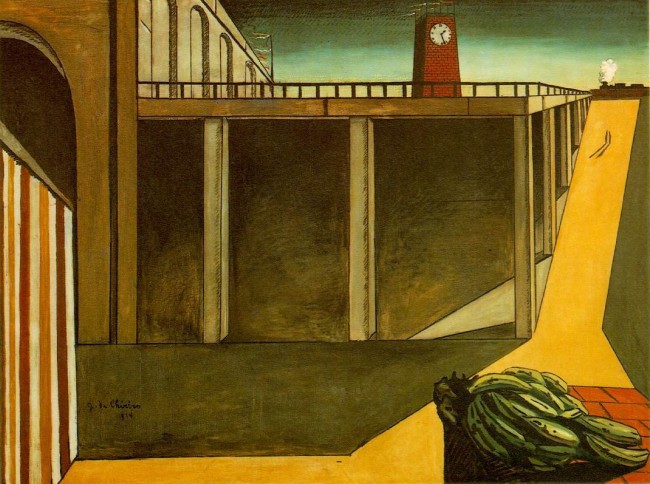 Today: high in low 90s, low in mid 70s, heat index between 101 and 105. Details here.
Today's fire danger is moderate. Flagler County's Drought Index is at 438 (+ 13 since Monday).
The weather in Sapporo, Japan: high 79, low 69. Details.
Today's document from the National Archives.
The OED's Word of the Day: Hand of Glory, n..
The Live Community Calendar
Today's jail bookings.
Today's Briefing: Quick Links

Note: all government meetings noticed below are free and open to the public unless otherwise indicated. Many can be heard or seen live through each agency's website.
The Public Safety Coordinating Council meets at 8:45 a.m. at the Emergency Operations Center behind the Government Services Building. It is the first meeting of the council since May.
Palm Coast Fire Department training: Firefighters will be conducting training on firefighter survival techniques and forcible entry in the buildings formerly owned by Gus Ajram of GEA Auto at 136 Bulldog Drive (across from FPC High), from 9:30 to 11 a.m. This Fire Department training is being conducted prior to demolition of the buildings, which will be done by Palm Coast Public Works Department by the end of August. The property will then be prepared for sale for new Town Center commercial development.
Indian Trails Middle School holds its student schedule pick-up day from 10 a.m. to 2 p.m., with 7th graders' pick-up at 10 a.m. and 8th graders at 1 p.m. There is also a free immunization clinic at 10 a.m. at the ITMS clinic.

Report on Active-Shooter Exercise at FPC Points to Serious Flaws in Command, Communications and Cooperation: In brief: there was no unified command and no proper incident command structure as prescribed by protocols developed for just such incidents. There was dangerously poor communications from within the walls of FPC to the outside world, because the school, like many large buildings and schools around town, hampers radio signals, and poor communication between fire rescue in the field and the hospital. There was little cooperation between the Flagler County Sheriff's commander and Flagler County Fire Rescue's commander. Participants mixed their roles, rescuers lacked key equipment to move patients, participants would tell evaluators that in a real-life emergency, they'd do things differently, defeating the purpose of the exercise, and it took the Palm Coast Fire Department 74 minutes to make contact with 54 staffers from the time the incident began.
To Battle Nit-Pickers, Palm Coast Will Make Anonymous Code Enforcement Complaints More Difficult: Online, on the phone or by email, the complainant must give name and number, or a verifiable email address. The city should also verify that the complainant is real. The idea is to create something a little bit more difficult for complainants to do, while still giving them the opportunity to complain. The option of complaining anonymously would not be eliminated. It would just be an extra hurdle.
Flagler Beach Man Accused of Burglarizing Shell Station After Hiding in Bathroom Ceiling: John Dugent Jr., a 20-year-old resident of 5906 John Anderson Highway had, according to Flagler Beach police and video surveillance, snuck into the Shell station on A1A in Flagler Beach before closing time, hoisted himself into the ceiling panels in the bathroom, and hid there until closing time. At about 1:10 a.m., after the store clerks had left, he then–according to his arrest report–rummaged through the place early Sunday.
Lifecoast Church opens 'mom and pop' style food pantry: "The Lifecoast Church pantry is open by appointment only, and only one person shops at a time. While they discourage children coming along, there is a small waiting room with a TV if there is no other option," the Observer reports. The pantry is in the Parkway Plaza, at 4882 Palm Coast Parkway, in the back of the Fair Trade Cafe. For more information, call 330-509-0711.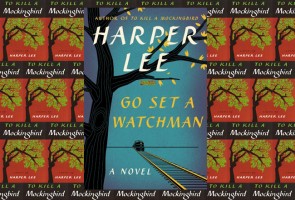 Scout's Dishonors: Harper Lee's "Go Set a Watchman," Chapter 9: In the continuing project to blog Harper Lee's "new" novel chapter by chapter, we come to Jean Louise's backstory, a summary of how and when her mother died, of a heart attack on the porch of the family house, bringing to the family "the heart that killed her son twenty-two years later on the sidewalk in front of his father's office," as well as Mockingbird echoes from Scout's upbringing.

Circuit Judges Judge J. David Walsh holds competency hearings for Preston Harris, accused of a 2014 armed robbery, and Paul Duhamel, who faces trespassing and resisting arrest with violence charges from a case in March. The hearings are scheduled for 9 a.m. in Courtroom 401. The judge hears various motions for the rest of the day.
A foreclosure sale is scheduled for 11 a.m. in the civil department lobby of the courthouse.

Note: Most proceedings below can be followed live on the Florida Channel.

The Commission on Healthcare and Hospital Funding, formed this year by Gov. Rick Scott, meets at 9 a.m.
The Florida Commission on Offender Review considers numerous parole cases involving crimes committed in the 1970s and 1980s. (9 a.m.)

Hillary Clinton today turns over her private email server to the Justice Department.
Patriots quarterback Tom Brady and the N.F.L. commissioner Roger Goodell are in federal court to talk settlement over Brady's suspension for underinflated footballs.
President Obama is on vacation on Martha's Vineyard.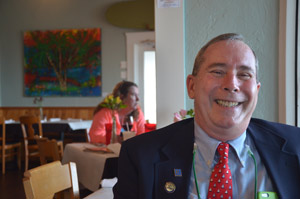 Flagler Chamber Welcomes David I. Alfin of Watson Realty Corp as a Benefactor Member: Benefactors are the highest level of the chamber's tiered membership structure. The donation level is $10,000. According to Rebecca DeLorenzo, president of the Chamber, becoming a benefactor member reflects David Alfin's commitment to the Chamber and the local business community. "Our benefactors make it possible for our organization to continue to support, as well as grow, the value-added benefits, products and services that we offer to our members," said DeLorenzo. "In exchange for their investment, David and our other benefactors – Bright House Networks, Florida Hospital Flagler and Politis & Matovina, Attorneys at Law – receive top-level benefits and visibility within our organization. We value their contributions, and are delighted to welcome David to this distinguished group." "I am enthusiastic about the opportunity to strengthen my relationship with the Flagler County Chamber," Alfin said. "Becoming a benefactor of the Chamber allows me to support the important work the organization does for our business community, while increasing the visibility of my real estate business throughout our community." Last year Alfin launched a radio show, "Real Estate Matters" with Toby Tobin of GoToby.com, a self-sponsored show on WNZF Radio, and recently kicked off The Exceptional Communities mobile app. The app allows real estate buyers and sellers to research and view both gated and non-gated luxury communities in Palm Coast and the Flagler Beaches. The app is a free download for use on any web-friendly device including smart phones and tablets. The app highlights sixteen gated communities and identifies luxury communities providing aerial overviews, individual property photos, resident amenities, demographic data, covenants, conditions, and restrictions (CC&R's). Alfin can be reached at 386-585-0903 or by visiting www.exceptionalperformancerealestate.com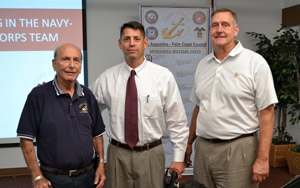 The St. Augustine-Palm Coast Navy League is pleased to welcome Capt. Jack Capra as the council's new JAG Officer, stepping in for council member Richard "Dick" Roth who has served in the role since May 2001. Capra, a retired United States Naval Officer, has led a distinguished career in military and public service for over two decades. While serving in the United States Navy, Capra received the Purple Heart and Combat Action Ribbon among other commendations. "Jack Capra has a very impressive background. He's been a Navy JAG Officer, he's a retired Navy Captain and I've known Jack for several years now," said Bill Dudley, president of the St. Augustine-Palm Coast Navy League. "We're very happy to have him come on board as our new JAG Officer for the council," said Dudley. Capra was sworn in as an officer of the Navy League on Monday night by Bruce Butler, National Executive Director of the United States Navy League who was in town to present the US Navy League's "American's Strength" Campaign to the council. "It's a very big honor," said Capra. "I was a Judge Advocate with the Navy for 22 years so it fits in very nicely. I'm trying to settle in right now. We'll see what we've got to do and go from there, but it's an honor to serve," he said enthusiastically. Roth welcomed Capra at the changing of officers and was highly praised by Dudley for his years of service to the council. "Dick Roth has been our JAG officer for many years. Due to health problems, Dick is stepping down," said Dudley. "He's been incredible for us. He's been a solid legal mind for this council for a number of years." The St. Augustine-Palm Coast Navy League Council meets the second Monday of the month at the St. Augustine Library SE Branch from 5:30 to 7 p.m. For more information visit www.sapcnavyleague.org.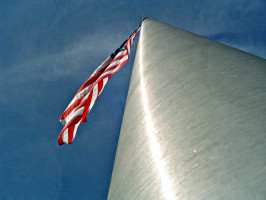 President Obama's Letter to the Times Editor on the roll-back of the Voting Rights Act: "For the cover story of our Aug. 2 issue, Jim Rutenberg wrote about efforts over the last 50 years to dismantle the protections in the Voting Rights Act of 1965, the landmark piece of legislation that cleared barriers between black voters and the ballot. The story surveyed a broad sweep of history and characters, from United States Chief Justice John Roberts to ordinary citizens like 94-year-old Rosanell Eaton, a plaintiff in the current North Carolina case arguing to repeal voting restrictions enacted in 2013. The magazine received an unusual volume of responses to this article, most notably from President Barack Obama." The president's letter in full: "I was inspired to read about unsung American heroes like Rosanell Eaton in Jim Rutenberg's ''A Dream Undone: Inside the 50-year campaign to roll back the Voting Rights Act.'' ''We the People of the United States, in Order to form a more perfect Union. …'' It's a cruel irony that the words that set our democracy in motion were used as part of the so-called literacy test designed to deny Rosanell and so many other African-Americans the right to vote. Yet more than 70 years ago, as she defiantly delivered the Preamble to our Constitution, Rosanell also reaffirmed its fundamental truth. What makes our country great is not that we are perfect, but that with time, courage and effort, we can become more perfect. What makes America special is our capacity to change. Nearly three decades after Rosanell testified to her unbroken faith in this country, that faith was vindicated. The Voting Rights Act put an end to literacy tests and other forms of discrimination, helping to close the gap between our promise that all of us are created equal and our long history of denying some of us the right to vote. The impact was immediate, and profound — the percentage of African-Americans registered to vote skyrocketed in the years after the Voting Rights Act was passed. But as Rutenberg chronicles, from the moment the ink was dry on the Voting Rights Act, there has been a concentrated effort to undermine this historic law and turn back the clock on its progress. His article puts the recent push to restrict Americans' voting rights in its proper context. These efforts are not a sign that we have moved past the shameful history that led to the Voting Rights Act. Too often, they are rooted in that history. They remind us that progress does not come easy, but that it must be vigorously defended and built upon for ourselves and future generations. I am where I am today only because men and women like Rosanell Eaton refused to accept anything less than a full measure of equality. Their efforts made our country a better place. It is now up to us to continue those efforts. Congress must restore the Voting Rights Act. Our state leaders and legislatures must make it easier — not harder — for more Americans to have their voices heard. Above all, we must exercise our right as citizens to vote, for the truth is that too often we disenfranchise ourselves. Rosanell is now 94 years old. She has not given up. She's still marching. She's still fighting to make real the promise of America. She still believes that We the People have the awesome power to make our union more perfect. And if we join her, we, too, can reaffirm the fundamental truth of the words Rosanell recited. President Barack Obama, Washington."
Florida Real Estate agents could get additional protection: A House Republican on Tuesday filed a proposal that would increase criminal penalties for people who commit assault, battery or sexual battery on real-estate agents. The bill (HB 47), filed by Rep. Kathleen Passidomo, R-Naples, will be considered during the 2016 legislative session. Under the measure, criminal charges would be upgraded for attacks on real-estate brokers, broker associates and sales associates. As an example, an attack that ordinarily would be a first-degree misdemeanor would be reclassified to a third-degree felony. As another example, an attack that would ordinarily be a second-degree felony would be reclassified as a first-degree felony. News Service of Florida.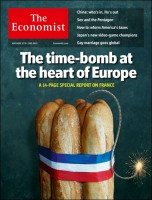 Pearson's Stake in Economist Group to Be Sold to Existing Shareholders: "The British education company Pearson agreed on Wednesday to sell its 50 percent stake in the Economist Group, the publisher of The Economist, to other shareholders of the group for $730 million. The move comes as Pearson, which sold The Financial Times last month, is trying to streamline its operations to focus primarily on its core education and assessment businesses. The biggest participant in the Economist Group transaction will be Exor, the Agnelli family's Italian holding company and a major shareholder in Fiat Chrysler Automobiles. Exor, which already holds a stake of almost 5 percent in the Economist Group, will pay 286.5 million pounds, or about $446 million, for a combination of 27.8 percent of the Economist Group's so-called ordinary shares and all of the company's Class B shares. The Economist Group will buy the remainder of Pearson's ordinary shares for £182 million. The ordinary shares can be owned by employees, past employees and founding members of the company. The Economist Group said it would sell its London headquarters to help pay for the share buyback." From The Times.

None. From Mass Shooting Tracker. See the full lists for 2015, 2014, 2013.

Palm Coast Construction and Development Progress Reports:
The following is an update of ongoing construction and development projects in Palm Coast, through Aug. 5:
Palm Coast Parkway Six-Laning is 86 percent done: Widening on the north side of the parkway almost complete. Landscape irrigation work continues. Signage installation is complete. Milling and Resurfacing of Roadway has begun. FPL completed installation of light poles and fixtures along the south side of the roadway.
Holland Park, 26 percent done: Continuation of installation of new water main.
Palm Coast City Hall at Town Center, 82 percent done: Installation of drywall on interior walls, mechanical duct work & VAV damper installation, electrical conduit rough-in and fire sprinkler piping are all 98% complete. Painting of interior and exterior walls continues. Floor tile in bathrooms continues. Mechanical system startup occurred. Parking lot curbing completed. Irrigation installation began. See ongoing images of construction here.
Colechester Drive Bridge, 32 percent done: Bridge deck being removed, curbing on all sides has been removed.
County's I-95 Interchange Matanzas Woods Reclaim Water, 25 percent done: Contractor has installed approximately 1,000 ft. of reclaim water main total installed 5,000 ft. to date.
Palm Harbor Parkway Roadway Extension, 6 percent done: Contractor working on submittals and coordinating utility work with FPL & ATT.
Island Walk Shopping Center Phase 1, 90 percent done: Adjustments were made to the 12″ water main behind the Bealls building due to Stormwater conflicts with the 12″ water main. The existing manhole was cored and the first run of gravity main was installed near Starbucks entrance.
Shops at Pine Lakes Convenience Store, 95 percent done: Concrete form for the meter and backflow assemblies are in place.
Old Kings Road Force Main – Master Pump Station, 10 percent done: Clearing crew on site removing trees.

Road and Interstate Construction: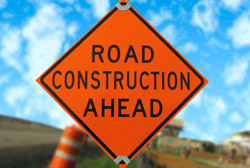 Palm Coast:
Old Kings Road Lane Closures: On Monday and Tuesday, Aug. 17 and 18, motorists and other travelers should expect lane closures on Old Kings Road in the vicinity of the Matanzas Woods Parkway intersection. A single lane will remain open at all times. From Friday, August 21, through Sunday, August 23, motorists and other travelers should expect lane closures on Old Kings Road and Matanzas Woods Parkway in the vicinity of the Matanzas Woods/Old Kings Road intersection. A single lane will remain open at all times.
Complete Road Closure on Old Kings Road: On Wednesday and Thursday, Aug. 19 and 20, motorists and other travelers should expect a complete road closure on Old Kings Road and Matanzas Woods Parkway in the vicinity of the Matanzas Woods intersection. Matanzas Woods Parkway will be closed at Bird of Paradise allowing eastbound traffic to Matanzas High School only. Travelers heading south on Old Kings Road at the U.S. 1 intersection will be notified that Old Kings Road is open to local traffic only. Old Kings Road will be closed at the Forest Grove Drive intersection allowing northbound traffic to Matanzas High School only.
Road Closure Note: The northbound lane of S. Old Kings Road from Town Center Boulevard going north approximately 2.5 miles will have a moving lane closure starting Monday, July 27. The lane closure will be from 7 a.m. to 5 p.m. weekdays and will continue for approximately three weeks. A flagman will direct traffic.
Lane closures to begin July 27 on South Old Kings Road in Palm Coast: The northbound lane of S. Old Kings Road from Town Center Boulevard going north approximately 2.5 miles will have a moving lane closure starting Monday, July 27. The lane closure will be from 7 a.m. to 5 p.m. weekdays and will continue for approximately three weeks. A flagman will direct traffic. This lane closure is needed to allow a City contractor to clear the right-of-way along the roadway in preparation for an upcoming wastewater system project.
Lane closure planned for Palm Coast Parkway July 26 through August 7: Beginning Sunday, July 26, motorists and other travelers should expect a lane closure along Palm Coast Parkway between Florida Park Drive to just west of Cypress Point Parkway. The lane closure will occur in two phases. From 7 p.m. Sunday, July 26 through 7 a.m. Friday, July 31 one eastbound lane will be closed, and one eastbound lane will remain open. From 7 p.m. Sunday, August 2 through 7 a.m. Friday, August 7 one westbound lane will be closed and one westbound lane will remain open. Motorists are encouraged to watch for flaggers and work zone signs. The lane closures are required in order for the contractor to perform milling and paving operations. Weather conditions and other unforeseen circumstances could alter work schedules.
Matanzas Woods Parkway closed: Matanzas Woods Parkway is closed until early August for construction of the Interstate 95 interchange. The portion of Matanzas Woods Parkway that spans I-95 will be reconstructed to accommodate four single-lane ramps for on and off access to the interstate. Other improvements include the widening of the interstate to accommodate new acceleration and deceleration lanes, wet detention ponds adjacent to the roadway, sidewalks, lighting, overhead signs and landscaping. Project details are available and regularly updated at http://www.matanzas95interchange.com. The detour map is available here.
Palm Coast Parkway between Cypress Point Parkway and Florida Park Drive. IMPACTS: Lane shifts and closures will occur and this may cause traffic congestion on this already busy roadway. Most construction work will occur between 9 p.m. and 7 a.m. though weather and unforeseen issues may adjust the schedules. This project will be complete by December 2015.
Flagler County Road 302 is Closed to all but local traffic as repaving began on June 7 and the roadway will be closed to all but local traffic. Others will be required to detour around County Road 302 using State Road 100. The roadway will be closed for 90 days, or until early September.
Palm Coast's Colechester Lane bridge to be closed July 7 through Sept. 4:  A detour will be established taking travelers over the Colorado Drive bridge instead. Signs will be posted directing motorists to the Colorado Drive bridge. The City of Palm Coast strives for safe construction zones. The City asks for the cooperation and patience of residents as this important bridge improvement project is completed. For more information, contact Palm Coast Customer Service at 386-986-2360.
Volusia: I-4 Widening from SR 44 to east of I-95, Monday and Friday, 7:00 a.m. – 5:00 p.m., Eastbound/Westbound shoulder closing. Sunday through Thursday, Eastbound and Westbound lane closures as needed from 8 p.m. to 6 a.m. Thursday, 9:00 p.m. – 5:30 a.m. EB road closure between Canal St./SR 44 and I-95 with detour at US 92 exit ramp.Motorists should be aware of traffic shifts near Canal St./SR 44.
County Road 304 Project Map and Description

Click on the links for more details:
Flagler County is now accepting applications for the Fall 2015 Citizens Academy. Classes will be held on Thursday evenings from 5 to 8 p.m. beginning September 10 for nine weeks. For more information, click this link or go to flaglercounty.org/academy.
Nominate Your Veteran of the Year: Flagler County government is taking nominations from Aug. 1 through Sept. 30 for the veteran of the year. Nominations must be mailed in to the county. Click here for details.
Back to School Immunization, required by schools, available at the Flagler County Health Department from August 10 through August 21, Monday through Friday from 8 a.m. to 11 a.m. and 1 p.m. to 3 p.m. on a walk-in basis. For further information, please call: 386-437-7350 ext. 2224.
August 15-16: Softball tournament fund-raiser for the Casey-Dixon family who suffered a house fire in May in the LL-section. Games will begin at 8 a.m. at the Flagler Fairgrounds Softball Field.
Saturday, Aug. 15: Daytona Beach's 3rd Annual Community Unity Festival, from 9 a.m. – 10 p.m. This free event, which will include activities for all ages, will be held at Daisy Stocking Park, 555 Mary McLeod Bethune Blvd. in Daytona Beach.

Comment of the Day (From the Comment Section):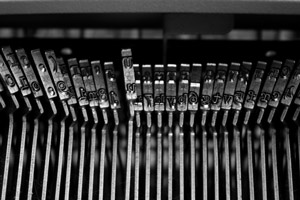 From Samuel Bronkowitz, in "In Defense of Megyn Kelly": "Nothing I've seen regarding his behavior in the public eye or his actions as a president supports your statement. You aren't one of those wacky "obummer sekret mooslim kenyan" people are you? I mean, I understand the appeal – a black man AND a democrat in office? I imagine for some people, the transition from the end of a noose to a seat in the oval office is a positively apoplectic event, disabling them such that they only feel safe in their mobility scooters if they're allowed to drape themselves in confederate flags and tea party stickers. Maybe for those, Trump is the ideal candidate, and I defend your choice in this wonderful nation of ours." Reply to Bronkowitz here.
Cultural Coda: