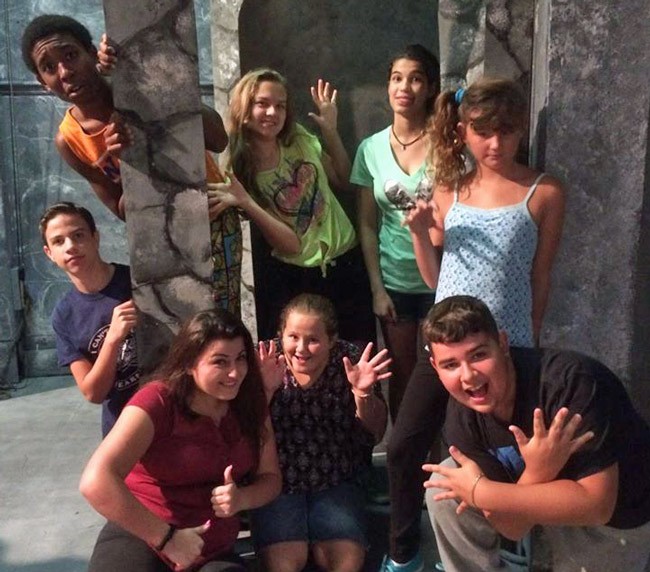 Today: Afternoon thunderstorms, high of 86, low 73. Details here.
Today's fire danger is moderate. Flagler County's Drought Index is at 401.
The weather in Salamanca, Spain: high 72, low 56. Details.
The OED's Word of the Day: ear-tickler, n..
The Live Community Calendar
Today's jail bookings.
Today's Briefing: Quick Links

Note: all government meetings noticed below are free and open to the public unless otherwise indicated.

The Flagler County School Board meets in workshop at 4:30 p.m. and a regular meeting at 6 p.m. In the workshop it will discuss its 2016 contract for four school deputies with the Flagler County Sheriff's Office. The new contract is identical to the current contract, calling for the board to pay $280,900 for four deputies. Palm Coast pays for an additional deputies and the sheriff's office picks up certain costs as well. The proposed contract is here. How much paper does the school board consume? The board will approve a $110,000 purchase for 4,450 cases of letter-size paper, or 44,500 reams, or 22.2 million sheets of paper. No going paperless yet. The purchase is from The Contract Paper Group, and is actually a saving, compared to last year, of $1.59 per case. The board is also set to approve a pair of contracts with the Northeast Florida Education Consortium, which assists the board with testing, instruction, technology and document archiving (all that paper has to go somewhere), among other services. It also provides insurance. The total value of the contract is $2.5 million, with the value of the insurance contract alone this year at $1.8 million. (Both contracts can be read here, and an outline of the costs here.).

The Palm Coast City Council meets at 6:30 p.m. at the Palm Coast Community Center. The council, after weeks of discussion, is set to approve on first reading an ordinance regulating standards for bars, fences and walls. The council is also set to approve a three-year, $45,000 contract with the Fort Worth, Texas-based Buxton Company for "strategic planning and business recruitment services." The meeting will be webcast here.
The Flagler Beach City Council holds a budget workshop at City Hall, starting at 9 a.m. and running most of the day.
The Flagler Beach Planning and Architecture Review Board meets at 5:30 p.m. at city hall.

Flagler Community Education Tennis Camps: Flagler Community Education hosts Youth Tennis Camps at Belle Terre Swim & Racquet Club. Each session meet five days a week, Monday through Friday from 9:30 am to 3:30 pm. Camps include Tennis (warm up, instruction, group games and match play), Swimming, Team Building Fun and Camp T-shirt. Campers should wear atheltic clothes, sneakers and hat/visor/sunglasses. Bring lunch, snack, water, sunscreen, swim suit, towel, and flip flops. Contact Kathryn Acierno, [email protected], 386/569-1298. (At the Belle Terre Swim & Racquet Club, 73 Patricia Drive, Palm Coast.)
Flagler Chamber Seeks Applicants for Leadership Flagler's 23rd Class. Click for details.

2 More "Ridiculous" Ethics Complaints Against Commissioner Revels and Attorney Hadeed: "I find the whole thing ridiculous and a complete waste of our time and efforts in the time that we're dedicating to operating the county," Meeker said of the complaints recently filed by John Ruffalo, a founding member of the local political group known as the Ronald Reagan Republican Assemblies. Reagan assemblies members—acting in their own capacity as individuals rather than as representatives of the group—have made suing the county or filing ethics charges against county officials an annual ritual going back to 2013.
Individual found decomposing behind Walmart: For now, the death isn't being termed suspicious, nor is it being termed a homicide, an accident or a natural death, but the sheriff's office is releasing little information about it. Even the identity of the person has not been positively made. The body was removed by the Palm Coast Fire Department and taken by the medical examiner to St. Augustine. The examiner will determine a cause of death and most likely lead to a positive identification of the body.
Census data show significant increase in Latino population of St. Johns County: "In information released last month, the county was shown to have seen a 9 percent increase in Latino residents from July 2013 to July 2014," the St. Augustine Record reports. "It was the largest percentage increase in the state, but the county's Latino population was starting with an already low number — around 14,000 of 209,544 total residents in 2013. The trend is likely to continue as St. Johns County lags well behind state trends. Latinos made up about 24 percent of the state's population in 2014, but in St. Johns County, they accounted for about 6 percent." (Paywall-protected.)
Charter Schools Are Not Required To Provide Bus Transportation to Students, Judge Rules: The case focused, in part, on a state law that effectively requires districts to provide bus transportation to students who live two miles or more from school. Also, St. Lucie County school officials argued that the charter school violated a contract by not providing transportation to students. But Administrative Law Judge Darren Schwartz, in a 45-page order issued last week, pointed to a state charter-school law that gives more leeway on transportation issues.
Palm Coast's Opelka Wins Come-From-Behind Thriller in Wimbledon Debut: The former Palm Coast resident made his Wimbledon debut Monday in epic fashion, capturing a marathon win in the first round of the Boys Tournament Monday, defeating Australia's Alex De Minaur, 4-6, 6-3, 13-11. "I didn't play my best but I found a way to win, and that's what I'm most happy about," Opelka said by phone two hours after the match. "I competed well and am glad I get to keep going and play here again tomorrow."

Circuit Judge J. David Walsh holds probation violation, sentencing and pre-trial hearings starting at 8:30 a.m. in Courtroom 401. Pre-trials continue in the afternoon, including a pre-trial for Giuseppe Verdone, who was just found guilty on five charges of brutalizing a Chinese food delivery driver (and restaurant owner), and faces life in prison. Verdone's case today is separate, dating back to an allegation of fraud in 2013. County Judge Melissa Moore Stens and Circuit Judge Michael Orfinger hold various hearings throughout the day.

Note: Most proceedings below can be followed live on the Florida Channel.

The Florida Greenways and Trails Council starts two days of meetings and consider numerous projects for designation as parts of the Florida Greenways and Trails System. (1 p.m., Weeki Wachee Springs State Park, 6131 Commercial Way, Weeki Wachee.)
The state Public Service Commission holds a pre-hearing about a proposal by Wal-Mart and the Florida Industrial Power Users Group that would allow eligible customers to "opt out" of utility energy-efficiency programs. Those customers would have their own energy-efficiency programs. A full hearing on the issue is scheduled to start July 22. (1:30 p.m., Betty Easley Conference Center, 4075 Esplanade Way, Tallahassee.)
State Rep. Fred Costello, R-Ormond Beach, is scheduled to continue a series of town-hall meetings. (6:30 p.m., New Smyrna Beach City Hall, 210 Sams Ave., New Smyrna Beach.)

The South Carolina House today debates the fate of the Confederate flag still flying on the South Carolina Capitol grounds, after the Senate voted yesterday to have the flag removed. The vote was overwhelming. But the outcome in the House is less certain.
Leaving behind No Child Left Behind: The U.S. Senate today considers a bill that would return education policy to the states, scrapping the heart of No Child Left Behind.
Today is the drop-dead day for a nuclear deal with Iran. That deadline is midnight, with John Kerry, the secretary of state, in Vienna, working on a last-minute effort to save a faltering proposal.
Tour de France: Today's stage 4 is 223.5 km, from Seraing to Cambrai. The live feed here.

Flagler Playhouse Summer Production Camp Performs SHREK The Musical Jr.: With loads of laughs and lots of heart, SHREK is big-sized fun for all ages.  Follow the  adventures of everyone's favorite ogre and the lovably annoying Donkey as they rescue the spirited Princess Fiona. Along the way, lessons are learned and love blossoms.  The book and lyrics written by David Lindsay-Abaire is complimented by a lively score written by Jeanine Tesori.  This award-winning musical will leave you feeling lighthearted long after the silliness ends. Shrek is the culmination of an intensive 3 week musical theatre camp experience.  The thirty plus cast members are all between the ages of 8 and 17.  This one act version of the Broadway show makes it perfect for all ages.  Directed by Pat Love with Musical Direction and Choreography by Ann Paris.  Ann Paris returns to Flagler Playhouse to the delight of the cast and crew of Shrek the Musical Jr. Performances on Friday, July 10 at 7:30 p.m.; Saturday, July 11th at 1:00 and 4:00 p.m.; and Sunday, July 12th at 1:00 p.m.  Special summer rates  $10 – $15. Purchase on line at  www.flaglerplayhouse.com. or call the box office 386- 586-0773. Flagler Playhouse, 301 E. Moody Blvd., Bunnell.
I Remember Better When I Paint: A Documentary on Creative Therapies for Alzheimer's Disease: The Palm Coast Arts Foundation is proud to partner with the Central and North Florida Chapter of the Alzheimer's Association, the Flagler County Art League, and Florida Hospital Flagler on presenting the documentary film "I REMEMBER BETTER WHEN I PAINT". The film narrated by actress Olivia de Havilland, was created by Berna Huebner based on her mother's diagnosis with Alzheimer's and demonstrates that the creative arts can bypass the limitations of dementia. The film will be shown at Florida Hospital Flagler, 60 Memorial Medical Parkway (south entrance, classrooms A&B), Monday, August 31, 2:00 pm. The film is free to the public but reservations are required as there is limited seating. Please contact the Palm Coast Arts Foundation at (386) 263-2991 or [email protected] to secure your reservation. The film will launch September's World Alzheimer's Month followed by the traveling exhibition Memories in the Making hosted by the Flagler County Art League, City Marketplace, 6-8:30 pm, September 12 with works of art created by those diagnosed with early to mid-stages of dementia. This will be a tandem exhibition along with Its About Time a judged art show in the main gallery. Karen Wolford, Chairperson, Walk to End Alzheimer's for Flagler County, stated "I am grateful to Florida Hospital Flagler, the Palm Coast Arts Foundation, and the Flagler County Art League for working together to highlight art therapy as an effective tool in treating those with Alzheimer's and other Dementias". Teams are being formed now for the September 26 Flagler County Walk to End Alzheimer's – http://act.alz.org/flaglercounty. The Palm Coast Arts Foundation would like to recognize the Hilgos Foundation for the opportunity to share this film.
Ribbon Cutting: State Park Opens New Campground in Flagler Beach: The Florida Department of Environmental Protection's Florida Park Service invites the public to a Ribbon Cutting Ceremony on July 15 at 10:00 a.m. for the opening of an additional campground at Gamble Rogers Memorial State Recreation Area at Flagler Beach, 3100 S. Oceanshore Blvd. State and local officials will be attending and speaking at the ceremony. The park's existing campground is wildly popular, boasting a 96.1 percent occupancy rate, one of the highest occupancy rates of any campground in the Florida State Park system. The new campground overlooks the Intracoastal Waterway and provides 30 sites for RVs and four sites for tent campers.
Flagler College History professor to be featured on C-SPAN this weekend: Flagler College Assistant Professor Dr. Steve Voguit will be featured on C-SPAN this weekend teaching a course at the college on emerging liberal politics in America during President Franklin Roosevelt's term. The course, titled "U.S. History since 1877," was filmed in early March and will highlight themes resonating from the New Deal and its implications on American society. Voguit was selected for the network's "Lectures in History" series based on Princeton Review's "Top 300 Professors" list, staff recommendations, previous professor recommendations, topical research and institution type. Since Voguit started teaching at the college 15 years ago, the Flagler College Student Government Association has named him "Faculty Member of the Year" five times. Voguit's course will air Saturday, July 11, at 8 p.m. EST on C-SPAN 3. After the initial airing, his lecture will be available online in C-SPAN's video library.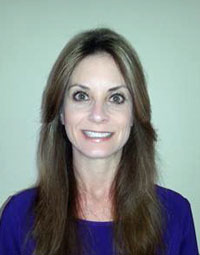 Parkside Realty Group Adds Tina Escalante to Team: Sam Perkovich, broker and owner of ParkSide Realty Group, is pleased to announce they have added new real estate agent Tina Escalante. "My passion for real estate began to develop early in life. I can remember buying home decorating magazines and floor plan books every chance I got," she said. "So I'm looking forward to assisting my clients with attaining their home goals, whatever they may be." Tina holds a Bachelor's Degree in Business Administration and has nearly 15 years experience as a paralegal directed in the area of real estate. In addition, she and her husband have bought and sold numerous properties in Massachusetts and Florida. Sam Perkovich is the broker and owner of ParkSide Realty Group, which was awarded best Real Estate Company in the 2014 Reader's Choice Awards. ParkSide opened their doors in 2010 and have 20 real estate agents on staff, including a CCIM (Certified Commercial Investment Member). Each agent has their own area of expertise in the Palm Coast, Flagler Beach and Bunnell area. All are Flagler County residents, and many grew up in the area or have been locals for 10 years or more. Parkside Realty Group is located at 210 Old Kings Road, Suite 500 in Flagler Beach. They can be reached at 386-693-4804 or online at http://www.palmcoasthomesforsale.net. Facebook at https://www.facebook.com/parksiderealtygroup.

Kids on Gay Marriage: "It turns out that video wasn't a one-off, and kids really are sufficiently wise and grown-up to understand the concept that two people who love each other should be able to get married. Here are some of our highlights from the Kids React video, which sees children shown news coverage of the Supreme Court decision and asked questions about it." From the UK Independent. Watch:
The White House Just Made It Easier to Power Homes With Solar Energy: "Administration officials will announce a slate of executive actions and private sector commitments on Tuesday designed to help underserved communities power their homes with solar energy while expanding opportunities for Americans to get jobs in the solar industry. The initiative is the latest action in President Obama's far-reaching energy agenda. […] The cost to install solar panels has dropped dramatically in recent years due to technological innovation and new financing models. But solar power still makes up just a tiny sliver of total U.S. electricity generation—and significant hurdles to deployment remain. The White House is seeking to address some of those obstacles, including a lack of expertise in solar panel installation. As part of the initiative, the Housing and Urban Development Department will dole out technical assistance to affordable-housing organizations as a way of encouraging solar installation. The administration also plans to install 300 megawatts of renewable power in federally subsidized housing." From National Journal.
The Real Reason Why Marijuana Is Illegal in the U.S.: "It is hard to imagine a time when most pharmacies carried cannabis and farmers were required to grow hemp, much like they are given incentives to grow corn these days, but that is a significant part of the history of the U.S. From the 1600s to the late 1800s, hemp (a cannabis plant containing very little THC) was harvested on U.S. soil to create materials such as rope, paper, and clothing. […] Around 1910, the Mexican Revolution was starting to boil over, and many Mexicans immigrated to the U.S. to escape the conflict. This Mexican population had its own uses for cannabis, and they referred to it as "marihuana." Not only did they use it for medicinal purposes, but they smoked it recreationally, which was a new concept for white Americans. Even the term, marihuana, was unfamiliar to them, as they called it cannabis. Southern states that were receiving the Mexican immigrants became concerned with this growing population. Newspapers ran headlines speaking of the "Mexican menace" or the "marijuana menace" and claimed Mexican men were going crazy from smoking marijuana and were killing people. El Paso, Texas became the first U.S. city to ban marijuana in 1915, and city officials started rounding up Mexicans who smoked marijuana and had them deported. […] Reagan's escalation of the drug war led the U.S. to go from 150 people in prison per 100,000 to where it stands now, just over 700 per 100,000. The motivations were originally aimed at the Mexican population, but now people of all ethnicities have suffered from harsh drug laws. That said, minority communities are still disproportionately affected by drug laws. Marijuana may be getting closer to where it was in the 1800s, with it becoming used as medicine and grown legally, but there is still progress to be made in terms of the justice system and federal law." From attn.
Woman shares emotional video on domestic violence after 'partner leaves her with black eye': "Emma Murphy, 26, from Ireland, says her former partner was "the love of [her] life" until the incident occured. She says she confronted her partner over a suspected affair with another woman. "I finally realised that no, this is not acceptable," she told viewers. "It is not right to raise a hand to a woman." From the UK Independent. Watch:

Palm Coast Construction and Development Progress Reports:
The following is an update of ongoing construction and development projects in Palm Coast, through July 3:
Heartland Dental Clinic Development Order: A Development Order has been issued for application number 2871 for Heartland Dental Clinic in Town Center, which proposes to construct a 5,091 square foot office building with supporting parking, landscaping and utilities as required on an outparcel within the Publix Shopping Center on the south side of Central Avenue, and on the east side of Belle Terre. The building is a two-unit building, and Heartland Dental will occupy one unit. A second tenant has not yet been identified.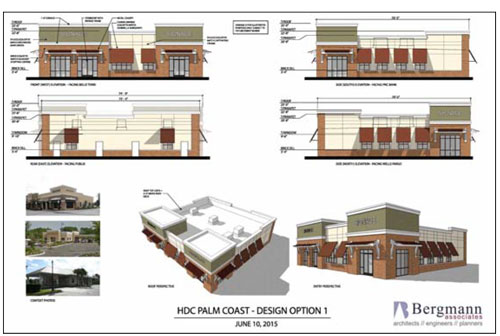 Palm Coast Parkway Six-Laning is 81 percent done: Widening on the north side of the parkway continues. Landscape irrigation work continues. Utility connection tie-ins continues. FPL began installation of street lights along the south side of the roadway.
Royal Palms Parkway Improvements, 98 percent done: Punchlist items continue,
Holland Park, 21 percent done: Installation of storm water pipe continues.
Palm Coast City Hall at Town Center, 62 percent done: Installation of drywall on interior walls, mechanical duct work & VAV damper installation, electrical conduit rough-in and fire sprinkler piping continues. Installation of exterior windows
and exterior wall trim continues. Grading and layout for parking area continues. Painting of exterior walls continues. Mechanical System Chiller and Air Handlers have been
delivered and installed. See ongoing images of construction here.
Colechester at College Waterway Bridge Rehabilitation Construction, 16 percent done: Inside bents and pilings have been painted. Sheet piles were delivered. Demolition on seawall has begun.
County's I-95 Interchange Matanzas Woods Reclaim Water, 20 percent done: A storm structure crossing the road was completed on the east
side of I-95. Fill dirt continues being hauled in to raise the overpass and ramp areas. The city's portion of the project is also 20 percent done.
Palm Harbor Parkway Roadway Extension, 5 percent done: Preconstruction Meeting on 6-26-15. Construction operations to begin the week of 7-6-15.
Island Walk Shopping Center Phase 1, 90 percent done: Developer and City Personnel met to discuss requirements needed for final of 1st Phase.
Shops at Pine Lakes Convenience Store, 88 percent done: Work on parking and drive thru areas continues. Water meters and backflows have been installed.
Walmart Addition, 30 percent done: A new Grease Interceptor has been installed replacing the old one outside the new building addition.
Old Kings Road Utilities Work, 85 percent done: Pressure testing of new water main has passed.

Road and Interstate Construction: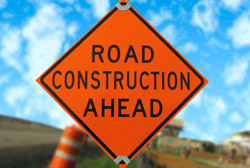 Palm Coast:
Matanzas Woods Parkway closed: Matanzas Woods Parkway is closed until early August for construction of the Interstate 95 interchange. The portion of Matanzas Woods Parkway that spans I-95 will be reconstructed to accommodate four single-lane ramps for on and off access to the interstate. Other improvements include the widening of the interstate to accommodate new acceleration and deceleration lanes, wet detention ponds adjacent to the roadway, sidewalks, lighting, overhead signs and landscaping. Project details are available and regularly updated at http://www.matanzas95interchange.com. The detour map is available here.
Palm Coast Parkway between Cypress Point Parkway and Florida Park Drive. IMPACTS: Lane shifts and closures will occur and this may cause traffic congestion on this already busy roadway. Most construction work will occur between 9 p.m. and 7 a.m. though weather and unforeseen issues may adjust the schedules. This project will be complete by December 2015."
Flagler County Road 302 is Closed to all but local traffic as repaving began on June 7 and the roadway will be closed to all but local traffic. Others will be required to detour around County Road 302 using State Road 100. The roadway will be closed for 90 days, or until early September.
Palm Coast's Colechester Lane bridge to be closed July 7 through Sept. 4: Palm Coast – Motorists and other travelers are advised that the Colechester Lane bridge will be closed to all traffic from July 7 through Sept. 4 while the bridge is rebuilt. A detour will be established taking travelers over the Colorado Drive bridge instead. Signs will be posted directing motorists to the Colorado Drive bridge. The City of Palm Coast strives for safe construction zones. The City asks for the cooperation and patience of residents as this important bridge improvement project is completed. For more information, contact Palm Coast Customer Service at 386-986-2360.
Volusia: I-4 Widening from SR 44 to east of I-95, Monday and Friday, 7:00 a.m. – 5:00 p.m., Eastbound/Westbound shoulder closing. Sunday through Thursday, Eastbound and Westbound lane closures as needed from 8 p.m. to 6 a.m. Thursday, 9:00 p.m. – 5:30 a.m. EB road closure between Canal St./SR 44 and I-95 with detour at US 92 exit ramp.Motorists should be aware of traffic shifts near Canal St./SR 44.

Click on the links for more details:

Comment of the Day (From the Comment Section):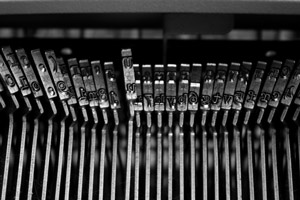 From Knightwatch in "2 More "Ridiculous" Ethics Complaints Against Commissioner Revels and Attorney Hadeed": Here we go again, the RRRA working against the people and leaders of Flagler County. Members of this radical group seek only to disrupt all meaningful political dialog in this county and to discredit anyone who gets in their way as they seek to gain political power. Yet the RRRA continues to deny their members act for the group. How disingenuous, how hypocritical! The members are the group. John Ruffalo, and fellow RRRA provocateurs Dennis McDonald and Mark Richter, clearly expose this group for what it is – – far-right fringe, delusional, litigeous and very, very bad for Palm Coast and Flagler County. We all need to send this group a strong message … we're fed up with their disruptive and costly antics. Get out the anti-RRRA vote in 2016!" Reply to Knightwatch here.

Cultural Coda: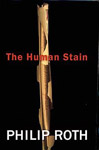 The Counterpuncher: From Philip Roth's "The Human Stain":
"He did love secrets. The secret of nobody's knowing what was going on in your head, thinking whatever you wanted to think with no way of anybody's knowing. All the other kids were always blabbing about themselves. But that wasn't where the power was or the pleasure either. The power and pleasure were to be found in the opposite, in being counterconfessional in the same way you were a counterpuncher."