You're welcome to send your Live Wire news tips or suggestions to [email protected].
Today's Live Wire: Quick Links


Facebook and Twitter: I Give Up
From Gapingvoid: "Earlier today I told everybody on Twitter and Facebook, that I'm leaving Twitter and Facebook. Why? Because Facebook and Twitter are too easy. Keeping up a decent blog that people actually want to take the time to read, that's much harder. And it's the hard stuff that pays off in the end. Besides, even if they're very good at hiding the fact, over on Twitter and Facebook, it's not your content, it's their content. The content on your blog, however, belongs to you, and you alone. People come to your online home, to hear what you have to say, not to hear what everybody else has to say. This sense of personal sovereignty is important. And as I've said many times over the years, Web 2.0 IS ALL ABOUT personal sovereignty. About using media to do something meaningful, WITHOUT someone else giving you permission first, without having to rely on anyone else's resources, authority and money. Self-sufficiency. Exactly. […] And I think a lot of people have lost that idea. Instead or writing about something that's ACTUALLY important to them, they're telling al their zillions of Foursquare friends what food trucks they just visited. Not that there's anything wrong with that, of course, but…" The full post.
See Also: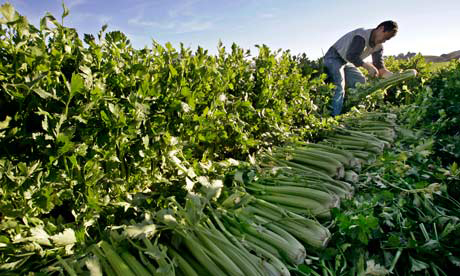 From The Guardian: "In Georgia, Alabama and South Carolina, new laws have been signed that represent the toughest crackdown on illegal immigrants – the vast majority of whom are Hispanics – in America. They give the police sweeping new powers and require them, and employers, to check people's immigration status. In Alabama, they even make helping illegal immigrants, by giving them a lift in a car or shelter in a home, into a serious crime. For many, the laws echo the deep south's painful history of segregation, sending out a message to people of a different colour: you are not wanted here. "That is exactly right," said Andrew Turner, a lawyer with the Alabama-based Southern Poverty Law Centre. "We view it within the context of the history of the deep south. It is using the law to push out and marginalise an ethnic minority." […] From construction to agriculture, to restaurants to gardening, to childrearing, hotels and home help, illegal immigrants are a major driver of the US economy. They may have no papers, but that does not stop them paying taxes, buying homes and raising children who, if born in the US, are American citizens. It has also – as happened during the civil rights era – put these southern states in direct conflict with the federal government. Last week, the White House moved to suspend many deportations of illegal immigrants without criminal records, putting it at odds with the new, harsher state laws. […] From an economic standpoint, passing such stringent laws has been a dramatic own goal. Recently a violent tornado tore through the Alabama city of Tuscaloosa, wreaking havoc and devastation. But the exodus of Hispanics from Alabama has been so great that building firms say they will struggle to employ enough people for rebuilding. Indeed, Tuscaloosa's Hispanic soccer league saw a third of its teams disbanded in a week. This is the paradox: the political backlash has come as Hispanics, and illegals, have become an integral economic and demographic part of the south. The region, outside Florida, has traditionally had only a small Hispanic community but now – fuelled by illegal immigration – it is rapidly growing. The Pew Hispanic Centre estimated that Georgia had an illegal population of some 425,000, most from Hispanic countries. The same study showed Alabama had a population of 125,000 illegal immigrants and has seen its Hispanic population jump 145% in a decade. That is a major ethnic shift in a region whose very history is riven with struggles over race, economic exploitation and southern identity." The full story.
See Also:

Do You Suffer From Decision Fatigue?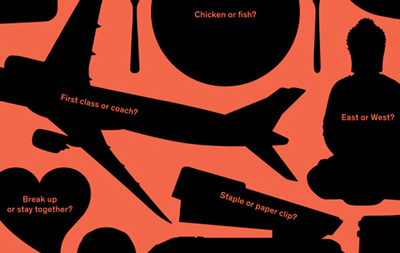 From The Times Magazine: "Decision fatigue helps explain why ordinarily sensible people get angry at colleagues and families, splurge on clothes, buy junk food at the supermarket and can't resist the dealer's offer to rustproof their new car. No matter how rational and high-minded you try to be, you can't make decision after decision without paying a biological price. It's different from ordinary physical fatigue — you're not consciously aware of being tired — but you're low on mental energy. The more choices you make throughout the day, the harder each one becomes for your brain, and eventually it looks for shortcuts, usually in either of two very different ways. One shortcut is to become reckless: to act impulsively instead of expending the energy to first think through the consequences. (Sure, tweet that photo! What could go wrong?) The other shortcut is the ultimate energy saver: do nothing. Instead of agonizing over decisions, avoid any choice. Ducking a decision often creates bigger problems in the long run, but for the moment, it eases the mental strain. You start to resist any change, any potentially risky move — like releasing a prisoner who might commit a crime. So the fatigued judge on a parole board takes the easy way out, and the prisoner keeps doing time. Decision fatigue is the newest discovery involving a phenomenon called ego depletion, a term coined by the social psychologist Roy F. Baumeister in homage to a Freudian hypothesis. Freud speculated that the self, or ego, depended on mental activities involving the transfer of energy. He was vague about the details, though, and quite wrong about some of them (like his idea that artists "sublimate" sexual energy into their work, which would imply that adultery should be especially rare at artists' colonies). Freud's energy model of the self was generally ignored until the end of the century, when Baumeister began studying mental discipline in a series of experiments, first at Case Western and then at Florida State University." The full article.
See Also: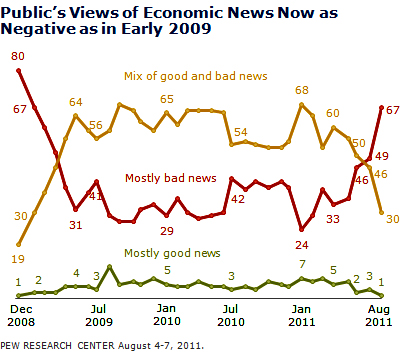 From Pew: "Negative views of economic news have risen sharply since last month and now stand at their highest level in well more than two years. Fully 67% say they are hearing "mostly bad" news about the economy, up 18 points in the last month alone and more than 40 points since the start of 2011. The public's current views of economic news are now as bleak as they were shortly before Barack Obama took office in January 2009. At that time, 67% also said they were hearing mostly bad news about the economy, but that number fell sharply during the first few months of Obama's presidency. The latest weekly News Interest Index, conducted Aug. 4-7 among 1,001 adults by the Pew Research for the People & the Press, finds increasingly downbeat views of news about individual economic sectors – from the financial markets to jobs to real estate. Nearly three-quarters (74%) say they are hearing mostly bad news about the job situation, while more than six-in-ten say they are hearing mostly bad news about financial markets (69%), gas prices (66%), real estate values (63%) and the prices of food and consumer goods (62%). […] Since July, negative impressions of news about the job situation have increased far more among Democrats (up 22 points) and independents (up 25 points) than among Republicans (seven points), who expressed more negative views in previous surveys.
See Also:

St. Augustine Seawall Gets Money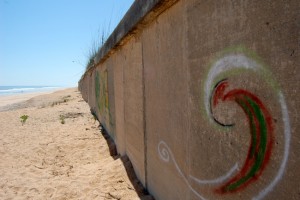 From the Record: "U.S. Rep. John Mica, R-Winter Park, announced today that the Federal Emergency Management Agency (FEMA) has given final approval to $4.7 million for the St. Augustine Seawall project. This federal and community initiative will better protect historic features of the City of St. Augustine against future storms. "After a number of required reviews because of the historical nature of the project, it was my hope that the seawall reconstruction would be under way well before St. Augustine's 450th Celebration, and it looks like this will indeed be the case," said Mica. "This project will make a significant impact in protecting our historic waterfront and will finalize an important initiative for the community." The FEMA grant will help with the building a new seawall along the historic district waterfront, which will provide storm surge and flood protection to the existing historic seawall, properties listed on the National Register of Historical Places and other homes and businesses." The full story.
See Also:

The Beatles: Why Music Matters in Two Minutes
See Also:

Rick Perry Special: Unemployment Across the OECD
Most European countries are doing better than Texas. Maybe Rick Perry should vote Socialist.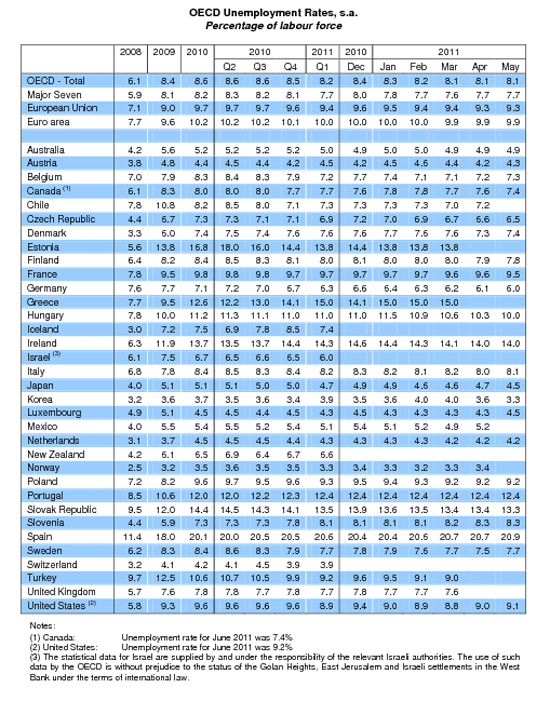 Irving Kristol on Neo-Conservatism
See Also: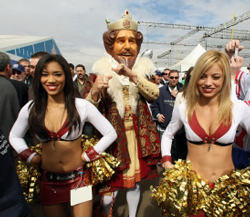 From Slate: "The King is dead. Well, at least if we're talking about that rather creepy, big-headed mascot that has been at the center of Burger King's recent marketing campaign. On Friday, the fast food chain announced that it was parting ways with Crispin Porter + Bogusky, the edgy ad agency that created the current incarnation of the Burger King mascot. USA Today reports that the end of the King's reign is a done deal and will likely be made official sometime soon, possibly later Friday. The move is the first of many steps Burger King will likely take over the next year to recast itself in a more health-conscious image." The full post.
See Also:

A tale from Josette Lopez of Edgewater:
I was in the public toilet – I was barely sitting down when I heard a voice in the other stall: "Hi, how are you?"……..
Me: embarrassed, "Doin' fine!"
Stall: "So what are you up to?"…….
Me: "Uhhh, I'm like you, just sitting here."
…Stall:… "Can I come over?" ………
Me: (attitude) "No, I'm a little busy right now!!"
Stall: "Listen, I'll have to call you back. There's an idiot in the other stall who keeps answering all my questions!!
See Also: