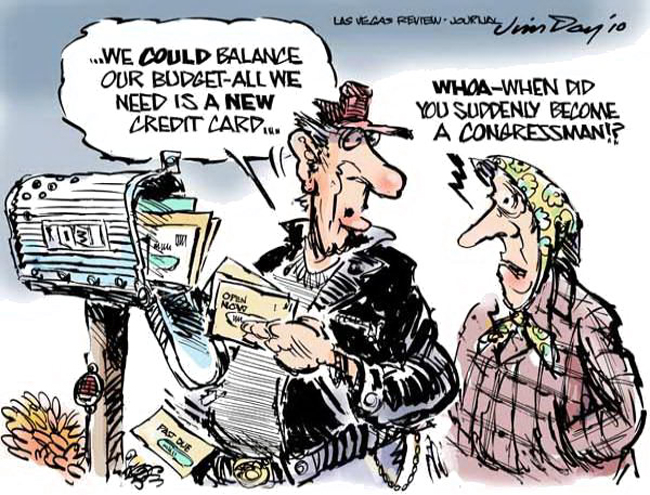 You're welcome to send your Live Wire news tips or suggestions to [email protected].
Today's Live Wire: Quick Links


The Cold Weather Shelter in Bunnell Needs Your Help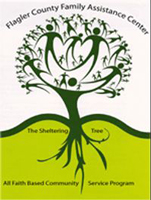 From Lee Willman at the Sheltering Tree, Flagler County's homeless shelter, at the First United Methodist Church behind the Bank of America in Bunnell: "The cold weather has arrived and the emergency cold weather shelter is open. We are in urgent need of warm winter coats, men's shoes (sneakers or sturdy work shoes) men's underwear (does not need to be new just clean) and men's jeans sizes 30 to 36. Thank you for your continued support in helping feed and cloth those in need in our community." Items can be dropped at the First United Methodist Church in Bunnell or by calling Willman at 386/597-2774. Click on the list of needs below for larger view.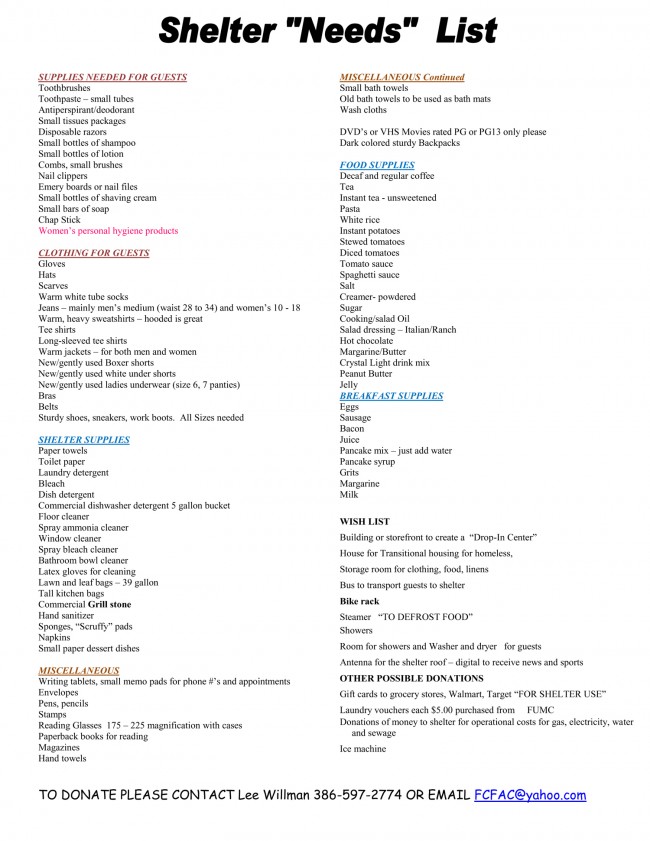 See Also:

And you wonder why the nation is perpetually in debt, and blind to its hurrying decline? You have the GOP to thank–the same GOP that claims to want to be fiscally responsible while blocking any deal that would raise taxes on the richest 2 percent of Americans. The richest 2 percent. From The Times: "White House officials and Congressional Republicans said Sunday they were closing in on a deal to temporarily continue the Bush-era tax cuts at all income levels, while bitterly frustrated Democratic Congressional leaders began exploring whether they would have the votes for such a package. Rather than extending the tax rates only for people described by Democrats as middle class — couples earning up to $250,000 a year and individuals up to $200,000 — the deal would also keep the rates for higher earners, probably for two years. In return, Republicans said they would probably agree to extend jobless aid for the long-term unemployed. Senior Democrats on Sunday said that they were resigned to defeat in the highly charged tax debate, and they voiced searing frustration. […] Many Republicans say they want a permanent extension of the rates, or as long an extension as possible. Democrats say they would not mind the issue coming up during Mr. Obama's re-election bid, because they see it as politically helpful to them in painting Republicans as defenders of the rich. The debate, of course, could cut the other way, with Republicans again portraying Democrats as seeking to raise taxes."
What Else Would $60 Billion Buy?
The Times' Savid Leonhardt asks. That's "the approximate amount that extending the Bush tax cuts on income above $250,000 a year — which Congress seems on the verge of doing — will cost a year, in inflation-adjusted terms. On average, the affluent households that benefit from these cuts will save $25,000 annually. What else might that $60 billion a year buy?
As much deficit reduction as the elimination of earmarks, President Obama's proposed federal pay freeze, a 10 percent cut in the federal work force and a 50 percent cut in foreign aid — combined.
•A tripling of federal funding for medical research.
•Universal preschool for 3- and 4-year-olds, with relatively small class sizes.
•A much larger troop surge in Afghanistan, raising spending by 60 percent from current levels.
•A national infrastructure program to repair and upgrade roads, bridges, mass transit, water systems and levees.
•A 15 percent cut in corporate taxes.
•Twice as much money for clean-energy research as suggested by a recent bipartisan plan.
•Free college, including room and board, for about half of all full-time students, at both four- and two-year colleges.
•A $500 tax cut for all households.
But please, by all means: preserve that tax cut for those making $250,000 and more. It's called American exceptionalism, the 21st century edition.
See Also:

2011's Biggest Job Killers: Cities and States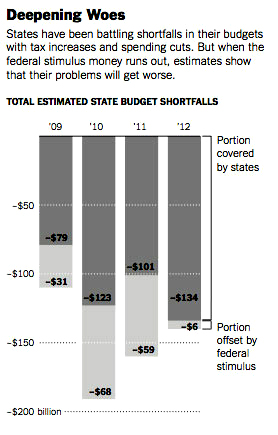 From the Atlantic: "No state has defaulted on its loans since the Great Depression. But the New York Times warns that states and municipalities could be closer to that rare and grim fate than ever before. Federal stimulus cash is drying up in 2011, just as states face what might be their most crushing budget shortfalls, as weak tax revenue fails to provide for large spending demands. If they cannot close the gap with spending cuts and tax increases, they may be forced to revisit their promises to bond holders. […] Default is unlikely. Deep cuts, on the other hand, are very likely. As the Times explains, the worst time for state budgets is often in the years after a recession, when rainy-day funds have been depleted the easy cuts are off the table. The state stimulus tap is effectively dry by 2011. That means you should expect to see states and local government continue to lead the country in job losses over the next few months. It's already happening. In the graph below, the light blue bars mark jobs lost and gained in 2010. Only three sectors are still shedding jobs. Construction jobs are still falling, due to the housing market. Finance jobs are still falling, due to a hangover of the credit crunch and weak local banks. But state and local governments are the real loss leaders for the simple reason that state and local government have straight up run out of money. With 2011 shaping up to be budget buster, this is a trend you can bet on for next year." The full post.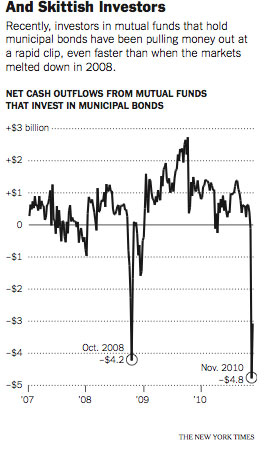 See Also:

When Bill Maher shines brighter than Jon Stewart:

Drivers coming into Palm Coast from the Hammock Dunes Bridge, and walkers along the eastern edge of Linear Park, will now be greeted by the elegant, stately sculpture of a Florida panther. After months of discussion The bronze sculpture is the work of artist Paul Baliker, whose gallery is located in the Hammock. The sculpture was acquired by the Gargiulo Art Foundation and donated to Palm Coast in hopes of starting a 2-mile sculpture walk that would stretch from the eastern end of Linear Park all the way to the public library on Belle Terre Parkway. "This is the first piece of sculpture donated to our city, but hopefully it will not be the last," says Bill Butler, Palm Coast's landscape architect. "Our Beautification and Environmental Advisory Board is preparing a draft of guidelines for future donations, with assistance from local galleries and artists. Our hope is to eventually see additionally remarkable artistic creations at various park locations across the City."
See Also:

Christmas Parade's Grand Marshal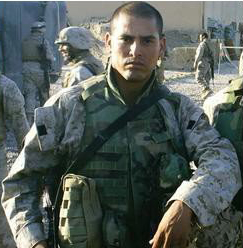 This Saturday's grand marshal at the annual Palm Coast Christmas (or "holiday") parade is Sgt. Felix Garcia, recipient of three Purple Hearts from combat wounds in Fallujah and Al Karma in Iraq between 2003 and 2004. He also received a Navy commendation medal. Garcia is a member of the local Military Order of the Purple Heart Chapter 808 and he lives in Palm Coast with his wife and three children. "I'm truly humbled by this honor, knowing that I'm representing the fine men and women who have served and continue to serve our nation in combat zones around the world," Sgt. Garcia said. "I will proudly display my Purple Hearts in deference to these fine individuals." The parade begins around Central Park in Town Center at 6 p.m. on Dec. 11. Along with the Grand Marshal, Mayor Jon Netts and the city council will lead some 80 floats and marching bands representing community service and school organizations, clubs and businesses in Palm Coast/Flagler County. For more information, please contact Marsha Lidskin, community relations coordinator for Palm Coast, at 386/986-3708.
See Also:

From About: "It isn't every day–or every century–that one of the smallest countries in the world (it's no bigger than Connecticut) with one of the smallest populations in the world (its 840,000 inhabitants make it less populous than San Jose or Detroit) can boast of defeating the most powerful nation on the planet. That's precisely what Qatar did on Thursday when bested the United States' bid to host the 2022 World Cup.
Sure there was a little corruption and a lot of questionable calls on the way to the soccer federation's award of the games to Qatar. Why should FIFA's behavior off the field be any different than its officials on the field? The game is enormously political. There seemed to be a bit of a payback feel to these hosting awards, as if FIFA were telling the United States that for all its potential, its moment was passing. But aside from the usual games and underhanded maneuvers, there were more reasons to award the World Cup to Qatar than not.
Here are three: First, size isn't everything, especially in this age of global media and cheap travel. That a nation has a billion people or a million really doesn't make any difference anymore in terms of its capability to put on a show on a massive, global scale. We know Qatar can do so. One word: Al-Jazeera. That's not a nod merely to the global satellite network's ability to build a good TV set, but to the Qatari leader's ability to put his money where his ambitions are: The secret to Qatar's success and liberalization of late isn't al-Jazeera, but Hamad bin Khalifa al-Thani, the Middle East's leading reformer. No other Middle East nation's leader, or leadership, comes close to his broadening horizons.
Second, Qatar's plan for the World Cup is awe-inspiring. The architecture alone of the stadiums it plans to build should put to rest any doubt that between Qatar, the United Arab Emirates and Bahrain, the world's most exciting architecture is rising out of those desert nation's fertile grounds. Al Shamal Stadium is to look like a seafaring ship. Al Rayyan Stadium will be rimmed by 420,000 square feet of giant screens. Al Khor Stadium will look like a wondrous seashell. Al Garafa Stadium will be a remaking of the old united colors of Benetton. Each stadium will be at once open-air and air conditioned (no energy conservation here). The whole bid was presented in a 40-pound book the Qataris put together.
Third, the Middle East has the fastest growing young population on the planet. By 2022, the region may well have a demographic problem of massive proportions on its hand–unless its tyrannical and despotic governments liberalize along the lines of Qatar and the United Arab Emirates, who have figured out that it isn't enough to have oil, or money, or ambition: it's essential to have a plan to put people to work and encourage investment (the UAE hasn't yet figured out how to put its own people to work as much as it's been relying on borrowed, and often slave-like, labor from South Asia). By awarding the tournament to Qatar, FIFA is essentially targeting its next-most lucrative market after China, with one difference: the Chinese are not nearly as soccer crazy as the Arabs." The fuller story.
And if you had any doubts why Qatar beat the United States, have a look at these two bid videos. First, Qatar's bid, showing the magnificence of its proposed stadiums. Second, the American bid. Honorable, but no comparison:
See Also:

Our Terrorism-Loving Saudi Friends
This is an old story that never seemed to get more than passing, and passive, attention in the United States: Like Pakistan's double-faced "alliance" with the United States (Pakistan is, in fact, the Taliban's earliest sponsor, and remains its chief financier) Saudi Arabia has always been the great double face of terrorism: it claims to be an American ally against al-Qaeda, and in some respects it is–as long as the threat is from within the Saudi kingdom. In reality, Saudi Arabia is the greatest financier of extremist and terrorist networks outside the kingdom. The reason: by paying off terrorists abroad, Saudi Arabia hopes to keep them from bothering the royal regime at home. One of the secret State Department cables put it explicitly: "While the Kingdom of Saudi Arabia (KSA) takes seriously the threat of terrorism within Saudi Arabia, it has been an ongoing challenge to persuade Saudi officials to treat terrorist financing emanating from Saudi Arabia as a strategic priority. […] donors in Saudi Arabia constitute the most significant source of funding to Sunni terrorist groups worldwide."
From the Independent: "Saudi Arabia is the single biggest contributor to the funding of Islamic extremism and is unwilling to cut off the money supply, according to a leaked note from Hillary Clinton. The US Secretary of State says in a secret memorandum that donors in the kingdom still "constitute the most significant source of funding to Sunni terrorist groups worldwide" and that "it has been an ongoing challenge to persuade Saudi officials to treat terrorist financing emanating from Saudi Arabia as a strategic priority". In a separate diplomatic cable published by WikiLeaks last night, the militant group which carried out the Mumbai bombings in 2008, Lashkar-e-Toiba, is reported to have secured money in Saudi Arabia via one of its charity offshoots which raises money for schools. […] The country from which Osama bin Laden and most of the 9/11 terrorists originated, according to Mrs Clinton, "a critical financial support base for al-Qa'ida, the Taliban, Lashkar-e-Toiba and other terrorist groups, including Hamas, which probably raise millions of dollars annually from Saudi sources, often during the Haj and Ramadan". These pilgrimages, especially the Haj, are described as a "big problem" in another cable dated 29 May 2009. Detailing a briefing from the Saudi interior ministry to Richard Holbrooke, the US envoy to Afghanistan and Pakistan, it notes: "The Haj is still a major security loophole for the Saudis, since pilgrims often travel with large amounts of cash and the Saudis cannot refuse them entry into Saudi Arabia." The full story.
See Also:
US believes Al Jazeera is 'propaganda tool of Qatar'

Hokey break. Come with me. To the sea.
See Also:

In Search of the Washington Novel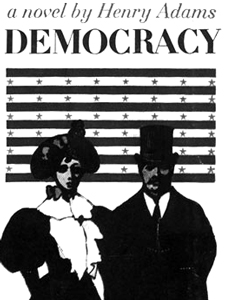 Christopher Hitchens in the City Journal: "Fiction about the nation's capital is a growth that flourishes only on the lower slopes of Parnassus. Think of the flower of our novelists—Updike, Mailer, Roth, Cheever, Bellow—and see if you can call to mind a single scene that is set on the banks of the Potomac. […] Can one imagine a Dickens without London or a Zola or Flaubert without Paris? […] Washington, so dull to outward appearances, does have a way of outpacing the imagination of pulp writers. John F. Kennedy smuggling the Mob's molls into the White House bedroom? Nixon and Kissinger praying on the Oval Office rug? Nixon and Chuck Colson discussing a possible bombing of the Brookings Institution? Oliver North running a parallel state and a private treasury from the White House basement? Ronald Reagan musing on the biblical end times with the head of the American Israel Public Affairs Committee? Bill Clinton's furtive cigar with Monica Lewinsky, tagged and bagged by the FBI on the grounds—this actually is in a footnote of the Starr Report—that smoking materials were forbidden in the executive mansion?" The full essay.

Compliments of the very funny Jake Johannsen:
Click On