You're welcome to send your Live Wire news tips or suggestions to [email protected].
gold/facebook/clyburg
Today's Live Wire: Quick Links


Sheriff Don Fleming Holding a Town Hall at the Library Tonight
Flagler County Sheriff Don Fleming will hold one of his periodic town halls at the Flagler County Library (in palm Coast, on Belle Terre Blvd) at 6 p.m. this evening. Debbie Johnson, the sheriff's spokesperson, tells us: "The Sheriff had set aside one morning on the second Wednesday of the month to meet with residents at the Palm Coast Substation . The town hall meetings (another one is scheduled for Dec. 15 at 6 p.m. at the Palm Coast Community Center) are our attempt to meet with Flagler County residents who work during the day or who have not otherwise had an opportunity to talk directly to the Sheriff in reference to their concerns or suggestions. The meeting tonight has no program outline, just open discussion. We will bring information on our Women's Self defense Course, volunteer opportunities with the Sheriff's Office and our ComputerCop CD."
See Also:

The drive is on to raise thousands of dollars for Flagler County's food pantries and to pay for the Nov. 24 Thanksgiving meal for some 2,000 people in the second annual Feed Flagler celebration. The effort is also designed to stock families' and food pantries' shelves well beyond Thanksgiving, which is what makes this necessary and particularly worthy. There's also a challenge on: several companies and government agencies are competing to out-raise each other, in money and food donations.
Please do your part. We're doing ours. We started our own fund-raising through FlaglerLive, seeding it with an initial contribution and further contributions from Hollingsworth Gallery's JJ Graham, David Millonig in Pensacola, Nancy Nally in Palm Coast and Darrell Smith in Flagler Beach, and Palm Coast Bible Church's $100 on Monday. Tuesday's contributors: Inna Hardison and Anthony Mike Kales. Today's contributors: Thank you Kendall Clark.
If you'd like to donate but would prefer to remain anonymous, just send us a note here and we'll leave your name out of it. Thank you all. Keep it coming.

Here, so far, is the list of monetary donors through the county's efforts:
Bug Guard Services, Inc.
First Coast Community Credit Union
Grace Tabernacle Ministries
Prosperity Bank
Temple Beth Shalom
University Women of Flagler, Inc.
Jean MacAllister
New Beginnings Church, Inc.
Cornelius & Ruth Van De Weert
P. Hassid
Flagler County's three Rotary groups
Tax Collector Suzanne Johnston
John's Auto Parts of Bunnell
Adella Latus
Michael and Patricia Danforth
FlaglerLive
Here are the members of Team Flagler's Food Drive Challenge, coordinated by the county's Joe Mayer and Christie Mayer (313-4094):
Flagler County Board of County Commissioners
Flagler County Tax Collector
Flagler County Property Appraiser
Flagler County Schools
Flagler County Health Department
Flagler County Clerk of Court
Flagler County Sheriff's Department
Flagler County Supervisor of Elections
City of Flagler Beach
City of Palm Coast
Chicks With Cans
Waste Pro
Hammock Dunes Club
Pop-a-Lock
See Also:

Oel Wingo, Former Palm Coast Assistant Manager, Fired in Holly Hill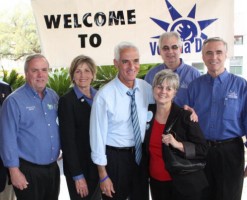 Less than two hours after being seated, the new Holly Hill City Commission, with its new mayor (Roy Johnson) and a new commissioner (Donnie Moore) voted 4-1 to fire Oel Wingo, the Holly Hill city manager who used to be Palm Coast City Manager Jim Landon's #2. The firing took place in classic classless fashion: at the end of the meeting, during the "commissioners' comment" portion of the agenda, the same portion used three years ago in the Christmas-eve firing of David Haas, the Flagler County administrator at the time. In Holly Hill, one of the commissioners (Liz Towsley) had hired a private investigator to dig up dirt on Wingo, and found that her permanent residence was allegedly in Marion County, though Wingo maintains a residence in Palm Coast, within the mileage required to be manager in Holly Hill. But Towsley and Moore said it wasn't about residency. "They cited illegal document destruction, poor employee morale, and violation of Florida statutes as other reasons," the News-Journal reports. "Wingo told commissioners if they didn't trust their manager they were probably taking the correct action and she will challenge the allegations and demand severance." Wingo was hired in January. She was almost fired in May, but the commission stuck with her. The city's police chief, Mark Barker, was appointed interim manager.

Kathleen Parker is probably most responsible for derailing Sarah Palin's vice presidential run in 2008 when, as a conservative commentator with a respectable following, she was among the first in that camp to detect the lack of a there there in Palin's cranium. So when Parker writes about Palin, people listen (or ought to). She writes today in the Post: "Despite its considerable gains in the midterm elections, the GOP has a problem looming in the margins named Sarah Palin. […] Many within the so-called party establishment don't quite know what to do about Palin. She's adored by Tea Partyers, to whom she conveniently attached herself as soon as she sensed a shift in the air. A rogue like Palin isn't going to let a rogue movement fill a stadium – or a desert – without her. […] Watching Palin drop foreign policy and economic nuggets into the twitterverse confirms that the real agenda for Palin is President Palin, and therein lies fresh terror for Republicans. She's too powerful to ignore, and too (fill-in-the-blank) to take seriously. She is – in a word yet again whispered rather than uttered – "Dangerous." Not only would Palin the presidential candidate drive away other Republican candidates, but she would most certainly lose a national election." The full column.
See Also:

Bill O'Reilly's Beheading Joke
The Washington Post's Dana Milbank writes: "On Thursday night, the Fox News host asked, as part of a show that would be seen by 5.5 million people: "Does sharia law say we can behead Dana Milbank?" He then added, "That was a joke." Hilarious! Decapitation jokes just slay me, and this one had all the more hilarity because the topic of journalist beheadings brings to mind my late friend and colleague Danny Pearl, who replaced me in the Wall Street Journal's London bureau and later was murdered in Pakistan by people who thought sharia justified it. The next night, O'Reilly read a complaint from one of his viewers, Heidi Haverlock of Cleveland, who said: "I thought the joke about whether sharia law would allow the beheading of the Washington Post guy was completely inappropriate." O'Reilly replied to her on air: "Well, let me break this to you gently, Heidi. If Dana Milbank did in Iran what he does in Washington, he'd be hummus." O'Reilly is partly right about that. As an American and a Jew, I probably wouldn't last long in Iran. And criticizing the government there, as I do here, wouldn't add to my life expectancy. But what was he trying to say? That America would be better if it were more like Iran? […] I suspect O'Reilly's fury – he went after me on three consecutive nights last week – has less to do with one sentence in one column than with a book and a series of columns I've written about O'Reilly's colleague Glenn Beck. I've argued that Beck, with his talk of violence, Nazis and conspiracy theories, is all but inviting fringe characters to take up arms. I've held O'Reilly up as a responsible alternative to Beck – but O'Reilly seems determined to prove this wrong. […] O'Reilly has every right to quarrel with my opinion or question my accuracy. But why resort to intimidation and violent imagery? I don't believe O'Reilly really wants to sever my head, but if only one of his millions of viewers interprets his message otherwise, that's still a problem for me. " The full column.

See Also:

The TSA's Tits and Ass Problem: No Groping Here, It Claims
From PrisonPlanet: "Despite multiple reports of TSA agents groping, molesting and sexually assaulting passengers in a nationwide epidemic of abuse, a TSA.gov website claims that there are no instances of groping or even squeezing occurring at all, and that TSA agents are completely "professional" in their duties. The denial appears on the blog.tsa.gov website, an official Transport Security Administration clearinghouse for news about the TSA and airport security. […] This claim is of course a flagrant lie designed to quell the massive backlash against invasive new airport security measures which is being led by numerous prominent travel and pilots associations. New TSA "pat down" measures introduced at the end of last month for people who refuse the dangerous naked body scan involve TSA agents using the front of their hands and literally cupping and squeezing women's breasts and men's testicles. As USA Today reported last week, "The searches require screeners to touch passengers' breasts and genitals.""
Watch:
See Also:


From Nate Silvers' FiveThirtyEight: "Elections with results as dramatic as this year's are sometimes referred to as "realigning elections." The term — although somewhat ambiguous and overused — usually refers to an election in which one party not only gains a significant amount of power, but coalitions also shift, the signature of which is usually that the rising party performs particularly well in certain geographic regions or among certain demographic groups. The 1980 election, for instance, was arguably the beginning of a long-term shift toward Republicans in America's suburbs, with Jimmy Carter's share of the suburban vote dropping from 53 percent in 1976 to 37 percent in 1980: the 16-point swing against Mr. Carter was about twice the one he suffered in cities or rural areas. Likewise, in 1994, the shift against Democrats was particularly sharp in the South: 19 of the 52 representatives they lost came from that part of the country. The 2010 elections, by contrast, were remarkable for their orderliness — and they tended to reinforce, to an almost uncanny degree, existing political coalitions. […] What does this mean for 2012? Democrats — if they are expecting to do better than they did this time around — might actually be pleased that elections have become so strongly aligned to partisan orientation. They now have just 12 seats in which Mr. Obama won a minority of the vote to defend — whereas Republicans have 55 where he took the the majority. So if there is even a fairly modest shift back to Democrats in 2012, and the shift is again fairly uniform, they could be in a position to achieve quite a few gains." The full post.
See Also: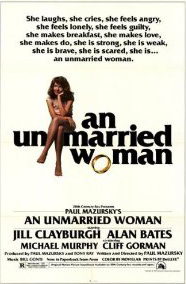 From our own Linda Lowen at Women's Issues: "The death of actress Jill Clayburgh on Saturday hit me harder than I'd expected. (I've always known I'd collapse when Diane Keaton died. My high school yearbook — of which I was editor-in-chief senior year — features photos of me channeling Annie Hall in a men's shirt/tie/vest combo courtesy of the Salvation Army. But Jill Clayburgh? No photos exist as evidence of my deep connection to her, yet I was moved by her passing.) Jill Clayburgh is one of those lesser-known female icons who separates the women from the girls — literally. Women 45+ are having different reactions from women 30 and younger who are largely saying, "Who?" at the news of her death. She was often overshadowed by her contemporaries — the aforementioned Diane Keaton, Jane Fonda, even Sally Field who beat her out for a Best Actress Oscar — yet she holds a special place of honor in the world of pop culture and women's issues. If you were of an age to see her landmark film An Unmarried Woman in 1978, you never forgot her role as Erica, the title character whose comfortable life as a married Manhattanite with a charming husband and teenage daughter is shattered by divorce." The full post.
See Also:

Beauty Blast: Every Painting at MoMA
This is a beautiful video on so many levels, thanks mostly to the simplicity of its concept and the nostalgic appeal of its music. It ends abruptly, which is a shame. Worth the ride anyway: every painting at New York's Museum of Modern Art, in two minutes:
See Also: