You're welcome to send your Live Wire news tips or suggestions to [email protected].
Today's Live Wire: Quick Links


From the more objective Economist: "The storm clouds have been gathering for months. Almost immediately after the expiration of the government's tax credit for homebuyers, it became clear that American housing market stability had been remarkably dependent on the generous subsidy. Data on mortgage applications for purchase and new and existing home sales attested to a striking contraction in housing market activity. And eventually prices began to follow. In July, both of the national home price indexes published by S&P/Case-Shiller ticked downward after rising for much of the previous year. Data released this morning indicated that declines accelerated in August.
The broadest index, Case-Shiller's 20-city composite, fell 0.3% from July to August (this data is seasonally adjusted), after sinking 0.2% the prior month. Home prices were still up year-over-year, but the pace of annual appreciation declined in August. On seasonally adjusted data, only 1 of the 20 cities surveyed enjoyed an increase in prices in August. New York, alone, had a rise in values for August—of 0.01%. Five cities experienced monthly price declines of greater than 1%, and in Phoenix values fell 2.2% just from July to August. Prices in Las Vegas fell yet again. Values in Sin City are at their lowest level since December of 1999, a drop of almost 60% from the peak of the boom." The full story.
See Also:

Flagler School Board Will Celebrate FPC's Cross-Country Team

They did it on their own: Flagler Palm Coast High School's cross-country team, off to New York City for the annual and prestigious Manhattan Invitational, decided to honor Breast Cancer Awareness Month by wearing pink socks in the competition. The gesture moved their coach, David Halliday, and many others. And now the school board will honor the boys. School Board member Andy Dance writes: "I am proud to announce that the CC team will be recognized at the next school board meeting, Nov. 1st, at 6:00PM in the spotlight segment. I am very proud of them, and look forward to hearing them tell their story at the meeting. I will wear my pink tie, but I admit that I do not have pink socks yet. I am sure I will find some before the meeting, and proudly wear them that night!" Dance is himself fresh from a 4-mile Breast Cancer Awareness walk (him and 150-some people who took part in Bunnell's event Saturday).
See Also:

Don't Call It City Walk Anymore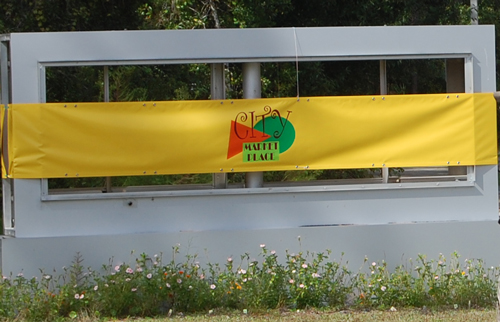 City Walk is no more. The big commercial development on Cypress Parkway, home (for now) to city government offices, has renamed itself City Market Place, in three words, to avert a lawsuit from Universal, which has rights to the original name. The mall's sign has been replaced by a temporary banner (see above) that may also reflect the status of the property. The development, owned by Lake Mary developer Bagwan Asnani, has been adding businesses at a fairly steady pace, but it still faces foreclosure.
See Also:

Just a little reminder of the hair-trigger insanity we're still living with daily. A story most of the press is ignoring, from Military Times: "An equipment failure disrupted communication between 50 nuclear missiles and the launch control center at F.E. Warren Air Force Base, Wyo., over the weekend, although the Air Force never lost the ability to launch the missiles. Air Force spokesman Lt. Col. Todd Vician said the break occurred early Saturday and lasted less than one hour. The White House was briefed about the failure Tuesday morning. There was no evidence of foul play, officials said Tuesday. The Minuteman III intercontinental ballistic missiles are part of the 319th Missile Squadron stockpiled at Warren Air Force Base near Cheyenne, where 150 ICBMs are located. The failure affected 50 of them, or one-ninth of the U.S. arsenal. ICBMs at Air Force bases in Montana and North Dakota were not affected. The equipment failure disrupted "communication between the control center and the missiles, but during that time they were still able to monitor the security of the affected missiles," Vician said. "The missiles were always protected. We have multiple redundancies and security features, and control features." […] In August 2007, an Air Force B-52 bomber was mistakenly armed with six nuclear-tipped cruise missiles and flown from Minot Air Force Base, N.D., to Barksdale Air Force Base, La. At the time, the pilot and crew were unaware they had nuclear arms aboard. Then, in March 2008, the Pentagon disclosed the mistaken shipment to Taiwan of four electrical fuses for ballistic missile warheads and launched a broad investigation into the military's handling of nuclear related materials." The full story.
See Also:

The Ridiculousness of John McCain
More Jon Stewart Madness:

Trashed Again: The Ridiculousness of Charlie Sheen
John Hudson updates us in The Atlantic: "Though his publicist says it was an "adverse allergic reaction to some medication," multiple sources insist cocaine was the reason actor Charlie Sheen trashed a Plaza hotel suite Tuesday night before NYPD officers found him "stark-naked" in his room. The incident reportedly began when Sheen accused his escort of stealing his wallet and began throwing over tables and chairs. The woman then locked herself in the bathroom and phoned a friend who alerted hotel staffers who called 911. If that wasn't bad enough, Sheen's ex-wife and kids were in the next room the whole time. The messy affair comes less than a year after Sheen was arrested on second-degree assault for allegedly threatening his wife at knife point. Is any of this affecting his career? No: People magazine reports that Sheen's already returning to the set of CBS's "Two and a Half Men." See more blog reactions in Hudson's roundup.
See Also:

Is Your Halloween Costume Racist?
Gawker has a series of posts on Halloween costumes to avoid and how various institutions around the country, like Northwestern University, have been trying to police the deal. "Last year," Gawker writes, "some Northwestern kids had the bright idea of dressing up in blackface for Halloween. This year, the dean's not taking any chances. "Pimps and hos" and "gangsta" parties are unacceptable." An example of what not to be: Lady Gaga. "Why You Shouldn't: First of all, every gay (and girl who thinks she's a "gay man trapped in a woman's body") will be attempting this. Also, you have to admit to yourself that you do not have the time, resources, or creativity to pull off Lady Gaga. Even if you buy it from a kit. So take all those steak tips back to the grocery store, because your meat dress idea is already stale. And the same goes for your baby.
Safe Alternative: Christina Aguilera from Burlesque. This next gay cult classic isn't even out yet, so you'll be ahead of the curve."
See Also:

Turn on, tune in, drop out with Timothy Leary
See Also: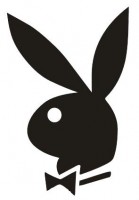 Roger Ebert, the Chicago Sun-Times' resilient film critic and Gene Siskel's widow, writes a good piece on the cultural and sexual influence of Playboy in its great old days, now long since airbrushed by its more pedestrian editing: "You may believe Playboy was the enemy of women. It objectified their bodies. It schooled men to regard them as sex objects. It stood for all that feminists fought to correct. There is some truth to that, but it doesn't impact upon my experience, and the best I can do here is be truthful. Nobody taught me to regard women as sex objects. I always did. Most men do. And truth to tell, most women regard men as sex objects. We regard many other aspects of another person, but sex is the elephant in the room. Evolution has hard-wired us that way. When we meet a new person, in some small recess of our minds we evaluate that person as a sex partner. We don't act on it, we don't dwell on it, but we do it. You know we do. And this process continues bravely until we are old and feeble. Yes, Playboy presented women's bodies for our regard. Yes, they were airbrushed and photo shopped to perfection. Not a blemish, not a zit, not one single chewed fingernail. This process of perfection doesn't deny nature, it reflects it.
"[…] It became a old joke that people said they read Playboy because of the articles. But Hefner tried much harder than necessary to maintain a high editorial standard. His issues #2 through #4 serialized Ray Bradbury's Fahrenheit 451. He championed Vladimir Nabokov, Margaret Atwood, James Baldwin and Jorge Luis Borges. His Playboy Interviews were newsworthy, and his editors must have smiled when they sent Alex Haley to interview the American Nazi George Lincoln Rockwell. (Haley recalls, "I told him I'd been called 'nigger' many times, but this time I was being well paid to hear it.") "The Hurt Locker" was based on Playboy reporting. Hefner and Playboy have been around so long that not everyone remembers what America used to be like. It was sexually repressed and socially restrictive. College students were expelled for having sex out of wedlock. Homosexuality and miscegenation were illegal. Freedom of choice was denied. McCarthyism still cast a pall over the freedom of speech. Many people joined in the fight against that unhealthy society. Hefner was one of them, and a case can can be made that Playboy had a greater influence on our society in its first half-century than any other magazine. No doubt Playboy objectified women and all the rest of it. But it also celebrated them, and freed their bodies from the stigma of shame." The full Ebert.

Clint Eastwood's Perfect World
The Times' A.O.Scott reminds us what a great moviemaker Clint Eastwood is, and what a rich move "A Perfect World" was (from 1993), even though it starred Kevin Costner.
See Also:

Henry James' First Letter to Edith Wharton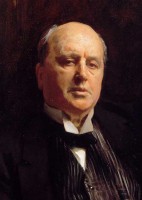 The Library of America's wonderful (and relatively new) blog tells the story of what turned into a long and beautiful friendship–that between Henry James and Edith Wharton. A story moved James to write Wharton for the first time. "In October 1900 Lippincott's Magazine published "The Line of Least Resistance," a story set in Newport about an unfaithful wife and a weak-willed rich husband. Readers in Wharton's high society circle in Lenox, Massachusetts were appalled: they thought the millionaire bore a scandalous resemblance to Emily Vanderbilt's brother-in-law. James loved it. Reading it prompted him to write this historic first letter from England on October 26, 1900 (110 years ago today):
Dear Mrs. Wharton,

I brave your interdiction & thank you both for your letter & for the brilliant little tale in the Philadelphia repository [Lippincott's]. The latter has an admirable sharpness & neatness, & infinite wit & point – it only suffers a little, I think, from one's not having a direct glimpse of the husband's provoking causes – literally provoking ones. . . The subject is really a big one for the canvas – that was really your difficulty. But the thing is done. And I applaud, I mean I value, I egg you on in, your study of the American life that surrounds you. Let yourself go in it & at it – it's an untouched field, really: the folk who try, over there, don't come within miles of any civilized, however superficially, any "evolved" life. And use to the full your ironic and satiric gifts; they form a most valuable (I hold) & beneficent engine. Only, the Lippincott tale is a little hard, a little purely derisive. But that's because you're so young, &, with it, so clever. Youth is hard–& your needle-point, later on, will muffle itself in a little blur of silk. It is a needle-point! Do send me what you write, when you can kindly find time, & do, some day, better still, come to see yours, dear Mrs. Wharton, most truly,

Henry James
See Also: