You're welcome to send your Live Wire news tips or suggestions to [email protected].
Today's Live Wire: Quick Links


Yes Virginia, Palm Coast Is Building Itself a City Hall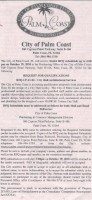 The all-over-but-the-building that is the Palm Coast city administration's crunch toward a new city hall is putting on a few additional performances of pretending that it isn't yet a done deal. The city manager released an announcement this morning that went like this: "For residents interested in learning more about possible plans for construction of a City Hall, add to your schedule one of four Town Hall meetings being held in November across the community." Note the possible plans, a now-superfluous qualifier.
Jim Landon, the city manager, is scheduled to appear at the following locations, all at 6 p.m.:
Monday, Nov. 1 – Indian Trails Middle School, 5505 Belle Terre Pkwy.
Thursday, Nov. 4 – Palm Coast Community Center, 305 Palm Coast Pwky.
Monday, Nov. 15 – Buddy Taylor Middle School cafeteria.
Monday, Nov. 22 – African American Cultural Society, 4420 U.S. Route 1.
See Also:

From the Chronicle of Higher Education: ""Endless War" is how The New York Times headlined its review of the Boston University historian Andrew J. Bacevich's new book, Washington Rules: America's Path to Permanent War. It's a headline that will work just as well if the Times decides to review Reasons to Kill: Why Americans Choose War by Richard E. Rubenstein, a professor of conflict resolution at George Mason University. In fact, either Bacevich or Rubenstein could accurately have chosen "Endless War" as his own book's title. The occasion for both books, as well as for the City University of New York journalism and political-science professor Peter Beinart's recent The Icarus Syndrome: A History of American Hubris, is the start of the 10th year of continuous (and at least seemingly endless) war by the United States in Afghanistan, Iraq, and—factoring in what the Times estimates is "roughly a dozen" secret military campaigns against terrorist groups based in other countries—around the world . Add those to the list of previous wars and military operations during the past 30 years: Nicaragua, Grenada, Libya, Panama, Kuwait, Somalia, Haiti, Bosnia, and Kosovo." The full review.
See Also:

From TPM: Karl Rove is pushing back on tea party accusations that he embodies the worst of the GOP establishment. Again. Rove has found himself on the wrong side of the tea party quite a few times this election season. Yesterday, on CBS' Face The Nation, he stood up to critics on the ultra-right who say he's part of the failed Republican establishment they're hoping to purge with nominees like Sharron Angle, Ken Buck and Christine O'Donnell. Rove's stand lasted less than one minute, before he hastily apologized to the tea party and He Who Must Be Obeyed among the GOP, Rush Limbaugh. The most recent flap began last week, when Rove told Der Spiegel that the movement driving the GOP these days lacked the "well-organized, coherent" and "ideologically motivated" backbone of the Reagan Revolution." The full piece.
Watch:
See Also: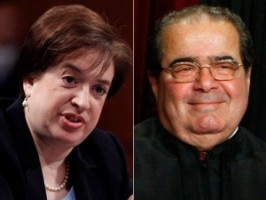 From the Daily Caller: "According to two witnesses, Supreme Court Justice Antonin Scalia took fellow Justice Elena Kagan out for a lesson in skeet shooting at his shooting club in Virginia last week. The witnesses saw Scalia at the Fairfax Rod and Gun Club, where he is a member, around noon on Wednesday of last week. He was with a woman who was noticeably diminutive in height, like Kagan, who stands at about five feet three inches. The witnesses, who got a very close look at the pair, say that the woman was the newest Supreme Court Justice. Scalia was bending down in order to teach Kagan how to hold the shotgun, the witnesses say, and the pair were shooting skeet. […] The Fairfax Rod and Gun Club would not comment on the matter. The Supreme Court of the United States did not respond to request for a comment."
See Also:

It's long been known that Pakistan, which receives about $2 billion a year in U.S. taxpayer aid, is among America's leading enemies in South Asia. Pakistanis despise the United States. So does the Pakistani military. So does the Pakistani ISI (Pakistan's equivalent of the CIA), which gave birth to the Taliban in the mid-1990s and has never given up its patronage, channeling US cash and weaponry to the same people blowing up American soldiers. But what about the Afghan president Americans installed, and have been giving their allegiance to, almost unconditionally? Hamid Karzai is supremely corrupt. And now, it turns out, he's been getting bagfuls of cash from Iran, with, apparently, George W. Bush's understanding.
From the Times: "President Hamid Karzai acknowledged Monday that his chief of staff had taken money from the Iranian government, confirming a report in The New York Times. He said the cash was used to pay for presidential expenses. His government will continue to receive the payments, which amount to no more than about $1 million twice a year, he said at a news conference with the visiting president of Tajikistan, Emomali Rahmon, adding that the money is part of a relationship between neighbors. "They have asked for good relations in return, and for lots of other things in return," Mr. Karzai said of the Iranians. "And we have also asked for lots of things in return in this relationship. This is a relationship between neighbors, and it will go on and we will continue to ask for cash help from Iran." "This is transparent," Mr. Karzai said, maintaining that the United States had long been well aware of the Iranian money. "This is something that I've even discussed while I was at Camp David with President Bush."
See Also:

From the Post: "Senate Minority Leader Mitch McConnell (Ky.) was a fierce critic of the federal bailout of General Motors and Chrysler last year, saying he could not "ask the American taxpayer to subsidize failure."But GM doesn't seem to hold a grudge. The political action committee formed by the company, which is now largely owned by taxpayers, cut McConnell a $5,000 campaign check in September, a small piece of the $190,000 it donated to campaigns in the past month. Although GM suspended its contributions while it solicited the government for financial help, it is now back in the game of political giving, increasing donations from its federal PAC steadily over the past few months. It is not alone: Companies that received federal bailout money, including some that still owe money to the government, are giving to political candidates with vigor. Among companies with PACs, the 23 that received $1 billion or more in federal money through the Troubled Assets Relief Program gave a total of $1.4 million to candidates in September, up from $466,000 the month before. Most of those donations are going to Republican candidates, although the TARP program was approved primarily with Democratic support. President Obama expanded it to cover GM and other automakers." The full post.
See Also:


See Also:

See Also:

Best Don't Ask Don't Tell Moments
From the Daily Show:
See Also: