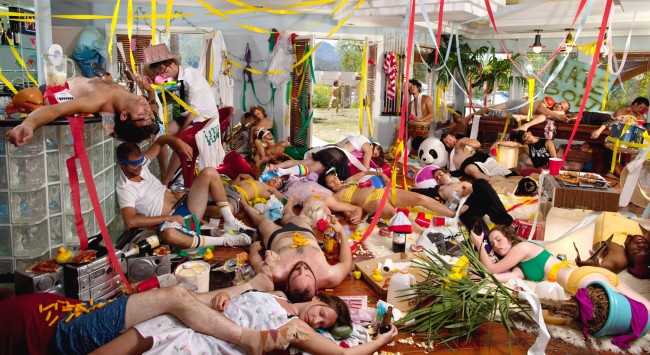 You're welcome to send your Live Wire news tips or suggestions to [email protected].
Today's Live Wire: Quick Links


Amanda Dack: Miss Flagler County Update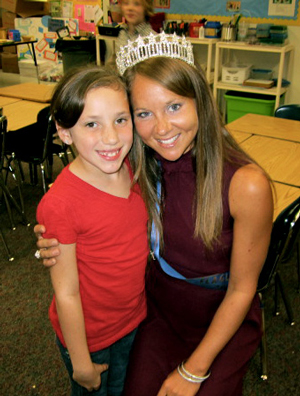 Amanda Dack, crowned Miss Flagler County this year, sends in the following update on her activities since:
"This October, Amanda Dack has been going to Elementary Schools in Flagler County and speaking to different grade levels about the importance of reading and the importance of helping out in one's community. She read to many classes at Old Kings Elementary School, the elementary school she attended as a child. This past week she
brought a friend of hers, Michael Taylor, who is from London, with her to Wadsworth Elementary's new world health/studies class, taught by Mrs. Valerie Sanson, to speak about her travels abroad as well as Michael's recent trip to Namibia. Dack hopes to share her love of reading and traveling with all of the schools in Flagler County and make each student aware of their role as a community citizen as well as a world citizen.
"In coming weeks, Dack is meeting with Palm Coast's Green Team and City Manager Jim Landon, to discuss arranging recycling bins to be placed next to every trash can throughout the city, including all the major sports recreation areas. She is also working with the school board and Superintendent Janet Valentine to create an online suggestion box for each school in the county, allowing students, parents, and teachers, an easy, efficient, and effective way to offer their issues and ideas to the school board."
See Also:

Best Places to Retire: St. Augustine Yes, Palm Coast No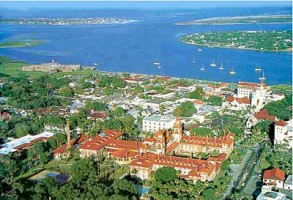 Smart Money published its newest list of the nation's Nine Best Places to Retire. St. Augustine made it. It's the only city in Florida. Smart Money knocked down Sarasota as it touted St. Augustine: "To live in Sarasota, on the other hand, will be quite a bit more expensive – and you'll have company. The town, which consistently lands on "best places to retire" lists (at least three in 2010 alone) was named one of the "fastest growing domestic beach towns" by travel site Orbitz in 2008; now average home prices are 51% higher than those in St. Augustine. In Sarasota, a two-bedroom home costs $122,400 on average, while across the coast, a similar house costs $46,000 less, according to Trulia.com. The biggest downside to St. Augustine? The nearest commercial airport is about an hour away, while Sarasota residents have a local airport. But with all those beaches and average December highs in the upper 60s, shouldn't the grandkids come to you?"
The nine, in that order:
Asheville, N.C.
Prescott, Ariz.
St. Augustine
Chattanooga
Bloomington, Ind.
Carson City, Nev.
Auburn, Ala.
Bellingham, Wash.
San Luis Obispo, Calif.
See Also: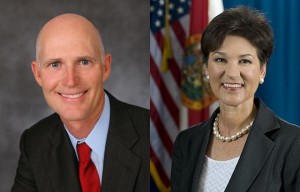 They met for their second debate Wednesday evening. They did not like each other. From the Herald: "Alex Sink and Rick Scott admire each other's commitments to their families. And that's about it. The leading candidates for governor spent most of Wednesday's hourlong, televised debate bashing their rivals platforms, experience and character in an effort to break the the logjam that remains with less than two weeks to Election Day. Sink, the state's chief financial officer, was more aggressive, portraying Scott as untrustworthy and unprepared to lead the nation's fourth largest state. "He should look at me," she admonished when he was asked to say something positive about her. Scott, a political rookie and former hospital executive who is mostly financing his own campaign, repeatedly sought to link Sink to President Barack Obama and called her a failed fiscal watchdog. He never looked over at her during the debate." […] Each delivered blows, but neither landed a knock out. The most dramatic exchange came in the first 30 minutes, when Scott blasted Sink's proposals as unworkable. He said she proposes saving $700 million in the budget but wants to spend what he estimates is $12.5 billion — a sum he said would lead to a tax increase. […] Sink wasted no time with pleasantries, calling Scott a "corporate raider" who "bought hospitals all over the country and shut many of them down." The full story.
See Also:
You can watch the full debate here.

Thrasher-Gianoulis and the Taj Mahal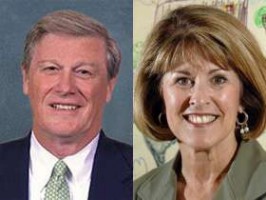 From the Times-Union: "State Senate hopeful Deborah Gianoulis wants to connect her opponent, incumbent John Thrasher, to Tallahassee's 'Taj Mahal' courthouse scandal and generate votes for her. She joins a growing list of candidates who have jumped onto the extravagance of the $48 million 1st District Court of Appeal courthouse project as a potential wedge issue this campaign season. Gianoulis launched a website Wednesday that accuses Thrasher of helping legislators sneak funding for the building into a transportation bill. Thrasher's name became tangled in the courthouse debate after an e-mail circulated among the judges pushing for the mahogany-paneled project, uncovered last month, listed him among the "heroes" who helped bring it to fruition. […] At 110,000 square feet, the appellate court's new building is only a fraction of the size of the $350 million Duval County courthouse complex under construction in Jacksonville." The full story.
See Also:

Florida attorney general Going After For-Profit Universities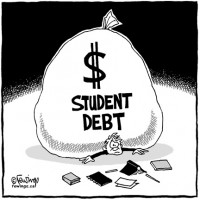 "Five for-profit colleges in Florida are being investigated by the state's attorney general for possibly lying about their financial aid, recruiting tactics, graduation rates and accreditation, according to a statement from the state's Attorney General. The five schools being investigated are Argosy University, Everest College, Kaplan University, the MedVance Institute and the University of Phoenix. According to the statement, the current investigation is civil and not criminal at this time, meaning the investigations do not intend to prove the universities have broken any laws." The Apollo Group, the company that owns the University of Phoenix, said in a statement: "We support efforts to enhance accountability within higher education, and we strive to play a leadership role in continuously improving and transparently reporting the outcomes and achievements of students served by our schools."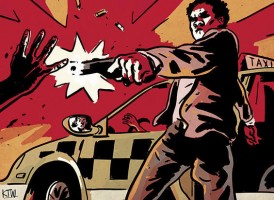 From the Miami New Times: "On a Sunday evening in early August, Kenold François drove his weathered taxicab past an abandoned housing project and up to the Dolphin Food Market on NW 46th Street in Liberty City. His passenger, a well-built man with a beard and short hair, stared calmly out the window as the car came to a halt. Then he pulled a gun. Stepping from the cab, the man emptied 13 rounds into the passengers of a Mercedes-Benz parked in front of the dingy grocery. As bullets tore into 20-year-old Keondre Aquamina and 22-year-old Henry Ferguson, François sat frozen with fear. Haitian compas music spilled softly from the radio. Then the gunman jumped back into the taxi. "Drive!" he shouted. […] With unemployment hovering near 13 percent in Miami-Dade County, authorities say taxi drivers have become both a means of transportation for bad guys and targets for criminals looking for quick cash. In the seven weeks following the murder, seven cabbies have been robbed at gunpoint, almost all in the same neighborhood and possibly by the same thieves. Some of the attacks could have been prevented by barriers between the front and back seats, like those required in other big cities. Better safety practices by cabbies and their companies might have stopped the others. […] Cabbies caught up in the crime spree have been of all ethnicities and from late-30s to mid-60s in age. Some have spent decades driving their taxis in Miami and have never been targeted, until now." The full story.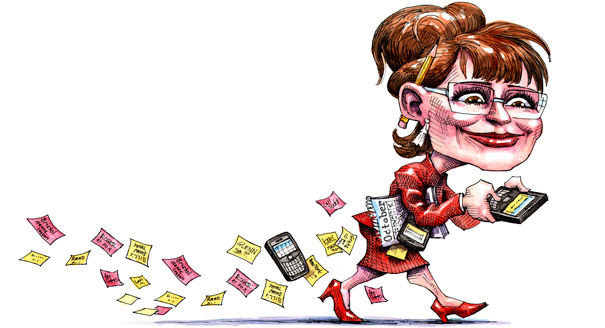 From Politico: "According to multiple Republican campaign sources, the former Alaska governor wreaks havoc on campaign logistics and planning. She offers little notice about her availability, refuses to do certain events, is obsessive about press coverage and sometimes backs out with as little lead time as she gave in the first place. In short, her seat-of-the-pants operation can be a nightmare to deal with, which, in part, explains why Palin doesn't often do individual events for GOP hopefuls." She's apparently well-behaved when she's on, "But the high-maintenance aspects of dealing with the 2008 GOP vice presidential nominee have angered and frustrated some conservative candidates and aides who once thought highly of Palin and, for more skeptical Republicans, simply reconfirmed their view that she's self-centered and unhelpful to the cause." The full story.
See Also:


Markowitz Special: It's Dizzy Gillespie's Birthday
On the Muppet Show, of course:
See Also:

One of Disney's greatest moments, from Disney's lesser period (1967):

Toy guns in schools mean real problems for families

Google Launches Demo Slam