Today's Live Wire: Quick Links


10:50 p.m. FPC's Taron James Injured in Football game Against Deltona
We just learned that Flagler Palm Coast High School quarterback may have been seriously injured toward the end of a junior varsity game at Deltona High School this evening. James, known as T.J., was rushing downfield in a 20-yard run when he was tackled by two Deltona players, one from the front and one from behind. He went down and did not get up, having reportedly lost feelings in his legs. An ambulance was called. There was none at the game. The ambulance took up to 15 minutes to drive in. It isn't clear what hospital James was taken to.
Both teams agreed to end the game with less than 4 minutes left in the fourth quarter. FPC was leading 24-7. (Thanks for the live report CB)

2010 Nobel Prize for Literature: It's Mario Vargas Llosa
The Nobel Prize for literature this year did not go to an obscure Scandinavian, a washed up playwright who hasn't written a scene in 10 years, or a politically correct angry man. It went to a truly great, complete, relevant, still-working writer whose books are as wonderful to read for the pleasure of reading them as they searching explorations of who we are and what we are as human beings: Mario Vargas Llosa. The only question to ask the Swedish Academy is: what took you so long?
An excerpt: Vargas Llosa on the organ, in In Praise of the Stepmother: ""The repetitive, churchly strains of the organ create an auspicious atmosphere. It is generally thought that the organ, so closely associated with the Mass and the religious hymn, desensualizes and even disincarnates the humble mortal bathed in its waves. A gross error; in truth, organ music, with its obsessive languor and its soft purr, merely disconnects the Christian from the world and from contingency, isolating his mind so that it may turn toward something exclusive and different: God and salvation, quite true, in countless cases; but also, in many others, sin, perdition, lust, and other harsh municipal synonyms for what is expressed by that limpid word: pleasure."
The unforgettable opening of one of his greater novels, Conversation in the Cathedral (600 pages and an epic story of father and son revolving around a single conversation): "From the doorway of La Cronica Santiago looks at the Avenida Tacna without love: cars, uneven and faded buildings, the gaudy skeletons of posters floating in the mist, the gray midday. At what precise moment had Peru fucked itself up?"
Or this from his recent The Bad Girl: "It's more difficult for everyone to live in the truth than in a lie."
Watch a Charlie Rose interview with Vargas Llosa (slightly dated: it's from November 2001, with Vargas Llosa talking about how encouraging it is to see the Taliban "collapsing"):
Watch the announcement from the Swedish Academy this morning (the English follows the Swedish):

Dead Soldiers and Homophobes: The Supreme Court Case
From The Times: "The Supreme Court heard arguments on Wednesday in a highly charged case involving protesters objecting to homosexuality who picketed a military funeral. The father of a fallen Marine sued members of a Kansas church who had used his son's funeral to spread their message that God is punishing the United States for its tolerance of homosexuality by killing its soldiers. "We're talking about a funeral," Sean E. Summers, a lawyer for the father, Albert Snyder, told the justices. "Mr. Snyder simply wanted to bury his son in a private, dignified manner." The lawyer on the other side, Margie J. Phelps, said the First Amendment protected the protest, where seven pickets at some distance from the funeral carried signs with messages like "Thank God for dead soldiers" and "God hates you." […] Mr. Snyder won an $11 million jury verdict against the pastor, Fred W. Phelps Sr., and his church, for intentional infliction of emotional distress, which required proof of outrageous conduct, and for invasion of privacy. But a federal appeals court overturned the verdict on First Amendment grounds." The full story.
See Also:

From the ACLU's Freedom Files: "This episode reveals how the federal government is turning the U.S. into a nation under surveillance. From warrantless wiretapping of phone calls and monitoring of emails to the creation of a national identity card, the government is using "national security" as a justification for encroaching on our right to privacy and freedoms of speech and association. But the initiatives are stirring intense opposition from many groups across the political spectrum."
Watch:
See Also:
Top Ten Myths About Illegal NSA Spying on Americans
FISA Myths and Facts

God and You: How Americans Perceive God
From USA Today: "Surveys say about nine out of 10 Americans believe in God, but the way we picture that God reveals our attitudes on economics, justice, social morality, war, natural disasters, science, politics, love and more, say Paul Froese and Christopher Bader, sociologists at Baylor University in Waco, Texas. Their new book, America's Four Gods: What We Say About God — And What That Says About Us, examines our diverse visions of the Almighty and why they matter. Based primarily on national telephone surveys of 1,648 U.S. adults in 2008 and 1,721 in 2006, the book also draws from more than 200 in-depth interviews that, among other things, asked people to respond to a dozen evocative images, such as a wrathful old man slamming the Earth, a loving father's embrace, an accusatory face or a starry universe. Researchers from the USA to Malawi are picking up on the unique Baylor questionnaire, and its implications. When the Gallup World Poll used several of the God-view questions, Bader says, "one clear finding is that the USA — where images of a personal God engaged in our lives dominate — is an outlier in the world of technologically advanced nations such as (those in) Europe." There, the view is almost entirely one of a Big Bang sort of God who launched creation and left it spinning rather than a God who has a direct influence on daily events."
The four views of God: The Authoritative God, The Benevolent God, the Critical God, the Distant God. And here's how, depending on which category Americans fall into, they respond to some key issues:
Zogby Poll: Hometown Democracy Cruising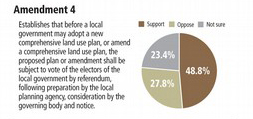 The Naples Daily News runs a badly written news story suggesting that the Hometown Democracy amendment that would give local voters more say in major development decisions "is far from its needed supermajority majority for approval, according to a Daily News/Zogby poll released Thursday." The proposal received 48.8 percent approval from likely voters in the poll. […] But the state requires a 60 percent supermajority for amendments to pass." But only 27.8 actually oppose the amendment, and 23.4 percent are undecided, which suggests that even if the undecided split, the proposal would pass easily.
Other results: Rubio leads Crist, 39 to 33 percent, Sink leads Scott, 41 to 38.5 percent, with 15 percent undecided and 5.3 percent opting for someone else. See the full results.

Newly Homeless: Misery in Jacksonville
From the Times-Union: "More and more of the people seeking help from homeless shelters are former members of the middle class. Stewart once had a corporate job; Holloway never imagined she'd have to bring her children to a shelter. You could call Stewart a leading indicator. She was swept up in the recession as the first wave of major layoffs hit in the summer of 2008. She lost her job as a human resources professional, and not long after, the employment market plunged. […] Keely Holloway [and] her children came into the family wing of the Sulzbacher Center, which was recently expanded because of the need, in April, after what Holloway described as bad personal and financial decisions. […] Cindy Funkhouser, chief program officer for the Sulzbacher Center, said such crises – losing a job and a place to live – are spiking. […] Funkhouser said the center once had no waiting list for families needing shelter. At one point this year, 100 families were on the waiting list; it now stands at 60 families." The full story.
See Also:

Legalize Marijuana in Florida?
From the Miami New Times: "California was the first state to legalize marijuana use for medicinal purposes in 1996. Thirteen states have followed Cali's lead. And this November, California voters will have the historic opportunity to legalize marijuana for recreational use in a move that Gov. Arnold Schwarzenegger and the state Legislature hope will generate $1 billion in annual tax revenue. […] Despite being the number one producer of indoor-grown, highly potent ganja, the Sunshine State has the harshest criminal penalties for marijuana possession and trafficking in the nation. Just holding an ounce of weed is considered a felony that carries a maximum penalty of five years in prison. Two years ago, Gov. Charlie Crist signed the Florida Marijuana Grow House Eradication Act, which made it easier for law enforcement officials to charge marijuana growers, even those with just one plant, with drug trafficking. And during the recently completed legislative session, state senators and representatives unanimously voted to ban the sale of bongs at head shops across the state. Yet there is no evidence these tough laws have decreased marijuana use among Floridians.
"In fact, Florida would be better off mimicking California, which will reap the benefits of legalization well past its borders. According to a study completed this past June by the RAND Drug Policy Research Center, the largest state in the union could dramatically increase tax revenues through marijuana exports to the other 48 mainland states, which have about six times the number of marijuana users as the Golden State. The RAND report concludes that, post-legalization, California-grown sinsemilla would be more competitively priced (an estimated $1,250 per pound wholesale) than Florida-grown sinsemilla (which averages $3,500 to $4,500 per pound wholesale). If it were to legalize marijuana, the Sunshine State would dominate the market throughout the East Coast." The full story.
See Also:

From The Times: "Despite two decades of public health initiatives, stricter government dietary guidelines, record growth of farmers' markets and the ease of products like salad in a bag, Americans still aren't eating enough vegetables. This month, the Centers for Disease Control and Prevention issued a comprehensive nationwide behavioral study of fruit and vegetable consumption. Only 26 percent of the nation's adults eat vegetables three or more times a day, it concluded. (And no, that does not include French fries.) These results fell far short of health objectives set by the federal government a decade ago. The amount of vegetables Americans eat is less than half of what public health officials had hoped. Worse, it has barely budged since 2000." The full story.
See Also:

Discover the International Museum of Women
Here's how the International Museum of Women describes itself: "The mission of I.M.O.W. is to value the lives of women around the world. I.M.O.W. is a groundbreaking social change museum that inspires global action, connects people across borders and transforms hearts and minds by amplifying the voices of women worldwide through global online exhibitions, history, the arts and cultural programs that educate, create dialogue and build community. With its unique focus on cultural change, I.M.O.W. advances the human right to gender equity worldwide. We invite you to join this innovative twenty-first century museum and invest in making the world a better place for our daughters, granddaughters and nieces as well as our sons, grandsons and nephews by participating in I.M.O.W.'s global online exhibitions."
Visit the Museum and Its exhibits:
Women, Power and Politics

A great shot from photographer Pablo Ramil of the Guggenheim Museum in Bilbao, Spain:

The Death Penalty and Racism