Today's Live Wire: Quick Links


Ormond Beach City Commission Grabs Cheaters Strip Club
Audry Parente describes the scene in the News-Journal: "A father clutched two children as he stood at the podium and pleaded with city leaders to drive out a bikini bar. His speech brought cheers, applause and standing ovations from a standing-room-only audience of nearly 200 people at the City Commission meeting Tuesday night. Following half-a-dozen speakers — all but one opposed to the bikini bar Cheaters, which was permitted by Volusia County outside city limits at 1545 N. U.S. 1 — commissioners voted unanimously to annex the property in an effort to make the bikini bar conform to city standards for adult entertainment. "They are going to cheat our property value, our sense of security and our city out of new young families," said one speaker, resident Al Rice. […] A lawsuit and request for injunction were filed against the city when it turned off water to the property two weeks ago, after Sieni entered an objection at the first annexation hearing. In a good faith move then, the city restored the water and agreed to negotiations, which were not successful."
See Also:

Sink and Scott Tied in Zogby Poll
Naples Daily News: "Sink was favored by 41.1 percent of respondents, while 38.5 percent preferred Scott, which is within the margin of error of 3.5 percentage points. Fifteen percent said they weren't sure who they would support, while 5.3 percent said they support "someone else." "For it to be a 2-point race and 15 percent undecided, it just makes it too close," said John Zogby, chairman of Zogby International. The Zogby poll, conducted Sept. 27-29, shows a continued tightening of the race. According to Real Clear Politics polling data, Sink was polling ahead of Scott through August and most of September. However, most recent polls conducted at the end of September have shown Scott with a lead of between 2 and 6 percentage points.
See Also:

Survey: Floridians Support Tax Increases
From AP: "A new survey shows most Floridians are willing to support tax increases for public schools and health and human services even in these troubled economic times. The Pew Center on the States released results Wednesday for surveys in Florida and four other states ranked as the nation's most fiscally stressed. The Florida survey also shows residents almost evenly split on raising taxes for universities and colleges. Most, though, are unwilling to pay higher taxes for prisons, highways and other transportation programs. The telephone survey was taken in June. It included 1,003 adult Floridians and has an error rate of plus or minus 4 percentage points."
From Pew: "Residents across five diverse, fiscally stressed states have similar priorities for state government, but their preferences clash with budget reality, according to a new report released by the Pew Center on the States and the Public Policy Institute of California (PPIC). The in-depth report is based on surveys in Arizona, California, Florida, Illinois and New York of public attitudes about the fiscal crisis facing states and what residents think their elected officials should do about it. The analysis shows that policy leaders have much work to do if they want residents to understand the severity of their state's fiscal challenges and support painful decisions that may be required." The full release.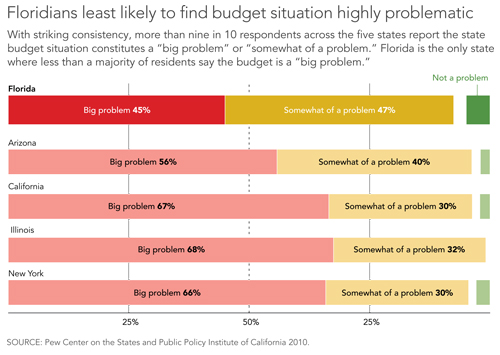 See Also:

Alan Grayson Featured in The New York Times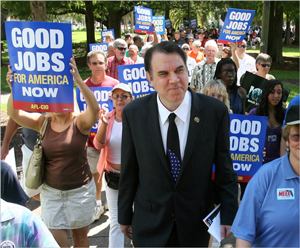 Damien Cave in The Times from Orlando: "Even Democrats occasionally ask: Must he be so negative? Labeling Republicans "knuckle-dragging Neanderthals" as he did last year? And now, running a television spot that calls his Republican opponent, Daniel Webster, "Taliban Dan" because of his conservative Christian views on marriage and abortion? […] Ever since he said last year that the Republican health care plan amounted to "don't get sick, and if you do get sick, die quickly," he has become a unifying villain for the right. Political analysts believe he and Mr. Webster are in a tight race, with a breakaway Tea Party candidate and an independent running far behind, so the intensity continues to rise. Last week, when the party establishment and local Tea Party activists came together at a downtown hotel for a rally featuring the political strategist Dick Morris, nothing attracted applause like the mention of a Grayson defeat." The full story.
See Also:

In Middle Schools, Suspended for Being Black
From a new report by the Southern Poverty Law Center: " In the 1970s Black students had a suspension rate of about 6% – twice the likelihood of suspension as White students (about 3%). With the advent of zero tolerance, Black children experienced a 9-point increase in suspension rates, from 6% in 1973 to 15% in 2006. Meanwhile the White suspension rate also grew, but gained less than 2 percentage points. The Black/White gap has grown from 3 percentage points in the '70s to over 10 percentage points in the 2000s. Blacks are now over three times more likely than Whites to be suspended."
More details: "While the average suspension rate was 11.2% in 2006 in the middle schools surveyed, disaggregating the data by race and gender reveals great disparities in the use of out-of-school suspension. For example, for middle school Blacks, 28.3% of males and 18% of females were suspended. This 10-point difference in suspension rates by gender for Black students was the largest of any racial group, but all racial/ethnic groups showed large internal differences by gender. Even greater disparities existed between racial groups when comparing suspension rates by race and gender: there was a 26.2 percentage point difference between the suspension rates of Asian American/Pacific Islander females (2.1%) and Black males."
Summing up the study, the SPLC writes: "The study recommends that policymakers pay much closer attention to school suspensions at the school and district level and use this information as part of school and district evaluations. Further, the U.S. Department of Education should identify and address unlawful discrimination, and federal law should require an increase in the collection and reporting of school suspension and related discipline data, especially data that looks at both race and gender. This data could help identify schools with high suspension rates for review, as well as determine the need to provide technical assistance on effective alternatives to suspension for schools in crisis."
See Also:

Duvall Football Coach Is Punched, then Fired
From the Times-Union: "Having his bell rung during a Jacksonville high school football game shook Chris Green on several levels. First, understand Green is a coach, not a player. And his cuts and the blows to his head, police say, were caused by a player from his own Ribault High Trojans and the player's father — who now faces a felony charge. But what really troubled Green was that getting his face bloodied and his head smacked against a fence pole on a Friday night last month led to him being fired the next Monday. "I just couldn't believe there was so little support for me and the efforts I've put in there," said Green, 41, who was the team's offensive coordinator. He said Ribault principal James Young told him he mishandled the way the athlete's father, 39-year-old Jonathan Chandler, approached him at halftime near the locker room during a Sept. 10 game against First Coast High. "He told me I was just as much to blame as the parent," Green said. "And that was solely based on the fact that I said something back to him." […] Less than a month after being fired, Green is the assistant offensive coordinator at another Duval County school, Englewood High." The full story.
See Also:

Petition begins for Oil Drilling Ban on 2012 Ballot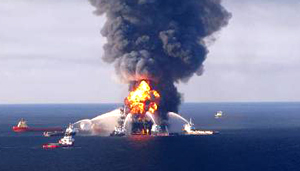 From the Florida Wildlife Federation: The Florida Wildlife Federation and other conservation groups are supporting a citizens' petition drive to put the issue of near-shore oil drilling on the November 2012 ballot. Please go to www.sosbs.org to download the petition and mail in to the Save our Seas PO Box. Feel free to make as many copies as you wish – get family, friends and neighbors to sign petitions! Thanks very much!! Florida Wildlife Federation (The Petition is also available here for you to download.)"
From the Florida Tribune: "The amendment is needed because the House in 2009 voted to pass a bill to allow drilling within three miles of the Gulf coast, said Preston Robertson, the group's vice president and general counsel. "Having something in statute is good (only) until the very next legislative session," Robertson said. Robertson is also serving as president of Save Our Seas, Beaches and Shores Inc., a political committee that is leading the petition drive. Other groups supporting the effort are Progress Florida and the Sea Turtle Conservancy, according to the committee's website. After the Deepwater Horizon oil spill, Gov. Charlie Crist called a special legislative session on July 20 to put a drilling ban on the ballot in November. But the House and Senate adjourned without taking up any legislation after House leaders criticized the special session as a political maneuver by Crist." The full story.

Riesman's The Lonely Crowd at 60
There was a time when American mass media publications could use words like heuristic (or limn) and get away with it, as in Time's 1954 cover story on David Riesman, author of The Lonely Crowd, which celebrates its 60th anniversary this month. "Riesman believes in individualism as a goal; but he does not believe that the U.S. today is an individualist society in the 19th century sense," the article went. The book was published on Oct. 4, 1950, by Yale University Press, for $4. The New York Times did not see fit to review it.
Rupert Wilkinson eulogizes the book in a current issue of The Chronicle Review: "For all its flaws, The Lonely Crowd's saving grace was its prescience. Like other social-character books, its enduring value lay less in its psychological generalizations than in what it said, along the way, about social change. Riesman preceded Lasch, for example, in noting the loss of clear-cut boundaries in modern life—between public and private, work and play, or, as Lasch observed, performers and audiences. Life had become more slippery. But The Lonely Crowd's trend spotting went much further than this. It was the first book to stress a change in modern society from a culture of production and scarcity to one of consumption as a social act—from making things to relating to people, from "the hardness of the material," as the authors put it, to the softer touch of consumer-focused sales and services. In politics Riesman coined one of his many engaging labels, the "inside-dopester," to describe a person drawn to political life as a consumer, eager to be in the know rather than to make policy. (At the time of writing the book, Riesman and Glazer were much concerned about voter "apathy," which they connected to a passive, consumer view of politics.)" The full essay.
See Also:

Guggenheim Shortlist Video: "The Fuchsia Fits"
From the Guggenheim Museum: "The Guggenheim and YouTube, in collaboration with HP and Intel, have announced the shortlist for YouTube Play. A Biennial of Creative Video. The biennial, which was inaugurated in June, aims to discover and showcase the most exceptional talent working in the ever-expanding realm of online video, regardless of genre, technique, background, or budget. After more than 23,000 submissions from 91 countries, the 125 shortlisted videos can now be seen on the YouTube Play channel, as well as kiosks at the Guggenheim museums in New York City, Berlin, Bilbao, and Venice. […] The jury will select their top 20 choices from the shortlist to be revealed and presented at a special YouTube Play event at the Guggenheim Museum on October 21."
Watch today's selection: "The Fuchsia Fits: An Abbreviated Lexicon of Inverted Gestures," by Alec Donovan:

Free Live Jazz Concerts at Daytona State College Amphitheater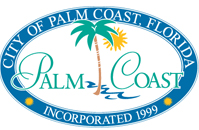 Live musical concerts will open in town on Friday, October 15th at the Daytona State College amphitheater beginning at 7:00 p.m. on the DSC grounds located at the corner of Colbert Road and Palm Coast Parkway. The first Friday Night Live features Bitter Edge, grand prize winner of the 2010 Daytona Beach Battle of the Bands. Bitter Edge will entertain audiences with their soft rock alternative music. Watch local media for announcements of specific dates and times. You'll want to pack a picnic, bring your lawn chairs, blankets, bug spray and plan for a pleasurable family evening under the stars. Concerts are hosted by the City of Palm Coast, Beach 92.7 Radio and Daytona State College. For more information, please contact the City's Parks and Recreation Department at 386-986-2323.