The Live Wire is an experiment. Think of it as a cross between a book of hours and a web version of the doors of perception. You contributions are welcome, in the comments or by email.

Today's Live Wire: Quick Links

Daytona State College's Kent Sharples' Apologia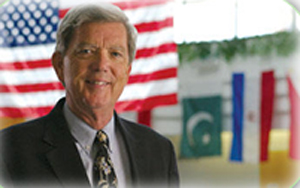 Kent Sharples, the Daytona State College president, is under attack for taking $1.26 million out of the college's operations dollars to pay band fees for Usher, the Jonas Brothers and other acts in the American Music Festival in Daytona Beach earlier this month. He did so without formal approval from the college board of trustees. In one trustee's words, "There is no way the college has the authority to do that." (That's Forough Hosseini, who doesn't belong to Sharples' band of yes men and women on the board.) To the claim that he did something wrong, Sharples writes today in the News-Journal, "Nothing could be further from the truth." It's quite a statement, considering the history of Sharples' universe at the college, where distances between fact and fiction, truth and lies, can be measured in astronomical units.
To give you an idea of the guy's tactical style, by the second paragraph of his Apologia Pro Vita Sharples, he'd invoked Tippen Davidson, the News-Journal's late owner, whose bookkeeping was driven more by ego than transparency. By the third paragraph he had Hosseini in there–get this: as his buddy in keeping the London Symphony Orchestra coming to Daytona, as it had under Tippen's increasingly off-key baton. What any of this has to do with the rap and teeny bopping acts of a parvenu promoter, nobody knows. It's what's called a stylistic set-up: legitimacy by entirely bogus association.
Now that he's gilded himself with Tippen's and Hosseini's names, not to mention a few other usual bigwigs (Frank Bruno, the county chairman, Glenn Richey, theDaytona's mayor, and Jeff Feasel, whose salary as the top executive at Halifax hospital is one of the reasons we needed health care reform), he moves to explain the college's association with the so-called Community Cultural Foundation that sits over the American Music Festival. And the way he justifies the college's spending that $1.26 million is the way George W. Bush justified breaking every law in the books to invade Iraq, torture prisoners in secret prisons, spy on Americans and set up a concentration camp at Guantanamo: Bush interpreted Congress' "authorization" for war in 2001 as a blank check to do whatever he anted. Sharples is interpreting the arrangement with the foundation as a blank check: "The conclusion of these efforts was a contract between the DSC Board of Trustees and the CCF, which provides a framework for the college to assist the CCF by providing office and performance space, handling CCF payroll, and advancing funding to assist the CCF in maintaining its events and programs."
The contract between the college foundation and the college, not so incidentally, had run out on june 30, and the board hadn't renewed it.
Then there's this precious line: "Board chair approval of such matters pending ratification by the board at their next meeting has been the standard procedure for matters arising between meetings of the board." Pending ratification. Has Sharples ever put more formal words to his rubber stamp? What the board's uses are, besides coming in and signing off on the king's edicts, is difficult to detect. And this being Sharples, here's the next poisoned-tipped lance, aimed right at Hosseini's diamonds: "For example, it was used in 2009 when then-Chairwoman Hosseini approved more than $1 million of employment contracts for a proposed Engineering Technology program, subject to later ratification by the board."
Then he adds his usual blurb on his sainthood and probity, leaving his final line to another tiresome Sharples stylistic trick: the huff: "Finally, I will propose to the college board that the college's relationship with CCF be revamped if they are in any way uncomfortable with our agreement as currently structured."
Sharples' splendid little board was to meet on Monday. The meeting was canceled.

Yes, You'll Get Soaked Today in Flagler
This is what you're looking at over the next couple of days, but it won't be the fury and :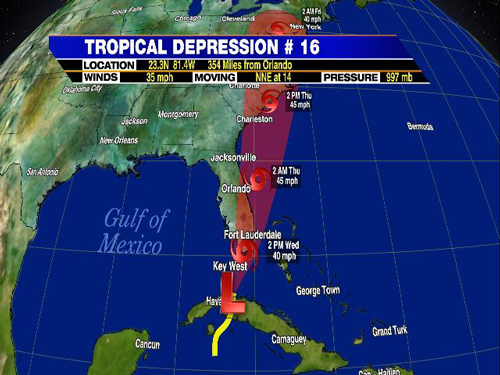 Alan Grayson's Taliban Ad Fact-Checked
And then there's Alan. His Taliban ad attacking Daniel Webster gets the Politifact treatment. "PolitiFact Florida found that Grayson used some heavy-handed editing to take Webster's words out of context. We rated a claim that "Daniel Webster thinks wives should submit to their husbands" as False. We also rated a claim that Webster wants to make divorce illegal, even for abused women, Half True."
Then Grayson did his own Sharples:
Visit msnbc.com for breaking news, world news, and news about the economy

Rubio's Social Security Flipflops
From the St. Pete Times: "Appearing on CBS' Face the Nation, Rubio said he favored some adjustments to the 75-year-old program, including possibly raising the retirement age for younger workers such as himself. However, he flatly opposed the idea of letting people put some money into private accounts. Rubio has held that position for months, but in late January, he suggested privatization could work. He told reporters in Tallahassee that another option besides raising the retirement age "is giving people the option of taking some of their Social Security money, at least a portion thereof, and investing it in an alternative to the Social Security system itself." […] A May article by the Associated Press said Rubio supported private accounts, including a sweeping set of proposals by U.S. Rep. Paul Ryan, R-Wis., that included partial privatization. The Rubio campaign did not dispute the article Monday, rather restated his current stance against privatization and said the support of Ryan's proposal was not a blanket endorsement. Crist has a well-established record of changing positions, particularly after leaving the Republican Party. But Crist has taken the politically safe stance on Social Security." The full story.

Consumer Confidence Still Flopping
From the St. Pete Times: "The national consumer confidence index fell to the lowest point since February, the New York-based Conference Board reported. The index, which would indicate a healthy economy at a level of 90, fell to 48.5 in September, down from 53.2 in August. Economists surveyed by Thomson Reuters were expecting 52.5. […] A Gallup survey of almost 2,600 Gulf Coast residents showed that depression cases are up more than 25 percent since the BP explosion and oil spill in the gulf five months ago. […]" And more in Florida: "Capping the oil spill in the gulf gave a boost to Florida consumer confidence this month, pushing it up slightly to the highest level since May, a University of Florida survey shows. But survey organizers were quick to note that confidence levels remain sluggish, and far lower than a year ago, as double-digit unemployment and a slow housing market continue to weigh on Floridians." The full story.

Tea Party's Next Target: Judges
Citizen2Citizen, partnering with the Central Florida Tea Party Council, want to boot out Florida Supreme Court Justices Jorge Labarga and James Perry for their vote striking from the ballot a proposed constitutional amendment that would have kept federal health reform from taking effect in Florida. From the Miami Herald: "We started it because we believe we have a right to vote on amendments proposed by the Legislature and we feel the court decided for us," said Jesse Phillips, who founded Citizen2Citizen about a year ago. Specifically, Phillips is angry over the court's decision to strike Amendment 9 from the ballot. The proposed amendment grew out of Republican opposition to the Obama administration's healthcare plan. The amendment would have tried to prevent Floridians from being compelled to participate in any healthcare system and sought to allow residents to opt out of a the federal requirement to buy health insurance that starts in 2014."

Richard Thaler in The Times: "Want to give affluent households a present worth $700 billion over the next decade? In a period of high unemployment and fiscal austerity, this idea may seem laughable. Amazingly, though, it is getting traction in Washington. […][I]f the primary goal is stimulating the economy, tax breaks to the rich are simply not cost-effective. Numerous studies have shown that the poor spend nearly all of their income, while the rich save a significant amount of theirs. […] The administration points out that only 3 percent of all businesses earn enough to have to pay any additional tax. But Republicans reply that those 3 percent of businesses earn 47 percent of the income from this entire sector, meaning that the higher taxes would apply to the bulk of small-business income. […] Goldman Sachs was in this category before it became a public company. And the fact that 3 percent of the businesses earn nearly half of the money is precisely what many people are concerned about: growing income inequality. […] Which brings us to the third argument. Conservatives say that to do anything other than extending tax cuts to everyone would amount to "class warfare." The best response to that notion comes from Warren E. Buffett: "There's class warfare, all right, but it's my class, the rich class, that's making war, and we're winning." " The full article.

Socrates, the Necessary Son of a Bitch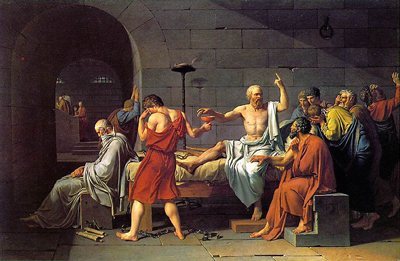 "Socrates' relentless questioning of received moral wisdom and authority, his struggle to apprehend real existence in consciousness, would make him many enemies," writes Angus Kennedy in a review of a new book on Socrates. "Laertius goes on to tell us that 'very often, while arguing and discussing points that arose, he was treated with great violence and beaten, and pulled about, and laughed at and ridiculed by the multitude'. The great Athenian comedian Aristophanes ridiculed Socrates in his Clouds as 'an artful fellow, a blusterer, a villain, a knave with one hundred faces, cunning, intolerable, a gluttonous dog'. In Plato's Meno, Socrates offends a man called Anytus by suggesting that even great men such as Themistocles and Thucydides were not capable of teaching their sons to be good. Anytus warns him to be careful, that he is 'too ready to speak evil of men'. It was Anytus who brought the prosecution against Socrates in 399 BC, on charges of impiety and corrupting the youth, which led to Socrates' execution. Was Socrates really so intolerable? Intolerant of Athenian democracy's belief that the many had the wisdom to judge, was he a threat to democracy itself? Was he guilty of asking too many questions?" The full essay.
See Also:
Watch a Sum-Up of Socrates' Life and Meaning:

There was a young monk from Siberia
Whose morals were very inferior.
He did to a nun
What he shouldn't have done,
And now she's a Mother Superior.

And just as good, from that old Dutch batch (you can see the full series here; not all of them were in bad taste, and all of them were, of course, as defensible as a matter of free expression as that Gainesville nut job's attempt to burn the Koran or the everyday infamies of our own Religious Right.)
And of course one good turn deserves another, though there's nothing funny about priests raping children, and "funny" isn't what this devastatingly true cartoon is aiming at:
Maybe that begins to answer JR's curiosity in the comments about where we stand on religion: not with religion's murderers, rapists, women-haters, censors, bigots, fanatics and idiots of any denomination, for starters.
See Also: