The Live Wire is an experiment. Think of it as a cross between a book of hours and a web version of the doors of perception. You contributions are welcome, in the comments or by email. The previous edition of the Live Wire is available here.



"What is it with you people, anyway? Are you so insecure about the way you handle marriage that you're scared gay folk will show you up? Trust me, we will make as much of a mess out of matrimony as you do. Just give us a chance." –Harvey Firestein, from a 2003 OpEd. See below.
Today's Live Wire: Quick Links

The GOP's Contract on America: The Sequel
Where's Mencken when you need him? Some days require him more than others. Think of it as lunging for Ativan in an assisted living facility. Here then, in preparation for what's to follow, is your mental Adivan, compliments of Mencken: "Have you ever examined carefully the speeches made by the candidates in a Presidential campaign? If so, you know that they are of bilge and blather all compact. Now and then, true enough, one of the august aspirants to the Washingtonian breeches is goaded or misled into saying something pungent and even apposite, but not often, not deliberately. His daily Stint is simply balderdash."
With that preparation, we go on to the GOP's just-released "Pledge to America," a sequel to the 1993 "Contract With America," or more accurately, Contract On America. From The Times: "With control of the House, the Republicans said they would seek to immediately cancel any unspent money from last year's $787 billion economic stimulus program, to freeze the size of the "nonsecurity" federal work force, and to quickly cut $100 billion in discretionary spending. But the blueprint, with echoes of the 1994 Contract With America, does not specify how the spending reductions would be carried out. […] many of the proposals represent classic Republican ideals of small government and low taxes pursued for generations by George W. Bush and other party leaders. Among the specific policy points is a proposal to allow small businesses to take a new tax deduction equal to 20 percent of their income. Aides said the proposal was first put forward as part of the Republican alternative to the Democrats' economic stimulus plan, at a projected cost of $50 billion over 10 years."
Stories here, here, here (if you like Fox) and here (if you like Huffington). And unfiltered, the press release from Bohner's office.
And here's the "pledge" itself.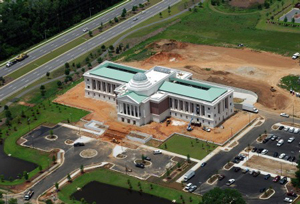 The $48 million courthouse for the 1st District Court of Appeal in Tallahassee, the St. Petersburg Times reports, "has been panned for its opulence at a time when money is tight. Plans initially called for each judge to get a 60-inch flat-screen TV in his or her mahogany-paneled chambers, and for each judge to get a private bathroom and kitchen, with granite counter tops. Some extras were scrapped after the negative publicity."
And who were the "heroes" securing the money for the thing? The Times obtained an email identifying Marco Rubio, the former speaker of the Florida House and current Senate candidate, as "especially helpful."
From the St. Pete Times: "Dated April 29, 2008, the e-mail exchanged by judges on the building committee and court staffers encouraged them to personally thank those who helped secure the funding. It listed seven House members, five senators, three lobbyists, six Senate and 10 House staffers, and Florida State University president T.K. Wetherell. Rubio, now a candidate for the U.S. Senate, has repeatedly said the courthouse was a Senate project and the House knew nothing about the architectural plans. He said it was part of the last-minute House and Senate give and take. Rubio's appropriations chairman, former Rep. Ray Sansom, remembers it differently. In a recent interview, Sansom said $7.9 million included in the 2007-08 budget for courthouse "expansion" was a Rubio priority. He said Rubio confirmed his support for the project several times between November 2006 and the end of the 2007 session."

Mainland High School Coach Maronto Resigns
Earlier this month John Maronto, the 68-year-old football coach at Mainland High School in Volusia and the county's winningest football coach in history, was arrested on a charge of soliciting a prostitute. The school district allowed him to keep his job. On Wednesday, he resigned as coach, a loss of a few thousand dollars, but kept his job at, ironically, an alternative school. "With the deepest of regret, I resign," Maronto said in a statement. "I am making this decision because I believe it is in the best interest of the football team and the Mainland High School family." Maronto's alleged solicitation was taped by a cop video.
Michael Lewis and Jay Stapleton in the News-Journal: "That video was released Monday and school spokeswoman Nancy Wait said the director of professional standards with the school district, James Hollins, had been reviewing the audio and video tape. Meetings about what action should be taken were also held with students, Maronto and school workers, Wait said. "This is not disciplinary," Wait said of the reassignment. "It's just something (School Superintendent Margaret Smith) thought was in the best interest of the school."
Not disciplinary. Of course not. Not at all. It's in the best interest of euphemisms.
See Also:

When Police Brutality Involves an 84-Year-Old
The Sentinel's Mike Thomas has a hard time believing Orlando Police Chief Val Demings' defense of a 26-year-old officer taking down an 84-year-old bug of a man, and a drunk man at that, and breaking his neck. Daniel Daley, Thomas writes, "behaved badly when a tow truck arrived to remove his car from a lot across the street. He was bellicose, belligerent and, as much as a frail old man can be, he was physical. He hit at the driver three times. The driver, who is the size and shape of a typical mountain boulder, shrugged it off." Then Daley took on the cop. "The officer then went into professional-wrestling mode and tossed Daley to the pavement in what is known as a 'dynamic takedown' move."
That's what they do in copspeak, as they do in the military–euthanize the English language with euphemisms that mask brutality with cool-sounding words fit for video games or cheap cheers during the six o'clock news. Thomas continues: "People who are Daley's age break their hips falling on carpeted floors. Daley's hip survived, but his neck did not. Lamont summoned an ambulance. The hospital summoned a surgeon. Maybe Daley will be out in time to face a charge of battery on a police officer if the State Attorney's Office is foolish enough to file it." And of course the police chief says her officer showed restraint. The full column.

Clinton to Obama: Get Mad Already
From Politico: Bill Clinton said "his enthusiasm for Obama's policies and memories of his own failure to stop Republicans from winning Congress in 1994 leave him "extremely sympathetic" toward the president, and he professed that Democrats still have "plenty of time" to reverse their fortunes. […] His advice for Obama, Clinton said, is to reclaim the spirit of hope that animated the 2008 Obama campaign, but infused with realism about the challenges many voters are facing: "So I just tell him to sort of try to get the country up again without being—looking—naïve or la-la, but be optimistic about our future. Embrace people's anger, including their disappointment at you. And just ask 'em to not let the anger cloud their judgment. Let it concentrate their judgment. And then make your case."" The full story.

In 2003, the great Harvey Firestein won a Tony Award for his performance in "Hairspray." He was also Santa's bride in that year's Macy's Thanksgiving Day parade down Broadway, though he was dressed as a flaming queen. On a whim a couple of weeks before the parade, Firestein sent in an OpEd to The Times, wondering a rotund what if: what if Santa was gay? The paper ran the piece the day before the parade. It's still a classic:
"Could there be a another Mr. Claus? Would those grinches who, as we speak, are fashioning legislation to deny marriage to gay and lesbian Americans make an exception for the jolly old soul? What has Santa ever done except bring joy and gifts to all? Just the sight of his face is enough to bring a smile to the Scroogiest of politicians. Would his gifts of love and goodwill be answered with exclusion and derision? The answer, history tells us, is "of course." Consider the Americans who have rained nothing but glory on our nation. Think about the magnificent works of Walt Whitman, James Baldwin and Hart Crane. They're just a handful of writers who shaped the American vision and yet could not achieve full citizenship because they were homosexual. […] Remind yourself, too, of the Rev. Mychal F. Judge, the fire department chaplain who was killed on September 11. There was hardly a religious leader in our city who did not glorify his name and hold him up as someone to emulate. But remind them that he was a proud and openly gay man and those same moralists will turn their backs in denial. […] Of course, there will be those who say, Santa Claus lives near Canada and isn't even an American. To them I reply, neither is anyone who would deny a person full citizenship because of whom he or she loves. Besides, we've been looking at a time share on the Cape." Read the full column, or just as good, watch Harvey remember it:

God Forbid You'd Learn Anything About Church-State Separation at School
Yesterday was the fourth Wednesday in September, which means students in innumerable schools across the United States gathered at their poles–forgive the implied obscenity, but it's their movement's choice name: "See You At the Pole"–and prayed. Why is this a problem? In and of itself, it isn't, if were conducted around any other poles, and lord knows they're all over the place. But on school grounds? The practice inevitably places the school in a sponsorship role, explicit or implied (which is what led to an ACLU suit in 2006 in Tennessee: "School administrators repeatedly disregarded the family's requests and continued to promote and sponsor activities like "Prayer at the Flag Pole" and "Praying Parents," whose members enter classrooms and tell students that they have prayed for them. Rather than taking the family's requests seriously, the school administrators encouraged the family to withdraw their child from the school." The ACLU suit failed.)
From Americans United for Separation of Church and State: "This Christian prayer meeting began in 1990 when teenagers got together to pray at their school's flagpole in Burleson, Texas. By 1991, the event went nationwide. "See You At The Pole" is constitutional, so long as it is student-initiated, student-led and not in conflict with school rules. Teachers and administrators, however, cannot endorse prayer or religious activities while on the job — and that means they cannot participate in SYATP. Yet it seems some public school officials around the country failed to get that legal memo (or if they did, they chose to ignore it). Take Vicky Grooms, a teacher at an Alabama high school. In the local newspaper's story on the event, she was quoted as saying, "We're going to get in small groups and pray for our school, students, teachers and parents."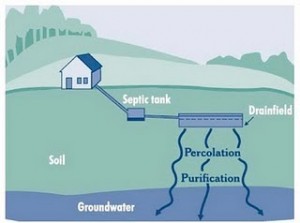 A new law that would kick in Jan. 1 requires homeowners with septic tanks to conduct $100 to $300 inspections and $200 to get the tank pumped out every three to five years. The law was designed to protect Florida's springs, which have become choked with weeds and algae as nitrogen in groundwater from a variety of sources has increased. There are 2.6 million septic tanks in the state, according to a Department of Health Study.
But the law "is facing a backlash from critics in the Legislature and some rural counties. Rep. Marti Coley, R-Marianna, and Sen. Evelyn Lynn, R-Ormond Beach say they will introduce bills in the next legislative session to repeal the measure," according to Bruce Richie's FloridaEnvironments. "I just simply think that to mandate every five years for every homeowner with a septic tank to have it inspected is unnecessary and big government," Coley said. She introduced a bill to repeal the mandate during the July special session on oil drilling but the Legislature adjourned without voting on any legislation." The full story.

Charlie Crist has Kendrick Meek beaten in the ideas department. From the St. Pete Times: "Crist called Social Security "one of the only federal programs that's working" and criticized his U.S. Senate rivals for proposing reforms. Republican Marco Rubio has suggested raising the retirement age, while Democrat Kendrick Meek wants to "punt it to a commission," said Crist, a former Republican running without party affiliation." […] "He added: "There are other ways we can help fund it, by creating a pathway to citizenship. Secure the border, make sure we have a pathway that is earned — no amnesty — and if we have those 11 to 14 million people productively participating in the American economy and paying the payroll taxes that would be attended to it, that would help Social Security." […] "Illegal immigrants already contribute an estimated $7 billion in payroll taxes to Social Security but can't get benefits when they retire because of their undocumented status." The full story.

Joaquin, Back on Letterman, Beardless
And in case you missed the bearded appearance, here it is:
Jay Big Jaw Leno, for his part, thinks it was all a set-up that Letterman was in on.

A Roth Bit: A Suicide Note While Waiting for Nemesis
The countdown continues: we're 12 days away from Nemesis, Philip Roth's latest. It's too long to wait. To ease the anxiety, here's an excerpt from last year's The Humbling. In this case the Simon Axler, the protagonist, struggling through actor's block, is at a psychiatric hospital for 26 days, of his own volition, to keep from putting a gun in his mouth and pulling the trigger "as the sequel to his wife," who's left him. He attends a daily support group:
Each of them remained immersed in the magnitude of his or her suicide attempt and the ignominy of having survived it. That people could really do it, that they could control their own death, was a source of fascination to them all—it was their natural subject, like boys talking about sports. Several described feeling something akin to the rush that a psychopath must get when he kills someone else sweeping over them when they attempted to kill themselves. A young woman said, "You seem to yourself and to everyone around you paralyzed and wholly ineffectual and yet you can decide to commit the most difficult act there is. It's exhilarating. It's invigorating. It's euphoric." "Yes," said someone else, "there's a grim euphoria to it. Your life is falling apart, it has no center, and suicide is the one thing you can control." One elderly man, a retired schoolteacher who had tried to hang himself in his garage, gave them a lecture on the ways "outsiders" think about suicide. "The one thing that everyone wants to do with suicide is explain it. Explain it and judge it. It's so appalling for the people that are left behind that there has to be a way of thinking about it. Some people think of it as an act of cowardice. Some people think of it as criminal, as a crime against the survivors. Another school of thought finds it heroic and an act of courage. Then there are the purists. The question for them is: was it justified, was there sufficient cause? The more clinical point of view, which is neither punitive nor idealizing, is the psychologist's, which attempts to describe the state of mind of the suicide, what state of mind he was in when he did it." He went tediously on in this vein more or less every night, as though he were not an anguished patient like the rest of them but a guest lecturer who'd been brought in to elucidate the subject that obsessed them night and day. One evening Axler spoke up—to perform, he realized, before his largest audience since he'd given up acting. "Suicide is the role you write for yourself," he told them. "You inhabit it and you enact it. All carefully staged—where they will find you and how they will find you." Then he added, "But one performance only."

An Experimental Concert at Stetson
Stetson University's Symphony Orchestra will present a concert Sept. 30 unlike any other with "Meet the Muse, Meet the Music" – a concert in which the audience's ideas about normal music will be challenged, with a new composition, specifically written for the Stetson Symphony Orchestra, by Stetson's very own Sydney Hodkinson, the university's Almand Chair of Composition.
The piece is about 17 minutes long and comprised of 11 movements, with "plenty of variety and contrast, with 'in your face' brass music, sliding string music (glissandos), and a sexy sax," said Anthony Hose, the orchestra's conductor. The concert will be like a workshop in which the orchestra will share something new and the audience's ideas about music will be challenged, while the audience will be able to share with the orchestra its own ideas about music. It will feature interactions of the audience with both the conductor and composer.
The concert is scheduled for 7:30 p.m. Thursday, Sept. 30, in Lee Chapel in Elizabeth Hall, 421 N. Woodland Blvd., DeLand. Admission is $8 general public; $5 senior citizens and area students. For additional information, contact the School of Music, 386-822-8950, or Concert Line, 386-822-8947.

Is it a state holiday in New Jersey yet? Springsteen was born in Freehold, N.J., 61 years ago today in 1949. Let him sing about it.
[media id=89 width=350 height=250]