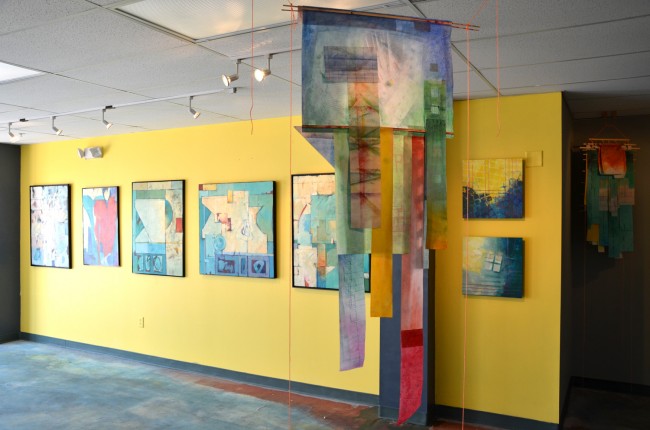 When you walk into the Hollingsworth gallery's new show, opening Saturday, expect not to have your hand held or your eyes coddled by anything immediately recognizable. Realism is out to lunch here. To dinner and breakfast, too. You might pick out the occasional breast or rotund red in the paintings of Antoinette Slick, or the broad black silhouette of someone atwirl in her own thoughts. You might eventually discover the intimate wonders of Louise Lieber's suspended cities, her geometric lines and puns that make you see the Gray's Anatomy of architecture, from the inside out. You might even spy a wandering crucifix or an upside down boat. But if it's stories you're looking for, you have to provide them yourself.
Better yet, don't bother with stories at all. Abstract works have always been art's interactive invitation to make of them what you will or to give your mind a rest from the dogma of what things ought to be. "I see whatever my mind wants to turn those images in," says JJ Graham, Hollingsworth owner and the show's curator. "With abstraction, unless the artist is there to tell you exactly what it is"—and most of the time, the artist wouldn't be able to tell you exactly what it is anymore than a god could tell you what was meant by creation—"you're basically looking at a Rorschach."
Yet the longer you spend with Slick and Lieber, paired here with Thelma-and-Louise abandon (it's their stage, their world; you're just coming along for the ride), the more you see similarities in how these two artists use color, space, perspective and the power of suggestion to draw you in and, as Graham puts it, "keep you guessing." Slick is a painter. Lieber is primarily a sculptor whose paintings look like drafts of her mixed-media installations. Chances are the moment you decide to look at any of these works—to really look, not just glance and assume that first sight is all there is to see—you won't easily walk away.
This is the art of layers: there's the technical layering that only artists and the in-crowd of art historians and critics can talk about with that incomprehensible authority of theirs. For the rest of us who are just looking, there's that other kind of layering, the way it translates to the untrained eye as the eye lingers: the discovery process that what you see at first isn't all there is. The paintings and installations of Slick and Lieber are poems of color and mood and woven materials that yield their secrets slowly, but yield they do.
Slick's paintings look big, bold, domineering in some cases, but approach them and they begin to enfold you in their subtleties or warmth. The subtleties: almost every painting turns out to be peopled with the most human hints of familiar figures, faces, hands, eyes, startled looks veiled by shapes and by Slick's own technique of layering colors to create that sense that something is always either fading away or ready to peek out. The warmth: The paintings are at once busy with movement or repetitions and peaceful with expanses of earthy browns or blues, or crimson reds and deep greens.
"I paint non-objective works that require the viewer to form their own conclusions about meaning," she told Rick de Yampert, the News-Journal's culture and entertainment writer, in 2008, when she was 65. "I started many years ago as a very representational watercolorist. It has been a long journey to reach a point that allows me to paint what I feel, to make the mark I want to make and not worry that viewers won't understand the need to paint from within as opposed to painting that which is seen and recognizable."
As for Lieber, she is a puppeteer of cityscapes, her constructions dangling from the sky in layers of thin drafting paper, velum, plastic, even coffee filters in one case, hanging there from intricate blades of wood that look like the skeletal foundations of a ship.
"Geometry," Lieber writes on her website, "is the divine pattern that underlies the world of time and space, where the forces of nature continually reconfigure the landscape. My methods in drawing and painting reflect this; shapes are laid down layer upon layer and chance plays a role in the resulting patterns. Elements of weather are suggested. Landforms show the marks of shifting planes. The geometry suggests architecture, a site plan still embryonic floats below the landscape."
Look at Lieber's dangling installations closely. Where Slick's layers are made of paint, Lieber's are made of various fabrics that recreate close-knit buildings in a dense city. They fold in on each other in a mass when you look at them from far away, as when you look at Manhattan from Weehawken, across the Hudson River. The closer you get, the more the works reveal their inner lives, down to what can look like intimate sanctums through tiny windows she's carved in the paper. The windows create illusions of light and shadow. In one installation, there's the figure of a tiny human being amid that big mass of buildings, the clash in scales reproducing that contrast between the enormity of an urban landscape dwarfing the people who make it. With these installations, Lieber has done nothing less than recreate cities and skylines in and entirely original way.
Graham finds her worth mathematical. He's right, but mathematical the way J.S. Bach's music is mathematical, math being the purest form of art, and geometry being is messenger. In that sense, there's nothing abstract about Lieber's work.