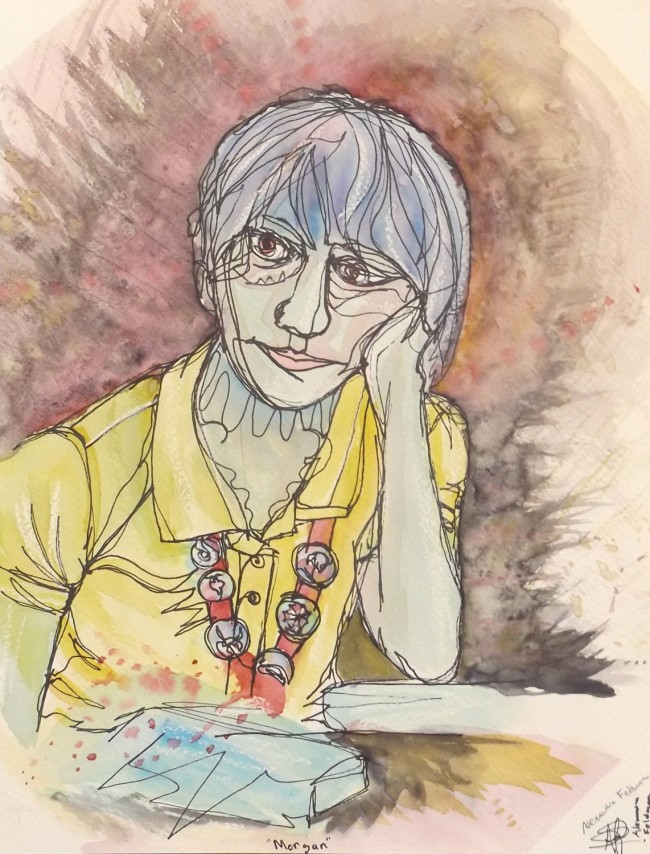 Startling juxtapositions abound in "Look Close" and the "High School Student Art Exhibit," two shows that open Saturday December 12 at the Flagler County Art League in Palm Coast.
Adult artists are contrasted with student artists. Digitally manipulated photography battles good ol' sloshing of paint onto canvas. Manga matches up with monochrome psychedelia (the latter itself an interesting juxtaposition).
But no juxtaposition is more striking than two works in the mixed media category in the High School Student Art Exhibit. One is an agitprop, graffiti-esque punch to the brain titled "Cruel & Usual" by Flagler Palm Coast High School sophomore Alexandra Feldman. The other work is a beatific portrait titled "Morgan" by . . . Alexandra Feldman.
Among approximately 160 pieces in the student exhibition, "Morgan" took second place behind two other works: "Blue Braid," a technically marvelous blue and black ink work by Flagler Palm Coast junior Kayla Dance, was judged Best in Show. "Felis Leepidoptera (Latin For Cat)," an even more technically agile, triptych graphite drawing of a butterfly morphed into a cat, earned first place for Kerry Meyers of Matanzas High School.
But Feldman wins Best Brain Jolt (and yes, put an asterisk by that faux award if you must because it's in consideration of two of her pieces).
"Morgan," a pen and watercolor work, captures its subject in a manner somewhere between Van Gogh's "Portrait of Dr. Gachet" and one of John Lennon's more disciplined self-portraits. That one can't quite gauge the mood of Morgan — wistful? resigned? — makes the work all the more arresting.
Meanwhile, Feldman's "Cruel & Usual" leaves nothing — well, almost nothing — to the imagination. A freaky, red, zombie-ish face, replete with lips stitched shut and heart and arteries exploding from its head, stares at viewers amid a painted slogan — "ignore it all you want" — and a field of newspaper-text sound-bites.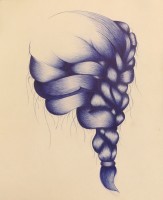 Among the latter: "tried to cut your head off" "to drown you" "French magazine Charlie Hebdo" "somehow it can't be done" "to remove imminent threat" "suicide bombers killed 36 people in two attacks in the city that day. The capital has learned to ignore such violence."
No doubt Feldman crafted "Cruel & Usual" before the recent Paris and San Bernadino terrorist attacks. Though agitprop/political/headline-spurred art always runs the risk of being too didactic, too one-dimensional, too . . . ahem, bomb-bastic, Feldman's work remains a document of our current tragic, chaotic zeitgeist — and it's a document that can't be ignored.
Feldman wins Best Brain Jolt over even the beautiful and controversial "Rebirth and Enlightenment," a watercolor by FPC senior Patrick Conklin that was banned from being exhibited at his school but has found a home at FCAL.
Yes, Conklin's female nude with a light pink flower blooming from — or forming — the figure's mons veneris has been rightly compared to Georgia O'Keefe's erotic flowers. But it should be remembered that even O'Keefe's calla lily vulvas and red canna lily labia emanated solely from flora — unlike Conklin, O'Keefe never dared to pull a surrealist Magritte maneuver and depict an overtly human female form amid her blooms.
As for those other juxtapositions in the student exhibition, the digital photography category — perhaps the strongest in the show — also reveals the most readily apparent divide: classic portraiture versus surrealist manipulation.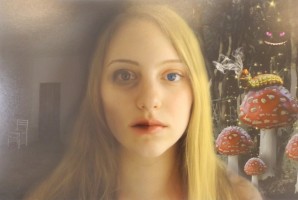 The latter includes "Falling" by FPC senior Sierra Biggs, which tweaks the familiar body-suspended-in-space motif by introducing an earthbound cat to the landscape.
And "Mad as a Hatter" by FPC senior Christina Gerhard travels far, far beyond the overused mundane world/fantasy land trope when one realizes, after glimpsing the stoned caterpillar and the decidedly sinister Cheshire Cat, that half of this Alice's face is either a battered woman . . . or a corpse.
"The Train" by Matanzas student Jamison Jewell, though in the digital art category, deserves mention: Its silhouetted figure — more like an emaciated Giacometti sculpture — and its bleak, sepia-toned cityscape make a scene worthy of a German expressionist film.
And yet classic portraiture in the digital photography category more than holds its own against the surrealists, especially "The Trio" by FPC junior Tina DiRosa and "Classic Thinking" by FPC senior Diamond Mooring. Both works, like others in this category, expertly use light and composition, and prove there will always be a place for photos that capture a human face and make us wonder "Who is this person?"
And painting holds its own, too. "Soulful," a black and gray portrait by Matanzas student Annie Mueller, is worthy of a Marvin Gaye album cover — and no, that's not damning with faint praise.
"Days End," by Matanzas student Alea Metz, will leave viewers wondering whether its setting sun and silhouetted, leafless trees portray a landscape that is serene or foreboding.
Another intriguing juxtaposition revolves around the student exhibition's manga-style drawings and paintings, and a group of portrait drawings inspired by 1960s psychedelia — even though the latter are rendered in black and white.
Hey, Manga, that style of Japanese comic book and graphic novel art, is fun — just take a look at "Starlight" by FPC junior Morgan Norris. Maybe it's condescending to young people to say it's surprising more such works aren't in this show.

Meanwhile the monochrome psychedelic portraits are fun, too, even as a number of them, including "Brainstorm" by FPC sophomore Skylar Risley and the bearded "I" by FPC freshman Larissa De Moraes Melo, deploy the familiar trope of bizarre-patterned hair framing a straightforward face. (Think Peter Max's portrait of Bob Dylan, although Max unleashed his rainbow colors on Mr. D's birds-nest locks).
The student show, with 160 works unfettered by a theme and crafted by young people unfettered by adult-world expectations, is of course more freewheeling than "Look Close," the new exhibition featuring the works of Flagler County Art league members.
The show's call for submissions exhorted artists to "discover the surprising or unusual in your art work and your vision. Juxtapose a few elements to surprise the viewer. Eliminate the obvious to encourage a deeper look. Explore what the human eye misses and focus on what is usually not noticed and remains a mystery. Magnify, shrink, explode, dismantle, eliminate or redefine but most of all have some fun."
"People had problems with it," admitted Flagler County Art League president Ann DeLucia with a hearty laugh. "That's why it's a very small show (only 39 works). It was like, 'I don't know how to do that. What do you want me to do? Hey, I paint portraits.' "
But "Look Close" does deserve a close look, including the polychrome, multi-faced "Unfinished Business" by Maggie Corder, the neon-bright, digitally altered photo "Start Your Engines" by Lisa Fisher, the mixed media work "Violinic Apparition" by Ev Niewoehner and DeLucia's own "A Visitor to White Flower Farm." The latter, a photograph of a bee in a purple daisy, truly does need to be examined from three inches away to appreciate its stunning textural intricacies.
Mike Gleason's "Look to the Sky's" catches the eye thanks to its own Georgia O'Keefe allusion — although there are no lily labia here. Instead Gleason's acrylic recalls O'Keefe's paintings of the landscapes around her Ghost Ranch home in Abiquiu in northern New Mexico, even though Gleason gives more weight to a majestic cloud than the land below.
And the work that will command the most close looks at "Look Close"? It might be "Fireplace Hook (Tool Series)," a wood and steel sculpture by Michael Kovach. No, it's not a piece from the personal collection of the Marquis de Sade . . . or is it?