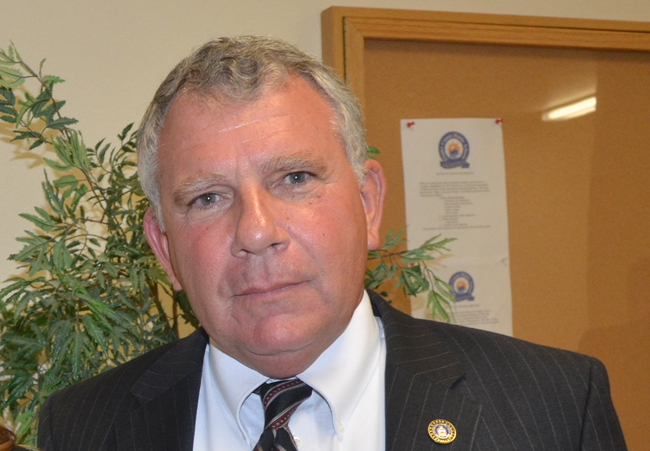 Barely two months into his tenure as Bunnell's city attorney, Lonnie Groot has resigned.
"The purpose of this communication is to advise you that I am ending  my tenure in the position of City Attorney effective the end of September," he wrote the Bunnell City Commission on Saturday.
Groot gave no explanation for his resignation. But it comes less than three days after a city budget workshop at which Commissioner Jenny Crain-Brady openly criticized Groot's billing, then went as far as to say that she didn't want to "head into a situation where the attorney is telling us how to run our day-to-day operation"—the sort of statement any city attorney could easily take as an offense.
Monday afternoon, Crain-Brady said she wasn't aware Groot had resigned–it was still the Labor Day weekend when officials don't necessarily check their email–but she defended the questioning that had taken place last week, particularly since the questions dealt with serious financial matters.
"I have a right to make those comments, when those bills come in at that level and our budget is what it is," Crain-Brady said, noting that the city was in the midst of advertising for an $80,000-a-year city manager–what would be $20,000 less than legal bills that could approach or exceed $100,000. "Those comments were in line," the commissioner said.
"I'm just a little surprised," Crain-Brady continued. "I would hope that my comments or any of the comments that were made if the bills were legitimate that shouldn't have caused any attorney to resign."
Groot hinted at a lack of professionalism in his resignation letter: "I stand ready to assist you in any way that I can," he wrote, "but in a manner that highly reflects the professional principles and conduct which I believe are critical to professionalism and representation of public entities and  in a manner which affords the respect that is warranted by the City of Bunnell and  its citizens."
The but of the second clause was telling.
But again, Crain-Brady, after hearing Groot's words from the email, said the hard questions had to be asked, and that it was up to her to ask them. "It's a hard position to be in and I'm not enjoying it one bit," she said. She wasn't questioning the legitimacy of the bills, she stressed, especially as she recognized that going from one lawyer to another, some overlap was inevitable. Nevertheless, she said, the billing raised difficult questions. "I'm sure he's an excellent lawyer, I don't know that we could have afforded him," Crain-Brady said.
In mid-August, Groot's Lake Mary-based law firm, Stenstrom, McIntosh, Colbert and Wingham, submitted an invoice for $24,000 for billable hours during July, or more than a third of the city's annual budget for legal services. Groot explained at the time, to little opposition from any of the commissioners, that the city faced a series of critical issues and cases that needed sustained attention. Among those: the purchase of the Plantation Bay utility with the county (which has rung up its own share of legal expenses in that regard), the Palm Terrace mobile home community case over water issues, a lawsuit from Waste Pro, the garbage hauler, disputing Bunnell's contract with the school board to haul its garbage, and other, lesser issues. Consultations with commissioners and city staff also totaled $7,400. Crain-Brady took issue with that as well.
Because of the number of issues on the attorney's plate, the resignation puts the city in a difficult position, and one made more so by the commission's openly splintered and uncooperative relationships.
Groot's resignation is the latest collateral damage of an ongoing battle between the new majority on the board, represented by Elbert Tucker, John Rogers and Bill Baxley, and the former majority, now a minority of two, represented by Mayor Catherine Robinson and Crain-Brady. The latter two had opposed hiring Groot two years ago, when the city entered into a new contract for legal services. Robinson and Crain-Brady stuck with Sid Nowell. A few months after Baxley replaced Daisy Henry as a commissioner, Nowell announced his resignation. The new majority saw its opening to hire its own choice. Groot was brought on.
Along the way, the new majority fired Armando Martinez, the city manager since 2007, giving him the option to stay until his contract runs out in October. Both he and a majority of commissioners, while agreeing to re-negotiate his contract, could not agree on terms. Soon after firing Martinez, Cynthia Bertha, the city's finance director, resigned, openly blaming the new majority for her decision, though Bertha is back as a finance consultant for the city.
In his resignation letter, Groot only outlined what legal matters the city is facing currently, including the Palm Terrace trial scheduled for October, and what he and his firm will do to carry through those matters to the extent possible. His resignation is not effective until the end of September. "We trust that all other litigation remaining and non-litigation related matters can be smoothly transferred to new legal counsel in the course of an orderly transition at the time of the conclusion of our services being provided to the City," Groot wrote.