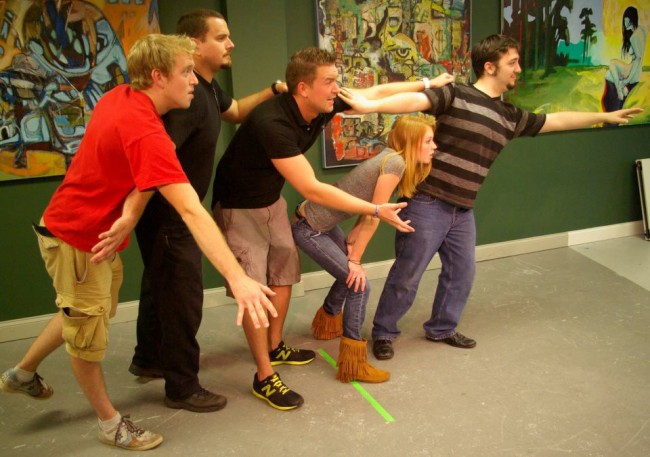 To buy tickets for "Line" online, easily and quickly, go here.


There was Vladimir and Estragon, waiting for who knows what in "Waiting for Godot." There was one of "Seinfeld"'s most famous episodes, when the gang waits for a table at a Chinese restaurant. (Elaine: "You know it's not fair that people are seated first come, first served; it should be based on who's hungriest.") And for the past 40 years or so, there's been Israel Horovitz's "Line," that blend of absurdist comedy with allegory and wit that linger past punch-lines.
City Repertory Theatre will stage "Scapino!" at 7:30 p.m. Friday and Saturday March 17-18 and March 24-25, and at 3 p.m. Sunday March 19 and 26. Performances will be in CRT's black box theater at City Marketplace, 160 Cypress Point Parkway, Suite B207, Palm Coast. Tickets are $20 adults and $15 students, available online at crtpalmcoast.com or by calling 386-585-9415. Tickets also will be available at the venue just before curtain time.
Click On:
---
"Line" is the longest-running off-off Broadway play in history. And tonight, it opens at Palm Coast's City Repertory Theatre, under the direction of John Sbordone, and starring John Birney, Bruce Popielarski, Jim Lynam, Alyson Bonner and Josh Fagundes. The one-act play is the next-to-last in City Repertory's second season, and lacks none of the daring and charm that in such a short time turned this storefront theater into an indispensable gem (and destination) on Palm Coast's performing arts scene.
Contrary to the implications of its name, the show is anything but static. The title describes the action: the five characters stand in a line. Each person in line battles and schemes to be first, by all means necessary. Second means squat.  Fill in the implications. They're innumerable. And those five characters–so inoffensively named Fleming, Stephen, Molly, Dolan and Arnall–might as well be mirrors to your soul, or parts of it.
"As always, we were looking for something edgy, something different, something very well written that walks the line between serious thought and funny action," Sbordone says.
Although the theme here, gamesmanship, or the need to be "top dog," as one character puts it, is universal–the show has been staged in 40 countries, and is especially loved in France, where Horovitz still goes to direct it–the theme of the 45-minute play is particularly ensconced within the American experience.
"It's this bizarre need," Sbordone says. "Why do we need this? To what lengths are we willing to go to get there? And what does it leave us with, once we get there?
"You look at any sporting event, even anything with singing or dancing—-it's insane." One doesn't have to look to something nearly as linear as a prize fight, "American Idol," or even "Dancing with the Stars" to see it. In AMC's acclaimed "Mad Men," 1950's advertising executives, positioned within a dazzling and glamorously rendered vision of the era, are near willing to sacrifice their families and drown themselves in drink to reach the pinnacle of their trade. On HBO, the gangsters and crooked politicians in "Boardwalk Empire" are willing to do all that and more to be the kingpin of Atlantic City bootleggers, while one need only look to the title of another widely popular HBO series, fantasy epic "Game of Thrones."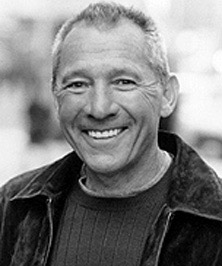 What "Line" does brilliantly, says Sbordone, is strip away all the fat from those examples, isolating the top dog impulse like a variable in a math problem. After all, it predates all of them. The competitive imperative goes all the way back to Cain and Abel in the Bible and certainly even farther, all the way to the Cambrian. Trilobites had the urge to be first, too.
It's no wonder Horovitz's plays are popular in France. He was Yasmina Reza before Reza was cool: her "Art" was one of Sbordone's productions last year. Alternately, Horovitz is the more accessible version of Eugène Ionesco, Jean Genet and Samuel Beckett, those masters of the absurd whose plays can also be masterpieces of bore. Horovitz isn't scared that funny would somehow be misinterpreted as base.
"Line" offers no sets, whether spectacularly polished or tawdry, nor are there props or costumes. There's not even a context, as we don't know what any of these characters are doing there, or what's at the front of the line. It's as if they were suspended in some alternate dimension of space and darkness. Perhaps it's purgatory, and the curious Hollingsworth paintings that adorn their space are the gods who put them there. The need to be number one certainly isn't an alien idea in the gallery world. Or perhaps purgatory in itself is simply this vein of thinking.
Regardless, Sbordone feels it's necessary to stress that the show is funny. "It's funny. It's funny."
Another thing that always attracts him to certain shows, which is true of course in "Line," is the fact that it's a great acting challenge.
One of the young cast members is Alyson Bonner. It's the first time she's back on stage since she played Mrs. Sowerberry, the wife of the funeral shop owner in the Flagler Playhouse's production of "Oliver," which Sbordone directed. She was seventeen then. She's 23 now. The age leap is proportionate to the jump in maturity between the two shows.
"'Oliver' was more for kids," Bonner says. 'Line' is definitely an adult show. It's got sex. It's got cursing. People will do things they shouldn't do to try to get to the front of the line. The characters break their moral lines."
She would know. Bonner plays Molly, the one female character, who stridently uses her sexuality as her primary weapon to vault herself to the front. "Molly's willing to seduce everyone to be first. And the acting has to show that."
This performance has been particularly difficult, she says.  "It's very much outside my personality. This whole seduction bit," she says. The misogynistic undertone of that subplot can be particularly challenging, if not to the actors, at least to the audience. But, ironically from within the context of the show, it helps that she doesn't have to compete with any other female character to earn the male characters' epicurean fancy, which helps her relax a little on stage.
John Birney, another Sbordone alumni, plays Molly's cuckold husband, Arnall, the only character who really isn't that interested in being first. While that may appear wise, the fact that his impetus is gaining his philandering wife's love back may make you second guess that observation. "He's kind of a loser," Birney says. "But in the end, no one is really better off than they were at the beginning of the show."
Yet the ending is open to interpretation, in the same way that the purpose of the waiting is. "If there's a winner," Birney says, "whether anyone got the better of anyone else, or what the line really means, is left wide open. There's a lot to take away here. Every line is loaded philosophically, and I had to attend a few rehearsals before I was able to figure out even what I thought the line meant."
Of course, it's a great directing challenge as well. Sbordone tackled it by directing it like, "I'm making a thousand pictures. Only the pictures are in motion." And it always comes down to, "composition, composition, composition. I'm always telling actors don't stand in a straight line, but here they are. It takes all the ingenuity—collaborative ingenuity—available to have those actors stand in a straight line and keep things interesting for the audience."
The trick, says Diane Ellertsen, City Repertory's choreographer and co-founder, is in fact to make sure the actors don't give in to that straight line "to make sure there's enough movement and diversity to keep the interest of the audience. We have to consider the different angles, the pacing, whether it needs to be slow or fast. Things like that keep everything feeling natural, well natural, given the fact the concept is so out there. The challenges are the limitations."
But it's been those "limitations" that have dictated the styles Sbordone and Ellerson have employed to great effect at City Repertory Theater's intimate setting.
"Extra movement or the use of props comes out of necessity. John's not about using anything as filler," Ellersten says. "Anything that could take attention away from the actors. It's about the actors first. Everything else must follow."
Straightforward or not, "Line," and what's between its lines, is a perfect fit for that City Repertory school of thinking. And laughing.

"Line," written by Israel Horovitz, directed by John Sbordone, starring John Birney, Bruce Popielarski, Jim Lynam, Alyson Bonner and Josh Fagundes. At Palm Coast's City Repertory Theatre, 160 Cypress Point Parkway–City Marketplace–at Hollingsworth Gallery, Friday, April 19 at 7:30 p.m. And April 20, 25, 26, 27 at 7:30 p.m., plus a 2 p.m. matinee Sunday, April 21. Tickets are $15 for adults and $10 for children. For easy ticket purchasing and more information go here.