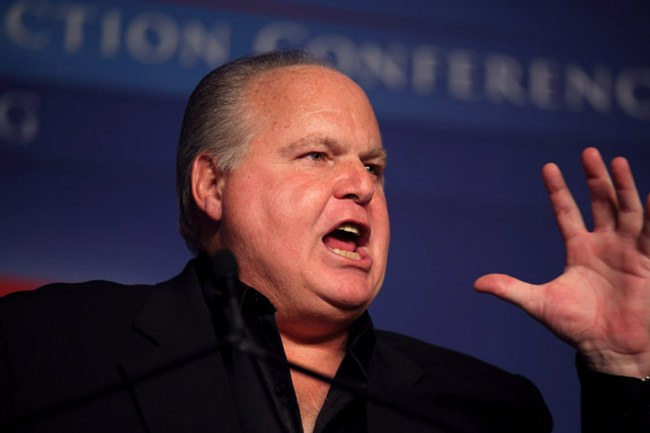 Sandra Fluke is a third-year law student at Georgetown University. Last week she testified before the House Democratic Steering and Policy Committee on contraception, after she was blocked from testifying before another committee the previous week (in a hearing that featured only male panelists testifying on women's health).
Her point: excluding contraception from health insurance coverage is a discriminating penalty on women. (Anti-impotence pills like Viagra, incidentally, are covered by most insurers, most insurance companies being led by older men on intimate terms with flaccidity.) "Without insurance coverage, contraception can cost a woman over $3,000 during law school. For a lot of students who, like me, are on public interest scholarships, that's practically an entire summer's salary. Forty percent of female students at Georgetown Law report struggling financially as a result of this policy."
She went on: "In the worst cases, women who need this medication for other medical reasons suffer dire consequences. A friend of mine, for example, has polycystic ovarian syndrome and has to take prescription birth control to stop cysts from growing on her ovaries. Her prescription is technically covered by Georgetown insurance because it's not intended to prevent pregnancy. Under many religious institutions' insurance plans, it wouldn't be, and under Senator Blunt's amendment, Senator Rubio's bill, or Representative Fortenberry's bill, there's no requirement that an exception be made for such medical needs. When they do exist, these exceptions don't accomplish their well-intended goals because when you let university administrators or other employers, rather than women and their doctors, dictate whose medical needs are legitimate and whose aren't, a woman's health takes a
back seat to a bureaucracy focused on policing her body."
Most of her testimony focused on just such stories. Needless to say, Fluke wasn't speaking for unbridled sex (though it wouldn't have been anyone's business to judge her if she were, there being no difference between sex in the missionary position on Mondays and Thursdays, and sex at the drop of a drawer and whenever fancy strikes, except in the minds of those who can't get any and will do their damndest to ensure that others don't either). Nor, incidentally, did she speak about sex–hers or others–in terms of frequency: you won't get less pregnant if you take more contraceptive pills, contrary to Rush Limbaugh's understanding of sexuality ("She's having so much sex, she's going broke buying contraceptives and wants us to buy them," is how he put it).
---
Editor's Blog
---
---
Fluke wasn't even speaking for sex, though that's how her testimony has been debauched on the shout-radio circuit, with Rush in lead. She was there speaking about fairness in contraceptive rules, and against the latest joint Republican-Catholic assault on women's health. (You can watch Fluke's full testimony below.)
And for that, Rush Limbaugh called her a slut. In full: "Well, what would you call someone who wants us to pay for her to have sex? What would you call that woman? You'd call 'em a slut, a prostitute or whatever." The defended his remarks. Then he piled on, with a few lesbian fantasies to boot:
Is it any wonder, Clinton wanted to go to this law school and why Hillary went to Wellesley? Is it any wonder? Where are the guys here? Do they not have a role here? We assume they're having sex with guys. (interruption) Well, we're talking about birth control, Snerdley. So you gotta assume having sex with guys. So, do they not have some responsibility? (interruption) Well, two women… I have to ask sex expert Snerdley on this, but I'm not aware that two women without another device can get pregnant on their own using naturally endowed accoutrements. I don't think times have changed that much. (chuckles)

Now, I am 61. Maybe something I haven't heard about that two women together would need contraception. That's a whole new ball game if that's the case. But I don't think we're talking about that. So it means there are men involved and that would mean there's some responsibility on the part of the men. Do they not have condoms? Why don't these women go ask the men to buy them contraception? Why go before a congressional committee and demand that all of us — because they want to have sex any time, as many times and as often as they want, with as many partners as they want — should pay for it? Whatever, no limits on this. I mean, they're going broke having to buy contraception! They're getting back-alley pills, folks. That's what this leads up to.
They're getting back-alley pills, folks. This from a pill-popping addicts who, while excoriating drug addicts on his show and hiding his pill-popping from his wife but not hesitating to use his maid (a woman, of course) as his runner, had bought 30,000 hydrocodone, Lorcet and Oxycontin pills and illegally fed his addiction. Now, this paragon of honor and integrity–whom cops subsequently detained a few years ago for carrying Viagra pills he'd not been prescribed–is calling Sandra Fluke a slut.
There was not so much as a disapproving murmur from the Catholic church, naturally–women, with Eve's apple-seduction for evidence, being natural-born sluts in the church's eyes–or from those congressional Republicans who'd been trying to give religious organizations and private businesses the right to opt out of including birth control–but not Viagra–in their insurance plans. Not so far, anyway, though condemnations from less reactionary circles have been more promiscuous.
At least the Senate stopped the exclusionary ploy Thursday. But that farce of a controversy over contraception isn't over. Not with Rush whipping it out and Republicans, delirious over their disappearing chances to have a competitive run at Obama in November, scrounge for bogus issues to keep the illusion of opposition going. If there ever was a need for a prophylactic to syphilitic discourse, this is it.
–Pierre Tristam