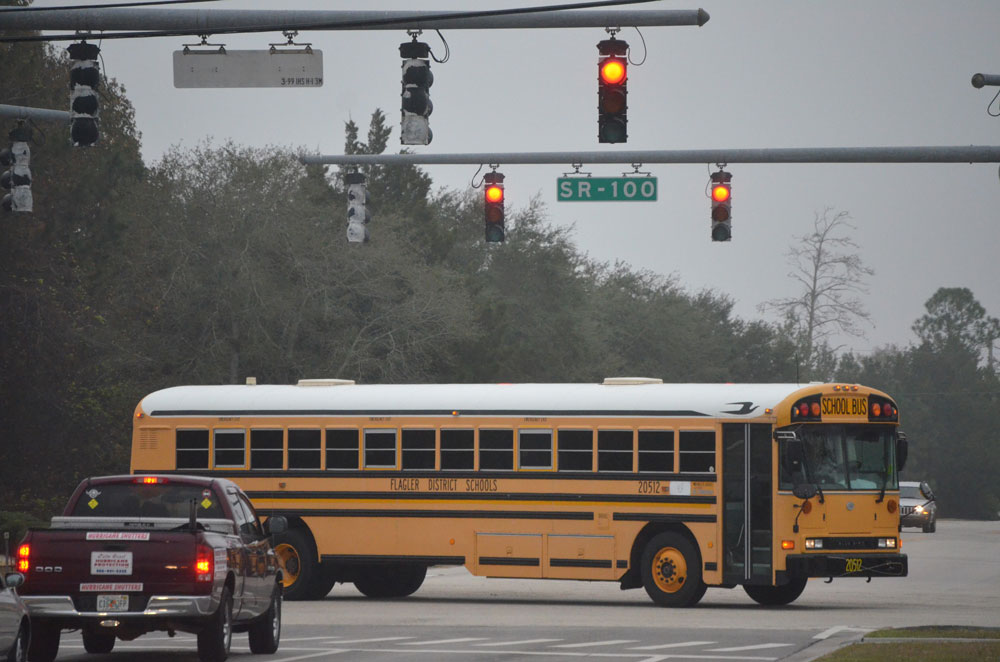 A bill awaiting the governor's signature would ban school start times before 8:30 a.m. for high schools  and 8 a.m. for middle schools, starting in the 2026-27 school year.
The Flagler County School Board had been reconsidering its own start times–but in the other direction. Now, it may be faced with making tough choices regarding elementary-school start times, which would go from latest to earliest starting times in the county.




Currently in Flagler County, middle schools start the earliest, at 7:20 a.m., ending at 1:40 p.m. High schools start at 8:30, ending at 2:40 p.m. Elementary schools start the latest, at 9:10 a.m., even though younger students are most able to begin their day sooner. But no district wants its youngest children waiting for buses in darkness.
District staff met with principals and crafted an alternative schedule. Elementary schools would start first, at 7:40 a.m., ending at 2:10. High schools would start second, at 8:30 a.m., ending at 3 p.m. Middle schools would start at 9:35 a.m., ending at 3:45 p.m.
"I know I'm going against the House bill," Board member Christy Chong said, "but I'm just thinking as a parent who works, I would think most people wouldn't like the idea of their younger children getting out at 2 o'clock and sitting in extended day for a longer period. That's just me. I don't know if there's a way to work around that. Could there not be like an 8 o'clock start time somewhere?"
"That's what I think, especially with everything that's going on with school choice," Board member Colleen Conklin said, "and then we'll push people out the door in the elementary schools." Meaning that still more parents will choose to enroll their students in private schools, or home-school them.




The law does not prevent an earlier start time for elementary schools. The district calculated that possibility: a start time of 8 a.m. in elementary schools would move high school to an 8:50 start, 20 minutes later than in the current plan, and would move middle school to a 9:55 a.m. start time. But principals at all school levels agreed that a start time later that 9:40 was not acceptable in any form, especially at the middle school level, which would see a two-hour switch. Similarly, no one wanted any starts before 7:35. So 7:40 was the compromise, for elementary schools.
There is still one more way to push all start times to 8 a.m., with none starting later than 9:35. But that would mean going to a two-tiered bus route system instead of the current three-tiered system. It would mean adding bus runs, which means adding buses, which means adding "a significant financial impact," Rowls said. The school board is not keen on that.
When the board last discussed the matter on April 18, Conklin–who for years has been the district's leading advocate for later start times for high school students, but not necessarily elementary school students–was hopeful that the district would not be forced into making too sharp a change. "Let's wait and see what happens at the end of the session, because there they are starting to get a lot of pushback," she said. "I am not in love with the idea of elementary school students starting earlier at all, 6, 6:30 in the dark, getting home at two o'clock. So maybe there'll be a little bit more wiggle room in the parameters."
But the bill sailed through  with veto-proof majorities–38-2 in the Senate, 92-20 in the House. Flagler County's representatives, Rep. Paul Renner and Sen. Travis Hutson, voted for it.




The bill, HB733, reflects long-standing science and pronouncements by the American Academy of Pediatrics that adolescents function better in school later rather than earlier, and that they are naturally predisposed to have trouble going to sleep before 11 p.m., or waking up earlier than 8 a.m., according to a legislative analysis of the bill. "The AAP also recognizes that insufficient sleep in adolescents is an important public health issue which affects the health, safety, and academic success of middle and high school students," the analysis states. The key is a later school start time.
There will be no changes in school start times next year in Flagler. But the district had been considering changes for the following year, a year earlier than those required by the state, should Gov. Ron DeSantis sign the bill.
The much later start time for middle school students in Flagler reflects discussions in the administration and on the board about concerns that middle school students were being released too soon in the day, leaving them too much idle, unsupervised time at home when their parents are working. For high school students, the discussions centered on their job opportunities after school. But district officials say the different start times will not impact their ability to work.
Compared to surrounding districts–St. Johns releases its high school students at 3:50 p.m., Volusia at 3:30 p.m.–Flagler County would still release its high school students earlier, thus enabling the students to participate in after school activities without interfering with cross-county competitions' schedules.




The district services students all the way from Marineland in the north to Hunters Ridge in the south, Flagler Beach to the east and the Mondex to the west. Currently some of the outlying students have to be picked up as early as 6:20 a.m. to make it to Flagler Palm Coast High School. "Inner city areas," where the majority of students are picked up and dropped off,  says Dontarrious Rowls, the district's transportation director, are usually service within about 30 minutes of the school start time.
Playing into the discussion is extended day, the pre- and after-school child care program run by the district's Adult Education division. By changing the start and end times, it could potentially change staffing needs of the program. It could also affect teacher planning time and middle school extra curricular scheduling, which could be split between pre-school and after-school schedules. Those elements are still being analyzed.
"With this information, we could continue to explore options by developing stakeholder groups and committees to look at the timeline of implementation," Dave Freeman, the district's chief of operations, said. "The best time to do this will most likely be the 2425 school year or we could remain what the current start times until we're directed by DOE to make that change in school year 26-27."
The board will have to go a step further: "District school boards and charter school governing boards must inform their  communities, including parents, students, teachers, school administrators, athletic coaches, and other stakeholders, about the health, safety, and academic impacts of sleep deprivation on middle school and high school students," the legislative analysis of the bill states. "Stakeholders must also be made aware of the benefits of a later school start time and discuss local strategies to successfully implement the later school start times."