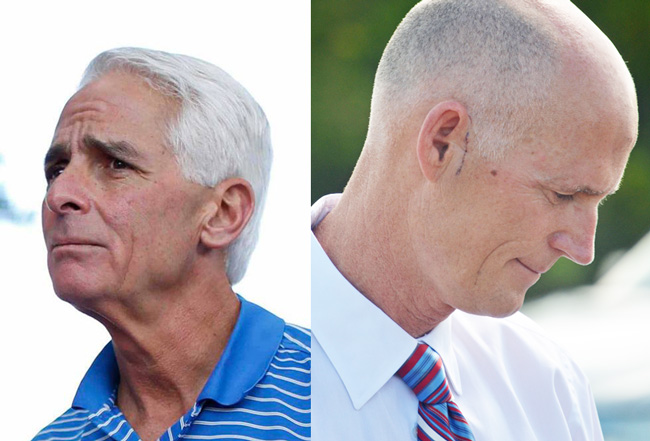 The last poll before Election Day by one of the nation's most reliable polling organizations shows Charlie Crist ahead of Rick Scott by 1 point, 42 to 41 percent, with Libertarian Adrian Wyllie pulling 7 percent and still 9 percent of the electorate undecided.
The Quinnipiac University Poll of 817 likely voters has a margin of error of plus or minus 3.4 percent, which means that lead is within the margin of error, making the election too close to call. Florida's gubernatorial race has drawn national attention, but it is not unlike numerous gubernatorial and senatorial races across the country: this is the mid-term election of razor-thin margins.
But Republicans have a decided national advantage. Nate Silver's usually very accurate FiveThirtyEight.com gives Republicans a 74 percent chance of taking over a Senate majority, though he predicts that Republicans may lose one or two governorships, among them Florida's. "Charlie Crist of Florida, the former Republican turned Democrat, is just slightly more likely than not to oust Republican Gov. Rick Scott from office," Silver wrote on Oct. 31, giving Crist a 60 percent chance of winning.
The Quinnipiac poll follows a polling round last week that found Crist ahead of Scott by 3 percentage points, with 9 percent still undecided and Wyllie pulling 8 percent.
But with early voting over, and among those who have already voted, Crist gets 44 percent, to Scott's 40 percent. That may be the most telling number of the poll, and the most worrisome for Scott, because early voters tend to be more conservative, especially in a mid-term election when the electorate skews even more conservative. The difference this year may have to do with Amendment 2, the proposed constitutional amendment to legalize marijuana. John Morgan, the Orlando attorney, pushed the initiative with his own money, in part as a strategy to encourage more younger, more liberal voters to go to the polls. That appears to be working to some extent. Even if the amendment doesn't pass–it needs at least 60 percent to become law–it may get just enough voters to the polls to give Crist his needed margin of victory.
But Scott supporters are nowhere near despondent as the incumbent has continued to pour his own money into the race. At last count, Scott spent $13 million of his own on his campaign. It's a far cry from the $75 million he spent four years ago, which represented. But in 2010 he did not have the fund-raising advantage of incumbency. The Scott campaign overall has spent nearly $100 million in this election, helped by the Republican Party of Florida raising $65.8 million. The Florida Democratic Party raised less than half that amount.
"After an incredibly expensive, extremely nasty campaign, the Florida governor's race is too close to call. The winner will be the candidate best able to get his voters to the polls. Turnout, turnout, turnout," said Peter Brown, assistant director of the Quinnipiac Poll.
But Cist is maintaining a lead among two key groups: Independents, who usually decide close elections in Florida, give him a 39 to 32 percent advantage. And women, who vote in larger numbers, give him a 50 to 35 percent advantage. Scott is maintaining a lead among men, 47 to 34 percent. Crist also wins when voters are asked who their choice would be if Wyllie were not in the race.
The Quinnipiac poll, conducted from Oct. 28 to Nov. 2, did not ask voters how they would vote on Amendment 2.