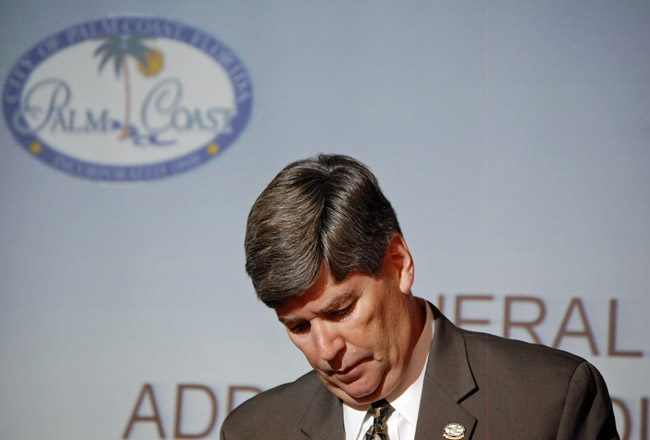 The Palm Coast City Council this morning voted 4-0 to fire City Manager Jim Landon, ending his 11-year tenure after weeks of mounting tension and clashes with the council.
Landon during his long reign built a fierce following among his staff, especially his directors, but was not popular with the public, a gulf he never sought to close: his loyalty was primarily to his staff and to ensuring that he preserved the votes on the council that preserved his job. The council has turned over twice during his 11 years.
After the 4-0 vote at 11:45 a.m., Landon said "thank you," got up and walked out. Beau Falgout, his deputy, will be interim manager. (Landon reportedly immediately left the building and was said to be refusing to return to claim his office belongings, asking his staffers–who call him "boss"–to get them to him. The firing left some in tears.)
The move was initiated by Mayor Milissa Holland, who prefaced it with what amounted to point-by-point outline of issues and concerns. Holland built her case on two themes: that Landon has been out of step with change, and that he's been unresponsive to the current council's urgency. There were other symptomatic issues, not least of them the fact that Landon last year had announced his intention to retire at some point but has since prevaricated over the actual date of his retirement even as the council hired a head-hunting firm to find his replacement. The council has been sitting on the firm, awaiting Landon's pronouncement on his retirement.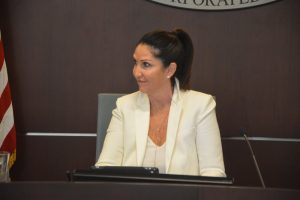 "I don't think it's appropriate to announce your retirement and not offer us a firm date," Holland said. "I don't see the energy, and if we want to stay at status quo in the city, I think time is of the essence, I want us to take a very aggressive" approach. She said there's a reason managers move on after six or seven years, "it's because they become embedded in the day to day operations" rather than pivot when a new council with a new council arrives. "I don't see that happening, I just really don't."
"I want a sense of urgency by our city manager to get these things done," Holland said. (Landon as if reveled in a lack of urgency on certain items: "There's no hurry on this one," he'd said at a December workshop, introducing a discussion on executive search firms, words that now seem fateful in retrospect.)
Holland then passed the gavel to Vice Mayor Bob Cuff and made a motion to fire Landon.
Council member Heidi Shipley would have been an all but certain vote for firing Landon: she's twice voted to do so with then-council member Steven Nobile, who resigned in May. But she was absent today as she has been for several meetings, citing health reasons.
Shipley, reached by phone, confirmed that she'd have voted to fire Landon. "Absolutely would have voted to have him leave," she said immediately after the vote. "Should have been done a long time ago. Very happy that the mayor took that stand–not even knowing what her grievances were. I can imagine what they were. I am behind her 100 percent." She said it would have made no difference had the vote been delayed. "It would have given me a little more joy to have been there but it wouldn't have made a difference, I would have voted with them," she said, noting she'd be at a budget hearing on Wednesday.
Cuff provided a paradoxical response, speaking criticism of Landon but also asking for a delay of two weeks before voting him out. He said his "strong preference is for a soft landing, if that's the correct word," with the council finding a manager coincidentally with Landon retiring. "That said, I guess my position at this point on a vote on a motion today is this has taken me by surprise, obviously." But he did not want it to drag on. He said he preferred not to take action at the end of today's meeting, but to discuss it in a workshop, then at a timing. "Hopefully this will allow Ms. Shipley to join us as well." He later added that he was not ready to vote on the matter today. "I'm not saying I wouldn't support it at our next business meeting," he said.
"I've been frustrated over the past couple of months," he said, echoing Holland's criticism. "I've had the frustration that you expressed about getting adequate back-up at workshops."
"What do we gain by waiting a few weeks?" Klufas said, now that council members have established their positions. "What could possibly change in our mindsets?"
"To prolong this does not make a lot of sense to me at this point," Holland said, saying it would be a waste of time.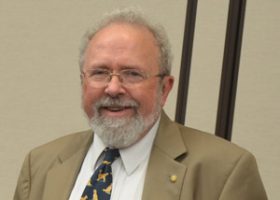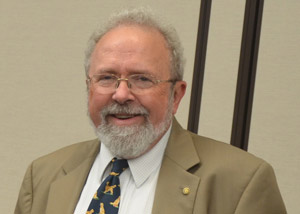 Council member Lyon was perplexed by the fact that the search firm has been hired but without much movement since, but initially did not indicate how he would vote.
"Lawyers, we have a tendency to be risk-averse and not rush into anything," Lyon said, asking about Landon's contract terms and its severance. But he said a vote to fire him seemed inevitable. "I'm inclining to lean toward what Mr. Klufas said." And he alluded to Shipley: "I think she would agree." He added, "It's a scary cliff to jump off off."
That seemed to convince Cuff to join his colleagues for the unanimous vote.
The move was similar to Holland's attempt in June 2010, when she was halfway through her second term as a county commissioner, to fire County Administrator Craig Coffey, which Holland had preceded with a 20-minute indictment. That move failed on a 3-2 vote. Today Holland again took a risk: Klufas's vote was likely assured (he's had his share of clashes with Landon, who's condescended to rather than embraced Klufas's broadband initiatives) but Cuff has been guarded, and Lyon, only a recent appointee to the council, was a mystery–until he made the most consequential decision of his brief tenure and and tilted the vote Holland's way.
Former council member Steven Nobile had a more jaundiced view of the vote.
"What changed in a few months that would turn all the votes?" Nobile, who resigned in May, said by phone from Tampa, and contrasting today's decision with his two attempts to fire Landon. "He's done the same thing for years and years and years, and now all of a sudden they decide–and Klufas goes, no, we have to do it right now. It's disgusting at the level of self-serving politics." He said he believed Holland when she spoke of her recent frustrations, "but again, it's not new. They've had their turn, they've had years to monitor, nothing has changed except the politics of the action." He said just because he had initiated the attempts to fire Landon, the council resisted him. "They allowed Landon to hurt them–in the short term I was there with them, he hurt them a lot, the people of Palm Coast, and they voted with him. Now it's a problem. In plain English, they're full of shit." Still, he said, he was glad the firing took place. "Maybe the city can move on and really get focused."
Today's vote followed a mundane morning meeting that ran through the business agenda mostly without comments or question from any of the council members as administration members made their presentations and the council voted on item after item. The only color to the meeting occurred at the top of the hour when Lyon proclaimed the "Pink Army" breast cancer awareness month with Florida Hospital Flagler's John Subers and a small contingent of hospital volunteers and leaders, and when Cuff recognized Sept. 17-23 as Constitution Week, designed to commemorate the federal Constitution. (There was no proclamation for Banned Book Week, which begins Sept. 23.) Agenda items included approval of two items that will allow for apartment complexes–on Old Kings Road and on Whiteview Parkway–and a vote on parking regulations in the urban core (the item that did generate some discussion). The meeting took place before a largely empty chamber but for the usual staffers and, with some exceptions drawn by the parking matter, season-ticket-type spectators.
The council would have fired Landon last year, when four of its five members expressed dissatisfaction with his leadership, had it not been for a severance provision in his contract that could equate to nearly a quarter-million dollar payout. Holland's move today suggested that the payout no longer seemed as expensive, in her calculation, as keeping Landon on. She was critical of the contract, saying she would not have signed it, but said her criticism was not personal. (When Bunnell hired Alvin Jackson as its city manager last week, Jackson made a point of speaking of his severance and benefits package as not holding the city "hostage.")
Holland worked up to her motion from a set of prepared notes, speaking in a steady voice that only toward the end, as she made the motion, betrayed nervousness.
"When our city council arrived on the scene 12 years ago," Holland said, prefacing her motion, "Uber did not exist, Lyft, 4G, iPads, Tesla, GPS, WhatsUp and Instagram. Today we've seen a lot of significant changes in our community, but we've also seen a shift in our council and our priorities of the discussion of the direction we want to take this council in, and we have a lot of opportunities coming up in the near future, which will change the course of this city significantly, in particular, looking at innovation and technology and our entrepreneur spirit in this community, and we've identified different strategic approaches on how we view those."
She then moved on to "the inability to pivot when you have a new council," describing the current members as full-time workers who need information presented in a timely way. "I have been increasingly frustrated with the fact of not getting agenda items," she said, alluding to Landon's habit over the years of withholding presentations designed for workshops until the hour of the meeting itself. "That's a managerial issue, and when we request it and [he] says we can't get it by Monday, that's a managerial issue, which is frustrating." She detailed other matters that Landon has not acted on, such as the hiring of an ombudsman or the resistance the city's new innovation officer has encountered within the administration.
"That's a problem for me, when we as a council, universally on the whole have asked for something and the city manager takes it into his own account and accord to state how he's going to manage that, is frustrating," Holland said, calling his delays on certain issues "astonishing."
"I am concerned that we are spending a tremendous amount of time just sitting still and just standing by without the energy that is going to [be] required to take to move us forward," she said, returning as she would several times to an image of the city manager as static and out of step with the council. "I feel like I know more about our sheriff's department from the communications that comes out of his office than I do of our own city," she said.
Landon, 62, had no intentions of leaving Palm Coast when he spoke of retiring last year: Just last February he bought property for a house on Arena Lake Drive, in the Hidden Lakes subdivision, expecting to retire there after downsizing from his E-Section house.