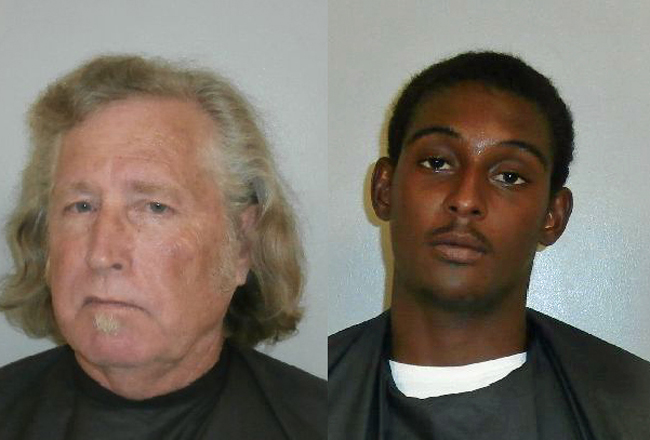 As soon as cops walked into 206 North Palmetto in Bunnell Friday evening (Aug. 30), Robert Knoblaugh, 63, pointed at his stepson and yelled: "He done it, lock him up!"
Knoblaugh said he wasn't going to let his stepson beat him up, according to Knoblaugh's arrest report. Before long, Knoblaugh was in handcuffs, still screaming: "This is not over," he yelled at his stepson, even after being told to stop addressing him, "I'm going to get you when I get out."
His stepson, Richard Gould, told a Bunnell police officer that he'd come over to visit his mother, and that "out of nowhere," Knoblaugh started calling him names, pushing him, and threatening to kill him. Gould was with his children at the time, and was worried about their safety. When he prepared to leave, Knoblaugh, according to the officer's report, "pulled a silver semi-automatic pistol on him and pointed it straight at Mr. Gould's head. Mr. Gould advised me that his mother then grabbed Mr. Knoblaugh's arm and pushed the gun to the ground. Mr. Gould advised that's when he left the residence to keep his kids safe."
Knoblaugh conceded to cops that he was mad at Gould and started to drink, though Knoblaugh's wife said when her son came over he never said a word to Knoblaugh. According to her, it was her husband who "came and got all in Mr. Gould's face," then pulled a gun on her son. Mrs. Knoblaugh told cops that "her grandkids were behind Mr. Gould when the gun was pulled," that "a lot of words were exchanged between both," that the words were "bad, ugly and threatening for no reason."
Gould's wife Melinda was also present. She said that soon after arriving for a visit "Knoblaugh started yelling and cursing at Mr. Gould, telling him that 'he's not a pussy, and he'll kick his ass.'" Knoblaugh, according to Melinda Gould, then started pushing her husband and kept asking him to hit him, something Gould did not do. Melinda said her husband told Knoblaugh "that he wouldn't hit a senior citizen like that," though as they were leaving she said Knoblaugh threatened to shoot her husband and pointed the gun at the car as well.
Knoblaugh was arrested for aggravated assault with a deadly weapon, tampering with a witness, and simple battery, and the gun was secured for evidence. He was released on $4,000 bond.
The matter with Charles Lockhart, a 23-year-old resident of the Madison Green Circle apartments in Palm Coast, stretched over two days, beginning the morning of Aug. 30.
Just before 9 a.m., Flagler County deputies were called to the apartment address by Taneiqua Hampton, the 23-year-old victim. She is 34 weeks pregnant with Lockhart's child, has a child with him, and lives with him. She told cops that she was sitting in the front seat of her 1993 Ford Explorer. Lockhart was in the back seat behind her. They started arguing over a house key. The fight escalated.
According to Hampton, Lockhart then "grabbed her hair numerous times, causing her glasses to break." He then got out of the car, opened the front door of the vehicle and "intentionally punched her in the stomach," according to a police report. He then left the scene.
Two days later (the night of Sunday, Sept. 1), Hampton again called cops and reported that Lockhart had returned as she was sleeping, and allegedly threatened to kill her. She had been in bed when she heard someone ring the doorbell. She ignored it. She then noticed a light come on in her apartment, and saw Lockhart walk through the place. He entered the bedroom. They argued about the unborn child.
Lockhart got in the shower. When he got out, the argument resumed, and according to the arrest report, Lockhart said: "I'm gonna kill you and me." He then allegedly began looking through one of his drawers, and said he was looking for a bullet. Fearful for her life, Hampton left and went to her sister's apartment, in the same complex.
Lockhart was arrested for domestic violence assault and aggravated battery on a pregnant woman, and jailed on $5,000 bond. He remained in jail Tuesday.