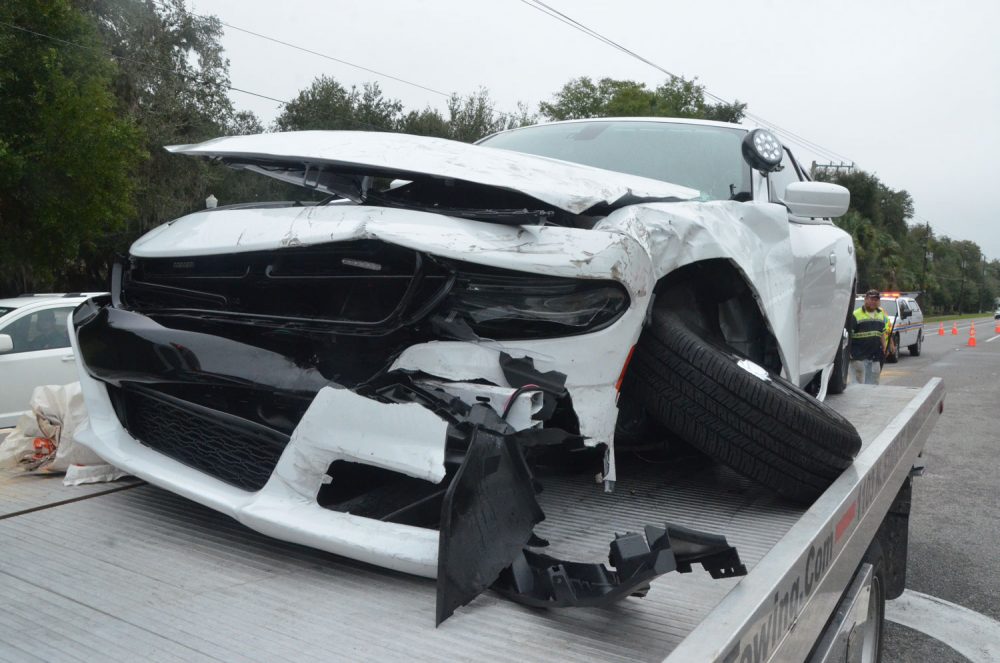 A Flagler County Sheriff's deputy was injured in a two-vehicle crash at the intersection of State Road A1A and 16th Road in the Hammock late this morning. 
The deputy, Kyle Gaddie, was driving a brand new Dodge Charger, with less than 1,000 miles on it, when he pulled out of 16th Road in the way of a pick-up truck registered to a U.S. Army driver. That driver was not injured, but the pick-up sustained serious damage, and the Charger may be totaled. 
Sheriff Rick Staly was on his way to the crash scene when he heard that Gaddie was being transported to AdventHealth Palm Coast, so he changed directions and met the injured deputy there. "He's going to be sore, he has a bump on his head and some soreness in a leg but what could have been the outcome," Staly said, referring to a much worse result avoided, we're just very, very fortunate."
'We drive a lot of miles all our deputies do and once in a while these things happen," the sheriff said. Deputies drive about 25,000 to 30,000 miles a year each, or around 5 million miles a year.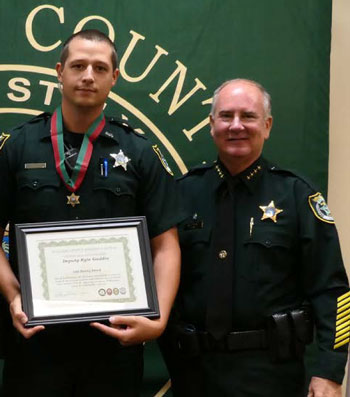 The Florida Highway Patrol is investigating the crash. Based on what he's been told, the sheriff said the deputy was attempting to pull out of 16th Road to go south on A1A. A tractor trailer was blocking his view. He thought he was clear, tried to make the turn, but drove in the way of the northbound pick-up truck, violating the pick-up truck's right of way. "Whether he gets a citation that's up to FHP," Staly said, but Gaddie will have to go before an internal loss prevention board. "They'll decide what type of discipline he will face, assuming the crash is his fault, which indications are it is. Fortunately he will learn from that," as will other deputies and citizens, the sheriff said. "You never pull out until you learn 100 percent that it's clear on all the lanes." 
Less than a day before, Sharlyn Johnson, 60, was killed in almost identical circumstances, but at night: she was pulling out of Eagle Rock Road to make a turn south on U.S. 1 and did not see an oncoming sedan. 
Gaddie was driving one of 16 new Chargers the agency is rolling out, one of eight that are semi-marked–and nicknamed ghost cars, because of the barely perceptible markings on the sides. The agency is shifting from  Ford Police Interceptors to Dodge Chargers and Durangos because Ford's prices were becoming prohibitive. The Charger costs $24,000, but closer to $50,000 when fully equipped as a police car. That equipment is largely transferable. The insurance will pick up the cost of the damage, with a $1,000 deductible. 
The ghost car was assigned as a reward to certain deputies who do a lot of self-initiated policing. Gaddie was disappointed and regretful over the crash. 
"I told him that I'm glad he wasn't seriously hurt, that equipment can be replaced, and I said you're probably more upset about your new car," Staly said, when asked to describe his encounter with the deputy at the hospital. "He said I love that car, and he was apologetic. These things happen in our line of work, I'm just glad you're not hurt, and we made sure his girlfriend was notified so she could come see him at the hospital." Staly added: "He's disappointed, I get that, I've been in this business a long time, I've had a few wrecks myself. These things happen when you drive so many miles, talk on the radio, have the sirens going." Deputies, he said, do a lot of high-risk driving. 
It was the sheriff's second trip to the hospital in 11 days to check on a deputy. Earlier this month a sheriff's deputy and a Bunnell police officer fell ill after coming in contact with an unknown substance on a suspect they were arresting. The suspect also fell ill (and briefly passed out). All three recovered. 
"That's part of my job," Staly said. "I ask these men and women to risk their lives for me, when they get injured I'm going to see them at the hospital. It's not the fun  part of the job but it's important. I'm just thankful we're not burying a deputy. We've had a couple of close calls. I've been very fortunate as a sheriff. That's the worst call you get as a sheriff," when the outcome is a serious injury, or worse.
The crash took place at 10:30 a.m. Traffic was regulated by the Palm Coast Fire Police. The vehicles were towed by John's Towing of Bunnell.