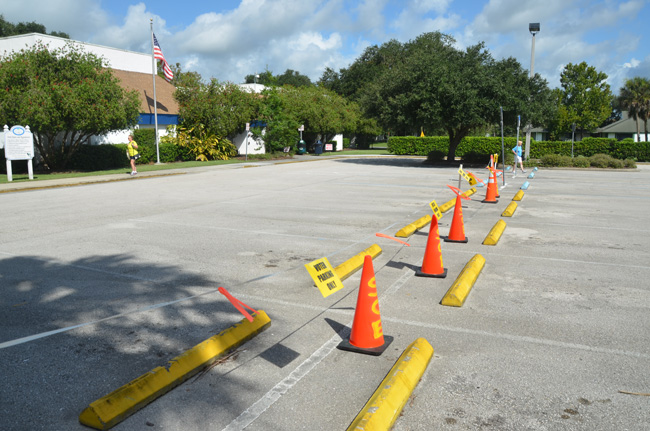 Flagler County Elections Supervisor Kimberle Weeks is unhinged.
Early voting has gone well, if drawing a very low turnout. There's been not a single documented case of a voter's complaint over parking, or handicapped parking, or any kind of parking.  Aside from minor sniping by some candidates about other candidates displaying campaign signs illegally, even the candidates have behaved rather well.
Yet in the last few days, and triggered by her perceptions of issues related to parking, especially at the Palm Coast Community Center, Weeks has again managed to distract and frustrate the highest officials in a half dozen local government agencies and boards, including a county judge, the sheriff, a city and county manager, two agencies' attorneys, the Flagler County Canvassing Board, and the State Attorney's office.
Earlier this week, she called Melissa Clark, an assistant state prosecutor at the State Attorney's Office, and accused Sheriff Jim Manfre of "neglect of duty," suggesting that he should be charged with a first-degree misdemeanor, because he wouldn't "take a report" about disappearing parking-lot signs at the Community Center. On Monday, Weeks, of her own accounting, called the Sheriff's Office nine times to ask for law enforcement to take a report charging Palm Coast government with larceny. (It is a misdemeanor to call for police repeatedly, and local residents have been arrested for abusing the 911 system for less, though Weeks called a non-emergency line.)
Manfre, in an interview this morning, said the city was in its rights to remove signs. Audibly impatient with the issue, he said, "We had already talked to the state attorney ahead of all this knowing what her propensity is to take things to the next level." But law enforcement, he said, need not be involved in the matter. "This is not the time you have those issues. I assume we'll have more of those issues in the November presidential election where people tend to vote five, six times the amount they do in these off-year elections. We haven't seen any, we haven't heard any complaints."
On Wednesday, at what should have been a routine and very brief canvassing board meeting, she asked that County Judge Melissa Moore-Stens intervene and herself–using her title as judge and canvassing board chairperson–negotiate with Palm Coast to resolve the parking issue.  The meting, with Moore-Stens and County Commission Chairman George Hanns present (as well as alternate board member and Commissioner Charlie Ericksen and County Attorney Al Hadeed), and Moore-Stens taken away from her court duties, stretched to three hours in the morning, was recessed, and convened again at 4 p.m., so Moore-Stens would have had time to confer with the chief judge of the Seventh Judicial Circuit on the issue–or non-issue, as most officials see it–that Weeks was raising.
Canvassing board parameters are clear: the board is to canvass votes, oversee tabulation and recounts  and tabulation equipment, and report to the division of elections on the election's conduct. The board's members do not get involved in matters beyond those parameters. The judge in the hour-long afternoon portion of Wednesday's canvassing board meeting said she would not intervene in the matter with Palm Coast, but said Hadeed, the county attorney, would mediate the matter between Weeks and the city.
"The agreement, as most contracts often are, can be subject to interpretation," the judge said during the meeting, "and I think Mr. Hadeed's goal is to clarify the interpretation in a way that satisfies both sides, without the need for any litigation on this matter."
"I would think that the way the provision in the interlocal agreement is written," Weeks countered, "that the city shall remove no election-related signage, with the exception of candidate campaign signs, leave very little to be misinterpreted."
That's not the case, Hadeed told her, citing the example of putting "adornments" on, say, spaces for the disabled, which would violate the law–and would compel the city to remove them, legally. And that's precisely what Weeks had done.
The signs Weeks is concerned about at the Community Center have not disappeared. They had been removed by the city's code enforcement, because the city considers Weeks's realignment of some parking spaces there, ostensibly to reserve spaces for voters, improper, and not in her purview, particularly with regard to spaces for disabled drivers.  Palm Coast City Manager Jim Landon had told Weeks as much in a detailed email the morning of Aug. 15, last Friday, so she knew without a doubt who had removed signs and with what authority.
"Other than activities directly associated with voting, you have no authority at the Community Center," Landon wrote Weeks. "In the parking lot, your only authority is to enforce the boundary where, by law, campaigning is not allowed." Weeks had improperly–and illegally–created some spaces for disabled drivers as part of her reserving a slew of parking spaces for voters at the Community Center, in contravention of city rules. "Could you imagine your reaction if someone attached another sign to your campaign boundary regulatory sign?" Landon pointedly asked her. 
And referring to Luanne Santangelo, the city's parks and recreation director, Landon himself left little room for interpretation: "I have directed Ms. Santangelo and City Code Enforcement Officers to remove any signs or other items attached or placed on these regulatory signs or within the entire handicap parking spaces.  I request that you respect this law and stop placing signs or other items of any kind in our regulatory required parking spaces. If you do not grant this request, City staff will continue to remove such items."
Landon went further, explaining specifically what was happening with signs, why, and with what alternative should a parking issue arise: "She has delivered your removed signs to the poll workers, only to have them returned to the parking lot. So as an alternative, Ms. Santangelo started to leave these excessive voter-only signs face-down in our parking lot and will continue to do so when we have other customers to accommodate. She has left more than enough voter-only signs to accommodate the amount of voters' vehicles at the Center at any given time. This has worked well and she will continue to manage our parking lot in this manner.  If at any time it is reported to you that voters cannot find a convenient parking space at the Community Center please let Ms. Santangelo know and she will attempt to help make sure voters can quickly find a space."
All this on Friday morning. So Weeks knew clearly what was happening to some of her signs, why, and how she could get relief. Nothing remotely criminal or inappropriate was taking place, other than what had triggered the minor hic-up in the first place: Weeks's own tampering with handicapped signs, and her overly extensive and, given the minute turn-out and the absolute absence of any parking issue, extension of voter-only parking spaces.
Three days later, Weeks takes on Sheriff Manfre, appeals to the State Attorney's Office for action, and claims "larceny" was taking place at the Community Center. In her answer to Landon Friday afternoon, she claimed the city was not upholding the terms of the agreement she and the city had signed earlier this year. That agreement was the result of three months of frustrating and contrived wrangles over who may use the Community Center and to what extent. (Weeks still contends that the building is hers to use as she wishes at election time. The city disagrees.)
Weeks was not going to win the parking-space spat. She focused on what minor property was seized from her office.
"I contacted the State Attorney's office and said I've been without my property for several days," she said in an interview immediately following the canvassing board meeting Wednesday. "I've asked for the property back, they took the property and it deprived us from being able to use the property. If it had been anybody else for any other thing I believe it would be considered larceny, so I want a report written."
Thursday afternoon, Melissa Clark, the managing assistant state attorney Weeks had contacted regarding Manfre, sent her a letter reiterating what Weeks had already been told by at least three agencies: that her dispute with Palm Coast is a civil matter, not a criminal matter, and that she should resolve it as any contractual dispute might be resolved.
Based on state law, Clark told Weeks, "it is clear that Palm Coast Code Enforcement is responsible for maintaining and enforcing the handicap parking within their city limit." Clark referred to Landon's email that had put Weeks on notice regarding what was taking place and why, and concluded on the matter of Weeks's agreement with the city, which Weeks is interpreting differently than the city. "This agreement," Clark wrote, "is the equivalent of a civil contract and as such any breach of this agreement is a civil matter that should be taken up with the City of Palm Coast and/or the civil court system."
But that's already happening: Hadeed, the county attorney, is mediating the dispute, such as it is.
And even the matter of the city allegedly holding the signs was resolved, and may never have been an issue. "The city either returned the signs to the poll workers or kept them at the front desk of the Community Center until they were requested," Virginia Smith, the city clerk, wrote in an email near 4 p.m. today. "All signs were picked up by SOE's office this morning at the Community Center. The City is not in possession of any election related signs."
The current dispute mirrors a previous dispute Weeks had with the city, over the conduct of the city's election and the way it enacted charter and ordinance changes that switched its elections to even years. Weeks contended that the city had acted improperly. A slew of lawyers, locally and at the state level, told Weeks she was wrong, that the city was on strong ground, and that she should move on. Weeks, who is not a lawyer, continued to dispute the lawyers' conclusions. The same pattern is developing in the current dispute, with Weeks disputing Palm Coast's, the county's, the Sheriff's Office's interpretations, if not the State Attorney's. The State Attorney's Office's letter echoes one Sid Nowell, the Sheriff's Office's attorney, sent weeks last week, declaring the issue a civil matter for mediation, nothing further.
But Weeks said at the canvassing board meeting that she intended to see to it that Palm Coast not hold special events, or bridge gatherings, or private parties, at the Community Center, during early voting days in the future, so it does not interfere with the election, even though there clearly has not been a parking issue regardless of what events are held at the center. Weeks had designated 22 parking spots for early voting at the center.
When Hadeed outlined his intentions in mediation, saying it would address and presumably resolve the parking issues and the return of any signs being held by the city, Weeks cut him off: "Excuse me for just a moment though," she said. "That's with the understanding they don't hold bridge or some other unauthorized purpose in that building that the building is not intended for, and fill that parking space to not allow the disabled voters to have a place to park. You can't say there's six handicapped parking spaces in that building and that that's sufficient when they're holding other functions at the same time that we're holding elections, and then allow people there for birthday parties or city council meetings or for bridge or whatever they may have going on at that time, to be able to first come first serve, take that parking and still not have the appropriate parking available to meet the voters' needs."
Haans, the county commission chairman and member of the canvassing board who's had his issues with Palm Coast, seconded Weeks: "The election process has to be unhindered in that area, and just because you have the place full, they don't have the priority over parking," Hanns said.
Absent from the discussion, however, was evidence of any issues with voter parking.
Weeks does post evidence of turnout in early voting. Through Wednesday, the Community Center had drawn just 742 voters in 10 days of voting, an average of 74 voters per day, or fewer than 10 voters an hour, though 22 parking spots were reserved for voters.