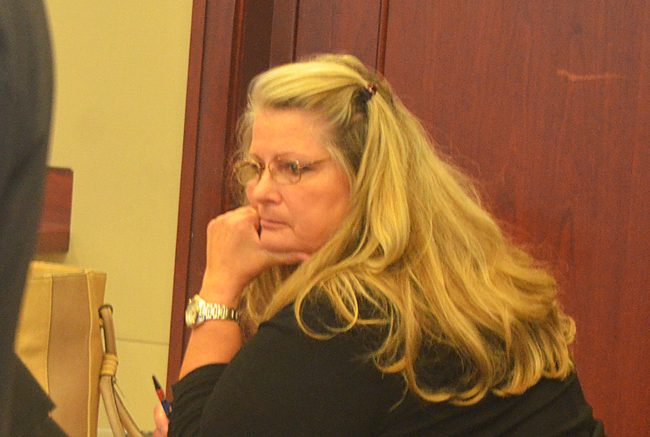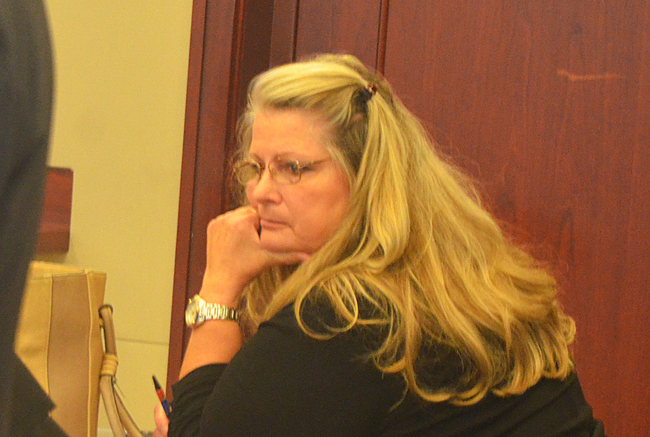 Kimberle Weeks is guilty.
A jury of four women and two men found the former Flagler County Elections Supervisor guilty on seven third-degree felony counts of illegally recording phone conversations with public officials, without their consent.
Weeks will be sentenced at a later date. Until then, she remains free on the same $12,000 bond she posted the day of her arrest almost three years ago, on May 6, 2015, four months after she resigned her position as the elections supervisor. She is unlikely to face prison time (her offenses combined with her nonexistent criminal history until now mean she does not score enough points to result in prison time). At most she might face some jail time, if that, with a probation term the most likely outcome.
The verdict followed two hours and 20 minutes of deliberations in the fourth day of a trial that replayed some of the controversies and many of the sounds–Weeks's voice especially–that had characterized the six years of her blustery tenure. She had been elected supervisor in 2008 and won reelection in 2012, but by the time she resigned the Florida Department of Law Enforcement had raided her office, search warrant in hand, collecting the computer hardware from which would be harvested the various illegal recordings Weeks had made during her tenure.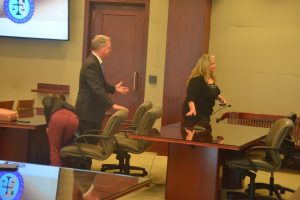 Her defense attorneys had portrayed her as a champion battling for the public, her recordings an extension of that public business. The prosecution painted her as a self-absorbed lawbreaker on the lookout for herself first and last, her recordings amounting to a "collection" she gathered to make fun of others.
In the end, and despite a lack of key definitions about what was to be defined as "private" conversations or "public meetings," the question was simply this: did Weeks illegally record others without their knowledge, and did she illegally disseminate some of those conversations.
The jury's answer was yes.
Jurors concluded that Weeks illegally recorded Palm Coast City Clerk Virginia Smith, Secretary of State Ken Detzner, Secretary of State attorney Gary Holland, Attorney General's Office attorney Gerry Hammond, Attorney general's Office employee Whitney Anderson, and Ron Labasky, an attorney for the state association representing elections supervisors.
The verdict may appear to end a three-year legal odyssey that generated innumerable pre-trial hearings and a disproportionate amount of press for a departed public official, and likely crushing legal bills for Weeks (it isn't known how she is financing her legal defense). But the odyssey is not over. Weeks intends to appeal, her lawyers said. And there's another case pending against her, a similar count of illegally recording someone, with two differences: the person being recorded, Shannon Brown, is a private individual, not a public official, and the conversation was in person, not over a phone.
Even with today's guilty verdict the prosecution would likely be disinclined to drop the additional charge involving the Brown call because the appeal decision on today's verdict is uncertain.
Closing arguments alone today took over four hours by the four attorneys involved–Assistant State Attorneys Jason Lewis and Charlene Sullivan for the prosecution, Kevin Kulik and Ashley Kay for the defense.
---
Assistant State Attorney Jason Lewis's Closing, Part 1
True to form, Assistant State Attorney Jason Lewis opened his closing argument with Weeks's crudest words about the public officials she had secretly recorded: "Ignorant lying bastard." "Piece of shit." "He doesn't know."
"Not my words, ladies and gentlemen," Lewis said, walking toward Weeks and pointing at her with his lanky arm, a gesture he'd repeat hammer-like more than a dozen times over the next 32 minutes. "the words of this woman sitting right here. It's a window into what her thoughts, what she was thinking, what she was doing. She intercepted phone calls and kept them for herself, took them home, ridiculed and mocked people. None of it is for public business. None of it for public purpose. It was for Kimberle Weeks sitting right over there to have a collection. What she did with that collection? I'll leave that for you to decide."
---
Assistant State Attorney Jason Lewis's Closing, Part 1
The jury was never told, even by the defense–which could have more easily neutralized that more damning aspect of Weeks's character–that there's nothing illegal about ridiculing or insulting public officials, whether doing so publicly or privately, or that such vulgarities have a long and documented history in this country, and a constitutional amendment that protects them. The difference was Weeks's method: only the recordings were illegal.
Lewis's closing, the last of four lawyers' closings, then proceeded to be a clinic in calculated ridicule of the defense's points.
He ridiculed the defense's claim that the recorded conversations were "public meetings," asking the jurors to use their common sense: was the public ever present at any of the conversations? Was it ever invited? Was there press? No. According to the defense's theory, Lewis said, he could walk into any two judges' chamber while their discussing cases and listen in. When the defense objected to that "bad example," Lewis substituted child protective workers or a manager hiring people and discussing sensitive information about prospective employees: none of it, Lewis said, qualifies as "public meetings."
He ridiculed the defense's claim that "public offices are public for anyone." He painted a picture for the jury of himself walking into the White House, throwing off his shoes and putting up his feet–a preposterous notion even though the White House is a public building. "Use your common sense, that argument is just ridiculous," he said.
He ridiculed the defense's claim that those involved had no expectations of privacy during their conversations, or that "any time a public official communicates something," it is considered public, or that those who are being recorded must themselves affirm at the outset, every time, that they don't want to be recorded. (Legally, the burden is not on the person being recorded to say no: it's on the person wanting to record to follow the law and seek permission first, or inform the listener that the call is being recorded.)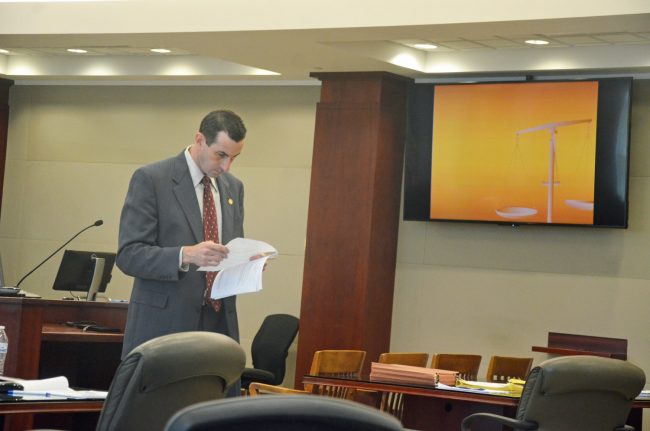 He ridiculed the defense's claim that Weeks was working on the public's behalf to solve public issues, rather pointing to Weeks's words, her constant references to herself, to how she feared she was being perceived in the media, to how she didn't want to take a beating in the press: "When you really break it down it's all about Kimberle Weeks, and it's really about her concern with how she looks," Lewis said, words that local officials had often used in previous years to characterize her behavior toward them.
"Her own words kill her, ladies and gentlemen," Lewis said, again pointing at Weeks (a characterization that drew a defense objection.)
Sullivan, who had gone first, had addressed the prosecution's biggest vulnerability: "You're not going to get a definition of what a public meeting is," she told the jury, hinting at the many legal arguments out of the jury's view in which the judge inexplicably ruled that she would not allow either side to present a definition of a public meeting (meaning in this trial's context the sort of meeting where making recordings without permission is allowed by law). Rather, the judge was leaving it up to the jury to decide what a public meeting is.
The defense tried to exploit that loophole as its greatest hope to show that Weeks's recordings were all recordings of "public meetings," even though no existing law supports that claim.
Sullivan in her 42-minute closing asked the jury to "use your reason and common sense" as to what a public meeting is, as one "where it's open to the pubic." Those phone calls were not. "Why, why would the defendant ask the secretary of state Mr. Detzner if she could record?" Sullivan said. "You hear her saying she doesn't know if it was legal, but the reason she asked them if she could record is because she knew that conference was not a public meeting."
Kulik in his closing referred to that particular call including more than a half dozen public officials on speaker phones and put it this way: "If this is not a public meeting, what is a public meeting?"
Kulik in his 55-minute closing stressed the point the defense has been stressing all week: all the people recorded were public officials, all of them were discussing public business. Even in the call with Detzner, who said he wasn't comfortable being recorded, "the issue is never really resolved, but he did say that. Does that mean we have a case? No, because there's a second part to that rule," Kulik said, cleverly using the word "rule" instead of the word "law" to get around his claim that he would leave all definitions of law to the judge. The law forbids recordings without consent and protects people's expectations of privacy "under circumstances justifying such expectations," Kulik said. That expectation was not part of the Detzner conference, he claimed. "This is a conference call with at least seven people on it. Everybody knows that everybody else can hear what everybody else is saying," he said. They all know that all they're saying is in the scope of their public jobs. Even if one of them says he doesn't want to be recorded, "there's no case," Kulik said.
On occasions Kulik tried to bring in claims about why and how Weeks was going about conducting her job to try to make her seem more sympathetic to the jury. But those disputed claims were never part of the trial, and the prosecution objected successfully every time Kulik tried to slip them in.
But he repeatedly countered the prosecution's conclusion that the phone calls were not public meetings. "The prosecution again tries to put ideas in your head of what the law is," Kulik said, reverting to his refrain: "If Judge Hudson doesn't say it, it's not the law."
And he attacked the prosecution, particularly for playing some recordings in which Weeks is heard insulting other public officials, recordings Kulik said were not involved in any charges. "What type of prosecutor puts on this case," he said at one point, drawing an indignant objection from Lewis: lawyers are not allowed to attack each other personally at any point in a trial.
The jury was ushered out.
"The defense is getting dangerously close to attacking the state personally, and we've let it go over and over again," Lewis told the judge.
Hudson agreed, and Kulik said he regretted speaking that particular line. The jury was brought back in. But Kulik again returned to some of the recorded conversations that had "absolutely nothing" to do with the case. "Character is not an issue in this case. You should never be distracted by such a thing. Never," Kulik said, trying to deflate the effects of the less palatable aspects of Weeks's character.
Of course, character has plenty to do with the way the prosecution is trying the case, just as it does with the way any prosecution tries any case: it's how it gets to the more intangible elements of a jury's decision-making. Kulik had no choice but to address the issue.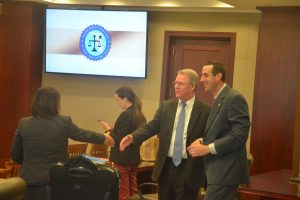 Unlike Lewis, Kulik (who spoke before Lewis) stood before the jury without moving, gesturing or using any dramatics: he held a set of notes and a pen, spoke in an even-tempered tone throughout, trying to undermine the prosecution's case by returning again and again to the claim that the state did not prove "beyond a reasonable doubt," and within the judge's definitions of law, that Weeks acted illegally. By her saying she didn't know if it was legal or not to record others, Kulik said, that showed she had no intent to break the law. "The lack of evidence is grounds for reasonable doubt in the case," he said of one of the recordings.
And everything hinged on convincing the jury of reasonable doubt about Weeks's alleged criminal actions.
Beyond summing up the case, a prosecution's closing arguments have two purposes: first, to systematically show that the charges have been proven. Second, and just as importantly, to overcome a jury's intangible sense of doubt with something just as intangible: rhetorical, polemical persuasion. That's when a prosecutor's ingenuity and vivid use of language can lend the factual evidence a more unassailable dimension. The way closing arguments are structured gives the prosecution the advantage to split its approach between the factual and the more polemical: the prosecution goes first with its closing, the defense follows, but the prosecution then has the last word, getting to rebut the defense's arguments.
That's how Charlene Sullivan went first with the nuts and bolts of the case for the prosecution, Lewis last with the rhetorical nails in the case's coffin.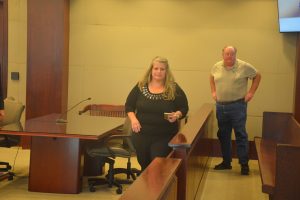 The defense got around its limitation by splitting its closing between Kulik and his co-counsel, Ashley Kay, a split that caused some heartache for the judge before the jury was brought in. The split is "highly unusual," in the judge's words. The prosecution questioned it. Hudson was displeased that the issue was brought up only this morning, instead of yesterday. Hudson poured over case law for almost half an hour before the jury was brought in at the beginning of the day, then ruled that the defense may proceed, but "there can be no repetition between the two arguments."
Kay didn't repeat any of her colleague's arguments but sought to add to the jury's "reasonable doubt." But she did so at first with reasonably doubtful arguments drawing on issues peripheral to the case, which drew regular objections from the prosecution the judge sustained time after time. Kay claimed one witness–the state investigator who served the search warrant on Weeks–was biased, she vaguely suggested that the state police analyst who analyzed the electronic files found on Weeks's devices left questions about the electronic files unanswered, she pointed out how "newspaper articles" had played a role at the origin of the case, implying, falsely of course (though it's a rote tactics among lawyers and politicians) that newspaper articles somehow are inherently flawed or false as factual information. And so on.
Kay's more persuasive part of her closing focused on the matters at the heart of Weeks's recorded conversations, almost all of it public matters (but much of those also filled with Weeks's one-sided tendentious interpretation of issues and personal conflicts over public matters with other officials). "They have fallen far short of their burden in several different ways," Kay concluded, ending with a flourish about protecting Weeks's "liberty."
The jury, which rendered its verdict at 3:48 p.m., didn't buy it.