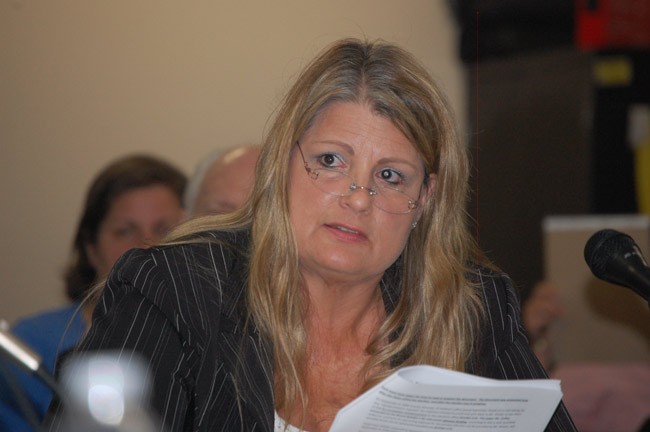 A grand jury that convened Tuesday indicted Kimberle Weeks, the former Flagler County Supervisor of Elections on 12 felony counts of illegal interception and disclosure of oral communication, following a six-month investigation into allegations by county officials that she secretly and illegally recorded their conversations. Each count is a third-degree felony.
Weeks, of 3056 County Road 305 in Bunnell, was arrested at 8:05 this morning. She was booked at the Flagler County jail at 9:12. She was being held on $12,000 bond. By 10 a.m., she had posted bail. Her booking photo shows a smiling and made-up Weeks, 54, who was first elected supervisor–her first elected office–in 2008, and re-elected in 2012. She is a Democrat. She resigned abruptly earlier this year, weeks after state investigators raided her office.
The Florida Department of Law Enforcement launched an investigation of Weeks in early October, raiding her office, seizing electronic equipment and interviewing her and members of the county commission and administration. The FDLE investigation was turned over to the State Attorney's office, an FDLE spokesman said Wednesday.
The indictment, unsealed Tuesday afternoon, found Weeks to have allegedly illegally recorded Al Hadeed, the county attorney, Charlie Ericksen, the county commissioner, Virginia Smith, Palm Coast's city clerk, and Melissa Moore-Stens, the county judge, among others. Stens chaired the elections canvassing board, where much of the controversies swirling around Weeks–controversies Weeks herself triggered, nurtured and amplified–were first aired.
The indictment was much broader than expected: the county's original claims of illegal recordings had focused on just Hadeed and Ericksen. One of the counts in the indictments charges that Weeks also allegedly illegally intercepted communications by several officials at the state Division of Elections, including Secretary of State Ken Detzner and attorney Gary Holland. Also named in the same count were Ronald Labasky and J. Andrew Atkinson. A separate count refers to Weeks allegedly illegally intercepting communications with Michael Coomans, an FDLE sergeant.
The counts cover alleged incidents stretching from April 4, 2014, to September 19, 2014, a period that coincided with Weeks's fiercest conflicts, first with Palm Coast government, then with county government and members of the canvassing board.
FDLE investigator Phil Lindley conducted the inquiry. According to Weeks's arrest affidavit, the FDLE obtained "certain electronic data and devices from the Flagler County Supervisor of Elections Office" in September. "Forensic analysis of the data revealed numerous recordings of communications made of numerous persons on numerous dates."
"It's so fresh we haven't had a chance to respond, I think we'll be putting out a statement in due time," Craig Coffey, the county administrator, said. Coffey and Hadeed first alleged that some of Weeks's recordings had been illegal. She would record conversations on her personal iPhone, which she would leave in an elections office conference room even though official portions of meetings would be taking place in an adjoining room. "We are happy that it was fully investigated and we are happy that it is being addressed. Other than that," Coffey said.
"We've said all along that we didn't believe that the recordings were appropriate, and this strengthens that belief," Ericksen said this morning. He interpreted some of the counts in the indictment to mean that Weeks had secretly recorded phone calls as well. "If there were recordings of other individuals that would suggest that most of her phone calls with other parties were not acknowledged–that she didn't announce in advance that she was recording. You can record somebody on the other side if they give you their permission." Ericksen was interviewed twice by the FDLE and requested to see the FDLE investigators one additional time to present further information.
The Palm Coast administration issued a statement later Tuesday morning, referring specifically to Smith's interactions with Weeks which, on Weeks's part–and in public meetings–had been less than respectful. "The City of Palm Coast's conflicts with Kimberle Weeks leading up to last year's elections have been well-documented in the media and public arena," the statement read. "As the City Clerk, Virginia Smith was assigned to take the lead for the City in all elections-related issues and, through it all, Virginia maintained the utmost professionalism representing the City. Virginia cooperated fully with the FDLE investigation, just as any City employee would in a matter of this type. The City administration backed her fully and will continue to do so as the proceedings continue. The City feels it would be inappropriate to comment further regarding the legal matter involving Ms. Weeks because it's now a pending case for the Courts to handle."
Under Florida law, grand juries are convened only for two reasons: to secure an indictment against a person who'd be tried for a capital murder (that is, in a case where the death penalty would apply). And for controversial cases involving alleged corruption or wrongdoing by public officials or public servants. The last time a grand jury was convened in Flagler dates back to the case of ex-Flagler Breach cop Bobby MacDonald, who was investigated after his wife was shot in the head. She claimed he shot her. He claims she shot herself. The grand jury found no sufficient evidence to indict.
Aside from budget clashes she's had with the county commission–a few years ago, for example, she was questioned about "bonuses" she gave her employees, and never provided the county commission the specific accounting of those dollars that the commission requested–Weeks's conflicts with various local agencies rarely amounted to serious or intractable issues. Agencies would strive to accommodate her, up to a point. Palm Coast, for example, agreed not to charge her to use space at the city's community center during elections. But when the city refused to provide her with the largest room at the center for the entire two weeks of early voting in 2014 (as opposed to a smaller room that proved entirely sufficient for the early-voting process), Weeks escalated the conflict by very broadly–and inaccurately, according to several lawyers–interpreting laws and agreements in an attempt to force the city to grant her the room.
She eventually conceded, only to pick another fight with Palm Coast, this time over parking spaces outside the community center. Aside from roping off many more spaces than were needed for early voting election days, she tampered with handicapped parking signage despite being cautioned against the illegality of doing so. She had similar run-ins with the county administration, though by the time the matter with Palm Coast was settled (Weeks backed down), she shifted her antagonism toward members of the canvassing board, attacking them one by one–Ericksen, then Commissioner George Hanns, then Commissioner Barbara Revels, and all along, her bête noire, Hadeed, the county attorney. She hired her own attorney and called on attorneys at the division of elections and in her own professional association of election supervisors, only to rebuff their counsel when it did not mesh with her interpretations.
Weeks also had her conflicts with reporters. During one canvassing board meeting, a FlaglerLive reporter attempted to take general pictures of the canvassing board, from a distance, when it was counting certain ballots during early voting. Revealing votes before polls close is illegal. Taking pictures of a public canvassing board meeting is not. Weeks sought to prohibit the taking of any pictures.
Asked to cite the law that gave her the authority to do so–as public officials are required to do when denying access to public proceedings or documents–Weeks snapped that she didn't need to cite the law. "It is my law," she said.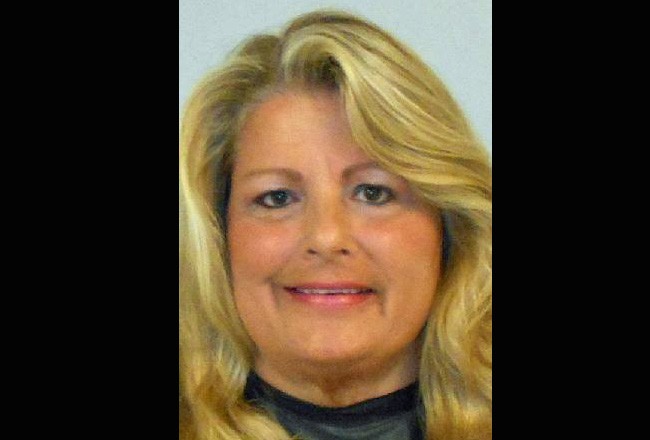 Kimberle Weeks Indictment (2015)