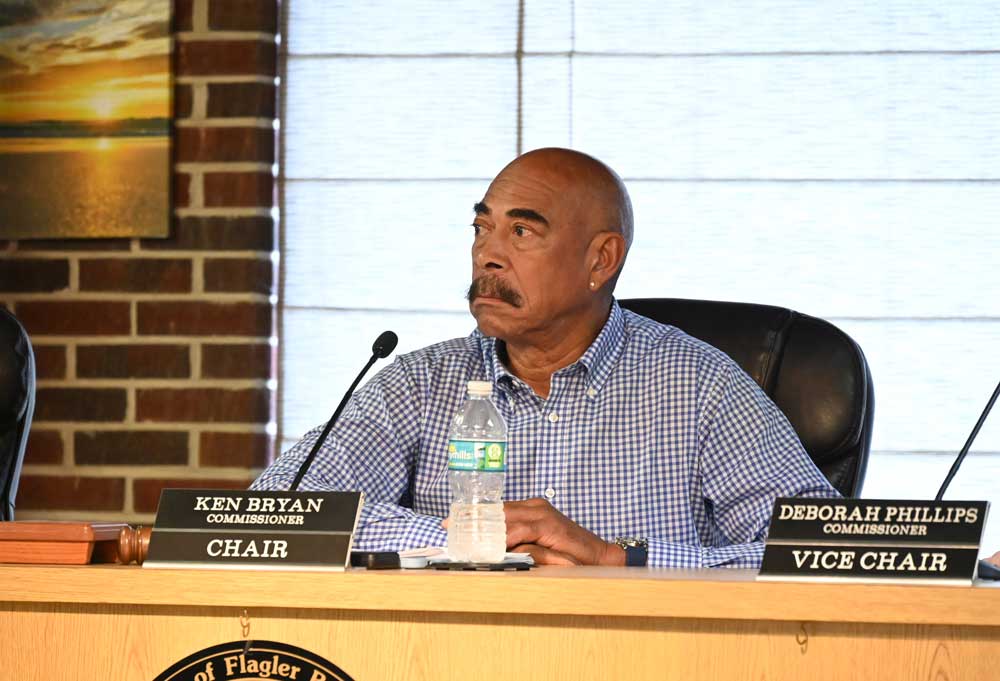 Last Updated: 1:50 p.m.
Ken Bryan, a one term Flagler Beach city commissioner and currently the chairman of the panel, has decided not to seek re-election after all. Bryan announced his decision in a Facebook post this morning.
"There comes a time when one must pass the baton and move on to their next chapter in life. With that being said," Bryan wrote, "I have decided not to seek re-election for another term but focus more on family and new adventures."
The March 7 election for two seats on the five-member commission (plus the mayorship) had already drawn more candidates than for any race going back 19 years. Even with Bryan withdrawing, the number of candidates remaining, five, is still the highest since then.
The candidates are incumbent Deborah Phillips, former two-term commissioner Rick Belhumeur, Robert Cunningham, Doug "Bruno" O'Connor, a former one-term commissioner in Beverly Beach, and Scott Spradley, the attorney and current vice-chairman of the city's planning board. Spradley is also representing the County Commission in a bankruptcy subplot to the county's dispute with Cynthia d'Angiolini, the lone hold-out preventing the U.S. Army Corps of Engineers from going forward with the renourishment of 2.6 miles of beach south of the city pier.
There may yet be more candidates: while all five remaining candidates have qualified for the election by submitting 45 petitions, thus avoiding the $570 qualifying fee, the qualifying period without petition begins next Monday and ends on Jan. 20.




The Flagler Woman's Club, which customarily hosts political forums in Flagler Beach, has scheduled this election's Candidates Night on Feb. 21 at 7 p.m., with Joann Soman asking the questions. The forum is likely to include candidates in the races for Bunnell and Beverly beach commissions as well. The club is at 1524 South Central Avenue in Flagler Beach. Forums are usually streamed live on social media.
Bryan since last year had seesawed over whether to run or not, sending mixed signals depending on when and whom he spoke with. But his hesitancy was obvious. There'd be times when he'd suggest he was out of the running, and at one point late last year he seemed to have made a decision not to run, spurring others to jump in–only to change his mind.
In an interview this afternoon, he summed it up this way: "It's called spouse." He and his wife have not had a vacation in over three years. She's retiring in about a year and the two are looking to travel. Plus, Bryan lost his son two years ago and hasn't spent the time he wants to spend with his family, and completing a book he started 10 years ago, From Outhouse to White House, an autobiography that in part traces his trajectory from janitor to a job at the White House.
Bryan still looks 50 and has the energy of a 40 year old, but is in fact 74. "It comes to a point when you're 74 years old, you've got to put things in perspective and spend some family time," he said, "but the wife had a tremendous influence on the decision." She doesn't influence his decisions on buying cars, which is why he has so many, he says, But this is different. "I've got a lot of things going on personally."
Clearly, then, his decision not to run is not for lack of interest, seriousness or enjoyment of holding office, an enjoyment apparent in the long list of accomplishment with which he prefaced his announcement this morning. (Even this afternoon, he was just returning from a meeting with the developer of Flagler Beach's downtown hotel, which is breaking ground later this year.)
Some of the accomplishments reflected his involvements beyond the confines of the commission chamber, such as his initiatives to secure grants from local merchants to improve Veterans Park grounds and benches there, at the pier and at the Pal and Erma Parker Park walkway.




Many of the policy accomplishments were more collective efforts with the rest of the commission that he pushed (the elimination of smoking from beaches and parks, an update of the commission's civility ordinance, updates of parking and littering ordinances). He also included a list of ongoing initiatives. (See the live post here, or an image here.)
But Bryan's tenure has not been without tensions and strains, especially as something of a divide has grown between Commissioners Eric Cooley and James Sherman, and Mayor Suzie Johnston, on one side, and Bryan and Commissioner Jane Mealy on the other, with Phillips generally in the middle, but leaning on key issues Bryan's and Mealy's way. Bryan has been a champion of City Manager William Whitson's administration, as has Mealy. Cooley has at times wanted to fire Whitson.
Sherman hasn't gone that far, but was supportive of placing him on probation last year–a move initiated by Phillips. The strains were the result of what Cooley and Sherman, and Phillips to some extent, saw as poor communication from Whitson's part, and the aftershocks of a series of missteps on Whitson's part that led to the cancellation of last year's fireworks display on July 4 and the messy handling of the rebuilding of the Funky pelican restaurant's dumpster pad. Whitson's evaluation bore the summer's scars, but–ironically–the fall's storms eased tensions as he was able to display a stronger focus on storm response and the aftermath.
Still, depending on who will fill Bryan's seat, Whitson has reason to be nervous about his future. One of the candidates, Belhumeur, makes no secret of his desire to fire Whitson. Others are more guarded.
"It has been an honor and privilege to serve many communities in the past, including Flagler Beach for the last three years," Bryan wrote, saying he would support Phillips's reelection. "I am confident Flagler Beach will continue to prosper and grow with leaders such as Commissioner Debbie Phillips."




The post drew over a dozen responses, all positive (Bryan said he did not delete any), including one from Phillips: "I cannot thank you enough for endorsing me for re-election," Phillips wrote him below the same post. "While your not running is bittersweet, I know you and Lauren will be having amazing adventures in the very near future. Blessed to call you my fellow Commissioner and friend."
Shortly after his election to the commission, Bryan was sued for defamation by Sunbelt Land Management, the company related to the development known as The Gardens along John Anderson Highway. The company alleged that Bryan had defamed the company by falsely claiming that it had conducted a clear-cutting operation on land in St. Johns county. The allegation was made during a town hall style meeting led by a community group opposing The Gardens at the time.
Bryan was a board member of the group. The company has since added Sally Arnoff, another board member, as a named party in the lawsuit. Bryan has held that whatever statements he had made were true, and could therefore not be the basis for a defamation lawsuit–or that the statements were made "with the reasonable belief that the statements were, in fact true."
Defamation lawsuits are difficult to win when brought by public officials, who must prove that the statements they deem defaming were not only false, but made with malice and reckless disregard for the truth–an extremely high standard to meet. But the standard does not apply to private companies.
It was partly on the strength of his involvement with the group, Preserve Flagler Beach and Bulow Creek, that Bryan–a former county commissioner in St. Johns–was elected to the city commission. His three-year tenure on the commission has been quite conciliatory to The Gardens, however. The development cleared all regulatory hurdles through county government and construction is proceeding. But the lawsuit has continued to shadow Bryan, with the attendant burdens of any civil suit.
The next hearing in the matter, a motion to dismiss the case, is scheduled for March 23 before Circuit Judge Chris France.