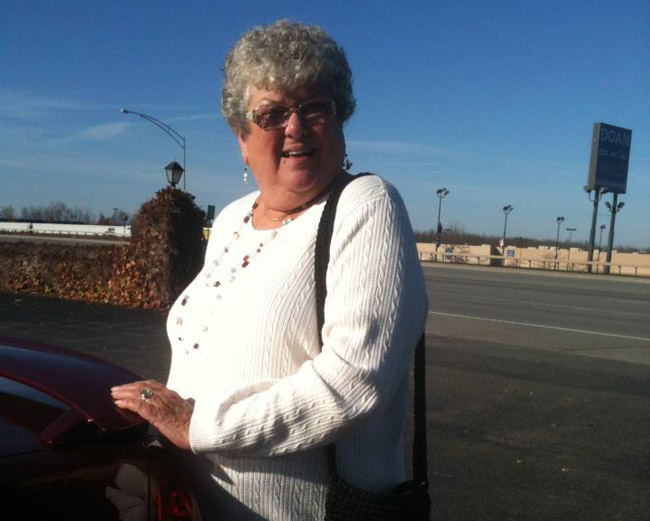 It's Lord of the Flies on a school bus. Four middle school boys unrestrained by any sense of civility or compassion revert to a primitive state, savaging their prey: a 68-year-old woman, ostensibly their bus monitor. The boys taunt, insult, demean, often in language inspired by slasher movies: they speak of torturing her, eviscerating her. The only thing that may have kept them from becoming physically violent is the presence of a bus driver, or other students on the bus: witnesses, though it doesn't appear as if either the driver or other students are concerned with the assault, which goes on for 10 minutes. The four boys have become a pack, feeding on each other's frenzy as they exult in their cruelties.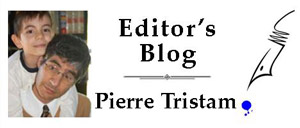 The woman is Karen Klein of Greece, N.Y., a suburb of Rochester. The students are seventh graders at Athena Middle School, a middle school like any other. Klein is sitting on her own, against the window, alternately looking out, glaring at the students, or, even more painful to watch, trying to engage them in what seems to interest them, a perverted, heartbreaking sort of Stockholm Syndrome in microcosm. It only encourages them to pile on. They ridicule Klein's gestures, taunt her with something she'd like to read, seize on the seeming poverty of her purse, on (to put it politely) the effects of her 68 years on her body, though she is the prototypical woman of advanced age we see every day in Florida. She is the norm, nor the exception. She could be any of the children's grandmother. Or the grandmother of the very child they bullied at school that day.
"Unless you have something nice to say, don't say it at all," she says at one point, her arms crossed, leaning over.
A boy's reply: "How about you shut the fuck up?"
And on they go:
"What's your address so I can friggin' piss all over your door."
"You friggin' just touched her arm flab."
"It's probably all stinky and smelly."
"She probably fucking eats deodorant because she can't afford her own food."
"She's going to die of fucking diabetes because she's so damn fat."
"You're a troll."
They "joke" about stabbing her in the stomach, about how "a whole value meal is going to be coming out of McDonald's."
They ridicule her "sweating." She is actually crying. "She probably miss her box of Twinkies," they say.
"Maybe she is an elephant."
One of the boys talks about his yearbook. "She's going to pick out which kid she's going to rape next."
"Karen you have herpes?"
"Why are you looking at me like that, you want to rape me?" one of the boys says.
"I'll send you a donut, fat ass."
"Did you get that purse on lay-away?"
"Naah, she got it in a fucking garbage can at Walgreens."
One of the students recorded almost the whole thing and posted it to YouTube under the boastful title: "Making the Bus Monitor Cry." The video went viral, as such things do. More than 4 million views in two days. It triggered an odd backlash. Someone set up an online fund-raiser to send Klein on vacation. The goal was $5,000. The fund raised $537,000 by Friday afternoon. There's vindication in that, a sense of collective fury that transcends the helplessness one feels when watching the video. Klein's Facebook page had 146 friends before the incident. She must've received almost 5,000 friend request since, because none are accepted anymore. There's also a measure of disproportion, and a question. How can a bus monitor be so easily persecuted, if not for having been miscast as a bus monitor? Middle schoolers' barbarity is not news to anyone.
The students meanwhile have seen their identities leaked. They've been subjected to death threats. The police in their town has had to patrol their neighborhood to protect against acts of vigilantism. And of course the global court of public opinion is weighing in. The original video amplified the offense to a world audience. The disproportion is boomeranging in spades.
There's no question the students flirted with the savagery of Golding's characters on their lost island. Their punishment should include reading the book. But 13 year olds are responsible for their behavior only up to a point. They're still more than not the reflection of their homes, their school, their society. Prejudices are not yet their own. They're trying out the prejudices they've witnessed the way they try out idiotic hair styles and degenerate behavior. They're acting out the persecuting spirit that christens their daily lives. It'll be easy to point fingers at schools. That's the scapegoat with the most currency these days, schools being the extension of that other bugaboo of small minds: government.
But schools are not at fault here. Parents are. Parents and their prejudices, reflected in their children, or prejudices parents are too lazy to check. Not once, at any point in the assaults on Kline, does one of the children intervene to temper the mob, to cool down, to protect. It's a quiet fear among the children, the fear of going against the grain, itself also a reflection of parental submission to that mob mentality that cheapens our culture and what we accept it to be.
Listen to the attacks: Kline's weight, her supposed poverty, her age, even her sexuality. The most common ammunition in any bully's bag of crud, but also a reflection of the most common prejudices of our culture. She is no different than a 13 year old they might have bullied at lunch, except for the twist of age, which to the students doesn't make a difference. Bullying isn't about the victim. It's about the bullies' cowardice, which—like compassion—is either taught or inherited more than it is inherent to a child's sensibilities. The scene on the bus is itself a window on our culture so rich in persecutions, so poor in individual valor that dares break the mold. In that sense, even the redemptive fund-raiser on Kline's behalf is, aside from its original creator, the result of a different type of mob mentality, however positive and joyful the outcome.
Then there's what's sure to follow. The inevitable post-game show. The soul-searching discussion about the whys and hows, which is never a bad thing, but also the exaggerated claims of the downfall of American civilization, the hyperbolic claims about an epidemic of bullying in schools (schools are far safer today than they were a generation ago, when bullying was more typically ignored as a rite of passage), the usual condemnations of younger people who, no matter how you slice their cruelties, could never in a billion years match their elders' more subtle savageries, wrapped as they are in political sanctimony.
There'll also be the parading of the children, who even now may have been hit up by savvy marketer and agents. There'll be talk shows. There'll be People magazine profiles. Dancing with the bullies. Almost certainly a few joint appearances between bullies and Ms. Kline on, if not an Oprah special, something approximating the national therapist's couch. There's money to be made here. Before it's over Klein and the children might well want to run off to a desert island of their own.
Together, now that they're joined for good for what remains of Klein's life.

Pierre Tristam is FlaglerLive's editor. Reach him by email here.