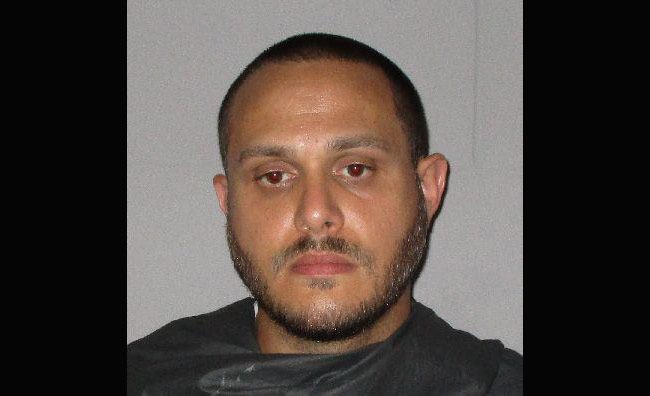 Joshua Laks, a 34-year-old resident of Karlstad Place in Palm Coast, was arrested Tuesday morning after confronting his child's mother, a 25-year-old third-grade teacher at Belle Terre Elementary, in the school's parking lot shortly before the first bell.
The teacher's 7-year-old nephew was with her and witnessed at least a part of the confrontation. It was the latest in a series of clashes between the Laks and the woman, one of which led the teacher to file for an injunction for protection against domestic violence two years ago. Tuesday, she was granted a temporary injunction pending a final judgment next week.
Based on court records, it is Laks's first arrest in Flagler County, but he has a long history of arrests in Volusia County–for domestic violence (several times), aggravated battery, cocaine possession, trafficking meth, burglary, disorderly conduct, and other charges.
Laks and the teacher had lived together previously and have a 4-year-old son in common. They have not been together in three years, according to Laks's arrest report. An injunction document indicates she moved out of the Karlstad Place house in June 2015. In her petition for an injunction that month, the teacher documented, in a five-page chronology, a series of incidents in which Laks allegedly made threats, cursed, drank heavily and degraded the teacher often with no heed to whether their child or other family members were present, including in one case on the day of his son's birthday.
In one documented instance, Laks allegedly screamed at his 2-year-old son for spilling water out of the tub while the child was taking a bath and told the child, according to the teacher's account, "you fucking piss me off–do it again and I'll beat your ass." The child cried for his mother, and as she was consoling the boy, Laks allegedly groped her and demanded sex "since I am paying the bills," he told her. The teacher reported being "terrified he was going to hit me" when she told him off. She moved out five days later. The teacher subsequently tried to maintain contact so her son would have a relationship with his father, but in one instance when she took the child to his father's house another confrontation ensued and required the intervention of law enforcement. There were no arrests.
Two years ago Laks filed a court petition to determine the child's paternity in an apparent attempt to deviate from child support responsibilities. The court judged him the father, according to court records.
Tuesday morning, video surveillance showed that Laks had arrived at Belle Terre Elementary at 8:17 a.m. and waited there until the teacher arrived in the parking lot. The teacher had just dropped off her son at a VPK, where, as she told deputies, she had noticed a gray Nissan she had lent Laks leaving the VPK's grounds, suggesting that Laks been following her earlier that morning. She parked her car at Belle Terre at around 8:30, when she noticed Laks in the Nissan.
She first tried to get her nephew to safety in the school but just then Laks started throwing eggs at her car, then "proceeded to yell at her and threw a Lego souvenir cup, striking her in the leg," according to his arrest report. He picked up the cup and allegedly threw it at the teacher a second time.
Laks, according to his arrest report, admitted to throwing the cup at the teacher but said he never struck her, and that he was "just trying to show that their relationship was over due to the cup symbolizing a family vacation between the two." As to the second time he threw the object, he said he was merely trying to get it into the vehicle.
Laks was trespassed from Belle Terre Elementary, and the Department of Children and Families was informed of the altercation. He is a part-time facilities clerk in Parks & Recreation Department in Palm Coast, a city spokesperson said. "It's our policy to review such a case to determine if an employee should be retained, reassigned or terminated. We're in that process now," the spokesperson said.