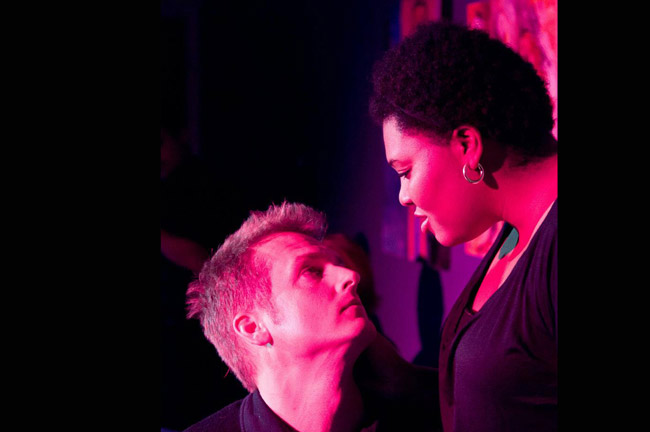 Today's performance will be at 2 p.m. For easy tickets, go here.

In film, in stand-up, in literature or at the theater you cannot go wrong when you let the Bible's hilarity loose—that is, when you laugh with the Bible, rather than at it. ("But as for you God," the poet of Psalm 59 reminds us, "you laugh at them; you mock all nations.")  It can be a hell of a funny thing, assuming its more starched followers can get past what H.L. Mencken once described as Puritans' greatest hangup: "the haunting fear that someone, somewhere, may be happy."
City Repertory Theatre will stage "Scapino!" at 7:30 p.m. Friday and Saturday March 17-18 and March 24-25, and at 3 p.m. Sunday March 19 and 26. Performances will be in CRT's black box theater at City Marketplace, 160 Cypress Point Parkway, Suite B207, Palm Coast. Tickets are $20 adults and $15 students, available online at crtpalmcoast.com or by calling 386-585-9415. Tickets also will be available at the venue just before curtain time.
Click On:
---
If you know anything about "Joseph and the Amazing Technicolor Dreamcoat," the Andrew Lloyd Webber and Tim Rice creation that followed on the coattails of "Jesus Christ Superstar" 40 years ago, and that opens tonight at Palm Coast's City Repertory Theatre, you know that it's scripted to make audiences quite happy once they submit to its central premise: the translation of Scriptures into modern slang, whether it's a Pharaoh retelling a dream as an Elvis impersonator or Joseph singing his conceit to the soft-rock bounce of go-go dancers. (The production features 20 actors and dancers.)
It's almost out of character for John Sbordone's City Repertory Theatre—the sort of play he would have staged during his years at the Flagler Playhouse, but nowhere near the radical and innovative sort of productions CRT has specialized in since it opened its first play two years ago with "The Laramie Project."
But this is the opener for CRT's third season, the first of seven plays (and two shorter evenings) that will have their share of cutting-edge theater. There was room for Lloyd Webber's dreamcoat, if only to inaugurate CRT's remade  space at Hollingsworth Gallery, where it's been using a cramped storefront for two years. A wall has been removed, a stage has been built, along with the imaginative use of two-by-fours.
"We were looking for something to open our new space with, and we were looking for a musical, and we bantered about doing 'Rent' for the longest time, but we thought it was too big, too loud for the space," Sbordone said. There was talk of doing "Godpsell." CRT couldn't get the rights to that one. "So we went back to Joseph thinking this: we could do it in a way that would be different from anything we had done before and perhaps anybody else had done before. As we renovated the space we designed it to accommodate this  play. So literally with 20 actors—and you know our space—20 actors in the space, we are using every nook and cranny," including climbing areas on the walls so some of the songs are performed with actors hanging above the audience.
"Joseph and the Amazing Technicolor Dreamcoat" is easy on the ears, if not the eyes. Before Dolly Parton's "Coat of Many Colors," there was Joseph's—not Jesus's surrogate dad, but the Joseph of Genesis, his brother's jealousies (over his coat), his slavery in Egypt, and his playing Sheherazade to a pharaoh's dreams with lines fit for a standup routine: Noble king, there is no doubt/What your dream is all about./All these things you saw in your pajamas/Are a long range forecast for your farmers. In the end he's reunited with the brothers who sold him off and all is forgiven.
"We realized with 'Joseph' that it was possible to put together something continuous without a narrative line, without that ghastly moment when the violins are lifted, and the dialogue stops," Lloyd Webber told an interviewer in 1976. "Without realizing it at first, we found that you could switch styles crazily throughout the whole thing, mixing up musical comedy numbers with calypso, country and western and Elvis Presley. And the basic story is such a good plot."
The work originated as a 15-minute cantata as a performance piece for the boys of St. Paul's School in London. Lloyd Webber and Rice despised dialogue. They loved musical numbers for their own sake. Joseph's story was a great hook, whose more sacred meanings they really didn't give a damn about. They just wanted the simple plot and relatively recognizable characters. It grew from there, with numbers added on year after year until, making it through various stages around the British Isles, it landed in the West End as a two-act show. Lloyd Webber has never been accused of being an groundbreaking artist as much as a crowd pleaser, a manufacturer of melodies that have been going viral since "Jesus Christ Superstar" turned into one of the most lucrative musicals of all times.
And of musicals that keep getting staged all over the world. "While it is a play that other people do, we don't think anybody is going to have done it quite like we're doing it," Sbordone says. "One of the innovations we're doing as well, we think is fun, is that each of the brothers wears an identifying scarf. And when Jacob gives the coat to Joseph, we take their scarves away and build the coat out of their scarves, and at the end of the show they give them back to him," after he saves them.
"Joseph" stars CRT mainstays: Kelly Nelson, Brett Cunningham (who is now president of CRT's board), Laniece and Josh Fagundes, all of whom were in "Hairspray" when Sbordone staged it at the Playhouse, and all but Nelson were in "Jesus Christ Superstar" there. The cast also features the brazen and cheeky Jonathan Haglund, who appeared in "Laramie" and "Art" in CRT's first year, and who'll be playing two roles—Jacob and Potiphar—as "combination George Jessel and Groucho Marx" Sbordone says. He'll even be allowed to make bad jokes, though it can't get much worse than some of the lines in the musical ("And now this coat has got our goat.") If Thomas Mann were around though, he'd probably laugh. His own Joseph could have used a little Haglund.
City Repertory's productions this year will include "Dr. Jeckyll and Mr. Hyde" in October, followed by "Love, Loss and What I wore" (the play by Nora and Delia Ephron), David Mamet's "Race," Tom Jones's musical "I do! I Do!" "I never Saw Another Butterfly," a one-act play that tells the story a child who survived the Holocaust. That play will be paired with a production of Adam Fisher's "An Everlasting Name," a liturgical service adapted for the stage, also to commemorate the victims of the Holocaust.
"We are doing a season that has some very, very difficult pieces," Sbordone said. "The craziest piece you're going to run into is 'The Complete Works of William Shakespeare, Abridged,' in which all 37 plays and some sonnets are covered in an hour and a half. Some of them backwards. I think we do 'Hamlet' backwards. It has some rip-roaring parts. We'll see how people respond to the name."

"Joseph and the Amazing Technicolor Dreamcoat," by Andrew Lloyd Webber and Tim Rice. Directed by John Sbordone, Choreographed by Diane Ellertsen. The musical will be staged Friday, Sept. 13, at 7:30 p.m. (sold-out), Saturday, Sept. 14 at 9 p.m., and Sunday, Sept. 15 at 2 p.m., then Sept. 20, 21, 27 and 28 at 7 p.m., and Sept. 22 and 29 at 2 p.m. At Palm Coast's City Repertory Theatre, 160 Cypress Point Parkway–City Marketplace–at Hollingsworth Gallery. Tickets are $20 for adults and $15 for students and children. To easily buy tickets online, go here. Call 386.585.9415 for more information.