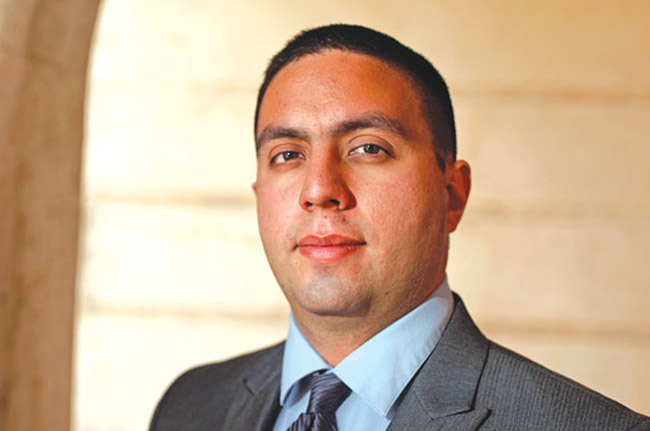 A law-school graduate, who became an undocumented immigrant as a child when his parents overstayed their visas in the United States, is now a key step closer to becoming a Florida attorney.
The Florida Board of Bar Examiners on Tuesday recommended the state Supreme Court admit Jose Manuel Godinez-Samperio, of Largo, to The Florida Bar.
The action came less than two months after Gov. Rick Scott signed into law a bill (HB 755) that allows "Dreamers," undocumented immigrants brought to the country as children, to be eligible for The Bar.
"I've been waiting for over three years and the dream had seemed so far away," Godinez-Samperio told The News Service of Florida on Tuesday. "Now that it's happening, now that it's becoming reality, it's unspeakable."
The Board of Bar Examiners recommendation followed a lengthy legal fight, which spurred state lawmakers to pass the bill aimed at allowing Godinez-Samperio to practice law. Godinez-Samperio received notice in September 2011 he had passed the Bar exam.
Talbot "Sandy" D'Alemberte, a former president of the American Bar Association and former dean of the Florida State University law school who represented Godinez-Samperio during the legal fight, said he has been waiting several weeks for the Board of Bar Examiners to forward the recommendation.
"I'm going to be shocked if we don't get immediate approval by the court," D'Alemberte said. "I hope that I'm not being too optimistic, but I think it's very likely to come through."
The court also would set a date for Godinez-Samperio, who currently works as a paralegal providing legal services on tax and affordable-housing issues, to be sworn in.
Godinez-Samperio moved to the United States from Mexico at age 9 and remained with his parents after their visas expired, which meant the family was here illegally.
He became an Eagle Scout, was valedictorian of his high school class, graduated from New College of Florida in Sarasota and attended law school at Florida State University before passing the Bar exam.
He received a waiver from showing his immigration status so he could take the exam in July 2011.
"At that point I thought I was fine," Godinez-Samperio said. "Instead, I got a letter saying they were going to have to ask the court for an advisory opinion."
Godinez-Samperio was blocked from admission to The Bar because he was not a U.S. citizen. In March, the Supreme Court upheld the prohibition, which led to the legislative action.
Cuban-born Justice Jorge Labarga, who was sworn in Monday as chief justice, "reluctantly" agreed with the majority in March, but offered his own strongly worded opinion that called on the Legislature to change state law to allow so-called "Dreamers" to become attorneys.
Labarga's opinion was used during Senate debate on the bill and was highlighted during the chief justice's swearing-in ceremony, which raised D'Alemberte's optimism that the court will act swiftly.
The law expands eligibility to The Bar to people who were brought to the country as children, have been residents of the United States for more than a decade, have received documented employment authorization from federal immigration officials, have been issued Social Security cards and, if they are men, have registered with the Selective Service System.
Scott on May 12 signed the bill into law and it became effective immediately. The bill was one of two that lawmakers approved on the final day of the legislative session that opened doors for "Dreamers."
The other measure (HB 851), a priority of House Speaker Will Weatherford, will allow undocumented students to pay cheaper, in-state tuition rates at colleges and universities if they attend three years of secondary schooling in Florida. That law went into effect Tuesday.
–Jim Turner, News Service of Florida