Political Advertising Paid for by Jon Netts, Palm Coast City Council, District 2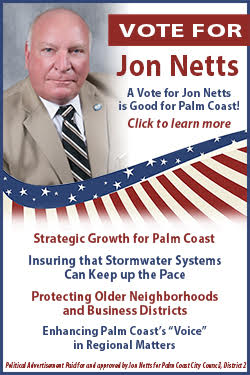 Jon holds both a Bachelor's and a Master's degree in Science and completed his Doctoral Coursework in Administration, Policy and Urban Education at Fordham University. Jon served as a classroom teacher, a district-wide school administrator and before retiring, as the Director of the New Jersey Provisional Teacher Training Consortium for the State's Department of Education. Jon was a licensed Real Estate Broker and taught college courses in Real Estate Law and Investment.
While in New Jersey, Jon served eight years on his local Planning Board and four consecutive terms as a City Councilman. He served as a Red Cross Chapter Chair, as Vice-President of the New Jersey Council of Red Cross Chapters, as Statewide Volunteer Administrator-Director for Health and Safety Services, and on the Red Cross National Volunteer Faculty for First Aid and Water Safety.
In 1992 Jon and his wife, Priscilla, moved to Palm Coast and have lived here ever since. As a Palm Coast resident, Jon served on numerous local and regional Boards and Committees including; Director of the Palm Coast Historical Society, Director of Enterprise Flagler, and Executive Board member of Flagler Habitat for Humanity.
Jon chaired the Flagler County Advisory Committee on School Impact Fees and served on other Flagler County Committees including the "Law and Public Safety Advisory Council", the "Intracoastal Regulation Committee" and the "Blue-Ribbon Landfill Advisory Committee". Jon is a graduate of "Leadership Flagler." Jon was appointed to the Florida Fish and Wildlife Commission's statewide Boating Advisory Committee on Boating Safety.
Jon was appointed by Gov. Jeb Bush to the Board of the Northeast Florida Regional Council and by Gov. Charlie Crist to the Board of the Florida Inland Navigation District (FIND) where he recently served as Chair. During his time on the FIND Board, Jon has helped bring over 2 million dollars in competitive grants to Flagler County and its Cities. The Northeast Florida Regional Institute honored Jon with their "Excellence in Leadership" award. He was featured in Florida Trend Magazine as "a man to watch" for his environmental initiatives.
Jon's regional expertise led to his appointment as a Commissioner representing Flagler County on the Northern Florida Regional

Transportation Study Commission. In that same year, Jon was named "Golden Eagle Honoree" by the Central Florida Boy Scout Council.
Last year Jon served as Chair of the Board of the Regional Community Institute; a seven-county public/private "Visioning Committee."
Jon served as Palm Coast City Councilman for District 2, and later as Mayor of Palm Coast and as such, was twice named "Citizen of the Year" by the Elks Lodge 2709.
Jon is a Coast Guard Licensed "Master" and in his spare time works as a towboat Captain for TowBoat US.
Jon's knowledge and experience are wildly recognized. Look at what others have said about him:
"In the 10+ years that I have known and worked with Jon. I have found him to be experienced, thoughtful, professional, timely, decisive, intelligent, educated, informed, and fair and balanced in all matters."
Mark Crosley, Executive Director
Florida Inland Navigation District
"Jon is one of the brightest elected officials I've ever known in my career. He understands issues."
Brian Teeple, CEO
Northeast Florida Regional Council
Jon has identified issues that will be important as Palm Coast enters a new era with a new City Manager and a relatively new City Council. Among them are:
· Developing a more collegial working relationship with Flagler County. We need to reestablish joint meetings of the County Commissioners, School Board members and elected officials from all five Cities. Working together, we can accomplish more than working in isolation.
· Focusing on "strategic growth" for Palm Coast. Growth, for growth's sake alone makes little sense. Growth means a corresponding need for infrastructure. If we don't insure that growth will pay for itself, then existing taxpayers will have to shoulder the burden.
· Insuring that our Stormwater system can keep up with growth and expansion. While a "swale system" such as ours is environmentally friendly, it requires more, and more frequent maintenance. We need to ensure that the system can handle not only routine drainage, but Nor'easters and hurricanes as well.
· Protecting our older neighborhoods and business districts. As the City continues to grow, we need to make sure that existing residences and businesses are not left behind.
· Enhancing Palm Coast's "voice" in regional matters. As part of Northeast Florida, we need to have a voice in regional affairs such as the "Regional Planning Council" and the "River to Sea Transportation Planning Organization." Their actions affect us every day.
· Making "Public Safety" an ongoing priority. As Palm Coast grows, we need to make sure that our Police and Fire capabilities keep pace.
Contact Information:
17 Flintstone Ct
Palm Coast, Fl – 32137
386-445-2121
Note: The candidate's photograph and statements are supplied by the candidate and are neither endorsed nor verified by FlaglerLive.