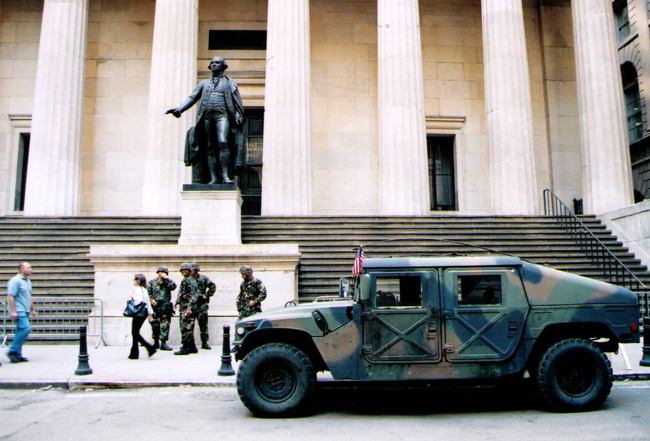 In the Ray Stevens-John Pollinger battle over the Republican primary for Flagler County Sheriff, nothing is sacred—not even the invocation of 9/11.
Starting Friday, the Stevens campaign began circulating word that Pollinger had been the target of a federal lawsuit over his handling of personnel matters during the 9/11 crisis—that he'd barred officers from his police department in Middletown, N.J., from helping in Lower Manhattan, even on their own time. Different Stevens campaign supporters sent the legal opinion to FlaglerLive. By Sunday evening, Stevens was himself circulating a link to the legal opinion, with the line: "Yet another reason Pollinger should not be sheriff. Click on link below, please forward." By Monday, Stevens's new line of attack had reached the News-Journal's Frank Fernandez, who interviewed Stevens in turn.
The odd thing is this: the legal opinion—an appellate decision by the U.S. Court of Appeals for the Third Circuit—could have just as easily been circulated by Pollinger. It takes Pollinger's side as categorically as it dismisses the claims of the plaintiffs. Speaking for a unanimous court, Judge Julio Fuentes not only affirmed a lower court decision ruling in Pollinger's and Middletown's favor, but devoted the majority of his  decision to paint the officers as rogues and to "underscore our own agreement with that" lower court decision.
Additional material Stevens's supporters sent to media underscore the legal decision and make Pollinger's point further: that while he had, in fact pulled back his ranks from Manhattan, he had done so in obedience to statewide orders in new Jersey and New York to police and other public safety agencies to quit sending volunteers uniformed or otherwise, because the city was overrun with them, and didn't need them. Pollinger, in order words, acted in accordance with orders.
"The issue here is not how did they do at the appellate level, but what was Pollinger thinking when he refused to allow people on their own time to go assisting," Stevens said in an interview. "That's the bottom line. How it shakes out at the appellate level is not what's at issue here."
Yet the case revolves around the claims of police officers under Pollinger's command, in that district and appellate decision.
"For Ray Stevens to question my judgment as well as my decisions on surrounding the events of  911  is a new low point, even for him," Pollinger wrote in an email. "Thankfully he will never experience in his lifetime, the murder of  thirty-seven people in his community in one single day, in such a public way and make the decisions I had to make."
By the court's own account, the case was complicated. Michael Rubino, Gerald Weimer and Wayne Bradshaw were Middletown police officers. Pollinger sent them, and many others, to Manhattan on Sept. 11 to help with the rescue effort, as did many police and fire chiefs around the country. The next day, however, Pollinger pulled back the officers in accordance with demands by authorities in New York and New Jersey that volunteers reverse course. At 9:57 p.m. the evening of the attacks, New York Mayor Rudy Giuliani had issued his first public announcement that no more volunteers were needed, "not even for the evening's rescue effort."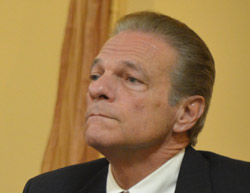 An hour later, a state police teletype was sent to all police receivers, county prosecutors and police stations" on behalf of the highest New Jersey officials, thanking volunteers but deactivating the emergency response and staging areas in New Jersey (which had anticipated a flood of casualties that never materialized), and "releasing all emergency response groups to return to their communities. We are requesting that all emergency response groups remain in their communities unless specifically requested by the N.J. State Police." A subsequent police communication from the New Jersey Ofice of Emergency Management specified that New York had not requested police assistance from New Jersey, though it might in future. Yet again, on Sept. 17, a third police communication was issued reiterating specifically the order that "county and police agencies are again requested not to send manpower into New York City," including police officers and firefighters going into the city with their own personal vehicles.
The Saturday after the attacks, the New York Times reported: "There were thousands of volunteers sitting around with nothing to do but eat donated cookies. There were the crash-site crazies who pose as marines and priests and firemen. There were reporters milling around disguised as construction workers. There were men drinking in bars that had their windows blown out. There were tens of thousands photos taken. Some people stood and smiled and posed. There was too much traffic for the trucks to move in and out effectively."
In other words, volunteers were interfering with crisis management rather than helping to ease the crisis.
For all that, Bradshaw, Rubino and Weimer sued Pollinger. Rubino claims his First Amendment rights were violated when he was forced to quit volunteering in Manhattan. The court didn't buy it. "Rubino's concern," the court wrote, "took the form of challenging Pollinger's orders persistently, flagrantly, and in front of others. We agree with the District Court that Rubino's expression of his concern was outweighed by the public interest in maintaining obedience, order, and discipline in the police department, especially in a time of crisis that was the time period immediately following the attacks of September 11." The court reasoned similarly against the claims of other officers, though the specifics of those claims differed from Rubino's (who was demoted). The case also involves one officer sending horse manure to other officers' homes, over comments those officers had made about the man's dead son, and Pollinger suggesting they seek counseling. The court, in the end, sustained no claim against Pollinger.
Stevens said he hadn't read the entire case. But, he said, focusing on the 9/11 matter: "The case against Pollinger here is more symbolic than anything else." Running for sheriff is like applying for a job, Stevens said. "If he had refused to allow his people to return to Ground Zero at the request of the NYPD, I think that may be reflective of his future performance here as sheriff."
The record stresses that there was no such request. Officers disputing Pollinger's order said their own sources, unspecified, had requested their help, but Pollinger had official directives to pull back his troops. "These people wanted to go down, these officers wanted to go to NYC on their own time, and he refused to allow them to go, there was a shouting match," Stevens said. Stevens was not in the Ossining Police Department at the time (he'd moved to Florida). The department, he says, sent 10 officers. Their help was needed at various places in Manhattan, he said.
Stevens boils down the issue to what he describes as "a question of ideology. Pollinger and I are 180 degrees apart, diametrically opposed on ideology." If a police department asks for help, Stevens said, help must be provided—again repeating the notion, not supported by the record, that the NYPD was seeking help—though it was officially turning it down.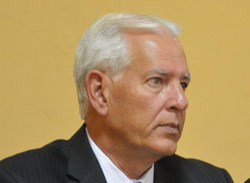 To Pollinger, the lawsuit "was a retaliation for the re-assignment of a popular member of the department as well as a personal squabble between factions of the current and past union presidents."
The unearthing of the lawsuit is the latest episode in a string of attacks that have characterized the Stevens-Pollinger race, which also featured incumbent Don Fleming (the third Republican in the race). Stevens's ex-campaign manager, Anne-Marie Shaffer, sued Pollinger over his Republican registration, claiming he should not be on the ballot because while he was registered Republican in Florida, he had still been a registered Democrat in new Jersey, a state he left in 2008. Flagler County Circuit Court Judge Dennis Craig ruled against Shaffer, who has appealed the decision to the Fifth Circuit Court of Appeal.
The amount of publicity the case generated, however, does not appear to have helped Stevens's case as much as it has Pollinger's. He raised less than $1,000 in the three months ending on July 6 (not including a $1,000 contribution to himself), from just 13 contributors, compared to the $9,600 Pollinger raised (not including an additional $4,000 loan to himself, or $950 in in-kind contributions) from more than 120 contributors. Fleming raised $9,560 in the period.

Bradshaw vs. Middletown & Pollinger: The Full text
Download Bradshaw v. Middletown