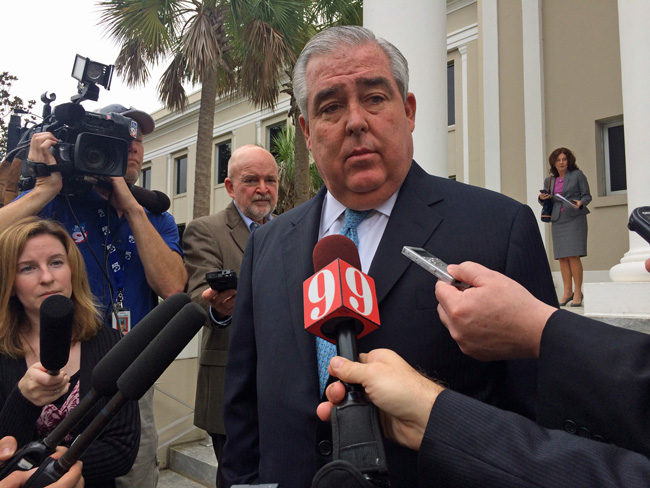 Orlando trial lawyer John Morgan is spearheading a move to pass a constitutional amendment that would legalize medical marijuana in the state, putting millions of dollars of his own money and his considerable public-speaking skills behind it. He's also backing an employee of his law firm — former Gov. Charlie Crist — in a bid to unseat Gov. Rick Scott in November.
Meanwhile, Morgan continues to expand the law firm he founded in 1988, taking the slogan "for the people" and vowing never to take a case representing an insurance carrier or a large company. Morgan and Morgan has 26 offices and 260 lawyers; its founder has made a fortune in personal-injury litigation and written a book on how he did it.
Morgan graduated from the University of Florida, where he was president of the leadership fraternity Blue Key. He graduated from UF's Levin College of Law in 1982. He and his wife, Ultima, have four grown children.
The News Service of Florida has five questions for John Morgan:
Q: How do you like your bet on Charlie Crist now, with so many people saying they're turned off by the negative tone of the governor's race?
MORGAN: Well, I think what Charlie will do is — you know, Charlie is one of the most straightforward and, in my mind, courageous politicians in Florida. And I'll tell you why. When he was the governor of Florida, he had a climate-change summit, he extended voting hours and voting days, he restored felons' rights, he stood up to insurance companies and he took the stimulus money when the country was falling off the cliff. And that was not what was in the Republican playbook. And I think if Charlie just tells his story about being an independent, middle-of-the-road person who puts people ahead of politics, he'll be fine. So I think that's what he's got to do.
People say, "He left the party." … When one party becomes so extreme, that's when people start leaving. Jeb Bush said that Ronald Reagan couldn't win the Republican nomination today. It's just a different day. And at the end of the day, this election is going to come down to one simple question: Who do I trust most with my family's future, with the state's future? And I think Charlie will do well with that question.
(But Scott is spending $100 million to convince people not to trust Crist.) Well, I know. Rick has more money than Charlie will ever have. And Rick was willing to spend his money to be governor. But you know, Mitt Romney had a billion dollars and basically didn't move the needle. I think these people who spend all this money make a big mistake, because at the end of the day people are smart, they get it, they remember and they can't be fooled. And money never trumps trust. That's why I think Charlie will win.
Q: You've got heavy-duty opposition on Amendment 2 now, with Gov. Jeb Bush against it and Sheldon Adelson contributing $2.5 million to stop it. Are you getting worried?
MORGAN: No, I'm not worried at all.
You know, if Amendment 2 fails — it's not for me; it's for everybody. If it ever happened that I needed medical marijuana, I'd go to one of the 20 states (where it's legal) and get it. Some people can't. If it fails, it doesn't impact my life at all.
But I'm not worried because, again, I believe that the people of Florida are compassionate, I believe that they get it, they understand that this is not really a political issue — it's a medical issue. An overwhelming number of doctors, in a recent CBS poll, 76 percent are in favor of it — and Floridians trust doctors. And so I'm not worried at all about it.
Q: Already there's confusion over how the state will administer the "Charlotte's Web" non-euphoric medical marijuana law, which was approved by the Legislature this spring. How can Florida avoid being another Colorado or California, as your critics charge, with pot freely available?
MORGAN: What I say to those critics is: This has nothing to do with California or Colorado. In Colorado, marijuana is legal, period. California is the model for what not to do. What I would tell the critics is this: You never hear them talking about the 20 other states that have medical marijuana. I would tell them: Take a trip out to Arizona, which is a very conservative state, led by very conservative leaders. Look how it's working out there.
At the end of the day, Amendment 2 is just phase one. Phase two is the enactment, and how we enact this. And instead of, you know, having our hair on fire about Colorado, where medical marijuana and marijuana are legal … don't look at that state, look at the other states. And when you do, you'll go, "That's OK."
And for the people who are opposing this, you know, saying that we're going to have doctors running amok, I have to tell you, trust doctors more than they do. You're going to have rotten apples in every profession. But the large majority — or 99 percent — of the doctors in the state of Florida, I find to be highly ethical. They understand what "debilitating" means. They're not going to just pass out marijuana like Halloween candy.
So I would tell them: Trust doctors like I do. Take a look at Arizona, take a look at the other states and quit scaring people with a state like Colorado, where marijuana's legal. It's apples and oranges.
---
for the people who are opposing this, saying that we're going to have doctors running amok, I have to tell you, trust doctors more than they do.–John Morgan
---
(What do you think of the way the Florida Department of Health is handling the development of a policy for Charlotte's Web?) I think it's bad. I think it shows that, you know, this was done — and I commend the Gaetz family. I commend (Rep.) Matt Gaetz for sponsoring it, and I commend (Senate President) Don Gaetz for confessing that years ago, when his best friend was dying, he went out and bought marijuana illegally because his friend was dying and needed relief. I think history is going to judge the Gaetz family very favorably.
But I would say that when you look at the way that Rick is enacting this law, there's too much cronyism. So you've got to have been a grower in the state of Florida for 30 years, even though you've never grown marijuana. They don't know anything about it. It's like telling somebody that's, you know, been a brick mason their whole life that you're going to be the person who's going to do the exterior painting. There's two different specialties. It should be you bring in whoever is the most qualified to provide us with the best strains for these children with epilepsy, instead of trying to pay favors back to, basically, five growers. I mean, 30 years is a long time, and so to say that five growers are the only people who can grow it, to me, is kind of a snub at the free enterprise system.
Q: How will you get your potential Amendment 2 voters — not known for voting in midterms — to the polls?
MORGAN: Well, I think I'm going to have a huge database, and I have a way to talk to voters who may be interested. And what I'm going to tell them is this: Look, I've carried this ball as long as I can, and I've got us on the goal line, but if you don't get up out of bed and go get an absentee ballot, or get out of bed and go vote, it's all been for naught.
I was talking to Alex Sink about a month ago, and she said she went to one of these debates, and she'd never seen a more enthused or active group of people who she'd never seen vote. She said, "These were voters I've never seen before, John." And so I have high hopes that people who've never voted are going to vote and people who weren't registered will be registered. And I'm planning on touring the state in a bus and with different people, asking people to pledge to vote for Amendment 2, and asking if they want to vote absentee, to help them get that as well.
Q: The name "Morgan and Morgan" just went up on a building that I pass every day in downtown Tallahassee. If Crist wins, how will your life change? If he loses?
MORGAN: Either which way, my life doesn't change one bit. I'm not a person who enjoys all the inner workings of Tallahassee, so I don't think people — they don't see me there much now, and I don't think they'll see me much there then.
You know, my life has been one that I never could have imagined from where I started. I believe that I have all the material things that I ever could have dreamt of or ever could have deserved. If I won the Powerball lottery today, I don't think my tomorrow would be much different than today. And so my plan, as I now get older, is to focus more on charitable activities and charitable causes than politics. This, or maybe the next presidential election, may be the end of my active role in politics. I'm kind of as turned off about it as all the other Americans that you see. I don't know why anybody would want to do it. I don't know why Charlie wanted to do it. I begged him not to. I tried to talk Bill Nelson into it. But, you know, God bless him for doing it.
But as far as John Morgan goes, the office in Tallahassee has nothing to do with Charlie Crist or Rick Scott; it has to do with Morgan and Morgan. We're expanding all over, we're opening all over in Kentucky right now, getting ready to open up in Philadelphia. We opened in New York City last year. So I can promise you: It's not my anticipated lobbying office, 'cause I don't see that in my future, ever. I would rather be struck by a bolt of lightning than to be up there lobbying those folks. They're not my cup of tea.
–Margie Menzel, News Service of Florida