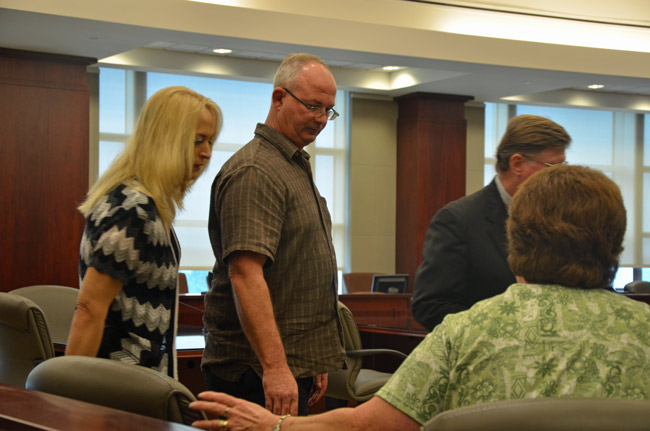 Ex-Bunnell cop John Murray's trial on six felony charges ended this morning in a plea agreement as Murray pleaded no contest to a charge of possessing more than 20 grams of marijuana. Five other charges were dropped. Flagler County Circuit Judge Raul Zambrano sentenced Murray to 18 months' probation and 50 community service hours and $1,000 in court costs. Murray will not serve jail time, but he can no longer be a police officer.
Immediately after John's plea, his wife, Lisa, pleaded no contest to a theft charge in connection with the incident with a Bunnell merchant two years ago that triggered the state attorney's investigation into the Bunnell Police Department and the Murrays' conduct. The theft charge was new. Lisa Murray had originally been charged with official misconduct. That charge was dropped. She, too, will serve no jail time. Her plea agreement diverts her to a pre-trial intervention. She'll be on probation for 12 months and pay $500 in court costs.
John Murray had faced two charges of tampering with evidence, charges of cocaine possession, Xanax possession (without a prescription) and marijuana possession, and official misconduct. At trial on Wednesday, he denied any wrong-doing, saying he took pills as pain medication but had never–as accused–been a provider of prescription pills or other drugs to Dawn Davis, an ex-live-in girlfriend. He also denied having possessed marijuana.
That last charge, his attorney, Michael Lambert said, became a problem for Murray when the prosecution showed him a document, which he had signed, establishing him as the supervisor on a marijuana case in Bunnell in 2009. Murray supervised other cops uprooting marijuana plants on the lot of an abandoned house on Stone Street, but the plants never made it to evidence at the police department. Lambert disputed the prosecution's assumption that the plants were marijuana, but Murray himself, when being deposed by investigators subsequently, had referred to the plants as marijuana, making it difficult for the defense to sustain complete innocence. The plea, however, was a victory for the Murrays, considering the light consequences.
"The only thing we entered a plea to was the marijuana," Lambert said after the plea this morning. "That was the one where he was the supervisor at the scene. So even if it was the other person's responsibility, John is still responsible, because he was the supervisor. So there really was no way out of that. That's why he said–you know, he's not saying that he did it, but he's saying no contest, because I can't contest the fact that it is my responsibility to have checked that and make sure that Wolfle did it, and he didn't do that." Lambert was referring to Bunnell police officer Christopher Wolfle who, when questioned on the stand on Wednesday, said Murray had told him he'd take care of the plants, and not to write a report.
"With regard to all the other charges, he still said I'm not guilty, and the state concurred by dismissing them all," Lambert said.
"That was the most important thing for us is that we wanted to make sure that they can never be police officers again," Assistant State Attorney Jason Lewis said, which means they have to relinquish their certification as law enforcement officers. (John Murray's had expired.) "We're very pleased with the investigation that we were able to successfully get their certification to make sure that they didn't cause any more problems or influence people or do things wrong again."
Lewis said that the plea agreement won't lead to future charges against other people who may have been related to the Murray cases or the state attorney's investigation into the Bunnell Police Department and the conduct of then-Bunnell Commissioner Jimmy Flynt. Flynt had been at at the center of allegations of favoritism, with the Murrays steering business to his wrecker operation. The theft charge against Lisa Murray was the result of her taking $165 from a Bunnell merchant on behalf of Flynt, outside her prescribed duties as a police officer.
Flynt, who had sat outside the courtroom all day in the first day of trial earlier this week, was never called to the stand. A friend of the Murrays', Flynt was not in court this morning, suggesting that he already knew that a plea agreement had been worked out. Last summer the state Ethics Commission found him in violation of ethics rules on three counts–again in connection with favoritism issues within the city–in a case brought against him by Bunnell City Commissioner Elbert Tucker.