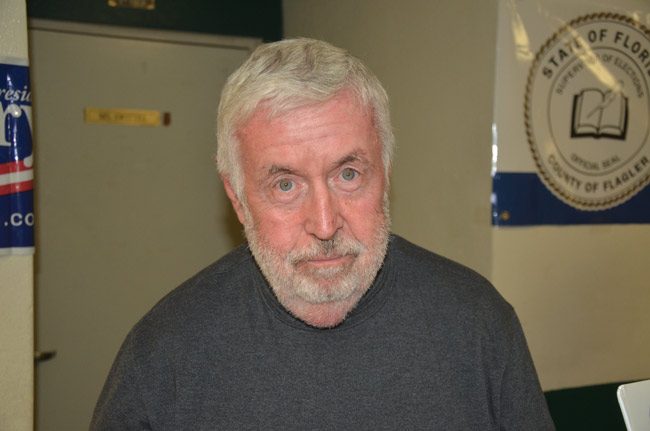 John Brady is a candidate for Palm Coast mayor. He faces three other candidates: Milissa Holland, Dennis McDonald, and Ron Radford.
Since its incorporation in 1999, when all five of its council seats were up for election, Palm Coast has not had an election like this year's, when three seats are open. The council majority, in other words, is certain to turn over, with three new faces in November joining two relative newcomers: Steven Nobile and Heidi Shipley were elected only in 2014. That's because Mayor Jon Netts, who has been on the council since 2001, is term-limited. Council member Bill McGuire resigned effective Aug. 15. And Council member Jason DeLorenzo is running for a county commission seat.
Of all the candidates running for Palm Coast City Council, only one–Milissa Holland–has held public office before. She was a county commissioner for six years. It will not only be the greenest council in 17 years. It is almost certain to be the youngest council, ending an era dominated by mostly retired council members.
This is a non-partisan election. That means all registered voters in Palm Coast, regardless of party or non-party affiliation–Democrats, Republicans, independents and others–may cast a ballot for all three seats, regardless of district.
If a candidate wins more than 50 percent in any of these races on Aug. 30, the race is over: that candidate is the winner. But if none of the candidates clears the 50 percent hurdle in the primary, then the top two vote-getters will face-off in a run-off on the general election ballot on Nov. 8.
Palm Coast council members serve four years. They're paid $9,600 a year, $11,400 for the mayor, not including a monthly "telecommunications" allowance.
FlaglerLive submitted identical questions to all candidates, with the understanding that additional questions might be tailored to candidates individually and some follow-up questions may be asked, with all exchanges on the record. The Live Interview's aim is to elicit as much candor and transparency as possible. We have asked candidates to refrain from making campaign speeches or make lists of accomplishments. We have also asked candidates to reasonably document any claim or accusation. Undocumented claims are edited out. Answers are also edited for length, redundancy, relevance and, where possible, accuracy. If a candidate does not answer a question or appears to be evading a question, that's noted.
But it's ultimately up to the reader to judge the quality and sincerity of a candidate's answers.

The Questions in Summary: Quick Links

Place and Date of Birth: Jersey City, N.J.,   March 22, 1942
Current job: Retired
Party Affiliation: Democrat.
Financial disclosure. Resume
Website: bradyformayor.org
1. What are your top three policy priorities that you pledge will realistically be accomplished by the end of your first term. If they cost money, how do you propose to fund those priorities?
Change in the way the council makes decisions. I think Council should be presented with options instead of a rehearsed PowerPoint presentation. All business needing Council approval would require the preparation of a written document perhaps titled Decision Analysis, outlining the problem, background, options and recommendations. This document in some format (City Web Site is first choice but paper for citizens without access to a computer) would be available at least one week before Council action is required. I would have Department heads back in their office rather than sitting like birds on a wire at weekly meetings. This may eliminate the need for some workshops and should make Council and citizens better informed. The cost here is zero.
Make City government more responsive to the citizens. I would conduct Wednesday with the Mayor events at local businesses. Whether at a City breakfast, lunch or dinner or any other type of business, I would be available for 2 hours. My appearance would be by request and published in advance. The business might choose to make some sort of "Mayor's Special". The purpose is twofold for me: to be accessible and to support local business. I floated this idea by local pizza shops and the owners liked the idea very much. (The late Joe at NY Pizza, Carmello's, Sami's). The cost here is zero.
Forensic audit of water Department: The department has a debt close to $150 million (page 74 of budget) and high rates and high shut off rate. This is a solely owned utility and the City has owned this Department for 13 years and continues to use this utility as an asset to increase the debt of the City. By an estimate I received somewhere in the area of $45 million has been transferred out to pay City operating expenses. There is a leak (pardon the pun) in the Utility Fund and the citizens deserve to know what the problem is and why their rates are so high. The cost here is somewhere in the neighborhood of $25,000 and I would hope to pay out of operating expenses with Council approval. This may return some dividends. If we found money in the budget to build City hall this amount should be a piece of cake.
The council's twice-monthly workshops as they are designed today are intended to accomplish what you describe in your first point–vet every issue analytically and with as much attention as each issue may deserve, which is more than can be said of more limited such workshops in other local governments. How can fewer such workshops be the answer when you are seeking more transparency and council involvement? How would council members have a chance to properly explore an issue without the administrative point person ready to answer questions, if you send them back to their desks? Your "Wednesdays with the Mayor" raise the troubling issue of a mayor showing favoritism toward certain businesses: why at one business and not another? The cost, of course, would not be "zero," as your audience would be expected to spend some money at whatever business you are favoring, for what would then seem like a privilege to address their mayor. Why not avoid the favoritism altogether and conduct periodic town hall meetings on neutral ground, as Jon Netts has done? A "forensic audit" is conducted ahead of litigation. Are you implying that there's illegal activity at the utility department? Can you provide documented evidence that $45 million has been transferred out of that fund for operational expenses of the city? Is it responsible to make such allegations based only on hearsay? There was no "found money" regarding city hall. The administration laid out the source of every dollar, clearly and systematically. There may have been disagreement about whether those dollars should be used for that purpose, but no questions were raised about the source of the money, nor was it ever characterized as "found money." What is your evidence to the contrary? 
John Brady did not answer the question.
Jump to other mayoral candidates' answers: Brady | Holland | McDonald | Radford

2. Cite three issues or concerns that in your view the city is addressing poorly or not at all, and explain how you intend to convince the council to change course.
Citizen involvement: From my talking to people, they do not know and worse some do not care. People do not realize that the City has a large debt and they are shocked to hear that information. Getting citizens involved means the Mayor and Council need to more outreach (see Wednesday with Mayor above). This is a way to reassure reelection and costs zero.
I am thinking of convening workshops on social service issues and bring citizens and stakeholders into City Hall. I would use my social service and adult teaching experience to have all participants hear and speak on issues in the Community. The topics would include homelessness, child abuse, mental health, veteran's issues and senior issues. My goal is to make the City a catalyst in working with agencies and families. Here again the cost is zero and I cannot envision any of my colleagues not wanting part of this project.
The City debt: Time and time again the Mayor has said the City has no debt but page 74 of the City budget tells a different story. [Editor's note: Brady's claim that Jon Netts has stated the city has no debt has not been substantiated.] The City Council in the last two meetings approved over 1 million in payments with little and in the case of the contract with Kline no discussion. [Editor's note: Brady did not provide documentation for his claim, as requested in the letter that accompanied the questions.] The Council needs to be more cost conscience and implementing the analytical approach outlined above may allow Council to make better choices. I want to see Council work smarter not harder with the goal of finding the least costly alternative. The incentive for City Council is that this measure might forestall a tax increase in some form and the cost is zero.
The relationship with Flagler County: The respective Managers do not play well together and we or the County should have to build a bigger sand box. The City Manager has never received an evaluation and any evaluation should contain a section on ability to get along with others and from vantage point that would be an unsatisfactory rating. We need to tell our manager and hope the County does the same, "Shape up or ship out." [Editor's note: Brady answered this question before Jim Landon was evaluated, and the results published.] Here again the cost is zero and the incentive to my mates is reelection if the public sees a chance in the tenor of their relationship. At the same time, I would encourage cooperation with County officials, particularly the economic development to lure more high tech and industry jobs to our area. I would work with County elected officials to sweeten incentives to companies looking to relocate. In the words of Vito Cordleone [sic.], "We would make them an offer, they could not refuse." I would, and hopefully with the cooperation of County elected Officials reach out personally to the leadership of companies that may have an interest in moving here. My mantra would be what is good for Flagler County is good for Palm Coast and what is good for Palm Coast is good for Flagler County. It is my hope that if the elected leadership works together well, the paid staff will get the message. There may be some travel costs as we reach out to companies and we bring our game to them. The incentive to my mates is the positive response and positive press which equals reelection.
The city has not ventured into social policy, leaving that to the county. Are you proposing that radical change? Several advisory councils already provide the sort of coordinated forum and outreach you are proposing through the council, with council representation in most cases. Why the redundancy? You've repeatedly claimed–and at least one other candidate has picked up your claim, without verifying it for herself–that the mayor has said the city has no debt, an assertion you have not substantiated. At what meeting, and in what context has Netts made that claim? Both city and county governments have elaborate economic development efforts afoot. Are you dissatisfied with them? Why wade into the county's efforts when the city has its own? And why are you so concerned with reelection at this stage, when you have yet to be elected to your first public office?   
John Brady did not answer the question.
Jump to other mayoral candidates' answers: Brady | Holland | McDonald | Radford

3. Have you read the city charter? Do you think it's due for a review? If so, by what process. What specifically would you change, add or subtract in the charter, if anything?
Yes I have read and reread it. Yes it's time for a change. Publicize that a review will be done. Ask the citizens to volunteer and fill out an application. City council will review applications and select five people who seem to have the experience and skill sets necessary to perform the task at hand. The Mayor would convene the first meeting and stay involved until the group selected a leader at which point the Mayor steps out. The group would establish their own schedule and report back to Council on a monthly basis. When the group is satisfied, their Charter is published and citizens have two weeks to review and at the same time the city attorney is reviewing the work product. After these reviews the work product is brought to Council for approval.
Charter changes. Section 5 Paragraph 11 add the following, "A city employee may have access to the Mayor or City Council member to lodge a complaint against the City Manager or City Attorney. The Mayor or City Council member will have the authority to review the complaint and report back to City Council for appropriate action"
Section 6 paragraph (3) sub (b) remove last sentence. The City Attorney should live in Palm Coast
Section 7 paragraph (3)sub (e) remove the words "other unfunded" This will make all  contracts over 15 million subject to citizen review
Charter Section 7 paragraph (e) add "The City Council shall not by administrative action overrule the results of a referendum unless a state of emergency has been declared by the Governor or Federal authorities."
So in your approach the council, not the voters, approve the changes to the charter? Should that not be included among your proposed changes to the charter? And how democratic would that be? Council members may not meddle into administrative issues, but what prevents a city staffer from speaking with council members, or even complaining about their manager? Why would they feel the need to complain about the city attorney, who is the council's, not the administration's, attorney? Attorneys routinely are hired from outside the jurisdictions they serve. Some local governments, such as the school board, even made a point of doing so several years ago, to diminish a local attorney's cozier relationships and conflicts of interest with parties who may have business before those local governments. Your proposal to require the attorney to live in the city seems counterproductive in that sense, and it appears motivated by more animosity toward the attorney than any useful rationale. Can you explain? 
John Brady did not answer the question.
Jump to other mayoral candidates' answers: Brady | Holland | McDonald | Radford

4. Palm Coast has the authority to impose a public service tax on your utility bill of up to 10 percent, and a franchise fee on utilities, which would be passed to customers, of up to 10 percent. The money may be spent at the council's discretion. Many counties and cities around the state partially or fully levy one or both the taxes. Palm Coast considered imposing a 6 percent electric franchise fee and a 2 percent public service tax in 2012, but reversed course in the face of strong public opposition, even though the two new taxes were intended to replace the existing stormwater fee. Either of the new taxes, proponents argue, would diversify the city's revenue stream. Either could be used to generate revenue that would otherwise have to be generated by property taxes, though the public service tax and the franchise fee are regressive in comparison. Where do you stand on either new tax becoming part of Palm Coast's taxing structure?
My first choice is to look at the spending side first. Any diversification is still money out of the pocket of people who can least afford any reduction in income. At the same time, the City needs money to operate so some adjustment may be needed but I am not in favor of diversification. A tax increase is the very last resort after a strong effort to cut costs while finding more efficient and less expensive ways of doing business. Cutting the annual debt service would be a very high priority. Hiring an in-house attorney to replace the $400,000 a year part-time attorney will save somewhere in the neighborhood of $200,000 a year. Evaluating consolidating City fire service with County fire service. A word about debt service: our actual debt service in FY 14 was $7.3 million in FY 16 the proposed is $14.2 million. That is almost double.
Debt service is built into the budget over several years, like a mortgage. Increasing debt payments, if even possible, would raise the city's costs currently, and require new revenue. Where would you get that revenue? The city in the past year refinanced bonds and loans, saving substantial sums over the next many years. Do you not see that as reducing debt costs on the city?  What is your evidence that an in-house attorney would save $200,000 a year? The county has an in-house attorney. That department's budget is not vastly different than Palm Coast's.
John Brady did not answer the question.
Jump to other mayoral candidates' answers: Brady | Holland | McDonald | Radford

5. Explain who provides ambulance and fire services in the city. Evaluate the quality of that service, including your assessment of the adequacy of fire stations and EMS, and what you would change, if anything, about it. If your proposed changes cost money, how would you pay for them?
As I understand from attendance at the County's Citizens Academy, a call indicating a medical emergency comes in and police, Palm Coast fire department and Flagler Ambulance are dispatched. The City fire equipment and County ambulance are all staffed by paramedics. If hospital care is required, only the County ambulance is certified to transport to the hospital. There is duplication in this response but if you are the victim it is good for you. I would consider consolidation but all three of these tenets must be met: Response time must be equal or better, employees involved must have an equal or better benefit, there needs to be a considerable tax savings for the people of Palm Coast. Consolidation would save money some, there is zero cost.
What is your evidence that consolidation would save money?
John Brady did not answer the question.
Jump to other mayoral candidates' answers: Brady | Holland | McDonald | Radford

6. Palm Coast and the county have a sniping, at times competitive, at times antagonistic relationship, as if between fiefs. To what extent are the two elected bodies responsible? To what extent are the two government's managers responsible? How will you help foster a less medieval relationship?
In my opinion, both managers need to be reeled in. In the case of the City Manager the Council needs to be more active in his job performance. He needs to be remaindered that he reports to City Council but City Council needs to be reminded that he reports to the Council. We used to call these talks a "come to Jesus talk." I would ask the City Manager what he thinks he needs to do to improve his relationship and hope the County Council does the same with their manager. I would then follow up and see if the City Manager is following through on suggested plan. Both elected bodies are responsible for their respective managers and both bodies need to exercise their supervisory responsibility. Both managers need to be reminded of their need to work on finding solutions and leave their personalities at the door. Both need to be reminded their need to work nice.
I would suggest the following:
The problem is defined by the governing bodies
Expectations are laid out
Time frame is established
A meeting is conducted and an elected official attends the meeting of the managers.
Results reviewed by both governing bodies
Results accepted or direction given to do more planning.
Jump to other mayoral candidates' answers: Brady | Holland | McDonald | Radford

7. Describe the dynamics of the council: who controls policy, the council or the city administration and manager? What would you change about those dynamics?
The question of who controls policy is not clear to me. I do not know if Netts controls Landon or if it is the other way but I am sure of the process. For anyone who has attended and followed City Council meetings, you have experienced the decision making process. The current process for addressing issues is as follows. The City manager and City staff have met and discussed the issue needing Council approval.  A solution is determined and a PowerPoint presentation is prepared and practiced before being presented to City Council. Rarely is the Council advised of other alternatives including doing nothing. My suggestion is to involve Council more in the decision making process as outlined above in Question 1. What is surprising is that for the last two years all votes on City Council have been 5 to 0.
Most, not all, votes have been 5-0. The city manager will do what he's inclined or given room to do. He is still the council's employee. To what extent has the council been responsible for that lack of involvement or assertiveness in the face of administrative sway?
John Brady did not answer the question.
Jump to other mayoral candidates' answers: Brady | Holland | McDonald | Radford

8. Jon Netts's tenure as mayor spanned half the life of the city: eight years. Ceremonial duties aside, what should the next mayor continue that Netts did best, and what approach or method should the next mayor discontinue or do differently, including parliamentary conduct during meetings? How do you hope the next mayor distinguishes himself or herself from Netts?
Mayor Netts led the City through a period of tremendous growth. He has managed the Council meetings with dignity and order. He has been responsive at Council meetings to citizen concerns. He is very knowledgeable of water supply issues. He has a brain that may be picked concerning issues here in Palm Coast. The new Mayor should employ Roberts rules of Order to conduct Council meetings. On the other hand Council meetings have to find a way to attract citizens and a little dissension might help. I would like to see some votes not be 5-0. My hope is that the new Mayor will distinguish himself or herself as a person who reached out to the people and responded to their concerns. See my plan to conduct Wednesdays with the Mayor.
No local government–and none in our experience anywhere, not just in Flagler–attracts citizens to routine meetings, except when a major issue of concern captures public attention. Your suggestion that "a little dissension might help" raises the concerning possibility that you would be a bomb-thrower for the sake of stirring interest, whether the issue would cause that interest of its own or not. Isn't that divisive? If playing devil's advocate is your intention, aren't workshops designed for that purpose?
John Brady did not answer the question.
Jump to other mayoral candidates' answers: Brady | Holland | McDonald | Radford

9. Evaluate City Manager Jim Landon's performance, citing strengths and weaknesses. His total compensation package is close to a quarter of a million dollars. He is seeking a raise. Would you grant it? [Note: the question went to candidates before the council's vote rejected the request on July 19, though the question remains valid for the new council.]
It is hard to really comment on this matter since all of my contacts have been in the public arena. So my comments are based on my observations in the public arena from a distance. Landon's strengths seem to be that he is very knowledgeable, he gets things done, he seems to be even tempered at least when dealing publicly with Council. He knows what he wants done and usually gets his way. He does seem to be imperious at times. He tends to cloud issues and brush off legitimate questions. It does seem that the department heads either respect him or fear him. From a distance I cannot assess which it is. As mentioned above, he has difficulties relating to his colleagues.
My answer is absolutely no to the raise. The more important thing is beginning a process of measuring performance. In my opinion, there are questions about some decisions that he made that may even rise to the level of termination. I want the information on the Utility Fund, Red Light Camera Contract, land swap deal, "found" money for new City Hall. Asking for a raise from a lame duck body is a good and bold move on his part but as a citizen I will speak out about it. Asking for a raise when folks on Medicare received no Social Security Cost of Living (COLA), are required to pay a higher monthly premium, and higher co-pays is outrageous.
None of the decisions you attribute to Landon were, in fact, Landon's: in every case, the council voted to approve those decisions, and council turnover has not been stale. If the council is directing Landon to proceed, what grounds are there for termination? What "land swap deal" are you referring to?
John Brady did not answer the question.
Jump to other mayoral candidates' answers: Brady | Holland | McDonald | Radford

10. Palm Coast relies on the sheriff for policing. Evaluate the strengths and weaknesses of that contract, and tell us what specifically you would change about it. Are some areas of Palm Coast less effectively policed than others? Do you favor an independent police department for the city, now or in the near future?
Currently, the City pays $2.7 million to the County for extra deputy coverage. This payment is supposed to provide deputies that would not have been assigned to Palm Coast according to existing staffing requirements. This is done under the terms of an Interlocal Agreement. I am not a big fan of this kind of agreement because how much came into the City coffers to pay out the $2.7 million. I think of a personal analogy, when I was a little boy mom would give me a five dollar bill to go to the store. If the cost was $4.80, my mom did not see the twenty cents change. I would rather the needs be included in the Sheriff's budget and all funding come from the County. According to the Sheriff's public statements the crime rate is down and I do not have any information to counter his statement. In talking to other candidate for the Sheriff's office, I was informed that a decreased crime is more likely tied into the improved economic conditions. From reading local news sources including FlaglerLive, there is more reported crime in the lower income areas. Is this correlation due to low income or poor policing? I do not know and can only guess. I do not favor an independent police department now or in the future.
You seem misinformed about the sheriff's contract with Palm Coast. No money "came into the city coffers" to pay the sheriff's bill. It's general fund dollars that are allocated to public safety, as they are to fire services, and the amount is, in fact, in the sheriff's budget. You are implying that the city is somehow "keeping the change." No such thing is taking place on the city's end. You are also misinformed about the decreasing crime trend: crime has been on the wane for many years, trending down even in the depths of the recession: crime has fallen in Flagler seven of the last eight years, after peaking during the boom years. That said, your preference is that all funding for policing come from the county. How then would Palm Coast pay for its policing?
John Brady did not answer the question.
Jump to other mayoral candidates' answers: Brady | Holland | McDonald | Radford

11. The current council appears opposed to a civil citation program that would lessen the penalty for a first-time marijuana possession offense in many circumstances. Without Palm Coast's approval, the county-wide effort is most likely doomed. Where do you stand on that proposal?
I am in favor of civil citation. Police now do have an option to arrest or write a notice to appear currently. As a Catholic I believe in forgiveness, as a practical person screwing up someone's life for a minor indiscretion does not make any sense. As the public defender, Jim Purdy asked in a Public Safery Coordinating Council meeting who in the room did not consume alcohol before the legal age. I would have had to raise my hand.
Jump to other mayoral candidates' answers: Brady | Holland | McDonald | Radford

12. Code enforcement: Palm Coast is clearly the harshest enforcer among local governments, regulating such things as garbage cans in view of the street, work vans with commercial imprints on their sides parked in residential areas, and of course tall grass. The city has a fleet of enforcers, and an enforcement board that routinely levies fines on violators. Complainers to the city can remain anonymous. How comfortable are you with that regime, and what, if anything, would you change?
I am a fan of forgiveness. I wonder if more could be done on the education side. By this I mean, can the code enforcer talk to the home owner as a first step, move to a written warning and only as a last step issue citation. [Editor's note: that, in fact, is close to the process, though the written warning usually is the first step.] Anonymous complaints should be looked at and if legit, the above steps should be followed. If bogus, records of bogus complaints about the specific residence should be maintained and future complainers be required to give their name. In these cases the anonymous caller should be advised records of bogus reports are being retained.
Records of bogus complaints would be retained, but to what end? Do you foresee code enforcement then enforcing some sort of consequence against bogus complaints?
John Brady did not answer the question.
Jump to other mayoral candidates' answers: Brady | Holland | McDonald | Radford

13. The Palm Harbor Golf Club and the city's tennis club has been losing money since their inception while serving a relatively small number of club members. Should the two clubs stay open with city subsidies? If not, what's your alternative?
Yes both should be maintained. Both are amenities and are like other funded amenities available to the citizens. I do not see a toll booth when I walk the St Joe's walkway with my dogs. City Council is now considering a "hybrid" solution which is close to what I put forward in an unpublished article. Other considerations are the reduced home value if the course was to close, the cost of maintaining the course if closed and overall reduction in attraction of Palm Coast.
The two clubs have been subsidized to the tune of millions of dollars over seven years. For a candidate concerned about debt, how does continuing such an approach square with your concern about fiscal responsibility?
John Brady did not answer the question.
Jump to other mayoral candidates' answers: Brady | Holland | McDonald | Radford

14. The city will be expanding and modernizing its community center next year. But residents from time to time have clamored for a senior center. Do you favor building and operating a stand-alone senior center? If so, how do you propose the city should pay for it? 
My position on the modernizing of the Community Center is to put it on hold since the modernizing is not a health or safety issue and we need to be more fiscally conservative for now. As far as a senior citizen center is concerned, my first choice is to seek people willing work on this issue and have discussions.  Maybe seeking landlords who have long vacant commercial properties and see if these individuals are willing to rent out for minimal rent and write off as a contribution to a 501 (3) c non profit. There needs to be an understanding that providing services to senior citizens is not a municipal responsibility but the City is willing to help. The help the City may provide is assisting in the convening of that group. See the answer to question #2.
Jump to other mayoral candidates' answers: Brady | Holland | McDonald | Radford

15. Question customized for John Brady: You seem angry at the city administration, angry at the council. There's always a place for some anger in government, when the occasion warrants it. But do you have the temperament to be a mayor–as opposed to, say, a council member, or an activist?
John Brady did not answer the question.
Jump to other mayoral candidates' answers: Brady | Holland | McDonald | Radford