Any Vietnam vet who attends the City Repertory Theatre production of "John and Jen" may be startled by the dog tags used in the musical – they're accurate.
And yes, veterans and any audience member may be close enough to witness such details when City Rep stages the 1995 play in its intimate black box theater in Palm Coast from April 28 through May 7. The detail isn't irrelevant: it's a key marker in a story about rapid and sometimes dislocating change, of growing up, of generational and political shock–not to mention the characters' metamorphosis at the heart of the musical.
"I love to look that kind of stuff up," says Anthony Romeo, who portrays the show's two different John characters – yes, two. "I'm really into making sure things are as accurate as possible. At one point, we have dog tags in the show and we can't put the rubber on the dog tags because the rubber didn't come around until the end of the Vietnam War. And they have to have the notch because they were administered with the notch still in it."
But who's going to know about dog tags?
"Somebody in the audience!" Romeo says.
"John and Jen" — with music by Andrew Lippa, lyrics by Tom Greenwald and a book by the duo — tells the story of Jen, played by Chelsea Jo Conard, and her relationships with the two Johns of her life.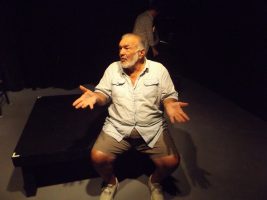 The first act portrays Jen and her brother John growing up in the 1950s and '60s, and their increasing estrangement: As Jen falls under the spell of the counterculture and the Summer of Love, she morphs into a drug-dabbling hippie chick. John yields to the dominance – and abusiveness – of their stern father and joins the Navy, and he's promptly shipped off to Vietnam. (It's all a reminder that tumultuous times were not born yesterday.)
The second act flashes forward in time: Jen is a 20-something single mother raising her newborn son, whom she has named John after her brother. As son John grows up, Jen's suffocating parenting threatens to alienate him and drive him away.
In the original Off-Broadway run of "John and Jen" in 1995 and its revival there in 2015, the same actor portrayed both Johns, and City Rep is continuing that tradition.
"That doesn't happen very often in a play," says Romeo, who majored in musical theater performance at Penn State and worked in New York City theater for years, as well as a national tour of "Seussical the Musical." "And I get to play both those people in multiple stages of their lives too, from infant through adulthood — 18. It's really interesting finding the differences in the two, but also having to find the similarities.
"It's definitely a challenge. I've attacked it as if I am doing two different one-act plays rather than one full musical, so I could really differentiate between the two characters."
City Repertory Theatre will stage "Scapino!" at 7:30 p.m. Friday and Saturday March 17-18 and March 24-25, and at 3 p.m. Sunday March 19 and 26. Performances will be in CRT's black box theater at City Marketplace, 160 Cypress Point Parkway, Suite B207, Palm Coast. Tickets are $20 adults and $15 students, available online at crtpalmcoast.com or by calling 386-585-9415. Tickets also will be available at the venue just before curtain time.
Click On:
---
When Romeo describes the son as "a bit more jovial, a bit more bouncy," it's almost as if he's describing himself. One gets the impression that Romeo's exuberance is his natural demeanor, one that likely serves this Daytona Beach resident well as he teaches at Mia Bella Academy of Dance in Palm Coast and directs choreography at area theaters. And there's another possible source of his exuberance: Romeo will be making his Florida acting debut.
He also confesses to a bit of autobiography fueling his portrayal of the son: "When he gets older he turns into a bit of a spoiled brat, which I kind of was growing up with a single mom. I kind of drew from that a bit (laughs). Those arguments I'd scream at my mom about, I was like 'Yeah, I can use that here.' "
"It's a unique show because there are only two people in the cast and it spans such a long period of time," says Conard, a Palm Coast resident and City Rep veteran who studied at the Conservatory of Theatre Arts at Webster University in St. Louis. "It gives actors a nice challenge to play young children as well as older adults. The music is challenging. Acting-wise it's really meaty. There's a lot of back story and a lot of emotion and a lot of weight that this show carries that a lot of musicals just don't offer. You don't really get that opportunity to sow your acting chops with the fluffy musicals."
Talk of the actor's craft and dog tag minutiae by the two-member cast prompts director John Sbordone to chime in: "You're talking to two professional actors. This is part of the job. This is the job they've been trained to do. I was watching two weeks ago and thinking, 'Why do they need to rehearse anymore?' "
Both Romeo and Conard say "John and Jen," with its explorations of brothers and sisters, parents and children, will connect to "everyone."
This despite – or maybe because of – another aspect that makes the play "so unique as well," Romeo adds: "There is not a romantic storyline attached to this at all. There is no set of lovers. You're not rooting for two people to get together in the traditional sense. There's no (hypes the drama in his voice) 'Why don't they realize they love each other?' There is none of that. It's really about that familial bond."
"There's no fairy tale musical aspect to it," Conard says. "It's very much a real-life story."
The play features musical direction by keyboardist and City Rep veteran Ben Beck, who will play live during performances.
"I don't know anybody who can do what he does, and I've been at this a long time," Sbordone says.
Due to a commitment conflict, City Rep will present a performance on Thursday May 4, with no performance on Friday May 5.
"John & Jen," music by Andrew Lippa, lyrics by Tom Greenwald, book by Lippa and Greenwald, directed by John Sbordone, at City Repertory Theatre, at 7:30 p.m. Friday April 28, Saturday April 29, Thursday May 4 and Saturday May 6, and at 2 p.m. Sunday April 30 and Sunday May 7. Performances will be at City Marketplace, 160 Cypress Point Parkway, Suite 207B, Palm Coast. Tickets are $25 adults and $20 students with ID, available by calling 386-585-9415 or book easily online here.