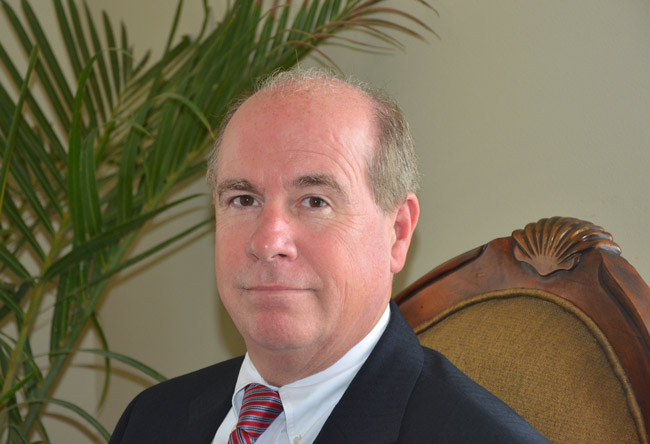 Updated Feb. 23 with Sheriff Don Fleming's response.
Jim Manfre senses a vulnerable sheriff in Don Fleming. Declaring himself a candidate for the office this week, Manfre cited Fleming's still-unexplained involvement in the case of a 76-year-old woman struck and killed by a motorist last November as the catalyst for his decision to run again for a post Manfre held from 2001 to 2005, and has contested unsuccessfully twice since.
"It really comes down to this recent incident," Manfre said, "because it exemplifies everything that's gone on with this administration for the past eight years." Manfre, a lawyer in private practice in Flagler Beach, had  thought of running for the county judge seat Sharon Atack is leaving. But the bad publicity Fleming drew through his and his department's handling of the accident tipped his decision in favor of the sheriff's post.
The case is turning into a central issue in the race for sheriff, with three candidates criticizing Fleming directly over his handling of it. Manfre's attacks are the starkest.
Francoise Pécqueur was struck and killed by Jamesine Fischer's PT Cruiser while Pécqueur was walking her dog at dusk in Palm Coast's C section last November. Fischer is married to Flagler County School Board member John Fischer, a friend of Fleming's. She did not call 911. It was 12 hours before John Fischer called authorities: he called the sheriff at his home. The sheriff advised him to call 911. But the two exchanged at least six calls over the next two days. Pécqueur died of her injuries. Read more details of the case and Fleming's involvement here.
Fischer ended up retaining the same attorney who defended Fleming's son in a minor prescription drug case. The sheriff said he was merely advising a friend, not interfering in an investigation. Earlier this month the Fischer's insurer settled a wrongful death lawsuit filed just three weeks earlier by Pécqueur's daughter, for $1.25 million.
Manfre, along with two other candidates for the sheriff's post—John Pollinger, a former police chief in New Jersey, and Ray Stevens, a former detective in Ossining, N.Y.—all criticize the absence of a deputy at the original accident scene, and Fleming's subsequent conversations with Fischer, which Manfre called "cronyism."
"This is what the community fears the most, that different people will be treated differently, based on who they know," Manfre said. A news release circulated Corris Caro on Manfre's behalf Monday put it more harshly: "Having been troubled over the past four years about a continued pattern of cronyism, carelessness and corruption in the Flagler County Sheriff's office, and now observing the community's outrage over the conduct of Sheriff Fleming and his department in the handling of the recent hit-and-run fatality, Jim Manfre is announcing his candidacy for Flagler County Sheriff."
Fleming was repeatedly contacted for this story on Monday and Tuesday, through his cell phone and his office line, but could not be reached. Messages were left requesting reactions to Manfre's decision to run—and Manfre's line of criticism. On Tuesday, Capt. Lynne Catoggio said the sheriff would have a response by Wednesday–which he did, in writing.
"Mrr. Manfre's statement about 'community outcry' in regards to my involvement, or lack thereof, in this incident is nothing more than sensationalism," Fleming said. "There were phone calls with Mr. Fischer. I have acknowledged that. However, what Jim Manfre fails to mention is that at no time was there any attempt to influence the investigation conducted by an independent law enforcement agency. As an elected official, I regularly receive telephone calls from members of governing boards as well as citizens inquiring as to how to handle an incident that is criminal in nature."
Fleming said that during the Robert McCarthy era at the sheriff's office, deputies responded to medical calls. That policy, he said, was ended under Manfre. "While this practice has continued during my tenure," Fleming said, there have not been any issues or concerns that have been brought to my attention with the exception of the tragic incident involving Francoise Pecqueur."
Manfre termed that response ""a lie, it's an outright lie." He said Fleming was confusing policies. "This was not a medical response, this was somebody lying on the side of a road," Manfre said. "This was a suspicious incident because no one knew why she was lying on the side on the road. It's two completely different incidents he's talking about. I did not stop deputies going to medical calls if it was a suspicious incident."
Manfre, 54, has run for Flagler County sheriff in every election for the office since 2000. He won that first time and served until 2005. A Democrat, he lost in the 2004 primary, but not to Don Fleming, the Republican and eventual winner. Manfre had himself been weakened by a series of allegations about his handling of the office. He ran again four years ago, losing to Fleming in one of the closest recorded elections for that office—by 836 votes out of 46,000 cast, and with Stevens as an independent candidate in the mix.
Pollinger is attempting to project a less confrontational strategy in his race. He declines to criticize the sheriff directly. He had little to say about Manfre's run. "I'm not concerned about his entry into the race because my focus is on winning the Republican primary," Pollinger said. "Speaking about any other candidate is just taking away my time and speaking about myself and my credentials."
Stevens is more readily confrontational. "I welcome his campaign and I wish him luck," he said of Manfre. "I don't know where exactly he stand on the present-day issues, but he's an experienced politician. He was never a policeman or a cop, he never spent a minute on the street, he was at the district attorney's office. The only policing experience he has is as sheriff for four years."
Pollinger and Stevens are Republicans. Manfre is facing one other Democrat in the August primary, Karl Tozzi, whom he faced in 2008. Tozzi got just 9 percent of the vote in that four-way primary.
Before moving to Flagler County in 1999, Manfre had served as an assistant district attorney in Suffolk County, N.Y., and as the deputy town attorney for Babylon, N.Y., from 1990 to 1996. He's currently of counsel with Nowell, Bayer and Maguire, the Flagler Beach firm. Sid Nowell was Manfre's attorney during his tenure as sheriff. Bayer represented several individuals who filed discrimination suits against Fleming during his first term. The cases resulted in settlements of upward of $400,000, and are part of Manfre's line of attack now when the ex-sheriff claims Fleming has not been a good or fair administrators.
Manfre says the office has become top heavy with brass, including three majors, three captains and seven lieutenants, compared with one captain, one major and two lieutenants during his own tenure. The ranks have grown since, he said, but not that disproportionately.
The sheriff's office, Fleming responded, "follows the military guidelines for span of control with one supervisor per seven to nine members." With growing numbers of deputies, supervisors have increased, too. Fleming also charged Manfre of maintaining "friends and family" hiring practices, including the hiring of his executive assistant, administrative staff, corrections officers "and others who were unqualified for their positions."
"What he's doing is trying to push back," Manfre said. "These are false allegations. They have no basis in fact."
Manfre says he'll also make an issue of Fleming's management of the jail, which, during his first term, was the scene of brutality against inmates, including Lisa Tanner, the daughter of then-State Attorney John Tanner. That case drew a lawsuit as well, which was settled with an apology to Tanner from two deputies and other undisclosed terms, though John Tanner's conduct itself became the center of the state attorney's next election, which he lost.
Manfre has his issues, too. His first year in office as sheriff was dogged by a public-record issue he had to settle for $10,000. A woman had crashed her car in the side of a school in 2001. After the crash, Manfre refused to release information about the woman's whereabouts, citing medical privacy. The News-Journal sued and won a settlement, including $10,000 and a concession that Manfre's interpretation of the law had been incorrect. The money sponsored an open-record seminar in which Manfre, as a good sport, appeared and play-acted a politician learning a lesson on compliance with Florida's Sunshine law.
Manfre's relations with the county commission were dismal. Only George Hanns remains from that commission. Manfre says he has excellent relations with the current commission, though he has not had occasion to interact with them except socially.
His last year as sheriff was dogged by another open-record issue. The department spent $22,000 on putting together and mailing a calendar to constituents. The calendar was justified under the guise of an annual report. It had a few numbers about the department's operations. A few other counties did likewise. But it also featured pictures and messages about Manfre himself, for the months of August and November—the months of the primary and the general election. It looked like a campaign ad, paid for with taxpayer dollars. Pat McGuire was a county commissioner at the time, and the president of the Police Benevolent Association. He'd been a leading supporter of Manfre in his first run in 2000. He'd also pressed for raises for his ranks. Manfre had resisted. With the calendar, McGuire saw an opening to hit Manfre hard, and did.
Trough his position as commissioner, McGuire—who later served five years in prison, until last October, for molesting two girls—charged that Manfre was politicking through the calendar, and that he was hiding the true cost of it. The case turned into a scandal stretched over several months just as the sheriff's election was unfolding. It highlighted the broken relations between the commission and the sheriff. The commission pursued the sheriff to open his records, and grant open access to his computers. The sheriff resisted. In the end, he relented to some extent: nothing of significance was uncovered, and to this day Mafre maintains that he did nothing wrong. Norman Wolfinger, a State Attorney for the 18th judicial Circuit, issued an opinion stating that the case was not "prosecutable," though first amendment  lawyers and the head of Florida's First Amendment Foundation questioned the findings.
Manfre's tenure in Baylon was rocky, too, including a lawsuit against him by the town that appeared politically motivated, and that he countered with allegations of his own that resulted in criminal charges against town officials, and a conviction on a misdemeanor charge of one of those officials, for falsifying records.
Manfre was also a candidate for Congress: when he was in Babylon, he ran unsuccessfully against then Republican Rep. Rick Lazio, who eventually was later defeated by Hillary Clinton in a U.S. Senate race.