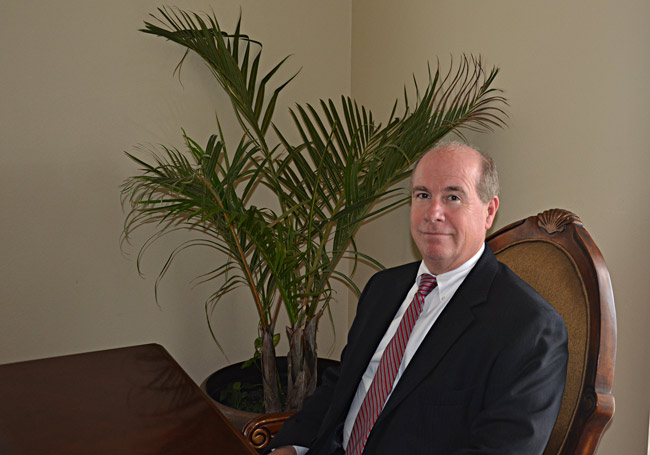 Soon after Jim Manfre announced that he was running for Flagler County Sheriff again–a post he held from 2001 to 2005–he took on incumbent Sheriff Don Fleming critically and head-on. Manfre made several claims against Fleming in an article about his announcement, and a news release from his campaign that accompanied the announcement. Fleming responded to those claims in a piece that ran on Feb. 23. Manfre's response follows. Keep in mind that Fleming is facing at least two opponents in the Republican primary (Ray Stevens and John Pollinger), while Manfre is facing at least one opponent (Karl Tozzi). Fleming defeated Manfre in the general election four years ago. But the two may not necessarily face each other in November.

By Jim Manfre
Let me respond to some of the points you made in your last statement.
First, your credibility on your comments are a bit tainted by you having publicly lied three times to the News Journal, and the public for that matter, about how many times you spoke to John Fischer after the Nov. 10 hit and run incident involving Francoise Pecqueur.  What is most troubling about your comments to date about your conversations with Mr. Fischer is that you fail to understand that your duty to protect and serve as chief law enforcement officer extends to all citizens of Flagler County, rather than exclusively to your friends and cronies.
As a law enforcement officer of over forty years, you should have known that during an active investigation you should not have had at least six conversations with a suspect's husband about the pending investigation. You also had a duty to report these conversations to the investigating officer. No one believes that Mr. Fischer woke you up at 5:30 a.m. to tell you that his wife thought she hit an animal. This is especially true in light of the fact that we now know that Mrs. Fischer at some point stopped and discovered she had hit a person even though she apparently did not communicate this to anyone at the scene.
Your response to Mr. Fischer's call should have been to tell him that he should get an attorney for his wife, not the Sheriff's Office attorney, and turn herself into law enforcement. Your advice to call 911 makes no sense. Law enforcement had arrived on the scene six hours before you received this call. You should have had no further contact with Mr. Fischer after this point as it can be construed as obstruction of justice or, at the very least, a violation of your oath of office. If you did not know there was a pending investigation at the time, you should have called either one of your three majors, five captains, seven lieutenants, twelve sergeants or twelve corporals to investigate before proceeding with any further conversation with Mr. Fischer.
In addition, after forty years in law enforcement, it is troubling that you don't know the difference between a routine medical call where it is obvious that the medical emergency is based on natural causes, and a suspicious incident of a body lying on the side of the road unconscious without an eyewitness account of how she got there. Dispatching a deputy to make an inquiry may have saved the victim's life as it took medical personnel precious hours to discover the cause of her injuries.
This is not the first troubling incident in your administration. Let me remind you of just a few of the other embarrassments you have brought to our community.  You fired your first chief deputy, Bill Karbach, after less than six months on the job after he criticized you for hiring one of your crony friends' son without the proper Florida law enforcement procedures. He was, by the way, your campaign manager.
You then proceeded to fire or demote five African American and Hispanic employees. The state Equal Employment Opportunity Commission (EEOC) after a lengthy investigation of these firings and demotions found a pattern of discrimination by you in the handling of these personnel matters. The settlement of these cases cost the county taxpayers $300,000. In addition, you have promoted only two African Americans or Hispanics during your entire eight years in office.
Soon after this fiscal fiasco, your inmate facility commander who was your campaign treasurer was indicted for illegally recording conversations of your own employees. Since this time you have had three other persons fill this vital position during your term of office.
As if all of this wasn't enough, you lied to the State Attorney about the treatment of his daughter in the jail. The subsequent discovery of her mistreatment at the hands of your corrections officers made national news.  A two-year battle ensued between you and the top legal official in the Seventh Judicial Circuit which severed the strong and vital relationship I had built with that office. This led to another huge pay-out of taxpayers' money to settle the lawsuit filed by Lisa Tanner.
Just a few other vital statistics the public should be aware of about your eight years as Sheriff. The number of crimes committed are up by over fifty percent even though the population increased by half that amount. Actual crime increased by only ten per cent while I was Sheriff, even though the population increased by the same amount during my four years. The amount of personnel making over $60,000, a very high salary for this County where the mean salary is half of that, has increased from five during my administration to over forty during yours. Clearance rate or cases you have solved have decreased by a third during your administration, which is one of the primary causes of most of the increase in crime.  Because of the huge increase in middle management promotions to buy loyalty from the troops the actual number of line deputies responding to calls is virtually the same as when I was Sheriff. The number of Flagler County deputies arrested during your tenure now stands at six. I had no one arrested during my four years.
As far as being a legend, I will let the public decide who has a record of accomplishment as opposed to scandal. Here are just a few of the improvements I brought to the Sheriff's Office during my tenure.
1. Accreditation for the first time in the eighty-year history of the Sheriff's Office
2. The first full time narcotics and street crime unit.
3. The first full time traffic unit.
4, The first full time training officer.
5. The first law enforcement contract with Palm Coast and the opening of a   precinct within city boundaries.
6. The first  SWAT team.
7. Changing to twelve hour shifts to put more deputies on the streets.
8. The first award banquets to recognize high quality work in the office.
9. A complete revamping of security at the courthouse and in the inmate facility.
10. The use of a countywide PAL and School Resource Deputies to prevent juvenile crime.
11. The creation of a modern Mobile Command Vehicle to respond to large scale emergencies.
12. The creation of a Community Oriented Policing policy to encourage better communication with the residents of the County.
I look forward to continuing this debate and allowing the voters to decide who is telling the truth.