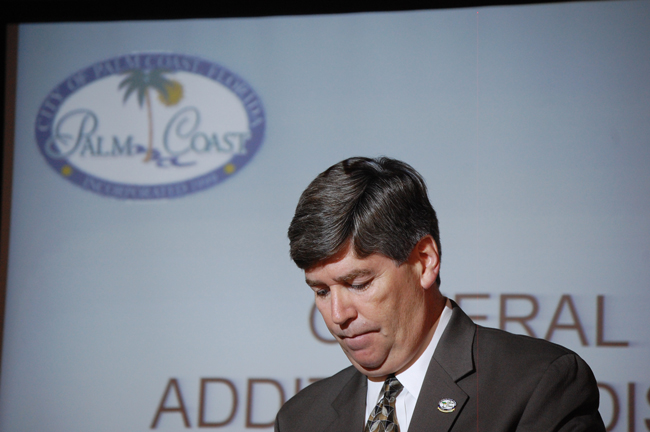 Palm Coast City Manager Jim Landon is by far the highest-paid public employee in Palm Coast or Flagler County. When his base salary, perks and other compensation is figured in, and excluding health benefits, Landon is paid $218,296 a year.
Landon was hired in 2007 at a base salary of $155,000. He's had two raises since, in 2008 and 2009, increasing his salary 10 percent, to $168,878. That's his base pay. According to his contract, the city also contributes an additional 20 percent of his salary into a defined 401(a) plan, and another 5 percent of his salary into a deferred compensation plan, for a combined $42,219. Landon's defined and deferred compensation alone totals more than the average wage in Flagler County. The city also pays Landon $7,200 for a car allowance. The combined package adds up to $218,296.
That figure does not include premiums the city pays for Landon's term life insurance, or the city's portion of his health insurance.
Flagler County's next-highest paid public employee, School Superintendent Janet Valentine, is paid $168,600 in total compensation, including deferred or defined compensation and a $12,000 business expense allowance. Valentine's total compensation package is $278 below where Landon's base salary begins, though Valentine manages 1,800 employees (the school district is the largest public or private employer in the county) and is responsible for the education of 13,000 students.
Craig Coffey, the county manager, has a total compensation package of $162,776. Armando Martinez, the Bunnell city manager, has a compensation package of $116,961 (including hazard pay of $500 a month: Martinez, a former police chief, doubles up as the city's public safety director). Bernie Murphy, Flagler Beach's outgoing city manager, receives a total compensation package of $115,200. All those figures don't include health benefits or term life insurance.
Landon's salary became an issue during a meeting of the Palm Coast City Council last week, when several people brought it up, though without specific figures. The council was focusing on budget issues. Landon's budget for the coming year includes some 14 to 16 job cuts.
"Why is it that Mr. Landon makes more than 49 governors of the states?," one of the people who addressed the commission asked at that meeting. (Actually, the governors of five large states make more than Landon, according to base pay, though Landon makes more than members of Congress.) Another member of the public cited a large increase in the average city employee's wage from 2001 to 2010. Another speaker, Paul McLaughlin, concluded his remark by saying, to applause: "I do agree that probably Mr. Landon, you make too much money. I think what everybody in this room wants is to live in the real world like we have to."
The public comments over, Mayor Jon Netts turned to Landon to ask, as he customarily does, for answers to several questions that had been raised. When it came time to address Landon's salary, Netts said: "Mr. Landon, I don't know if it's fair to ask you to comment on your salary, but do you have any idea where you stand amongst the average of city managers in Florida?" The question's preface was curious: a city manager's salary is public, and there's no question of fairness or unfairness, but of transparency, when it comes to the salaries of public employees. Netts ensured that there would be no more transparency than necessary by framing the question not about the salary per se, but about its relationship to other city managers' salaries.
Landon did not elaborate. "I do make a very good salary, no question about it," he said. "For the comparison in Florida for cities between 50,000 and 100,000, I am right about in the middle of those salaries. Look at those salary surveys every year, and right smack in the middle." The mayor then asked an unrelated question.
The survey Landon was referring to is conducted on behalf of the Florida League of Cities, but it is far from a widespread or mathematical study. Cities voluntarily send in their data—and few cities do. The League of Cities' Carol Westmoreland said this week that the number of participants was indeed low. That can skew the numbers: The survey average Landon cited includes just 12 cities, Palm Coast among them. In those 12 cities, the average city manager's salary is $161,404, or 4.6 percent lower than Landon's. But that figure includes Landon's own.
"We don't want to be the highest paid, we don't want to be the lowest paid," Netts said in a separate interview. "To me, the issue is not so much what the salary is. It's what the benefit you receive. What's the value you receive for your dollars spent. I'm not sure I'd want a city manager who would work for $75,000 a year. It's far too complex, it's far too demanding."

Compensation Packages: Flagler County's Five Top Public Executive Employees
| Manager or Administrator | Base Pay | Deferred or Defined compensation | Auto/Business Allowances or Hazard Pay | Total |
| --- | --- | --- | --- | --- |
| Jim Landon, Palm Coast City Manager | $168,878 | $42,219 | $7,200 | $218,297 |
| Janet Valentine, School Superintendent | $145,000 | $11,600 | $12,000 | $168,600 |
| Craig Coffey, County Administrator | $140,000 | $17,976 | $4,800 | $162,776 |
| Armando Martinez, Bunnell City Manager | $90,000 | $20,961 | $6,000 | $116,961 |
| Bernie Murphy, Flagler Beach City Manager | $90,000 | $18,000 | $7,200 | $115,200 |
Note: to read each public employee's contract, click on the employee's name.