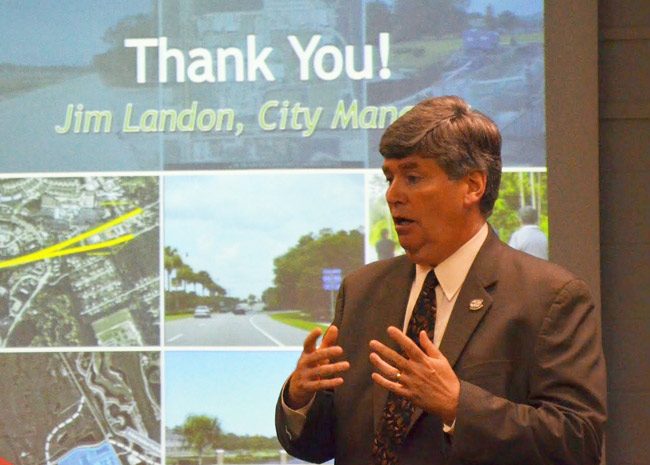 For the third time in 10 months, Palm Coast City Manager Jim Landon, by far the best-compensated government executive in Flagler County, is asking for a raise. Twice before the council rebuffed him, the last time in July in a stinging 3-2 vote. On Tuesday, the council, with three new members, agreed with unanimity that Landon is owed a raise. What remains to decide is how much, and to what extent subsequent raises will be automatic.
But the council appears ready to grant him a 4 percent raise in the next few weeks, or $6,800, and concede to automatic, but smaller, annual raises absent intervention by the council to the contrary.
Landon is paid a base salary of $168,878 a year. With defined and deferred compensation and a car allowance, his compensation package is at $218,296. Landon also has health benefits significantly more advantageous than other city employees, and has been getting 30 days of personal leave a year from his first year, 20 of them accruable year after year. The contract hasn't changed in eight years. Wednesday marks Landon's 10-year anniversary as the city's manager. He sought a small raise last March. But Landon hadn't been evaluated in at least seven years, and the council didn't want to give him more money without an evaluation. That evaluation was conducted in summer. It was good, but not stellar. And when Landon asked for a $5,000 raise, the council turned it down, with one council member at the time—Bill McGuire—saying Landon had been overpaid for many years, and was just now at the right pay level.
Since then McGuire left, as did Jason DeLorenzo, and Jon Netts was term-limited. The three were replaced by Mayor Milissa Holland and council members Bob Cuff and Nick Klufas.
"We're only here a few months and you're asking us to make a judgment on pretty much your history here since your last raise," Klufas told Landon. "That's bold, but I like that." But he and Cuff were not comfortable with automatic raises, as the rest of the council members were.
"The fact that there is an anniversary date and the anniversary date is when the pay raise is due, I didn't put you in that spot," Landon said, just as boldly: in fact, he is not "due" a raise. His contract leaves it to the council to increase salary or benefits "in its sole discretion" and "on the basis of an annual evaluation and salary review" on the anniversary of employment. (Landon is seeking to change the timing of evaluations to September, at the end of the fiscal year.)
Landon brought up his raise as part of a workshop, presenting a few options to the council in a presentation that Mayor Milissa Holland referred to, having examined it Monday, but that Landon did not make available online as part of the agenda's background materials, even after the discussion was under way.
As he did in his previous two tries, Landon's justification for a raise sought cover mostly from how city employees are granted raises, even though there is little comparison between employees' pay and Landon's pay, his pay package or the terms of his employment with the council: he's a contract employee who serves at the will of the council, and his base pay is several times larger than that of the average employee, which means that applying the same percentage increase to his base pay as the percentage awarded employees would net him hugely larger raises: in 2016, the average employee raise was $700. Landon's, if he gets the 4 percent raise he's asking for, will be almost 10 times that.
A brief push back on that comparison from council member Steven Nobile aside, the rest of the council seemed willing to go along with the comparison.
Landon at one point claimed he should be earning a base salary of $205,000 or even $213,000 by now, if certain average raises had been applied over the years. But none of the council members were interested in awarding him retroactive pay previous to 2016. "He could have asked for a raise any one of those eight years," Holland said.
Still, when Holland spoke, it seemed almost certain that this time, Landon had secured the votes he needed to make his request stick in one form or another.
Holland said that when she first examined the proposal Monday, she considered her experience with Landon since she took office "under some challenging circumstances, which was Hurricane Matthew," she said, so "my evaluation of you Jim really has come in certain segments."
"I think you handled the hurricane debris clean-up exceptionally well," she said. Learning the city's dynamics from being in the office every day, "I'm equally as impressed with how we and the staff interact with each other, how they focus on the policies set forth by this council, and how they measure those policies and how they measure themselves, and I think we need a strong city manager to do all that."
Council member Heidi Shipley had voted against a raise in July, and had had serious issues with Landon. She said she wanted to evaluate Landon one-on-one. "It went well," she said, noting also that "things that needed to be ironed out were ironed out between the city and the county, and some other things, but I was fine then with going forward and saying yes to a raise for last year, but we decided he was going to wait" and do it this year. "I do agree that there should be a raise, obviously he should be compensated for a job well done."
Nobile sought to split the evaluation from the raise, saying raises should not necessarily be determined by evaluations. If he gets a negative evaluation, Nobile said, "it's time for a new city manager." But he wanted "embedded" raises of $1,500 a year and a term limit to the contract, as well as a reduction in Landon's severance package, which currently gives him six months' pay. "Ten years later? That shouldn't be as it is," he said.
Cuff was largely supportive of a raise but didn't specify the amount he favored. "I'm not a big fan of automatic increases," he said. "It puts the pressure on the council to say, no, you're not getting that this year." He added: "Maybe we need to talk about the ongoing increase and how automatic that is."
The council at a subsequent meeting will decide the details of the pay increase and the extent of the restructuring of the contract.